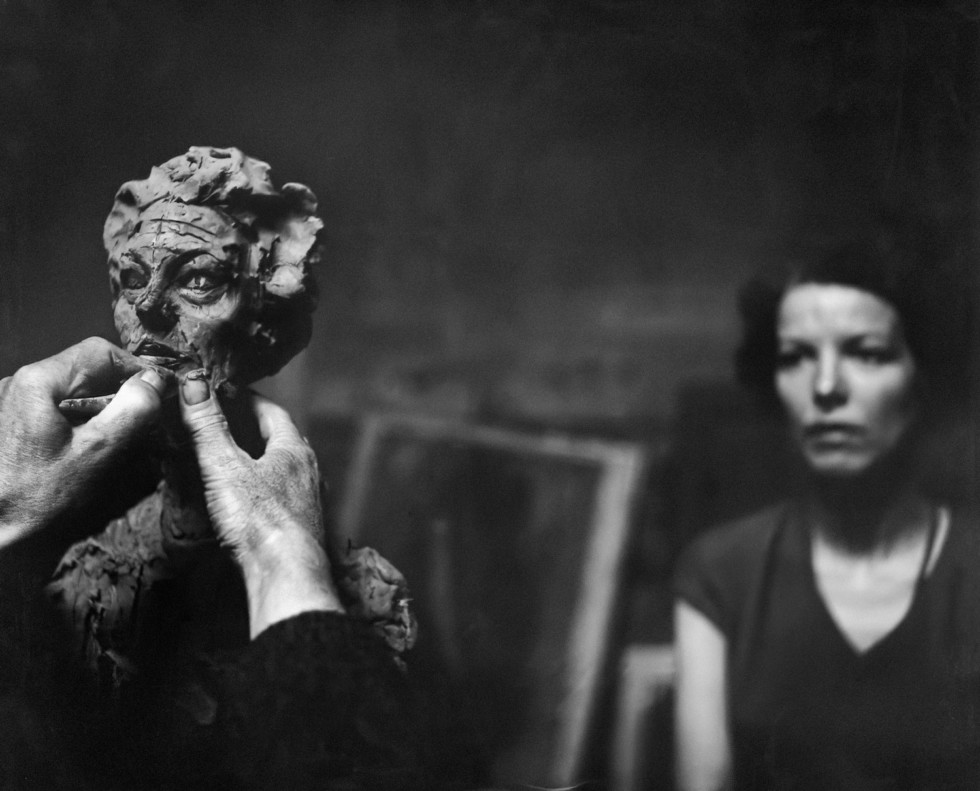 Face to Face
Artists and poets react to Giacometti
20.10 2020 – 12.1 2021
Stockholm
Meet five Swedish artists and poets who share their personal reflections in the exhibition Giacometti – Face to Face. On five Tuesdays, Johanna Gustafsson Fürst, Sara-Vide Ericson, Mara Lee Gerdén, Gabriel Itkes-Sznap and Lea Porsager will each take us into the exhibition and its ideas.
Face to Face
Artists and poets react to Giacometti
Dates:
20 October 2020: Johanna Gustafsson Fürst
10 November 2020: Mara Lee Gerdén cancelled 
17 November 2020: Sara-Vide Ericson cancelled
8 December 2020: Gabriel Itkes-Sznap cancelled
12 January 2021: Lea Porsager cancelled
Time: at 18–18.30, we meet up outside the exhibition at 17.45.
Place: in the exhibition Giacometti – Face to Face
Language: Swedish
Price: 170 SEK, reduced price 140 SEK (seniors, students and Friends of Moderna Museet), includes admission to the exhibition.
Booking required: please buy your ticket online in advance.
Alberto Giacometti, Georges Bataille, Samuel Beckett, Jean Genet
Throughout his life, Alberto Giacometti (1901–1966) was in conversation with some of the most influential intellectuals of the twentieth century. By highlighting three writers – Georges Bataille, Jean Genet, and Samuel Beckett, with whom the artist sustained lasting friendships – the exhibition "Giacometti – Face to Face" examines how these dialogues may be traced in Giacometti's oeuvre.
Giacometti, Bataille, Beckett, Genet and their ideas have made a deep impact on the minds of many contemporary artists, writers and thinkers. This programme series presents five Swedish artists and poets who will share their personal reflections on a few chosen works in the exhibition on five Tuesdays.
20 October: Johanna Gustafsson Fürst
Johanna Gustafsson Fürst is a sculptor who lives and works in Stockholm. Her practice, which often consists of sculptural assemblages, also incorporates text, performance and site-specific installations. Johanna Gustafsson Fürst was awarded the Friends of Moderna Museet Sculpture Prize in 2017 and is currently featured in the critically acclaimed exhibition "Graft the Words, Whip my Tongue" at Accelerator. She is also a senior lecturer at the Konstfack University College of Arts, Crafts and Design.
10 November: Mara Lee Gerdén
Mara Lee Gerdén is a writer and professor of art, specialising in art theory and history. Her recent publications include "Kärleken och hatet" [Love and Hate] (2018), for which she was awarded the Gerard Bonnier poetry prize. Her new book, "Främlingsfigurer" [Foreign Figures], will be published in March 2021.
17 November: Sara-Vide Ericson
Sara-Vide Ericson lives and works in Älvkarhed, Hälsingland. Her exhibitions in Sweden and abroad have established her as a seminal artist of her generation. In the past year, her works have been shown by Galleri Magnus Karlsson, Kalmar Konstmuseum, Bonniers Konsthall, the Royal Academy of Fine Arts, Göteborgs Konsthall, Eighteen Gallery, Denmark, Hälsinglands Museum, Bror Hjorts Hus and Trafo Konsthall, Norway.
8 December: Gabriel Itkes-Sznap
Gabriel Itkes-Sznap is a poet and an aesthetics scholar. He made his debut with a widely-acknowledged volume of poems, "Tolvfingertal" [Twelve-Finger Speech] (2015) that was nominated to the literary award 'Borås tidnings debutantpris". This winter will see his new book "Himlen till munnen tången till hjärtat" [The Sky to the Mouth Tongs to the Heart] (Albert Bonniers förlag), and his thesis "Nollpunkten" (Zero Point), on the importance of precision in literature and poetry.
12 January 2021: Lea Porsager
Lea Porsager lives and works in Copenhagen. She is a sculptor but also a filmmaker, writer and researcher, and has participated in exhibitions such as Documenta 13 (2012) and the 14th Istanbul biennial (2015). In 2018, her "Gravitational Ripples" was unveiled on Djurgården in Stockholm. This earthwork was commissioned in memory of the Swedish victims of the tsunami disaster in South-East Asia. Lea Porsager is currently featured in an exhibition at Moderna Museet on 21 November 2020–14 February 2021.