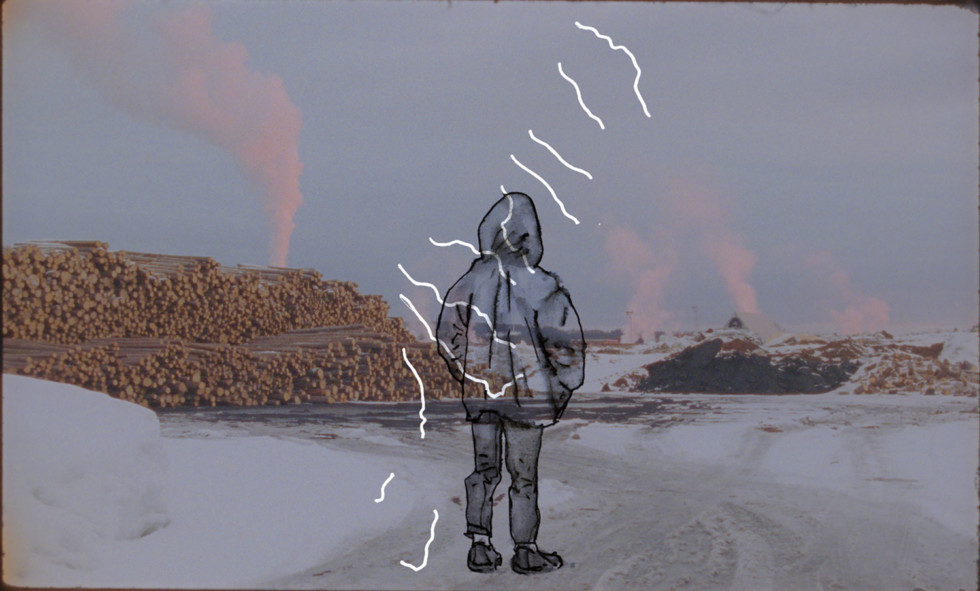 The Film Club: Clara Bodén
Live-Stream and conversation
12.3 2021
Stockholm
Together with the Tempo Documentary Festival, the Film Club presents two films by Clara Bodén: the freshly-made short "Not Until Now" (2021) and "The Power Grid" (2018). The sound work "Ruralistas" (2016) will also be featured, illustrated on this occasion with drawings by Ronja Svenning Berge. After the screening, the artist and director Clara Bodén will talk to the author and religious historian David Thurfjell. Welcome!
Life on Rödön in the county of Jämtland with the forest outside her front door has inspired Clara Bodén to create art imbued with the concrete issues facing rural Norrland. Her passionate, poetic documentaries deal with profound, existential questions and challenge the normative lifestyle defined by urbanity, touching on the pain inflicted by being excluded.  She is also critical of how what we call the centre is always built on urban values. Not least when it comes to women's life choices, as in the Guldbagge-nominated documentary "Lgh + bil + allt jag äger och har" [Apt + Car + All my Belongings] (2015).
After the film show, Clara Bodén talks to David Thurfjell, about the interface between text, image, sound, science and politics. They will also discuss issues of place and location, and how the role of nature has changed in our collective consciousness. Moderator: Catrin Lundqvist, curator at Moderna Museet
The Film Club Clara Bodén
Live-Stream and conversation
Date: Friday 12 March, 2021
Time: at 15.00–16.30
Place: online
Language: Swedish
You can participate in the live event by posting your questions in the chat. The films are available for streaming on 12–14 March.
Do you want information about the Film Club and our screenings? Become a member! Membership is free. Become a member by sending your name and email address to filmklubben@modernamuseet.se (membership communication is in Swedish).
Programme
15.00–15.05 Introduction
15.05–15.12 "Not Untl Now" (6.30 min)
15.12–15.17 "The Power Grid" (4.30 min)
15.17–17.00 Conversation with Clara Bodén and David Thurfjell.
17.00–17.30 "Ruralistas" (28 min)
About the films and the sound work
Först här / Not Until Now 6.30 min (2021)
For modern humanity, forests have become an experience that we enjoy or consume. The more we distance ourselves from nature, the more abstract and unaware our relationship becomes. How does this affect our perception of forests? "Not Until Now" is a poetic cinematic essay about the life conditions, economic value and trees in the landscape around us.  It is about becoming aware, about being faced with a reality that demands more and asks further questions.
Stamnätet / The Power Grid 4.30 min (2018)
"The Power Grid" is about feeling tricked, seeing how a place is exploited and asking what is left of it. It is a personal film about power production and colonialism, about growing up surrounded by a wealth of mighty natural resources but being told you live in a poor region.
Ruralistas 28 min (2016)
"Ruralistas" is a sound work about the duty to say something, to rise up, to voice a perspective, to go out to the city, and to the village. It is an attempt to hear our surroundings and say something from that place, using sound to draw the contours of a landscape and the women in that landscape. This sound work was created by Clara Bodén and Cicely Irvine and produced for Swedish Radio Drama, but on this occasion it is accompanied by Ronja Svenning Berge's illustrations.
About the participants
Clara Bodén (b. 1983) is a filmmaker and producer who lives on Rödön in Jämtland. Since 2011, she runs the production company Vapen och Dramatik, an artistic platform for sound, film and illustration, where she explores her artistic practice in dialogue with Ronja Svenning Berge and Cicely Irvine. Bodén was nominated for the Guldbaggen Award in 2015 for "Lgh + bil + allt jag har och äger". Her films have been shown on Swedish Television and at film festivals in Sweden and internationally. She has won numerous accolades and grants for her works.
In 2020, she was the winner of the Jan Fridegård Prize. The jury's words: "With an eye and a knack for repetition and magnificence, she builds a world centring on the landscape and its inhabitants. Norrland, the inland region, girls, women, friends. Voices and scenery, on the beat and syncopated, surrounded by roads, forests, queries and fury. In her artistic practice, Bodén dismantles the natural law decreeing that "the city is the new normal", she scrutinises power generation and urban colonialism, and she does so with grace."
David Thurfjell (b. 1973) is a historian and professor of religious studies at Södertörn University, who lectures on Islamology and religious studies. He is also the author of "Det gudlösa folket; de postkristna svenskarna och religionen" [The Godless People; Post-Christian Swedes and Religion] (2015), and "Granskogsfolk: Hur naturen blev svenskarnas relgion" [Conifer Forest People: How Nature became the Swedish Religion] (2020).
About the Film Club
The Film Club features films and discussions on Friday evenings – at the museum or live-streamed on the web site.
The Film Club resurrected in 2018 and presents films on the boundary between art and documentary. Often, the artist or director will take part in discussions after the screenings. The 2021 spring programme is compiled in collaboration with the Royal Institute of Art.
Film has had a prominent position at the Museum since the start. The Moderna Museet Film Club has existed since the Museum opened in 1958, showing everything from children's matinees to the latest experimental art films.
During the 1990's and early 2000's the museum presented international artists in the series Contemporary Film and Video. Other screening have often been held in connection with exhibitions at the museum or in collaboration with The Royal Academy of Art, Filmform, Cinemateket, Tempo Documentary Film Festival, Cinemafrica, Stockholm's Feminist Film Festival, among others.
Previous programme: The Film Club
The Film Club editorial team
Lena Essling, curator, Catrin Lundqvist, curator.
Contact