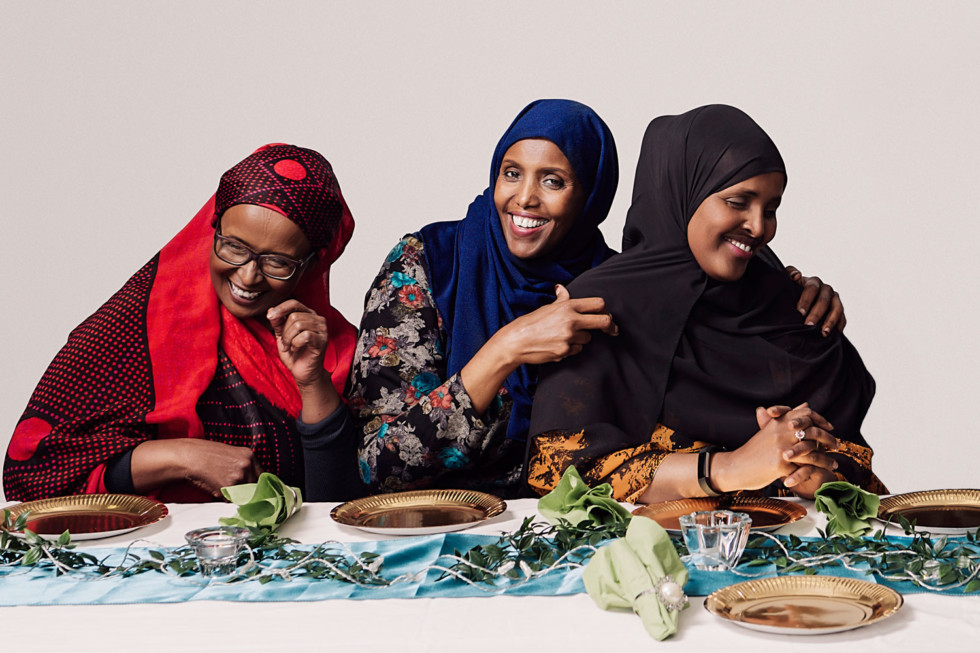 Dumar
The Film Club
19.9 2020
Stockholm
Welcome to the world premiere of "Dumar"! The film is presented in collaboration with Östgötateatern and is followed by a conversation with directors America Vera-Zavala and Salad Hilowle, and Catrin Lundqvist, curator at Moderna Museet.
"Dumar" means women. The film focuses on Ayaan Mohammud, Fadume Jama and Kin Gurhan Mohamed and their lives before and after the civil war in Somalia which started in 1988. Then, as during the initial phase of the corona-crises, hoarding took place. That time it was rice. In Sweden in 2020 it was mostly toilet paper.
The women tell of the escape from their homes and the arrival in Sweden, on how they experienced the climate and the professional life. They talk of feelings of freedom, fear and homesickness. And how the Covid 19 pandemic has affected them and their families.
"Dumar" was first intended to be a performance at Östgötateatern, directed by America Vera-Zavala, in the spring of 2020, but the pandemic intervened. The film is about the cancelled play and the stories it would have included.
Dumar (2020)
Screening – world premiere – and conversation with directors America Vera-Zavala and Salad Hilowle, and Catrin Lundqvist.
Date and time: Saturday 19 September 2020, at 15.00–16.30
Place: the Auditorium, floor 2
Language: Swedish
Price: free admission, but pre-registration required. Maximum 50 people.
Booking: register at filmklubben@modernamuseet.se.
Everything is white. The people are white, the sky is white, the ground is white
Dumar
32 min, 2020
With: Kin Gurhan Mohamed, Fadume Jama and Ayaan Mohammud
Script and direction: America Vera-Zavala
Photography and direction: Salad Hilowle
Set and costume design: Magnus Möllerstedt
Makeup: Anna Andersson
On the filmmakers
America Vera-Zavala is a playwright, director, activist, writer, debater and author. In the spring of 2020 she directed two plays for the X-stage at Östgötateatern; the spoken word play "Reflekterad olydnad" [Reflected disobedience] with Farhiya Feysal and a performance lecture; "Ingenting av det jag vet om mig stämmer" [Nothing I know about myself is accurate] with Madeleine In Hwa Björk. In the fall of 2020 she is directing "Halal Teater" [Halal Theatre] with Diyari Mahmoud.
Vera-Zavala has previously held two Performance Lectures at Dramaten, the highly controversial "Muslim Ban" 2017 and "Musik för en NoGo Zon" [Music for a NoGo Zone] 2018. She has also written the plays "Concha tu Madre" (2007, "Viskleken"[Chinese whispers] (2007), "Etnoporr" [Ethno-porn](2008), "Jävla finnar" [Fucking Finns](2008), "Gangs of Gothenburg" (2009), "Vita pumps" [White pumps] (2010), "Rött kort" [Red card](2014), "Sara Sara Sara – starka kvinnor pinkar stående" [Sara Sara Sara – strong women piss standing up] (2014) and "Svenska hijabis"[Swedish hijabis] (2016).
America Vera-Zavala has published the books "Global rättvisa är möjlig" [Global justice is possible](2001), "Deltagande demokrati" [Participatory democracy](2003) and "Ett annat Sverige är möjligt" [A different Sweden is possible] (2006). In the fall of 2020 her book "Svartskalle – En svensk historia" [Wog – A Swedish story] is being published.
Salad Hilowle is a filmmaker and artist with roots in Somalia and Gävle. He lives in Stockholm, and has previously studied at the programme in Culture, Society and Media Production at Linköpings University. Hilowle got a degree at Konstfack in 2018 and in the spring of 2020 received his MA at The Royal Academy of Art. His work revolves around identity, memory and place, visibility and liminality. He is behind award winning short films such as "Erinra" [Memory], "Brev till Sverige" [Letter to Sweden] and "Waryaa". His subtle and poetic films are screened at festivals all over Europe and the last two are also available on SVT Play.
In 2015 Hilowle was one of two artists that were awarded  Engmansstipendet, one of Sweden's largest art stipends. In 2020 he was awarded the Bernadottestipendiet by the Royal Academy of Art for his work on the visibility of people of African descent in Swedish art history.
The screening is in collaboration with Östgötateatern.
About the Film Club
The Film Club features films and discussions on Friday evenings – at the museum or live-streamed on the web site.
The Film Club resurrected in 2018 and presents films on the boundary between art and documentary. Often, the artist or director will take part in discussions after the screenings. The 2020 autumn programme is compiled in collaboration with Östgötateatern, the Royal Institute of Art, MDT and Institut Français de Suède.
Film has had a prominent position at the Museum since the start. The Moderna Museet Film Club has existed since the Museum opened in 1958, showing everything from children's matinees to the latest experimental art films.
During the 1990's and early 2000's the museum presented international artists in the series Contemporary Film and Video. Other screening have often been held in connection with exhibitions at the museum or in collaboration with The Royal Academy of Art, Filmform, Cinemateket, Tempo Documentary Film Festival, Cinemafrica, Stockholm's Feminist Film Festival, among others.
Previous programme: The Film Club
The Film Club editorial team
Lena Essling, curator, Catrin Lundqvist, curator.
Contact