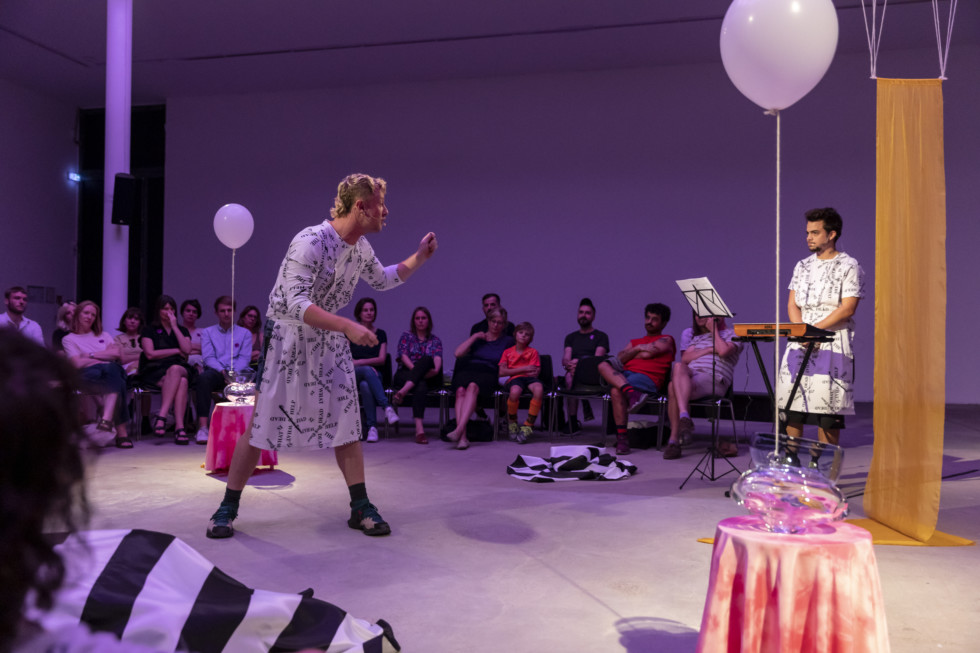 Help the dead
by Every Ocean Hughes
18.3 2022 – 20.3 2022
Stockholm
We are all equal in death, yet the process of dying is different for everyone. What is "queer death"? Welcome to Eric Ericsonhallen, the secularised church near Moderna Museet on Skeppsholmen, to experience the performance "Help the Dead" by Every Ocean Hughes.
The artist Every Ocean Hughes is a trained death doula and has practiced tending to dead bodies, offering help and guidance to the dying on their passage at the end of life. Her performance "Help the Dead" was inspired by participating in a series of workshops for death doulas.
The performance focuses on questions of self-determination, responsibility and the fantasy of continuity. The artist highlights death from a queer perspective. "Help the Dead" is about mutual aid and the social aspects of living and dying on Earth in our time.
This combined concert and theatre performance takes place on five occasions. The performers are Colin Self, artist, composer and choreographer, and Geo Wyeth, artist and educator.
Help the dead
60 min
Date & time
Friday 18 march at 18–19 Premiere!
Saturday 19 march at 14–15 & 18–19
Sunday 20 march at 14–15 & 18–19
Location
Eric Ericsonhallen
Language
English
Price
120 SEK, 80 SEK for students and members in Friends of Moderna Museet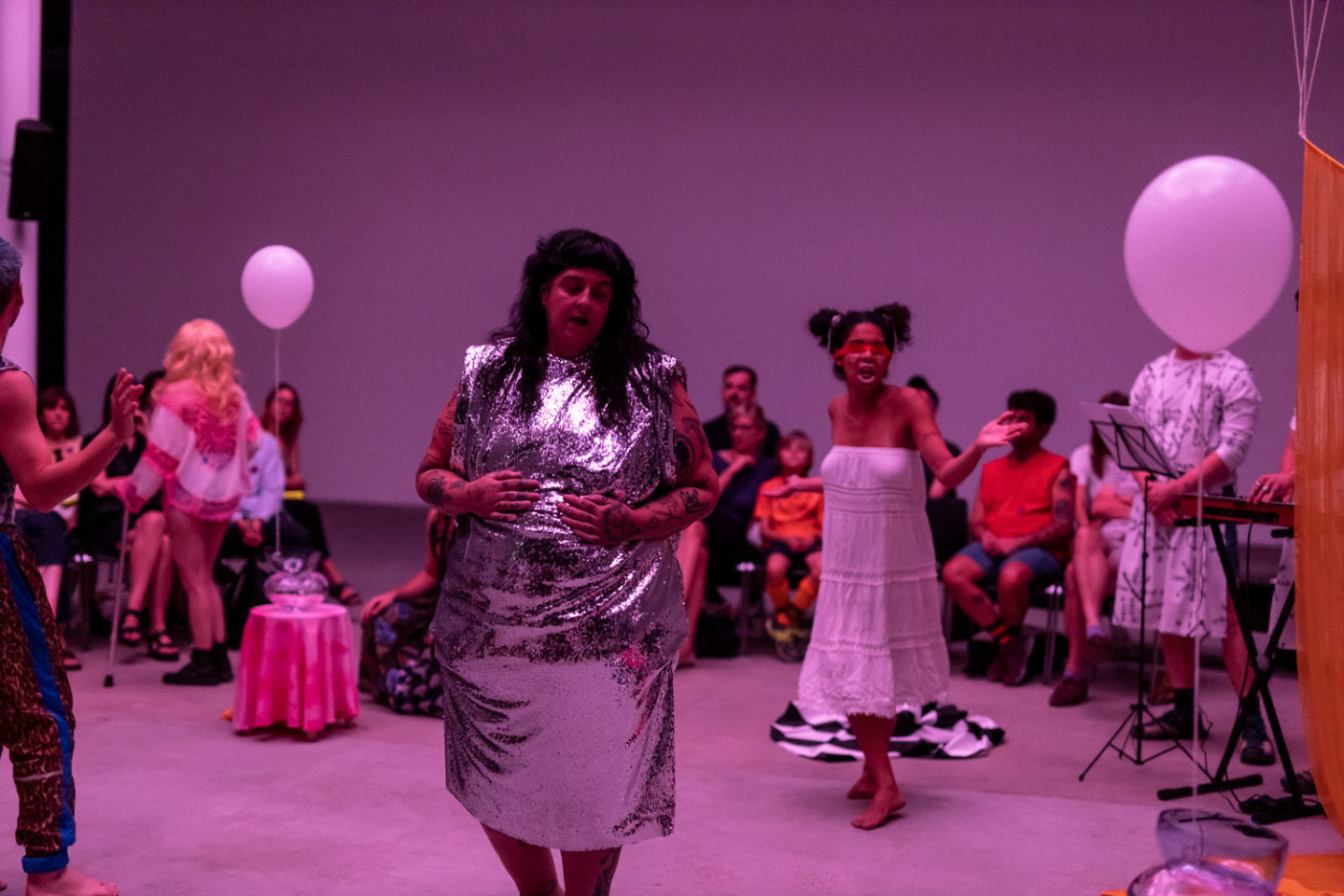 Every Ocean Hughes
Every Ocean Hughes is a transdisciplinary artist and writer. Spanning photography, sculpture, installation, performance, film, as well as writing and publishing, her practice manifests from an ongoing inquiry into performativity and the spaces that hold queer life, and, most recently, queer death. Collaboration is at the core of her work, for instance through the rich history of collaboration with LTTR, in addition to lyric writing, costume design, and curatorial projects.
Her recent solo exhibitions include Alive Time at Moderna Museet (Stockholm, 2022), One Big Bag at Studio Voltaire (London, 2022), Kunsthalle Lissabon (Lisbon, 2017), Secession (Vienna 2015), and PARTICIPANT INC, New York (2015). Hughes has presented commissions of new work at Tate Modern (London, 2012, 2017), the Stedelijk Museum (Amsterdam, 2014), Portland Institute of Contemporary Art (2014); and the Kitchen (New York 2010), among others.
She has also presented numerous projects in group exhibitions and festivals, including the Berlinale (2022), Witch Hunt at the Hammer Museum and ICA LA (Los Angeles, 2021), 11th Gwangju Biennale (2016); the Biennale of Sydney (2014); the Museum of Modern Art (New York, 2014); Future Generation Art Prize at the 55th Venice Biennale (2013); the Museo Nacional Centro de Arte Reina Sofía (Madrid, 2010); and the Whitney Biennial (New York, 2010). Hughes was a fellow at the Radcliffe Institute for Advanced Study at Harvard University in 2019-2020. She is currently the Sachs Visiting Professor at University of Pennsylvania.
Every Ocean Hughes is based between Sweden and the United States. She is formerly known as Emily Roysdon.
Colin Self
Colin Self (b. 1987 Oregon, USA) composes music, performance, and environments that expand consciousness and trouble binaries as well as boundaries of perception and communication. They work with communities across disciplines and use immaterial and material means – including voices, bodies, and computers – to interface with and reimagine worlds. Self is a frequent collaborator with artists including Holly Herndon, Planningtorock, Martine Syms, and Geo Wyeth. Their most recent commissions include The World to Come, composed for Berlin's State Orchestra in 2020, and Tip the Ivy, a semi-staged opera premiering in Graz in February 2022. Self currently lives in Berlin.
Geo Wyeth
Geo Wyeth (b. 1984, New York, USA), based in Rotterdam, works in music, performance, narrative sculpture, sound and education. His most recent record ATM FM (2020), was released through Muck Studies Dept. – a constellational narrative framework, and an imaginary city agent surveying the bottom of low-lying water areas, "looking for stars out of what stinks," as a tactic of repair stemming from black feminist radical traditions. Recent Muck Studies Dept. solo performance and exhibitions: The Western Front (Vancouver, 2022); & Vleeshal (Netherlands, 2021). Upcoming collaboration with Nao Bustamante at the Armory (NYC, 2022). Geo has composed original soundtracks for narrative shorts by the artist Tourmaline, including Happy Birthday Marsha! (2018), Atlantic is a Sea of Bones (2017), Salacia (2019), and The Personal Things (2016), as well as the works of many other filmmakers.
Commissioned by Volt, Bergen, and co-produced by KW Berlin, with the support of Konstnärsnämnden, Stockholm, DAAD Artists-in-Berlin Program, and The Hammer Museum, Los Angeles (US).
"Help the Dead" is organized on the occasion of the exhibition "Alive Time" (March 1 – April 17, 2022), a solo exhibition presenting the work of Every Ocean Hughes.