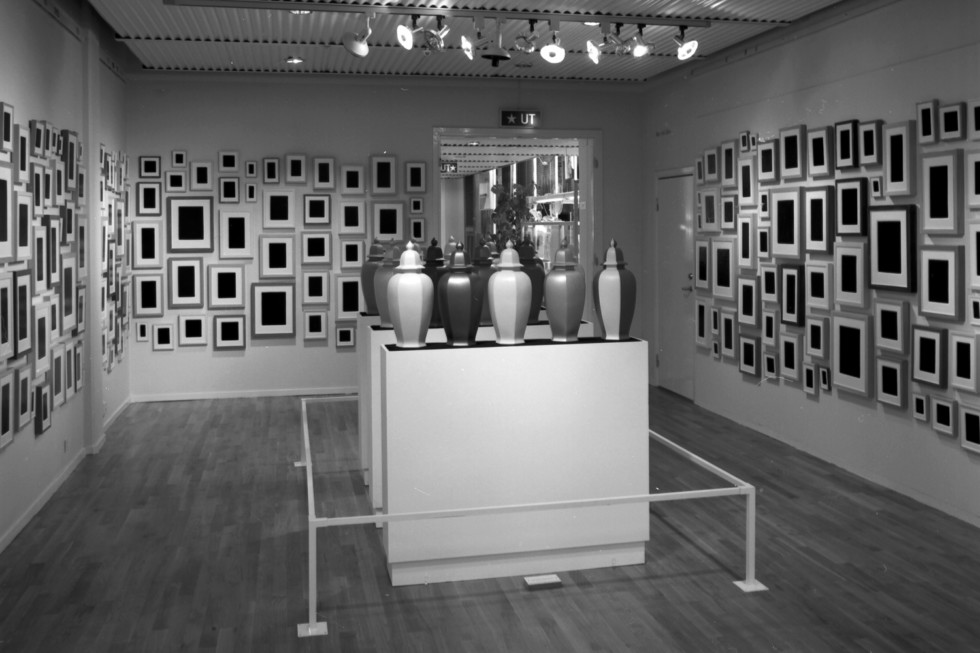 Lars Bang Larsen and Lars Nittve
A conversation about the exhibition Implosion (1987)
21.11 2017
Our newly-appointed curator Lars Bang Larsen meets former director Lars Nittve to talk about the seminal exhibition Implosion – A Postmodern Perspective, which took place at Moderna Museet in 1987.
Date: Tuesday 21 November 2017
Time: at 17–18.30
Place: the Cinema, floor 2
Language: Swedish
Price: admission free
This autumn, Implosion is featured as a small archive exhibition in the Pontus Hultén Study Gallery. This prompted us to arrange an evening talk concerning Implosion and Lars Nittve's exhibition practice at the time and later. Welcome!
An exhibition to promote contemporary art in 1987
The exhibition Implosion – A Postmodern Perspective opened on 24 October, 1987, at Moderna Museet, introducing the Swedish public to postmodern art. It was curated by Lars Nittve, with the ambition to enhance the Museum's coverage of contemporary art. Most of the exhibition space was filled with young, American artists, including Gretchen Bender, Robert Longo and James Welling.
Debate on original and copy
This show was pivotal to photography-based art and video art, featuring artists such as Barbara Kruger, Cindy Sherman, Laurie Simmons, Sherrie Levine and Dara Birnbaum. Allan McCollum's work Plaster Surrogates (1984), which was presented in the first exhibition room, is a response to the heated debate on the issue of original and copy at the time.
Lars Nittve was the director of Moderna Museet in 2001 – 2010
Many of our visitors know Lars Nittve as the director of Moderna Museet in 2001 – 2010.  Before that, he had worked for many years as a lecturer at Stockholm University, an art critic at Svenska Dagbladet and Artforum, and chief curator at Moderna Museet. From 1990, he was first the director of the Rooseum Center for Contemporary Art in Malmö, then of the Louisiana Museum of Modern Art in Humlebæk, and of Tate Modern in London. Following his time at Moderna Museet, he headed the gigantic museum project M+ in Hong Kong, scheduled to open in late 2019. Since spring 2016, Lars Nittve lives in Edsåsdalen in Jämtland.
Lars Bang Larsen is a curator of international art
Lars Bang Larsen is an adjunct curator of international art at Moderna Museet, an art historian and writer. He began working at Moderna Museet in September 2017. His previous exhibitions include A History of Irritated Material (2010) and Reflections from Damaged Life (2013); he also co-curated the São Paulo Biennial 2016, Incerteza Viva. Lars Bang Larsen has written several books, including The Model of a Qualitative Society (2010) and Networks (2014).