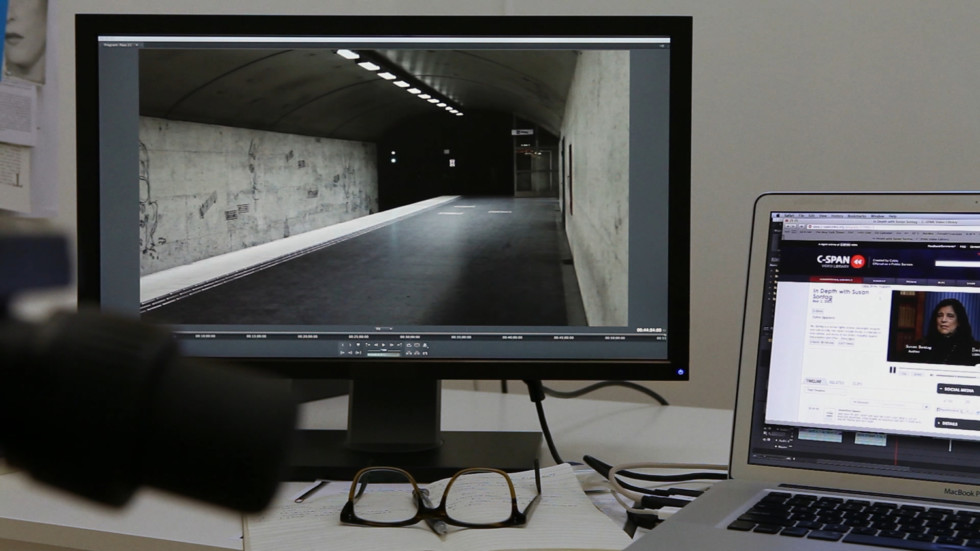 On Photography
A symposium on the legacy of Susan Sontag
20.4 2018
Stockholm
Welcome to an afternoon of lectures, discussions and screenings. During the symposium we will discuss the legacy of the writer, political activist and feminist icon Susan Sontag. Speakers are David Campany, London, Susie Linfield, New York, Anna-Kaisa Rastenberger, Helsinki and Lisa Tan, Stockholm.
On Photography – a symposium on the legacy of Susan Sontag
Date: Friday 20 April 2018
Time: at 13.00–18.00
Place: the Auditorium, floor 2
Language: English
Price: free admission, no booking
Moderna Bar is open after the symposium.
Susan Sontag's photography criticism
Forty years ago, Susan Sontag published "On Photography" (1977), a book that has had a seminal influence on photographic discourse and practice. This key work was followed by "Regarding the Pain of Others" (2003), and Sontag has continued to set the tone for photography criticism. Is her approach to the aesthetic and moral aspect of photographic images still relevant? To what degree is her oeuvre discussed by contemporary photographers and artists?
On Photography
Susan Sontag (1933–2004) was a writer, filmmaker, political activist and feminist icon, a central, and often controversial US intellectual. One field in which she had a seminal influence was photography. Her entirely unillustrated "On Photography" (1977) featured several essays that Sontag had published since the early 1970s, focusing on the interpretation of photographic images and their complex relationship to what we call reality. She claimed that we are desensitised by the sheer volume of images, and that photography limits our perception of reality rather than teaching us something about it. The author also links the image flow of modern society to industrial capitalism.
Postmodern successors
Other influential  writers and critics on the photographic image are Roland Barthes and John Berger. Commenting on "On Photography", John Berger, for instance, wrote that all future discussions on the role of photography in mass media society must inescapably relate to this book. Their sceptical view on photography was adopted by postmodern critics such as Rosalind Krauss, Alla Sekula, and Abigail Solomon-Godeau, who elaborated on these ideas. The very act of seeing came to be looked upon as something suspicious, where the viewer risks becoming a voyeur, and where images, with their unlimited capacity for mass production, could never be anything but fiction. There are no authentic images, only images based on other images.
Sontag and Sweden
"On Photography" was published in Swedish in 1981 and had a great impact here too. Susan Sontag visited Stockholm in 1968 and met members of the cinematic elite, prompting an offer to make two films in Sweden. She stayed in Sweden for several months. Unfortunately, neither audience nor critics liked her films. She also gave an account of her sojourn in Sweden in the article "A Letter from Sweden", published in Ramparts Magazine in 1969, where she describes Swedes as inhibited and stiff. At the symposium, we will show the work "Notes From Underground" (2013) by Lisa Tan, which references Sontag's visit to Stockholm. The artist Lisa Tan participates in the symposium and talks about her work and her relationship to the American author.
Speakers
David Campany is a curator, writer and artist, and teaches at the University of Westminster in London. Susie Linfield is a Associate Professor of journalism at New York University. Anna-Kaisa Rastenberger, PhD, is a professor at the Academy of Fine Arts, Uniarts Helsinki. Lisa Tan is an artist working with video, photography and installations in Stockholm.
Programme
13.00–13.15 Welcome address by Anna Tellgren, Curator of Photography and Research leader, Moderna Museet
13.15–14.00 Susie Linfield: Susan Sontag: Thinking For – and Against – Oneself
Over a long career of writing, Susan Sontag was, of course, wrong about many things. But being wrong – or right – is the least important aspect of her work. It is the method with which Sontag approached writing and thinking – her restlessness, her ability to change, her propensity to interrogate her own beliefs – that is most important. This ability to think against oneself is especially important, indeed crucial, at the present time, when we are faced with so many seemingly intractable political crises that resist our previous formulas.
14.00–14.45 Lisa Tan will introduce her film. Screening of Notes From Underground (2013)
14.45–15.15 Coffee
15.15–15.45 Anna-Kaisa Rastenberger: The Aesthetics of Silence
The lecture will focus on Susan Sontag's early text The Aesthetics of Silence from 1967, which will be observed in connection to exhibition histories and politics of the "white cube". The text will be read also in light of some critical observations of contemporary photography exhibiting practices. It will open another perspective to Sontag's legacy along the more well-known texts as On Photography (1977) and Regarding the Pain of Others (2003).
15.45–16.30 David Campany: On Photography/On Photographs
David Campany will discuss Susan Sontag's place in discussions and theories of the medium that are often split between considering photography en masse (as a set of social and artistic phenomena), and considering individual photographic images.
16.30–17.30 Panel Discussion with David Campany, Susie Linfield, Anna-Kaisa Rastenberger and Lisa Tan. Moderators: Rebecca Bengtsson, Department of Media Studies, Stockholm University and Henrik Andersson, Konstfack University of Arts, Crafts and Design in Stockholm.
Part of the Before and Behind the Lens project
The symposium is part of the photographic project Before and Behind the Lens, which consists of a series of exhibitions, discussions and guided tours. Before and Behind the Lens examines the role of photographic images in art and the transformation of the medium since the early experiments with new technology in the 19th century, to today's explorations of the potential of the optical lens.
In association with the Department of Media Studies at Stockholm University, and the Konstfack University of Arts, Crafts and Design in Stockholm.