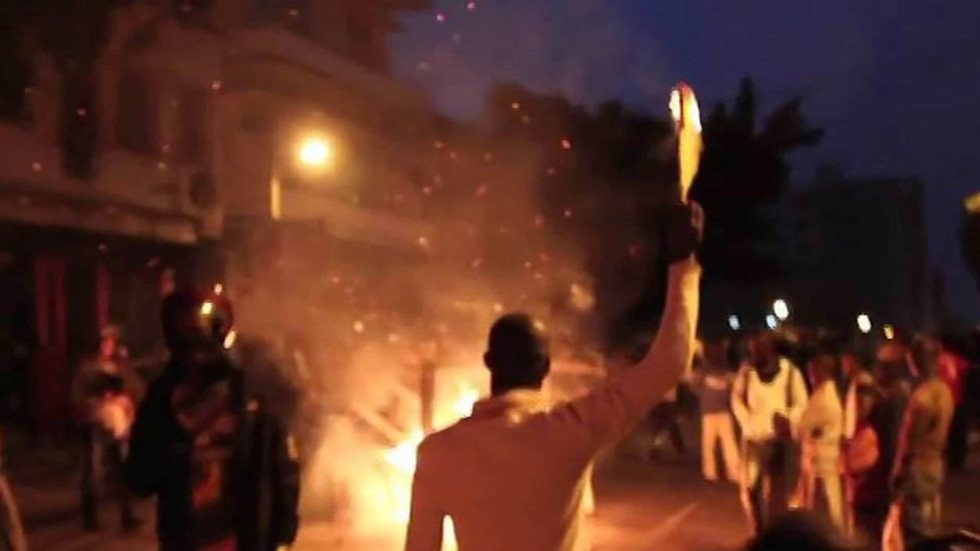 The Revolution Won't Be Televised
The Film Club
6.3 2020
Stockholm
In Senegalese filmmaker Rama Thiaw's film, music – specifically hip-hop – becomes a form of everyday activism for a youth protest movement. This documentary follows the peaceful mobilizations and demonstrations by the Senegalese population during the presidential elections of 2012 and shows a revolution that, as the film title says, was disregarded by the media. The screening is followed by a conversation with Rama Thiaw and Ming Wong, and a performance with the French Caribbean artist Valerie Renay. Welcome!
The film's main focus is a citizen movement led by the Senegalese rappers Thiat, Kilifeu and DJ Gadiaga from the group Keur Gui. "The Revolution Won't Be Televised" is a film about a country in the grip of change, where music and resistance are entangled in the social struggle for democracy.  Made by a mostly Senegalese production crew, the film was shown at Berlinale, where it received the Fipresci International Critic's Prize.
The Revolution Won't Be Televised (2016)
Director: Rama Thiaw
Senegal/France, 110 min
Date: Friday 6 March, 2020
Time: at 18–20.30
Place: the Cinema, floor 2
Language: English
Price: free admission
Booking: book your free ticket: filmklubben@modernamuseet.se
After the screening: Rama Thiaw in conversation with Ming Wong, professor of performance in the expanded field at Royal Art Institute. The conversation is followed by a performance by Berlin-based French Caribbean postpunk artist
Valerie Renay in Moderna Bar.
About Rama Thiaw
Rama Thiaw is a writer, director and producer at BOUL FALLE IMAGES, a Senegalese film production company. After a Master's degree in International Economics at the Sorbonne University, she chose a career in cinema and graduated at the University of Paris 8.
Besides short films on themes such as the precarity of youth, housing and religion, she made her first feature-length documentary film "Boul Fallé, la Voie de la lutte" in 2009, which follows the revival of traditional wrestling in the suburbs of Dakar, where Rama Thiaw grew up and considers the sport's influence in terms of the social and political transformations in Senegal. "The Revolution Won't be Televised" (2016) is her second documentary feature.
In addition to her film work, Rama Thiaw also organised in May 2019 the first edition of Sabbar Artistiques – Women's Reflexive Workshops of Dakar, an international women's festival around questions of feminist and african identity – the first of its kind in West Africa.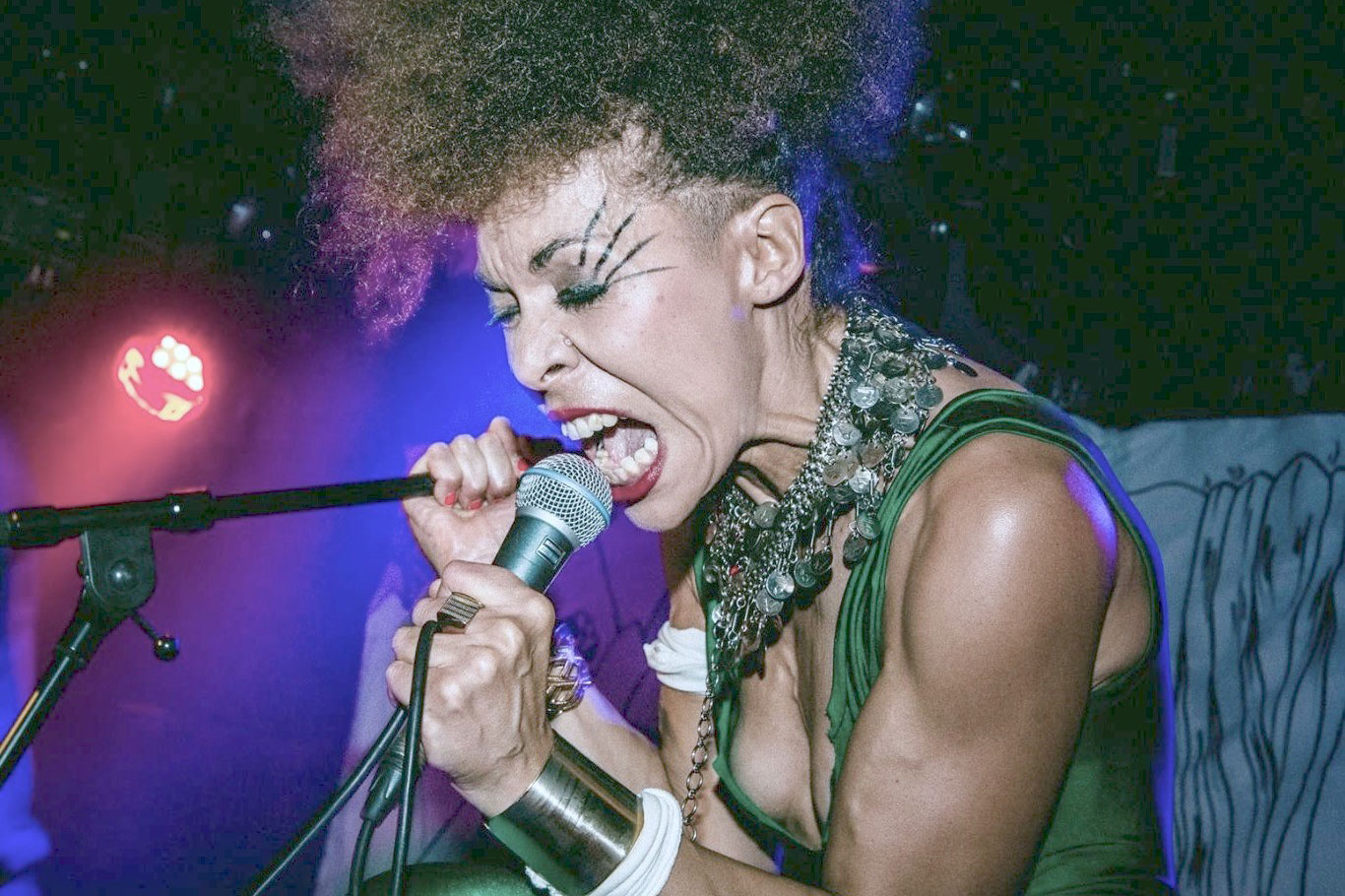 Performance with Valerie Renay
At 21–21.45 in Moderna Bar
After the screening, at the Moderna Bar, there will be a performance by Berlin-based French Caribbean postpunk artist Valerie Renay who will present a live vocal & electronic extravanganza, including collaborations with students of the Royal Institute of Art.
Expect to fill your Friday evening with "empowering and ethereal songs that exude dreamy, dark electronic scents with a visceral twist".
About Valerie Renay
"Postpunk chansons somewhere between Charlotte Gainsbourg and Malaria" Siegessäule (DE)
"The French-Caribbean singer, keeps transgressing genre boundaries and has built, throughout her career, a fascinating link between music, performance art and fashion" – The 405
Valerie Renay recently sung in contemporary opera "Aids Follies" at Brut Wien, performed in Hive Rise at Berghain (CTM Festival) and Together Games (Eclat Festival, Stuttgart) by Ashley Fure. Composed music for Butoh dancer Yuko Caseki (Dock11), and played solo live concerts at Club Control (RO), Pop-Kulture Festival (DE), Spill Festival (UK), and Santarcangelo Festival (IT).
After initial help from producer Moses Schneider and Einstürzende Neubauten's engineer Boris Wilsdorf, Valerie keeps writing and developing her sound live, testing her new material while playing concerts internationally.
About the Film Club
The Film Club features films and discussions on Friday evenings. The Moderna Bar will be open after the film screenings and offers a fine selection of wines, beers, cheeses and vegetarian wraps.
The Film Club resurrected in 2018 and presents films on the boundary between art and documentary. Often, the artist or director will take part in discussions after the screenings. The 2020 spring programme is compiled in collaboration with the Royal Institute of Art.
Film has had a prominent position at the Museum since the start. The Moderna Museet Film Club has existed since the Museum opened in 1958, showing everything from children's matinees to the latest experimental art films.
Duriing the 1990's and early 2000's the museum presented international artists in the series Contemporary Film and Video. Other screening have often been held in connection with exhibitions at the museum or in collaboration with The Royal Academy of Art, Filmform, Cinemateket, Temp Documentary Film Festival, Cinemafrica, Stockholm's Feminist Film Festival, among others.
Previous programme: The Film Club
The Film Club editorial team
Lena Essling, curator, Catrin Lundqvist, curator.
Contact