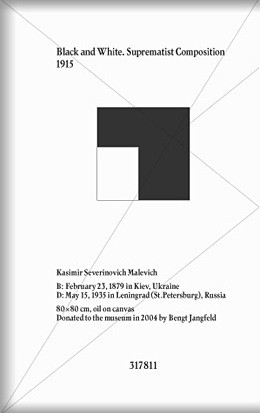 The Studio: Nevertheless, Faith is in the Air
Thursday June 3 2010 at 7-9 pm
19:15 Presentation of the project by Diana Kaur and Padraic E Moore
19:45 Sound screening: The Luminiferous Aether
Seaside entrance only, free of charge. Bar.
Nevertheless, Faith in the Air is a pamphlet, which assesses seven works of art from the last century from Moderna Museet's collection in which the presence of a utopian impulse remains tangible.
In investigating these seven artworks the authors of this pamphlet underscore that while art has never been and cannot be a substitute for proscriptive religion, it can be a fountain of meaning and a mode of communication capable of elevating us above the void of a faithless existence.
The art works selected by the authors are the following:
The Swan No 14 (1914-15) by Hilma af Klint
Green Split (1925) by Wassily Kandinsky
Evident (1960) by Josef Albers
Black and White. Suprematist Composition (1915) by Kasimir Malevich
Model for Monument for the 3rd International(1919-20) by Vladimir Tatlin
Space-force Construction (1921) by Lioubov Serguéievna Popova
Composition (1929) by Amedée Ozenfant
One love is still allowed us, that of works of art. Let us, therefore, fling ourselves upon this last plank of salvation. Let us become the mystics of art.
Albert Aurier (1865-1892), Foundations of Modern Art (1890)
If the frenzied period of development extending from the late 1890's to the late 1960's was characterised by a optimistic – even blind – faith in super physical powers of art, then it could be argued that, since the late 1960's, that tendency has – for the most part – been inverted. The result of the process of disenchantment, which began at the end of WWII, has been the nullification and denunciation of much of that which preceeded. Using methods of investigative research to critique and reflect on seven artworks from the Moderna Museet collection, the authors of this publication declare that the constructive is the only life; that to create is a joy; that to build is life's purpose and man's function. This publication is a reminder that the latent possibilities of the divine soul are inherent within us, slumbering perhaps, but only waiting to be called into development and expression.
To mark the launch of Nevertheless, Faith is in the Air a performance will take place entitled The Luminiferous Aether. It comprises of documentation made by Robin Watkins of low frequency audio signals, which originate from the streams of charged particles that reach the Earth's atmosphere through the Solar Wind, giving rise to the Aurora Borealis and other magnetic storms. For this sound screening, listeners will collectively experience the work through individual radio headphones. Limited seating!
Copies of the pamphlet Nevertheless, Faith is in the Air may be obtained free of charge exclusively at the event.
Pamphlet Design: Konst&Teknik, Stockholm
Performance: Robin Watkins, Dublin
Diana Kaur is a freelance curator, editor and producer based in Stockholm
Padraic E Moore is a writer, art historian and curator based in Dublin
Nevertheless, Faith is in the Air is a collaboration between CuratorLab at Konstfack and The Studio at Moderna Museet. The publication is supported by The Studio at Moderna Museet. The Luminiferous Aether is supported by Curatorlab at Konstfack.
A collaboration with CuratorLab/Konstfack
The Night – Eroticism, Folköl and Melancholia
Wednesday May 19 at 8 pm–Thursday May 20 at 8 am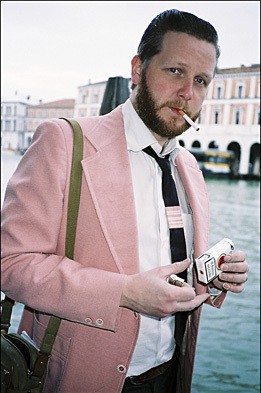 Ragnar Kjartansson
Venice 2009
Photo: Rafael Pinho
Performance in the Studio, Moderna Museet
Entry from seaside. Admission free. Bar from 7.30 pm
Ragnar Kjartansson has created a performance piece especially for the Studio at Moderna Museet: The Night – Eroticism, Folköl and Melancholia. The Night is a wake. A spring night filled with one single song. In mountainous winter scenery, Ragnar Kjartansson sits with his guitar. He drinks Folköl and performs a Swedish song by CM Bellman called "Glimmering Nymph". His father always starts to cry when he plays or listens to that song because it is so erotic. The Night is a performance that is a simple ode to the sad, alcohol soaked eroticism of Stockholm.
Ragnar Kjartansson (born 1976 in Reykjavik) has a broad artistic repertoire. He works with video, painting and performance, and he is also a musician. He studied painting at Iceland's Art Academy during the years 1997-2001 and in 2000 he was enrolled at the Royal Art Institute in Stockholm. Ragnar Kjartansson is one of the most interesting young artists on the contemporary scene. He has already had a large number of international exhibitions, many of them solo-shows including the Venice Biennial (Iceland's pavilion), 2nd Triennale of Turin in 2008 and Manifesta 8, 2008, among others.
Endurance, melancholia and poetic sadness combined with a subtle sense of humour, are often found in Ragnar Kjartansson's performances. He throws himself precipitately between emotions of hopelessness, doom and joie de vivre, in a way that can perhaps only be fully understood by persons with a Nordic background. The romantic image of the artist, the boundless and searching/suffering idealist is present, is paired with a mockery of that very image. Kjartansson's performances often imply that the artist himself has to be put into a situation of endurance. Often he forces himself to do the same thing over and over again, for a very long duration of time. At the Venice Biennial he painted a new portrait with oil on canvas of his friend the artist Páll Haukur Björnsson every day. While painting he drank beer and smoked cigarettes, standing in the Icelandic pavilion every single day during the opening hours and for the whole biennale period, from June to November, 2009. The paintings and the beer bottles where left in the space, piling up as an ever growing stage design. Music like Mozart's Requiem and Wagner was constantly played in the space.
Folköl is a Swedish brand of light beer.
Regard: Subversive Actions in Normative Space
31 March-2 May 2010
Opening on Wednesday March 31 at 6-8pm
Performance by Rymdgymnasiet at 6-8 pm
Pay bar, entrance from seaside.
Free entrance, ordinary opening hours.
Panel debate:
Thursday April 29 at 6pm. Invited guests include Thomas Elovsson, Ingo Vetter amongst others. Moderated by Aimar Arriola.
During the spring of 2010 The Studio is collaborating with CuratorLab at Konstfack. The second project within this collaboration is Regard: Subversive Actions in Normative Space.
Regard: Subversive Actions in Normative Space is a project which takes as its premise the notion that small actions may enact large changes, and cultural margins – rather than the center – can offer powerful observations, actions and reactions to the status quo.
Regard establishes a dialogue within the role of art and creative expression in the public sphere, specifically as an act of resistance and transformation. It focuses on the importance of self-management, the development of organizational systems within informal architectural contexts, and normative space as a stage for subversive performance. Centered around works of artist Miguel Benlloch (Spain), artist collective Heidelberg Project (USA), artist and architect Hardijs Ledins (Latvia) and design collective Unilabor (Brazil), it features documents, films, photographs and other materials. The artist Thomas Elovsson (Sweden) was invited to create a unique work for the exhibition. Regard is curated by Aimar Arriola (Spain), Marina Noronha (Brazil), Maija Rudovska (Latvia) and Alexa Griffith Winton (USA), current participants at CuratorLab/ Konstfack.
The Studio: 19 years + one tool for measuring power
25 February–21 March, 2010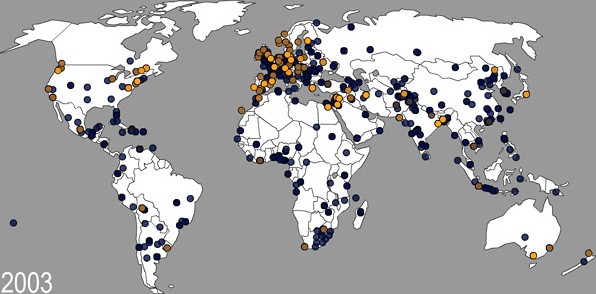 Jon Brunberg's art revolves around individual, collective and political power. He uses digital media to produce video sequences and internet-based systems and images. 19 years shows collective manifestations from 1989 to 2007, as dots on a world map, in 30 seconds.
The starting point of the art work coincides with the year when the Berlin Wall fell. Early that year, the Moslem world was shaken by Salman Rushdie's The Satanic Verses, which caused widespread protests in many countries, including India and Pakistan, and in the early summer the Tiananmen Square in Beijing was the centre of the world's attention. At a fast pace, 19 years presents one-day events in which thousands of people have participated in protest actions that were intended to be peaceful, although some of them escalated into riots or even led to coups d'etat.
The Gothenburg Riots of 2001 are, of course, featured, along with the enormous demonstrations that took place on February 15, 2003, when the west was preparing to invade Iraq. The whole world protested on an unprecedented scale against the war plans, but to no avail. It may seem as though some of the events have gone unnoticed, although they were significant on a local level, for example when China put the lid on after the massacre at Tiananmen Square. Although peaceful manifestations resumed after some time, few details reached the world and were rarely reported in the press, which has been Jon Brunberg's main source. If you wish to learn more about his research methods and definitions.
The Power Tool is an internet-based art work that offers you the possibility to measure your individual power. The piece is process-based and in continuous progress. Jon Brunberg has sharpened the tool for this exhibition, for its visitors, and their decisions regarding their own power. What is power? How powerful are you? With the power tool you can measure and analyse your power and compare your ranking with other users. Issues of individual power are a relatively new phenomenon, connected to ideas about individuality versus collectivity that are representative of our time. Who decides who has power? Can power be quantified? Metaphysical issues emerge as you start to answer the tool's questionnaire.
Interference
28 January–21 February 2010
Opening on Thursday January 28 at 6-8 pm. Performance at 6.30 with CM von Hausswolff. Free entrance, bar.
Participating artists: CM von Hausswolff, Ultra-red, Support Structure: Céline Condorelli & Gavin Wade, Il Faut, Mika Tajima, Carsten Nicolai, Brandon LaBelle, Mattin, Jacob Kirkegaard, Kirsten Reese, Freq_Out Orchestra, Cédrick Eymenier, Miki Yui, Liam Gillick, Henrik Plenge Jakobsen, Sébastien Roux, Christina Kubisch and Henrik Andersson.
Inteference is curated by Michael Capio and Tina Hanssen. Capio is an independent critic, editor and curator based in New York. Hanssen is an independent curator based in Norway and PhD candidate at Lillehammer University College.