Hans Rosenström in the Studio
Stockholm 10 February – 20 March 2011
The Studio at Moderna Museet presents a new installation by Hans Rosenström. Reception on February 10 at 6–8 pm in the Studio. Seaside entrance only. Pay bar, admission free.
At 6.30 pm a conversation between Camilla Carlberg, curator at Moderna Museet, and Hans Rosenström will take place.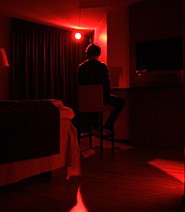 Hans Rosenström, Mikado, Trondheim 2010
This work, Du utan jag, is a text-based audio installation intended to be experienced individually, by one visitor at a time. The installation is part of a series of works on the complex relationship between personal identity and the surrounding room. How does the space in which we dwell affect our identity, and how is the way we perceive a room influenced by who we are? Hans Rosenström scrutinises the relationship between ourselves and others, and explores the psychological meaning of solitude and isolation.
Hans Rosenström was born in Lohja, Finland, in 1978. He studied at the Nordic Art School in Kokkola in 1999-2001, the Malmö Art Academy in 2003-2004, and the Finnish Academy of Fine Arts in Helsinki in 2001-2007. He is currently based in Stockholm and Helsinki. Hans Rosenström has rapidly grown to be an important contributor to art exhibitions and theatre festivals throughout Europe. His first installation in the series to which this work belongs – Mikado – was included in the exhibition Tänk på döden (Think About Death) in Stockholm in 2009, and was shown in an emptied room in the Government Offices. Mikado was further developed in 2010, in the Street View exhibition in Gothenburg, where Hans Rosenström created a site-specific audio installation in a closed-down confectionery shop, which he called Tillsammans (Together).
Hans Rosenström says: I want to build a suggestive situation in which the onlooker encounters or experiences him or herself. In order to stand a chance of achieving that, it is vital that the onlooker does not share the room with anyone and becomes the object of other people's gazes.
Lately, Hans Rosenström has had solo exhibitions at Galleri Sinne, Helisinki (2010), Kluuvi Gallery Helsinki City Art Museum (2009) and FAFA Gallery in Helsinki. He has participated in several group exhibitions, a few of them are Baltic Circle, International Theatrefestival, Helsinki, BASTARD, International Theatre festival, Trondheim, Presences, Real Presence 10, Zvono Gallery, Belgrade, Streeet View, MAP – Mobile Art Production, Avenyn, Gothenburg, all of them in 2010.
Born in Lohja 1978
Lives and works in Helsinki and Stockholm
Education:
2001- 2007 MfA – The Finnish Academy of Fine Arts, Helsinki
2003-2004 Malmö Art Academy, Sweden
1999-2001 The Nordic Art school, Kokkola
1998-1999 Västra nylands folkhögskola, Karis
Solo Exhibitions:
2010 Flyktpunkt, Gallery Sinne, Helsinki, Finland
2009 Mikado, Kluuvi Gallery, Helsinki City Art Museum, Finland
2007 I could have told you that, FAFA Gallery, Helsinki, Finland Collaboration with Juha Laatikainen.
Selected group exhibitions:
2010
Baltic Circle, International Theatrefestival, Helsinki, Finland
BASTARD, International Theatrefestival, Trondheim, Norway Presences, Real Presence 10, Zvono Gallery, Belgrade, Serbia
Streeet View, MAP – Mobile Art Production, Avenyn, Gothenburg, Sweden
2009
Mikado, Amos Anderson Art Museum, Helsinki New Pleasure, Visningsrommet USF, Bergen, Norway
Tänk på döden, Mobile Art Production, Culture Festival in Stockholm, Sweden
Urban Story, Gallery Kalhama & Piippo Contemporary, Helsinki, Finland
2008
Jotain muuta odotellessa, URB 08, Museum of Contempoary Art Kiasma, Helsinki, Finland
Urban pedestals, Public Art Project in Helsinki. Finland Mare Balticum. Thomas Mann Culture Festival, Nida, Lithuania
2007
Consequences and Proposal, The Biennale of Young Artists, Tallinn. Estonia
Midbaugur og Kringla, Leisure, Administration and Control, Reykjavik, Iceland
The 25 Best Artists in Finland, The Mänttä Art Festival, Mänttä, Finland
2006
Make your own shadow, Holden gallery, Manchester. England Collaboration on Site, Museum of Contemporary Art Kiasma, Helsinki. Finland
Kuvataideakatemian kevätnäyttely, The Fine Art Academy Gallery, Helsinki, Finland
Hard Revolution, NORD culture festival, Potsdamer Platz, Berlin, Germany
2005
Lost in Translation, 9th Istanbul biennale, Istanbul, Turkey
Real Precense, Museum of Applied Arts, Belgrad, Serbia
Speak Up! gallery Myymälä 2, Helsinki, Finland
2004
Pimeä, contemporary art festival, Kallio, Helsinki, Finland
Spring exhibition, Malmö Art Academy, Sweden
2003
Recycling the Future, Vivere Venezia II, 50th Venice biennale, Italy
Nuorten Näyttely, Muu Gallery, Helsinki, Finland
Residency:
2010
IASPIS, International Artist Studio Program in Sweden, Stockholm
2009
Platform Garanti Contemporary Art Center, Istanbul, Turkey
2008
Centre d'Art I Natura, Farrera, Spain
Work in Collection:
Amos Andersson Art Museum
Bibliography:
Kaisa Heinänen, Taiteilija taikoo tilasta toisen, Helsingin Sanomat, 4.12.2010, C 3, (Finnish)
Maria Sähkö, Näyttelijä katoaa, läsnäolo voimistuu, Helsingin Sanomat, 21.11.2010, C 6, (Finnish)
Peter Al Fakir, Hörselvillor och kalla kriget, Hufvudstadsbladet, 21.11.2010, s.27, (Swedish)
Katja Matikainen, Itämeri ja Tarinoiden meri Raumalla, Taide lehti, 4/2010, (Finnish)
Sinziana Ravin, "Street View" på Mobile Art Productin i Göteborg, Dagens Nyheter, 15.4.2010, (Swedish)
Mikael Olofsson, Street View | Göteborg, Avenyn, Göteborgs-posten, 12.4.2010, (Swedish)
Kaisa Heinänen, Kuiskaus riittää hätkähdyttämään, Helsingin Sanomat, Helsinki, issue 25.2.2009, p. C 3 (Finnish)
Jari-Pekka Vanhala, Hans Rosenström, Komeetoista Valaisiin, Kuvataideakatemian maisteritutkinnon lopputöitä ja tarkastuslausuntoja vuosilta 1995 – 2008, p. 468 – 475 (Finnish)
Antti Möller, Tilaa kokemuksille, BASSO, Helsinki, 2008, no. 1, p. 30 – 31 (Finnish)
Leena Kuumola, Plastigt och ytligt, Hufvudstads Bladet, Helsinki, issue 6.8.2007, p.18 (Swedish)
Taru Elfving, Kurkunvihreä kaide, Kuvas, Helsinki 2005, no. 1, p. 23 – 24 (Finnish)
Mika Hannula, A wie Aktivieren! Strassen feger, Berlin 2003, no. 21, p. 4 – 5 (German)
Mika Hannula, Recycling the Future, Frame news, Helsinki 2003, no. 1, p. 7 (English)
Ilta-Sanomat workgroup, Oikeutettu sota vai ei?, Ilta-Sanomat, Helsinki, issue 14.2.2003, p. 14-16, (Finnish)