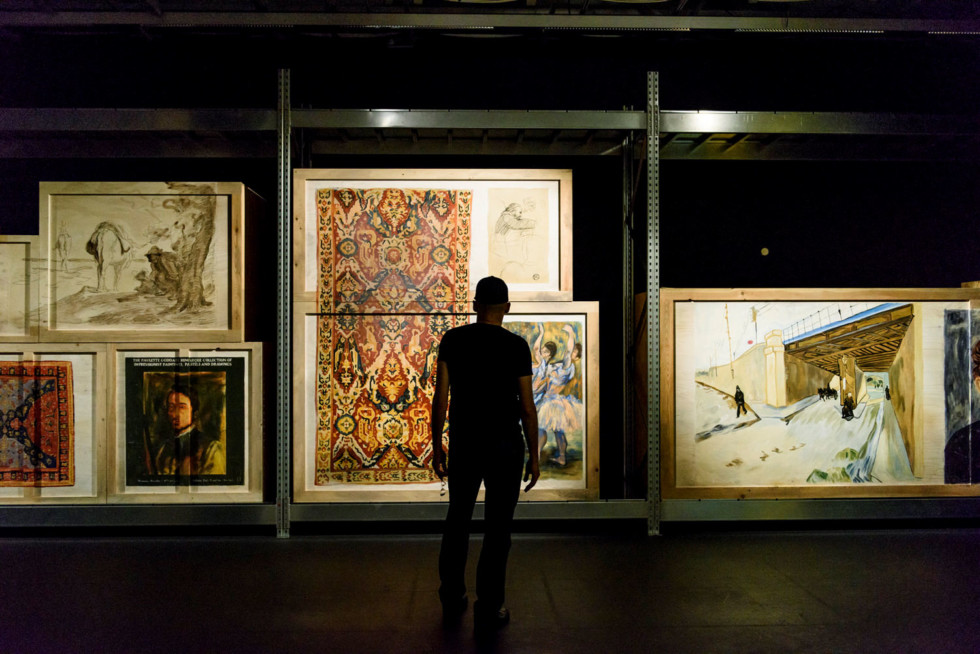 Kicking the Dead and/or Les Louvres
Performance with Walid Raad
15.2 2020 – 10.5 2020
Stockholm
Meet the artist Walid Raad in a unique performance. The work interweaves historical, political, economic, cultural and philosophical threads into a narrative that is dizzying, imaginative, and illuminating. "Kicking the Dead and/or Les Louvres" is a part of the exhibition "Walid Raad: Let's be honest, the weather helped".
"Kicking the Dead and/or Les Louvres" is a 75-minute performance, which Raad refers to as a "walkthrough". It accompanies the exhibition, and comprises lecture-style presentations, video screenings, and walks in the exhibition spaces. The performance is held on 23 occasions.
Thematically, Walid Raad concentrates on the opening of the Louvre Abu Dhabi. His inquiry leads him to engage World War I, arts education, insurance, sweat, and the history of tall buildings.
Along the way, Raad also introduces several characters, including a Vietnam veteran/World War One buff; carpet restorers; real estate moguls; and various sheikhs, princes, and emirs.
Walid Raad will, in addition to the performance, hold five guided tours of the exhibition: Guided tour with Walid Raad
Visitor information
The check-in for the performance opens half an hour before the performance. You check in at the reception desk by the main entrance. We advise you to arrive at least 10 minutes before the start of the performance.
Please note that on the artist's request, no one can be admitted after the start of the performance. And visitors are expected to be present for the entire performance. Duration of the performance is 75 mins.
Please also note that photography and/or any forms of recording is forbidden during the performance. Thank you for your understanding.
Admission fee to the exhibition is included in the ticket and valid as entrance on the same day as the performance. Please note that the exhibition is only open at 13.15–16.15 on some of the performance days.
Welcome!
Kicking the Dead and/or Les Louvres
Performance with Walid Raad
Date and time:
Saturday 15 February: at 11.30–12.50 and at 16.30–17.50
Sunday 16 February: at 11.30–12.50
Tuesday 24 March: at 18.30–19.50 cancelled 
Wednesday 25 March: at 11.30–12.50 and at 16.30–17.50 cancelled 
Thursday 26 March: at 11.30–12.50 and at 16.30–17.50 cancelled 
Friday 27 March: at 11.30–12.50 and at 18.30–19.50 cancelled 
Saturday 28 March: at 11.30–12.50 and at 16.30–17.50 cancelled 
Sunday 29 March: at 11.30–12.50 cancelled 
Tuesday 5 May: at 18.30–19.50 cancelled 
Wednesday 6 May: at 11.30–12.50 and at 16.30–17.50 cancelled 
Thursday 7 May: at 11.30–12.50 and at 16.30–17.50 cancelled 
Friday 8 May: at 11.30–12.50 and at 18.30–19.50 cancelled 
Saturday 9 May: at 11.30–12.50 and at 16.30–17.50 cancelled 
Sunday 10 May: at 11.30–12.50 cancelled 
Place: in the exhibition, floor 4
Language: English
Duration: 75 min, no admittance after the start of the performance
Price performance: 180 SEK
Read more about the exhibition: Walid Raad