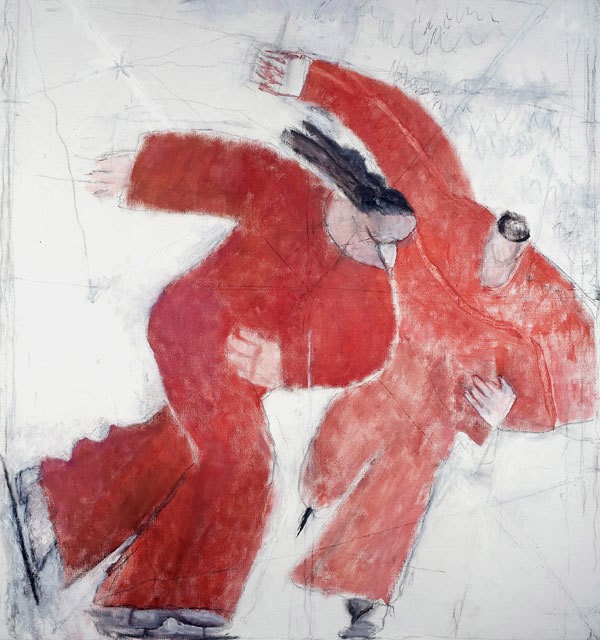 Birgit Broms
30.9 2006 – 10.12 2006
Stockholm
Buildings, steamboats and skaters, and a number of discerning portraits of famous people such as Inger Alfvén and Benny Andersson. Birgit Broms has devoted her oeuvre to a small number of themes. Although the subject matter is extremely small, her compositions are infinitely varied and finely calibrated.
While studying in Paris in her youth, Birgit Broms (b. 1924) attended life drawing classes at the Academie Julian in Montparnasse. On returning to Sweden she was enrolled at the Beckman College of Design in Stockholm, but she soon realised that she was more suited to fine arts, and in 1947 she was accepted at the Royal Academy of Fine Arts. Her first professors were Sven X-et Erixon in painting and Arvid Fougstedt in drawing. Bror Hjorth eventually succeeded as the professor of drawing, and he encouraged her and praised her bold style and eye for the overall effect. His appreciation was crucial to Birgit Broms. After a short period at the Academy, an opportunity arose to study fresco painting in Venice for a year. At the Museo dell'Accademia she studied the old masters and discovered how they created dynamism in their compositions by letting foreground and background change places.
Ever since her year in Venice, pictorial composition has been the hub of Birgit Broms's work. She quickly loses interest in the subject matter itself, on behalf of the vibrancy of the shapes. Movement and stillness, volume and void, interplay in a fascinating totality. Her work process starts with small detailed pencil sketches that gradually grow more and more abstract. She works on a subject until she finds a solution for the composition. Then one or two sketches are used as the starting point for a collage or watercolour, before she starts on the actual painting. This is a time-consuming process, which means that her production is limited and she has had relatively few exhibitions.
Looking at Birgit Broms's many paintings of skaters brings to mind a detail from a cave painting, possibly from Lascaux. The detail shows a few animals, arranged in a circle which gives movement to the composition. From initially being a static image carved into the rock, the animals appear to gallop around, still after thousands of years on the cave wall. Once we discover the movement we can't ignore it. Birgit Broms's paintings have a similar remarkable dynamic. Diagonals cut across the pictorial space and the play between volumes and space are the central focus. When we compare several of her works on the same theme we discover how small changes make a vast difference. The skaters glide past at different speed and the colour temperature varies.
Birgit Broms's portraits can be experienced exclusively as a play with surfaces and lines. And yet, she manages to capture the unique character of the individual. When she depicts her model she takes a long time. She proceeds tentatively, probing for what is characteristic of the model's personality – not the purely depictive, but the visually interesting and emotional qualities. She needs to establish a contact with her model before the portrait can come alive. For the sake of the composition, beards and hats are welcome attributes, since they divide the pictorial space into distinct fields. If the painting needs red, she will paint the hair red, even though the model in real life has turned grey. That was the case when she portrayed Erland Josephson, and the result was so alluring that one exceedingly unwilling model – Ingmar Bergman – asked Birgit Broms to paint him too. Several of her portraits are in the Gripsholm Palace portrait collection, while others belong to the Bonnier portrait collection at Nedre Manilla in Stockholm.
Another subject that recurs throughout Birgit Broms's oeuvre is buildings. The character and specific qualities of the buildings make them stand out like individuals, but the viewer can easily be absorbed and lose sight of the facade itself. Colour, shape and movement combine into veritably abstract compositions. Their perspectives are sometimes vertiginous, evocative of Giorgio de Chirico's strange worlds of impossible streets and claustrophobic plazas, but Birgit Broms's works do not emit the same eerie mystique. Jan Håfström remarked that one of her paintings of a building conveys a feeling of looming danger, that something is about to happen – an atmosphere as though borrowed from a Hitchcock movie. At any moment a completely different feeling can take over, and the building starts to breathe like a safe, familiar body.
Ulf Linde has compared her repetition of subject matter with words that are repeated hundreds of times. Eventually, the meaning of the word is lost, and instead we hear only the sound. In the case of Birgit Broms, we eventually see only the shapes. It is interesting to look at her compositions upside down or rotated 90 degrees now and then, as she herself has noted with delight. The pictures have a kaleidoscopic quality – the focus moves and suddenly small components fall into a new fascinating constellation.
Even if the formal aspects are central, the subject is not entirely irrelevant. The skaters themselves are there, ready to be seen in their own right. Occasionally, the skaters resemble the faceless figures in Carl Kylberg's spiritual art. The art historian and critic Peter Cornell has written that they look like angels somewhat belatedly coming to someone's assistance, or on their way to surround some holy personage. The chill and freshness of the skating rink is unmistakable. We can sense the damp wool of scarves and socks in the air, and the characteristic smell of lake at the quayside wafts towards us from her boat scenes. Images are evoked from our memory. Birgit Broms's works are both analytical and sensual and sprung from tender observation. They show us things we have seen countless times before in a way that makes us feel we are seeing them for the first time.
The exhibition presents a selection of paintings of skaters and buildings from more recent years, together with an early painting from the Moderna Museet collection. The monitor opposite the restaurant shows a few interviews from the new documentary The Way I See You (2006), which focuses on the portraits.