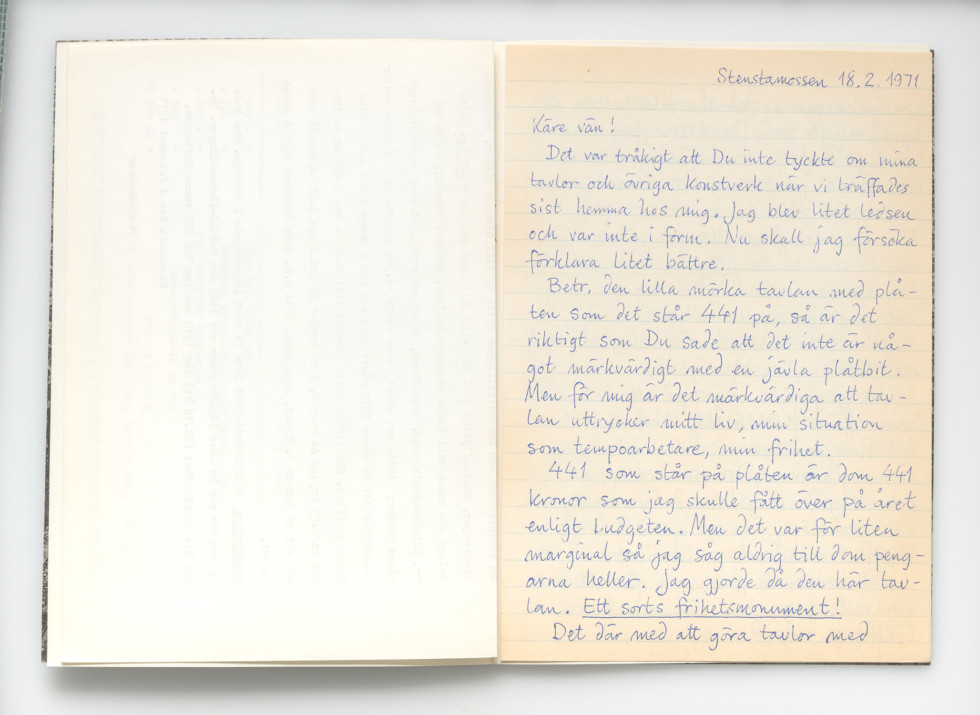 The environment "Mr. P's Hoard" was created for Björn Lövin's first museum exhibition, which took place at the Moderna Museet in 1971 and is about the fictional Mr. P and his life based on the reality of a Swedish low-income earner. This letter was inserted in the exhibition catalog and here Mr. P himself writes about his situation and artistic ambitions in 1970s Sweden.
Stenmossen February 18, 1971
Dear Friend!
I am sorry that you didn't like my paintings or my other things when we last met at my place. I became very sad and was quite out of form. Now I do want to explain things somewhat better.
Regarding the little dark painting with the tinplate marked 441 – I must agree with you, that it isn't anything peculiar with a damn tinplate. But for me the peculiar thing is, that this painting is expressing my own life, my situation as an unskilled worker, my freedom.
441 as it is marked on the tinplate indicated those 441 crowns, I should have had left over during the past year according to my budget. But as there was a small margin, I never saw that money either. It was then I did this painting. Sort of a monument of freedom!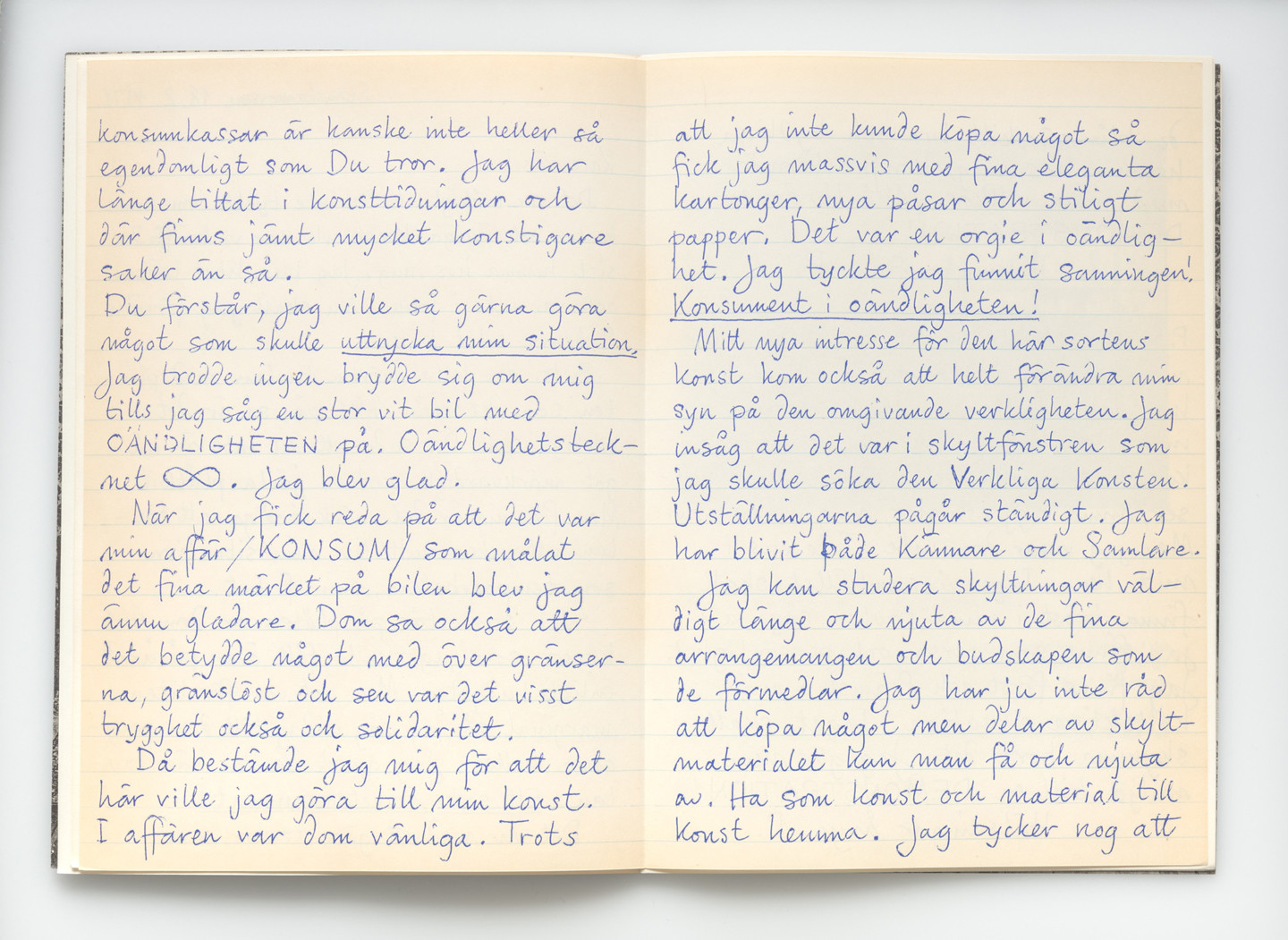 Maybe my idea of making artwork out of "Konsum" bags isn't as peculiar as you would think. For a long time, I have studied art magazines and reading them I have found many more strange things. You see, I wanted to do something that expressed my own situation. I didn't think anyone cared for me until I saw a big white car with the ENDLESSNESS marked on the outside. The sign of the endlessness. I was very happy.
When I got to know that it was the people from my grocery store (Konsum) who had printed that nice sign on the car, I became even more happy. They also said that it meant something regarding – over the border lines, boundlessly – and also security and solidarity.
It was then I decided what I wanted to do to realize my artwork. In the grocery store they were very kind. Thought I didn't buy anything, I got lots of elegant boxes, bright new bags and beautiful wrapping paper. It sure was an orgy in endlessness. I thought I had found the truth! Consumer in endlessness!
My new interest for this kind of art became a way to entirely change my view on the surrounding reality. I realized that it was in the shop-windows I should look for the real art. There the exhibitions are always going on and on. I have become a Connoisseur as well as a Collector.
For a very long time I can study the shop-windows and I am enjoying the nice arrangements and the messages they bring about. I cannot afford to buy anything, but I can just be allowed to enjoy myself with parts of the display of goods. For using as art and as material for art at home. I do think though, that they fit extremely well and clearly in my home, confronted with my conditions. My life is a DEMONSTRATION!
Many regards from P.
PS. What you don't know is, that I also make ordinary paintings. But I keep them in my cellar. I am never showing them. They deal with my personal love, sensual and sexual experiences, my own aggressions, myself and so on. But I will never show them. Not even in my home. No one in the community will find any consolation in my paintings, they will never say that I remain as a person or a personality. First of all, I remain in my collective situation. Nothing is going to hide that away. I want to make my environment as a DEMONSTRATION!
Once again, many regards P.