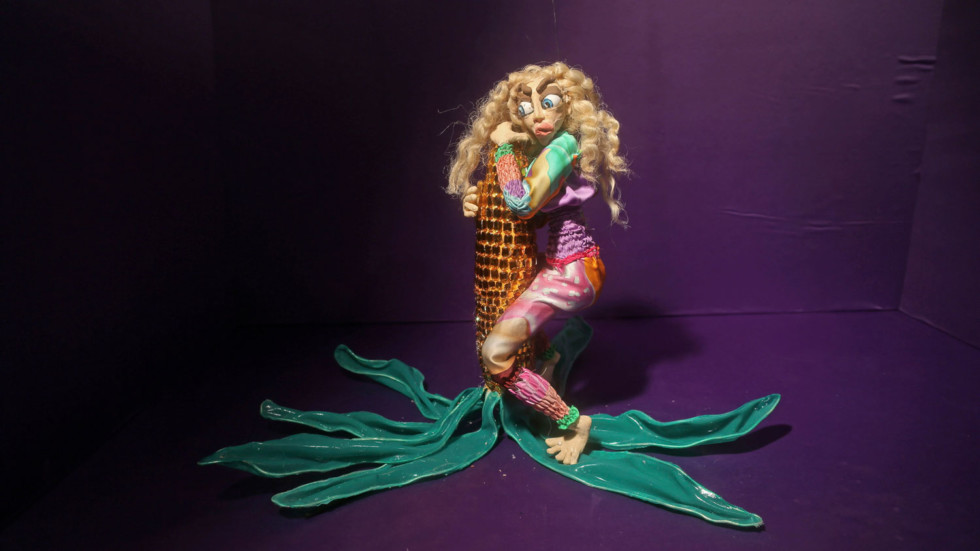 Nathalie Djurberg & Hans Berg
A journey through mud and confusion with small glimpses of air
16.6 2018 – 9.9 2018
Stockholm
Step into the dreamlike, animated worlds of Nathalie Djurberg and Hans Berg, with sculpture, music and moving images. Their playfully told fables convey humour and darkness and disable all moral laws of gravity. Take part of the internationally renowned duo's stop motion films and spatial installations, and their brand new VR work.
The exhibition describes an inner voyage, an attempt to decipher existence in a flow of impulses and impressions. There is an element of seduction in the encounter with the works of Nathalie Djurberg and Hans Berg. They make us lower our guard, but then the mood intensifies, and we are torn from comfortable contemplation. These works capture extreme states – our deepest darkness and greatest euphoria.
Nathalie Djurberg and Hans Berg create animated worlds with objects, sound and moving images – dreamlike realities where we can lose our way. Intense chamber pieces enact fragmentary memories repressed between innocence and shame. Feverish daydreams about role play and desire, with comedy and darkness, set to hypnotic music. The films topple accepted truths about man's supremacy in nature and our habitual perceptions of memory, time and space. Embedded in these works is a burlesque social critique that – sometimes literally – undresses the men of power, given hierarchies and social norms.
Film with Nathalie Djurberg & Hans Berg
The film is an introduction to the artist duo and follows them in the work with the exhibition at Moderna Museet in the summer of 2018. In Swedish. English subtitles available.
A playful approach to desire and repulsion
Nathalie Djurberg sees herself primarily as a painter but often works with sculpture and spatial installations. For her video works she uses stop motion animation, where a series of stills combine to give the illusion of movement – a laborious process that requires total, protracted concentration. She works in close dialogue with Hans Berg, whose music adds further layers of meanings and moods. Their collaboration is intuitive, with no storyboards or pre-written scripts. The resulting works are profoundly original, with many links to other performing arts, film and painting, and a playful approach to both desire and revulsion in a grotesque tradition that was also sourced by the surrealists. There are parallels to Hieronymus Bosch's fantasy scenes, to the controversial filmmaker Pier Paolo Pasolini, or the powerful performances of Carolee Schneeman. But also to dark fairy tales, clubbing and popular culture.
The exhibition passes through different landscapes
This summer's exhibition is the artists' largest on the international art scene for more than a decade. They have described it as an inner voyage through chaos and confusion, or as "the attempt of an ego to find its way out of itself." The exhibition moves through archetypal landscapes – the dark forest, the illuminated stage, the closed cave, and the sealed chamber. Confined spaces where painful or droll situations are enacted between characters who are often closely related to one another. The voyage meanders via labyrinthine subterranean worlds, up into light and air, only to delve back down into the shadows – through wallpapered rooms and tangled underbrush, coiling music loops and wormholes in time.
Large spatial installations and new works
The presentation includes spatial installations with music and moving images, including "The Parade", "The Potato" and "The Experiment", along with some 20 independent video works. Several entirely new pieces will also be shown – videos and sculptures, and the artists' first virtual reality (VR) experience. The exhibition spills into a couple of rooms containing iconic works and rarely-shown pieces from the Moderna Museet collection of surrealism and Dada, selected by the curator Jo Widoff. Works created in another era, which nevertheless have similarities in approach, style and strategy.
A major presence on the international art scene
Nathalie Djurberg and Hans Berg, both born in Sweden in 1978, live and work in Berlin and Stockholm. Over the past decade, they have been prominent on the international art scene, and their works have been shown at the Venice Biennale, The New Museum in New York, and the 21st Century Minsheng Art Museum, Shanghai.
Exhibition Catalogue
A catalogue is published in conjunction with the exhibition in association with Hatje Cantz, with new essays by Lena Essling, curator at Moderna Museet; Massimiliano Gioni, artistic director of The New Museum, New York; Patricia MacCormack, film theoretician, Cambridge; and David Toop, musician and writer, London.
Admissions
Admission: 150 kr
Reduced admission: 120 kr (for seniors and students)
Free admission for those 18 and under and Friends of Moderna Museet.
Guided Tours
In Swedish
"Surreal"
Tuesdays at 13.00, Thursdays at 15.00, Sundays at 15.00
Curator tours
Saturday 16 June at 14.00, with Karin Malmquist,curator Learning
Friday 24 August at 17.30, with Lena Essling, curator
Baby Tour
Thursday 28 June at 15.00–17.00
Tursday 5 July at 15.00–17.00
Audio Description
Thursday 21.6 at 15.00–17.00
Assisted Housing Groups
Thursday 12.7 at 16.00–18.00
In English
"Surreal"
Saturdays at 14.00
Att tours and full programme to the exhibition: Calendar
Art Adventure, from 5 and up
An art advernture is a family tours for kids and adults to do on your own in our exhibitions. In the art adventure "Surrealisms" you solve a crossword by answering questions along the way. Ask at the information desk on floor 4, and get ready for an exciting art adventure! From 5 and up (accompanied by an adult).
Virtual reality art work
The VR work "It Will End in Stars" is active at 13.00–17.00 during the exhibition's opening hours.
Extended hours last weekend of the exhibition
The VR work is active at:
Friday 7 September at 12–20
Saturday 8 September at 12–18
Sunday 9 September at 12–18
The exhibition is on the 4th floor