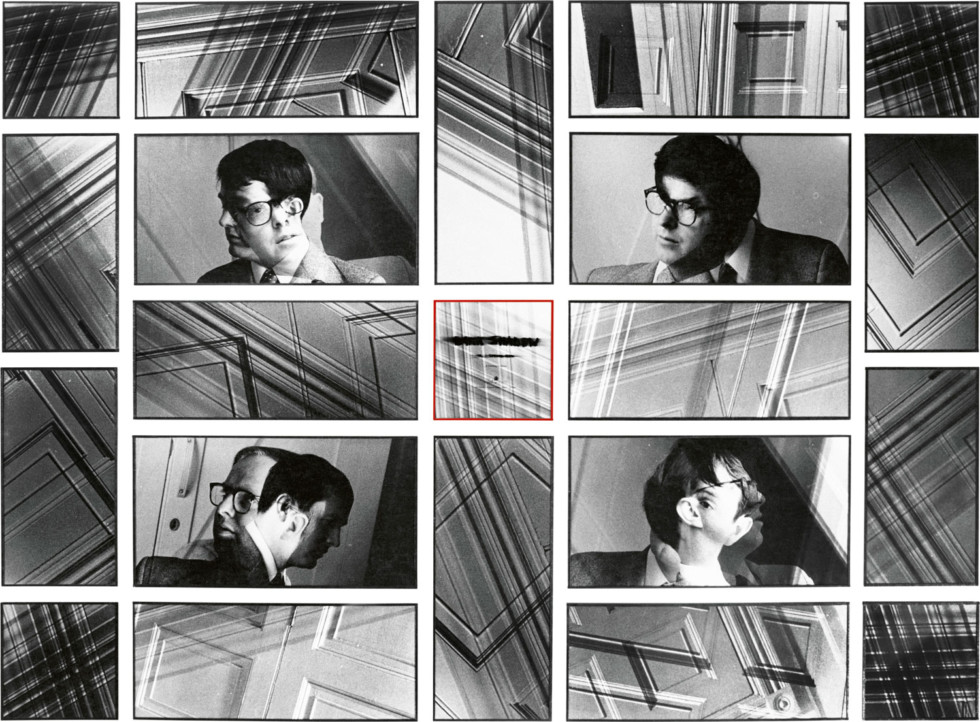 Introduction Gilbert & George
Gilbert & George are two men who together are one artist. For more than five decades, Gilbert & George have been creating works that challenge the conventions of art and society with a blatant disregard for any notions of "good taste". Dressed in near-matching impeccably well-pressed suits, Gilbert & George have resided in the same London neighbourhood since the 1960s. Here you can read an introduction to "The Great Exhibition".
Ever since they first met at the St Martin's School of Art and Design, Gilbert (born in the Dolomites, Italy, in 1943) and George (born in Devon, UK, in 1942) have followed their own path. As both the subjects and objects of their art – they have devoted their life together to art. Gilbert & George not only do art – they live art, and their everyday life is as rigorous as it is creative. By reducing their existence at home and in their studio on Fournier Street in the East End to simple routines, they have made room for total creative madness.
Their images fill the walls from floor to ceiling, at once both grotesque and terse, surreal and symbolic, but consistently within the strict grid that is emblematic of the duo. Sex, money, race, and religion are among the subjects of their art, which succeeds in combining happiness and sadness.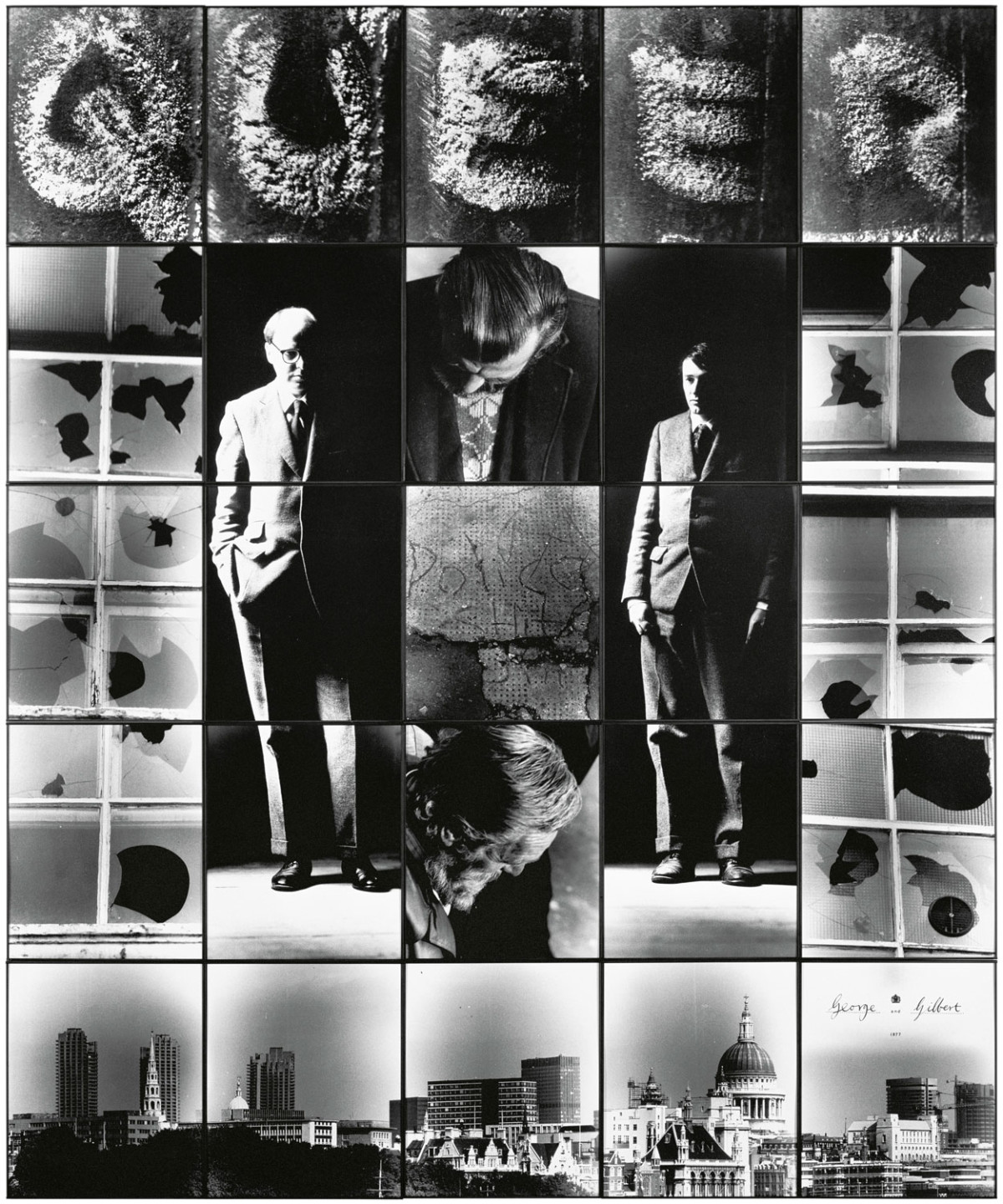 Early Works
Ever since the late 1960s, Gilbert & George have seen themselves as an inseparable part of their art. As young sculptors without a studio, money or support from the establishment, they realised that they themselves were their own best medium, and that they could communicate their artistic vision as living sculptures.
They became known for their "Singing Sculptures": impeccably dressed in suits, with bronzed faces, singing to "Underneath the Arches", a ditty from 1932 about homelessness during the Depression. Drinking and drunkenness was a central theme in their early works. With vaudeville music, pastoral views and blurred pictures of drinking, Gilbert & George were well on the path of "art for all", as is their motto.
Around 1974, Gilbert & George began organising their pictures in the grid that has come to be their signature, and which they continue to use to this day. Since then, nearly all their work is serial, and they appear in person in practically all their images. The pictures from the late 1970s portray a dilapidated London in social upheaval. Gilbert & George found in graffiti an immediacy that was lacking in contemporary art.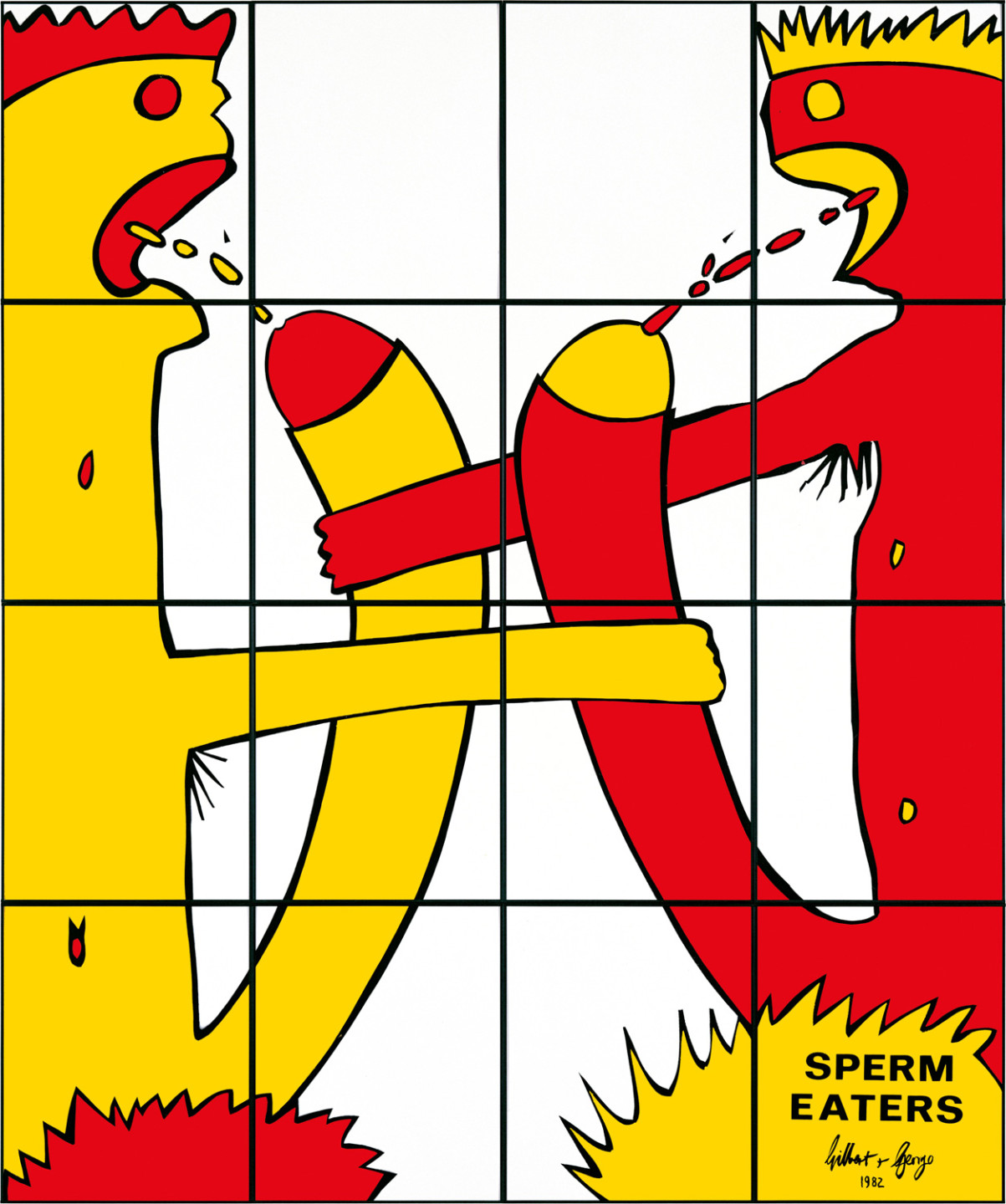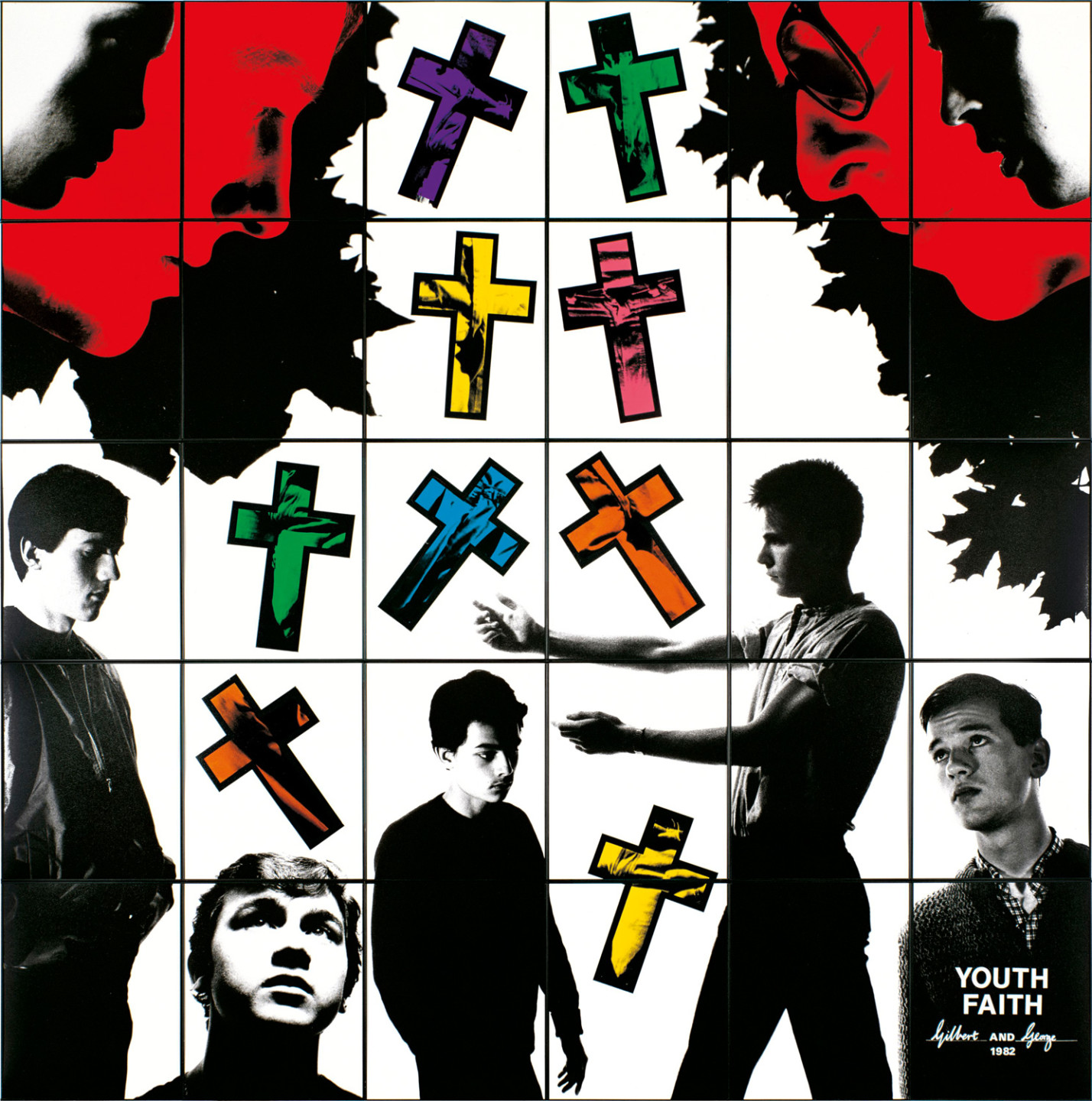 The 1980s
The home and studio on Fournier Street has been at the centre of Gilbert & George's art ever since they moved there in 1968. They originally rented the ground floor but went on to buy the whole building in the mid-1970s. It was on Fournier Street that Gilbert & George developed a unique technique that enabled them to make large, complex pictures. Based on detailed sketches, negatives were arranged and exposed onto all of the photographic papers mounted together. These were in turn developed and hand-coloured one by one. It was only when all the papers had been completed, framed and reassembled that the resulting picture could be seen. This system of panels also made their monumental works easy to transport and exhibit, meaning that they could reach larger audiences. In 1988, for instance, they took their art to the Soviet Union.
Their pictures now grew even larger and bolder. Symbol-laden motifs in loud colours challenged norms on sex, religion and relationships. Colour became an essential part of Gilbert & George's style, used either expressively, to set the mood, or symbolically. No matter how beautiful their pictures are, they are not intended to be aesthetic, formalistic or conceptual – their content is what matters.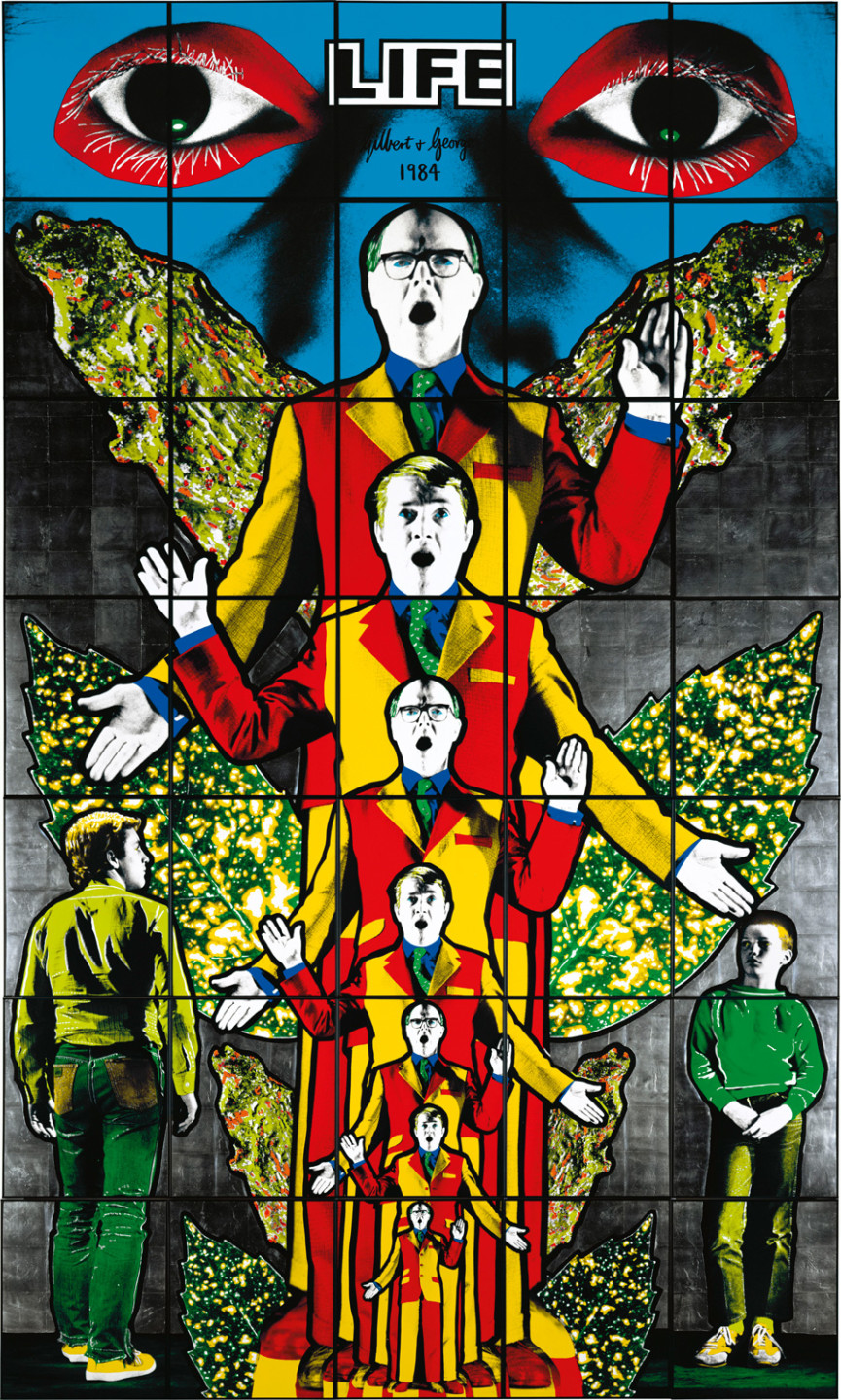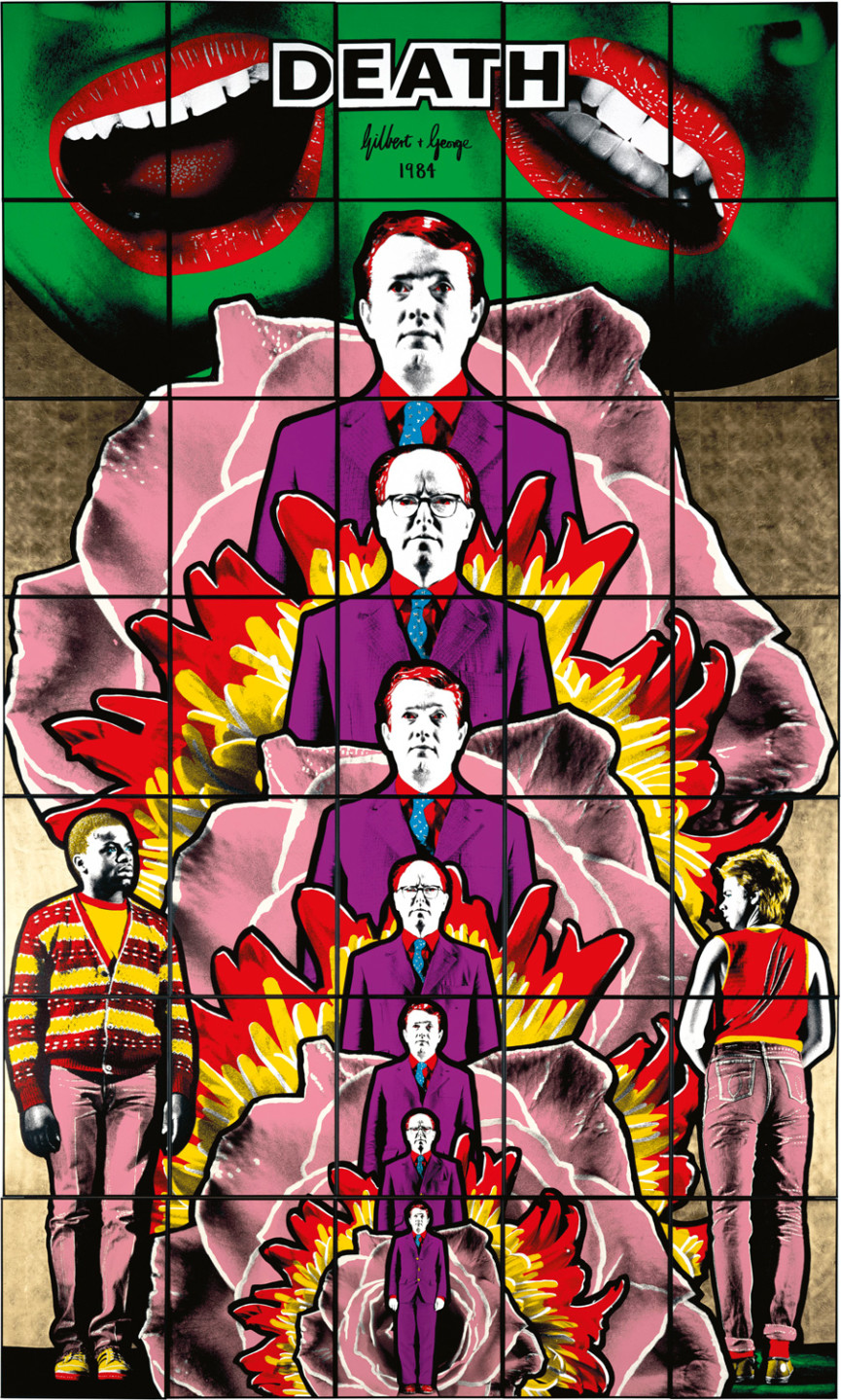 Life and Death
The central themes of Gilbert & George are summed up by the titles of some of the quadriptychs they have created over the years: "Death, Fear, Hope, Life" (1984), "Shitty, Naked, Human, World" (1994) and "Sex, Money, Race, Religion" (2016).
Gilbert & George often deal with the big existential questions in their art, but they leave it to the viewers to seek and challenge their own truths and find their own answers. With the viewer, they explore and test their feelings in their art.
From the start, Gilbert & George have operated beyond the given structures of the art scene, from necessity and preference. They chose to make their own rules instead of following those of others. They have always questioned authorities that claim to have the solution to life's major questions. They reject all religions but are interested in how such belief systems influence our lives. Their obtrusive, monumental pictures offer a contemporary alternative to religious imagery such as stained-glass church windows.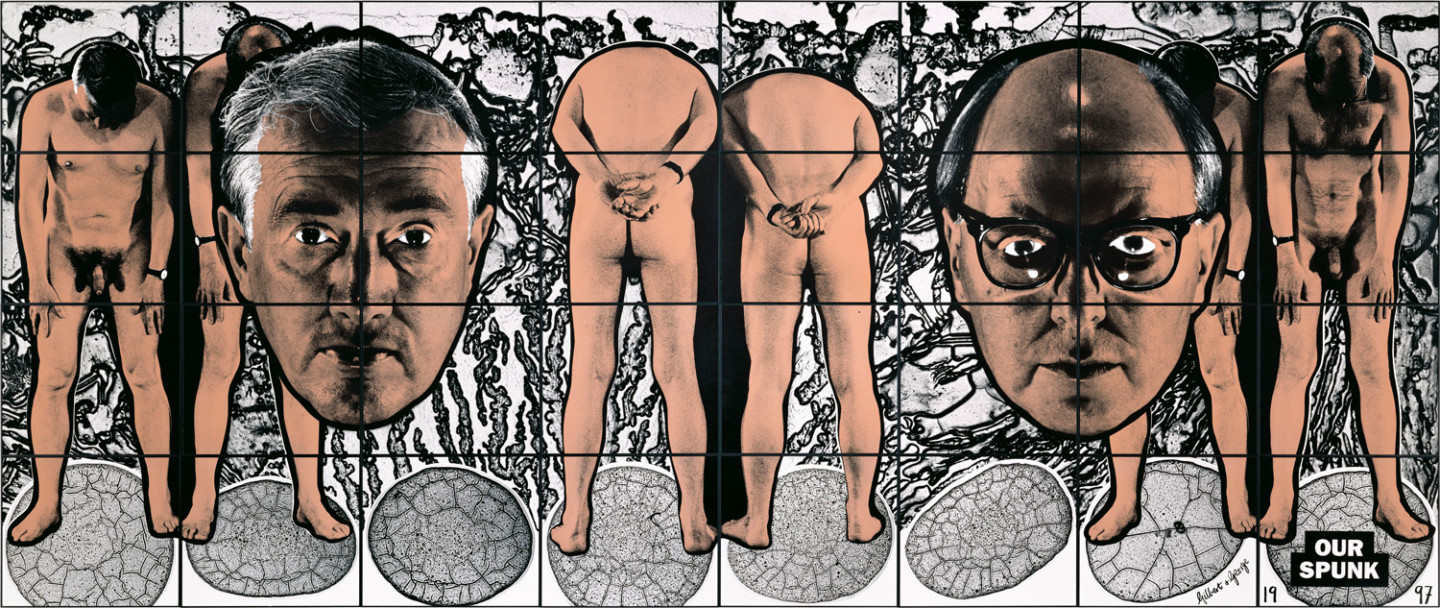 The Body
In the mid-1990s, the nude body and its excretions became the focus of Gilbert & George. In "The Naked Shit Pictures", their undressed bodies are displayed from every angle together with excrement. They bought a microscope and discovered new shapes in body fluids such as urine, sweat and sperm. They found that excrement expresses our mortality in its most direct form. It is the dead matter that we leave behind.
The AIDS epidemic turned the body into an ideological battlefield, and a wave of new moralism swept the western world. Gilbert & George unashamedly expose their naked bodies and look back at us from the pictures.
Nakedness contrasts starkly with the suits the artists are known to always wear. Their formal demeanor gives the naked pictures their expressive power. Gustave Flaubert once described this position when he wrote: "You must be regular and natural in your habits like a bourgeois, that you may be violent and original in your work."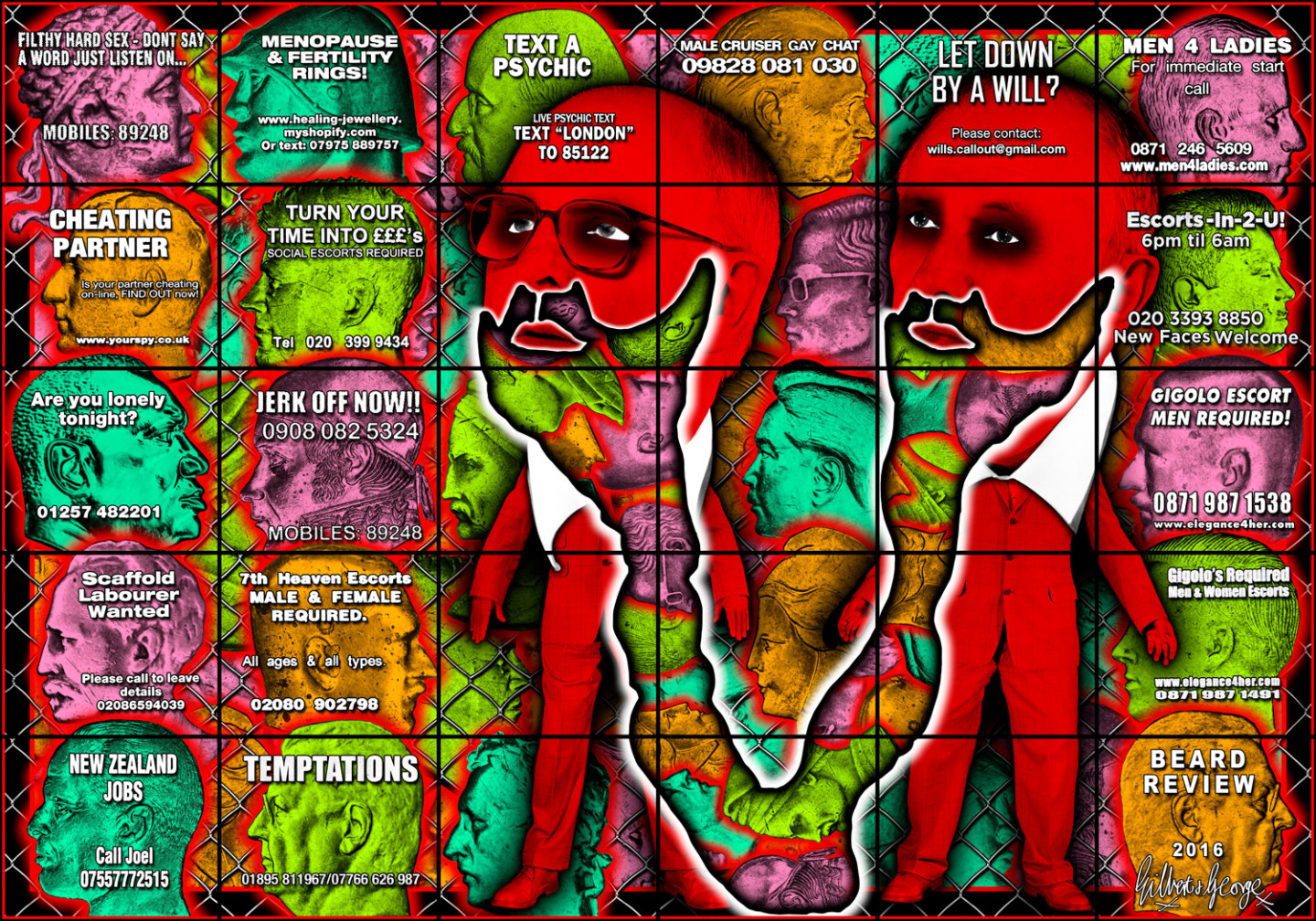 50 Years of Constant Change
For more than 50 years, Gilbert & George have witnessed the ever-changing life of London and depicted it in all its forms, from the tragic and desperate to the comic or euphoric. They have collected posters and classifieds, business cards and autumn leaves: things that have been connected to, or left behind by, the people in the city. Thousands of gathered newspaper headlines and bills together express the conditions of life.
Gilbert & George challenge social taboos and moralism. They highlight society's blind spots and portray that which we might prefer to ignore. It all comes to head in the series "Scapegoating Pictures", depicting discarded nitrous oxide canisters, bombings and hate speech. In "The Beard Pictures", they adorn beards of all shapes and sizes. The beard has come to be a symbol both for hipsters and radicalised Muslims.
Gilbert & George have always updated their production methods with the latest technology. In 2000, they began creating their images digitally, giving them new potential, and allowing their annual production to multiply.