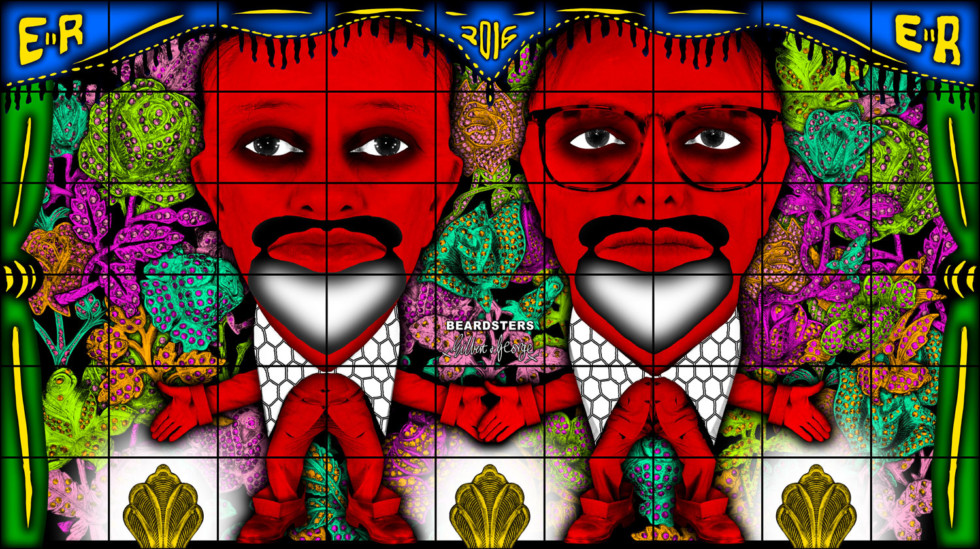 Gilbert & George
The Great Exhibition
9.2 2019 – 12.5 2019
Stockholm
Gilbert & George are two men who together are one artist. For more than five decades they have been creating art that challenges the conventions of art and society with a blatant disregard for any notions of "good taste". The Great Exhibition treats you to a unique artistic vision, with over fifty pictures selected by Gilbert & George.
As the most iconic double of the art world, dressed in near-matching and impeccably well-pressed suits, Gilbert & George have resided in the same London East End neighbourhood since the 1960s. Fearless and straight to the point, their art has the power to unsettle the viewer.
Gilbert & George – an indivisible artistic entity
Ever since they met at Saint Martin's School of Art, Gilbert (born in the Dolomites, Italy, in 1943) and George (born in Devon, UK, in 1942) have walked their own path. Being both subjects and objects of their art, they are indisputably an indivisible artistic entity and have dedicated their life to art. By committing themselves to a discipline as rigorous as it is creative, keeping their life at their home and East End studio to simple classless routines, they have made room for total creative madness.
Film introduction Gilbert & George
In the film Gilbert & George tell us about their art and take us on one of their legendary walks through a neighbourhood that has provided material for their art for more than 50 years. We met again in Stockholm for a walk through the finished exhibition at Moderna Museet.
Comedy, tragedy, desperation, fearlessness and sadness
From floor to ceiling the exhibition space is filled with pictures that are at once thrilling and frightening, grotesque and austere, surreal and symbolic. The pictures almost always portray the artists themselves, often gazing directly at the viewer. Sex, money, race, and religion are among subjects of their art, which succeeds in combining happiness and sadness.
Punk rockers and hipsters, Morris dance and bombs, autumn leaves and classifieds of all kinds – Gilbert & George probe the world around us with piercing eyes. "The Great Exhibition" is as democratic, generous and extravagant as its creators. Gilbert & George proclaim "art for all".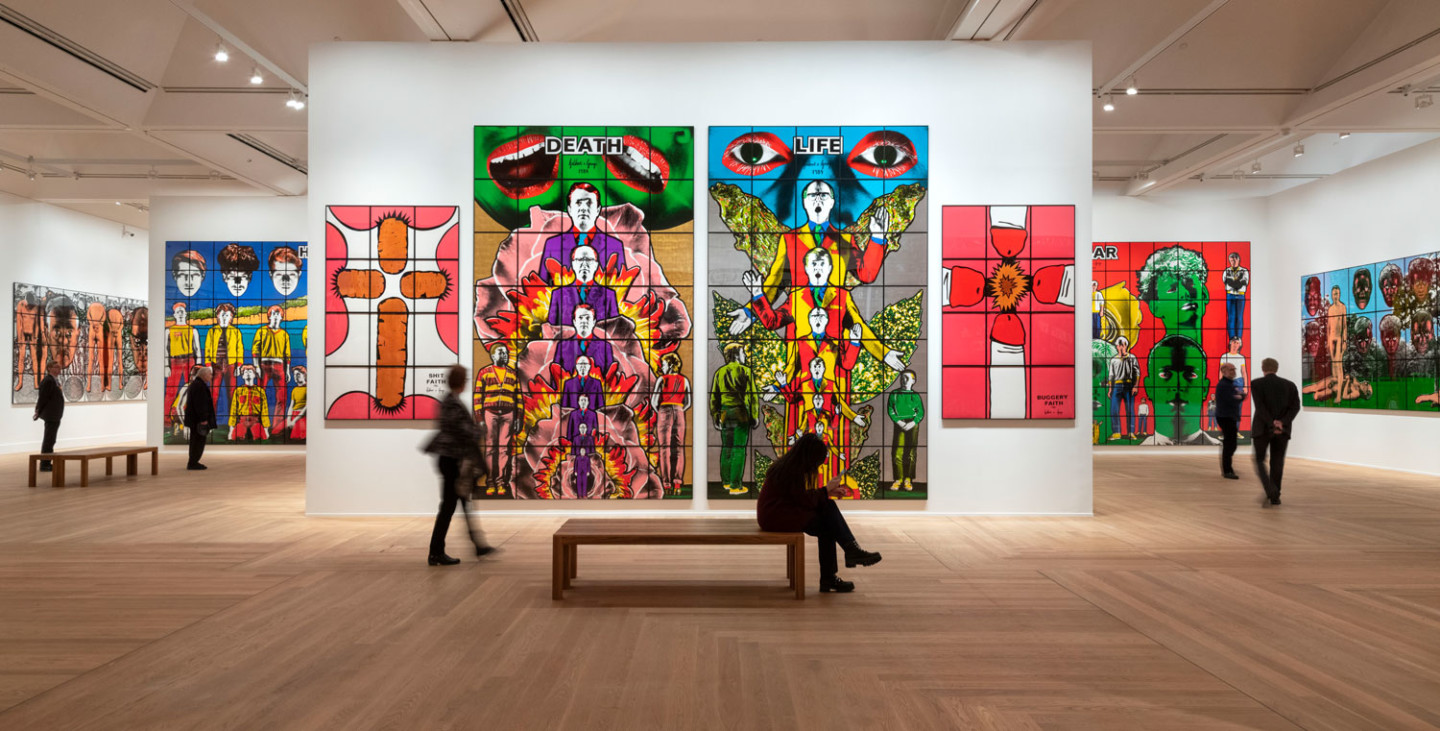 Curators: Hans Ulrich Obrist and Daniel Birnbaum
Admissions
Admission: 150 kr
Reduced admission: 120 kr (for seniors and students)
Free admission for those 18 and under and Friends of Moderna Museet.
Guided Tours
Curator tours (in Swedish)
Saturday 9 February at 14, with Ulf Eriksson, Curator Learning.
Tuesday 5 March at 17.30, with Exhibition Manager Olle Eriksson.
Baby tours (in Swedish)
Thursday 7 March at 15–17
Thursday 28 March at 15–17
More information and booking information baby tours
Tours for visually impaired (in Swedish)
Thursday 21 February at 17
Tours for group living facilities (in Swedish)
Thursday 21 February at 16–18
Guided tours in different languages
Guided tours in English, Swedish, and other languages are given regularly. All tours and full programme to the exhibition are listed in the calendar: calendar Gilbert & George
Video in the Mini Cinema
During the exhibition period two early video works by Gilbert & George are shown in the Mini Cinema on floor 2.
Gordon's Makes us Drunk (Gordons gör oss fulla), 1972
Video, 20 min
Over the music by Elgar and Greig, the voice of George can be heard intoning the words "Gordon's makes us drunk," "Gordon's makes us drunk." Gilbert & George slowly sip, and the voice goes on to repeat "Gordon's makes us very drunk," and toward the end of the video, "Gordon's makes us very, very, drunk". Gin and Tonic was Gilbert & George's favorite drink in the early '70s and Gordon's was their pick, according to them it was "the best". Brattishness is both celebrated and parodied in this early work where the artists get drunk in a way that is 'not a pleasure, but a duty to perform.'
The Singing Sculpture (Den sjungande skulpturen), 1992
Film, 11 min
In this film by Philip Haas, Gilbert & George present The Singing Sculpture in New York in 1991. The piece was first shown in London in 1969 shortly after the artists happened upon a recording of "Underneath the Arches" by Flanagan and Allen. It was as singing sculptures that Gilbert & George first made their mark. It is neither performance nor happening but simply a singing sculpture, and a part of the art of Gilbert & George.
Art adventure, from age 4
An art adventure is a family tour for kids and adults to do on their own. In the exhibition, you will find gigantic, colourful pictures made up of several smaller parts. Look at the images through the eyes of Gilbert & George and see if you can find the details in the works of art. Ask the staff at the information desk on floor 4 how to get started. From age 4 (accompanied by an adult).
Holiday event from 4 and up
26 February–2 March 2019
All children from 4 and upwards are welcome to the Workshop for activities during the school break. We start with a tour of "Gilbert & George: The Great Exhibition" (in Swedish), followed by a workshop session. Welcome!
Read more about the holyday event: February break: Gilbert & George
Catalogue
The richly illustrated exhibition catalogue will feature five interviews with Gilbert & George by Hans Ulrich Obrist and Daniel Birnbaum, one for each decade of their practice. 460 pages.
Buy the catalogue

Catalogue "Gilbert & George: The Great Exhibition". Photo: Albin Dahström/Moderna Museet
School visit
Welcome to visit the exhibition with you school class! To avoid double bookings for guided tours, please contact our booking office in good time and notify us of the date of your visit. E-mail: booking office
Free admission for:
School classes with pupils under the age 18 (with a teacher)
Accompanying teachers and assistants
SFI-classes
Book a guided tour or workshop
Combine your museum visit with a guided tour or an inspiring workshop session. We have different workshops for pupils 13 years and older, and 4–12 years old.
Book a guided tour and/or workshop
Read more about school visits: School
The exhibition is on the 4th floor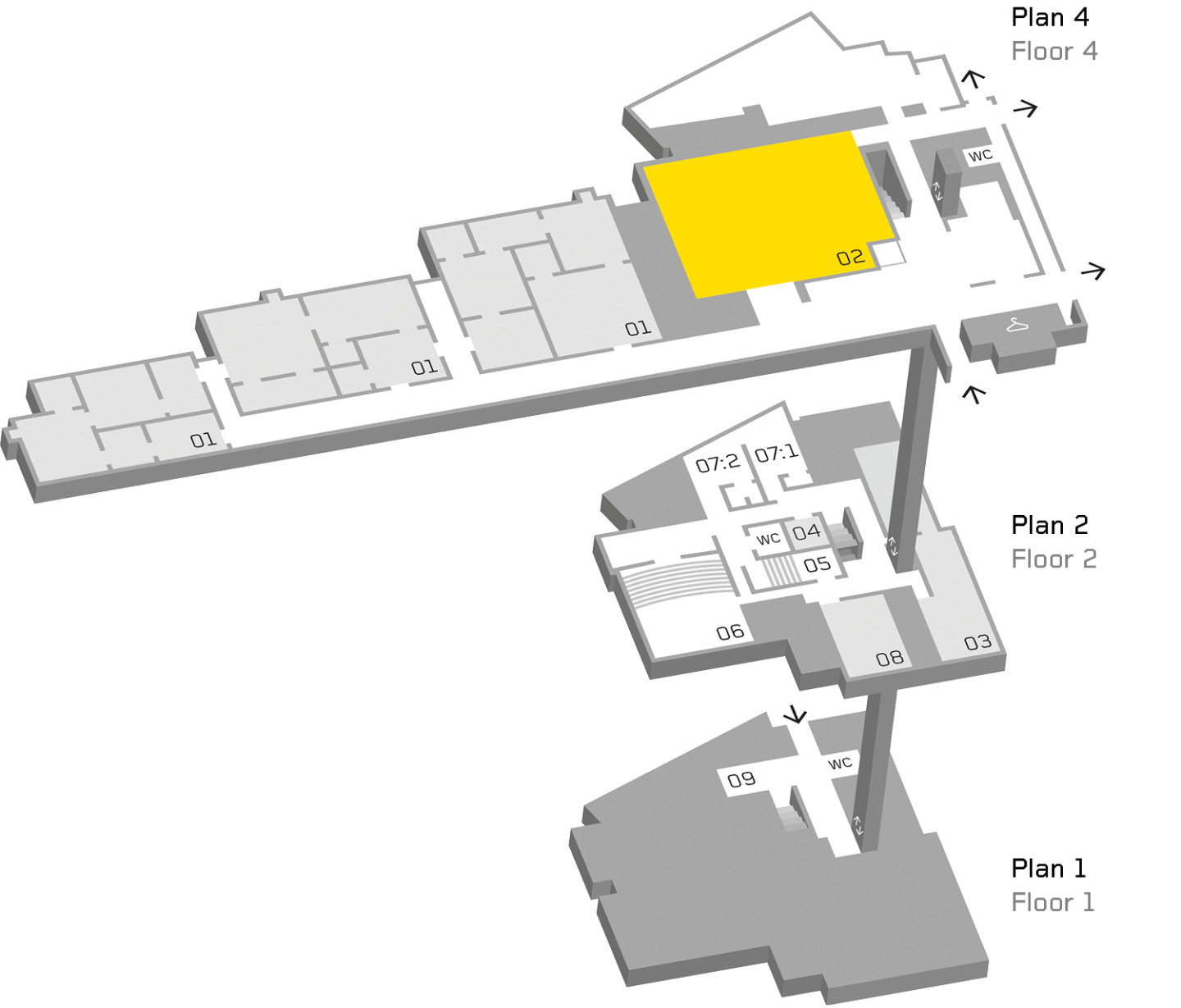 The exhibition is produced by Moderna Museet and Luma Foundation, Arles, in close collaboration with Gilbert & George.
The exhibition is supported by