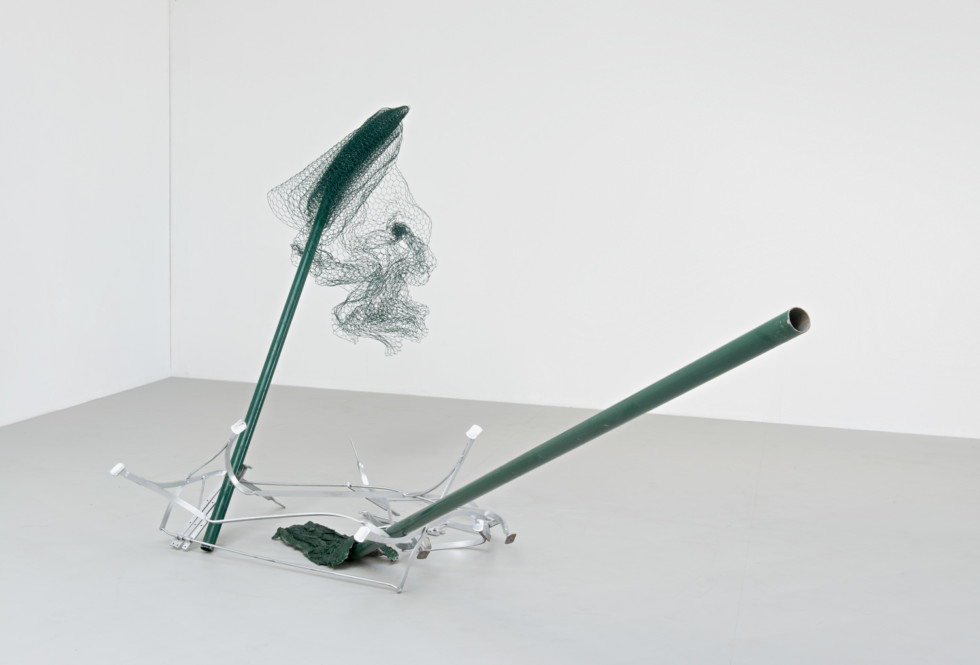 Johanna Gustafsson Fürst
Recipient of the Sculpture Award 2017
14.11 2017 – 17.12 2017
Stockholm
In Johanna Gustafsson Fürst's art, everyday materials clash in unexpected and poetic encounters. Her works reflect the perpetual negotiations that take place in and around us, forming our perception of what it entails to be a human being. See the exhibition with this year's recipient of the Friends of Moderna Museet Sculpture Award.
Johanna Gustafsson Fürst is the recipient of the 2017 Friends of Moderna Museet Sculpture Award. Her artistic oeuvre features sculptural assemblages, but she also works in the media of text, performance and site-specific installations.
The sculptural objects and situations she creates explore how political and social systems manifest themselves in our everyday lives and influence our affairs, reflecting how we relate to each other individually and collectively, to the private and public spheres, to the specific and the universal.
Johanna Gustafsson Fürst, born 1973, lives and works in Stockholm. She is an MFA graduate (2003) from the Royal Institute of Art in Stockholm and is currently a lecturer at the Konstfack University College of Arts, Crafts and Design.
The jury of 2017
This year's jury consisted of the Director of Moderna Museet, Daniel Birnbaum, the curator and writer Stefanie Hessler, the curator and art critic Lars-Erik Hjertström Lappalainen, the artist Kristina Jansson, and Lena Josefsson, Chairman of Friends of Moderna Museet. It is with great pleasure we award the 2017 Sculpture Award to Johanna Gustafsson Fürst.
The jury's motivation
"Johanna Gustafsson Fürst's sculptural works have an air of inevitability, even though it is impossible to comprehend why they have to be the way they are. She never flinches from doing something very intricate. She challenges the materials, their properties and common uses, in order to create an inverted, suspended, not to say unyielding, sculptural otherness. While apparently working with the basic elements of sculpture, her objects are not solely made to be perceived in physical space. Their shapes tend to bring the viewer to a standstill, often even blocking the way. The sculptures seem intent on establishing a language of their own with the viewer; there is an unrelenting friction, which seeks to insert itself between the specific physicality of the works and the viewer's own wordless sensibility. On the other hand, this relationship is inscribed in a social space, making her more performative and relational works social sculptures. Her objects are primarily starting points for movements in the mass within and around us."
The Sculpture Award is one of Sweden's major art prizes
The Friends of Moderna Museet Sculpture Award – the K. A. Lind Honorary Award of SEK 300,000 is one of Sweden's major art prizes and has been presented biannually since 1950. The Award was founded by the textile artist Sigrid Lind in memory of her parents. The members of the jury for the 2017 Award were Stefanie Hessler, Lars-Erik Hjertström-Lappalainen, Kristina Jansson, Daniel Birnbaum and Lena Josefsson.