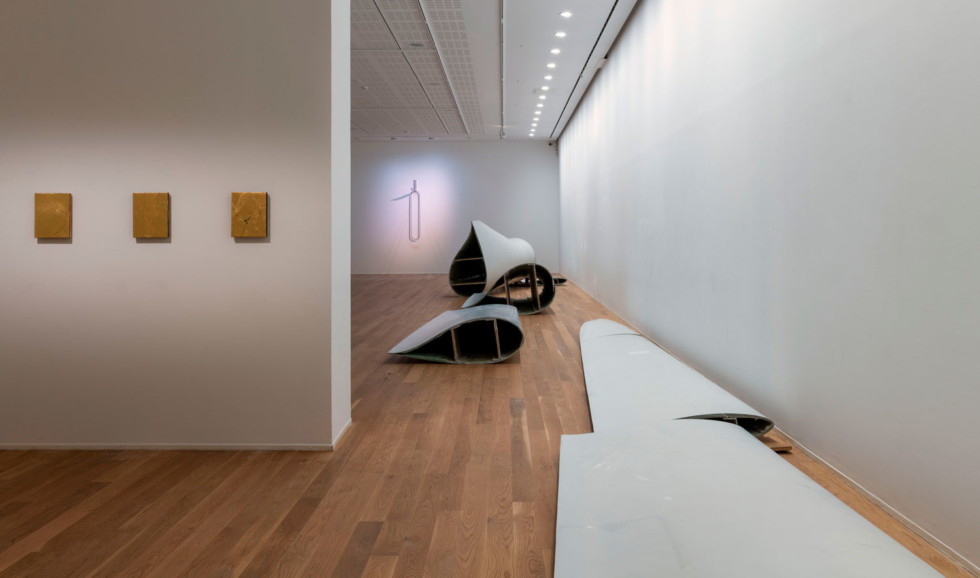 If we subtract human perception from what exists, everything is in motion. What is solid and static is only apparently so: at the level of molecules, vibrations are what there is. How can we pick up energies that both make up and surpass our humanness? Can we get a glimpse of sensory worlds beyond our own? What can an artistic inquiry into the nature of matter itself yield today? These are questions that drive Lea Porsager's exhibition "STRIPPED".
We are immersed into a kind of techno-industrial cemetery: "G.O.D. [GENERATOR.ORGANIZER. DESTROYER]", three windmill wings, sliced into pieces. The mighty blades that breach the wind have themselves been cut up in a violent gesture, or by some invisible diagram. Matter, form and volume are set in motion or succumb in their encounter with energy. Interior space is upset with elements from the outside. Time is unmoored, too: it is as if Porsager's work looks back at our civilisation from a future that asks to be recomposed, put back into whack. Maybe the quartered windmill is a sign that we are jeopardising the rescue vessels that can take us to the future. Or maybe we can make it there through the portals – wormholes, feminine cavities – revealed by the cuts in the wings.
A monumental form that is agitated by the un-body of the wind, the windmill has a way of migrating into the imagination. Spanish author Cervantes' character Don Quixote famously mistook forty molinos for giants and valiantly fought them singlehandedly.
The 18th-century philosopher and mystic Emanuel Swedenborg had a wild epiphany about spirit life on Mars after he was hit on the head in a dream by the wing of a windmill. And the rushing sounds of the windmill that stood next to Porsager's family house gave her nightmares in her childhood.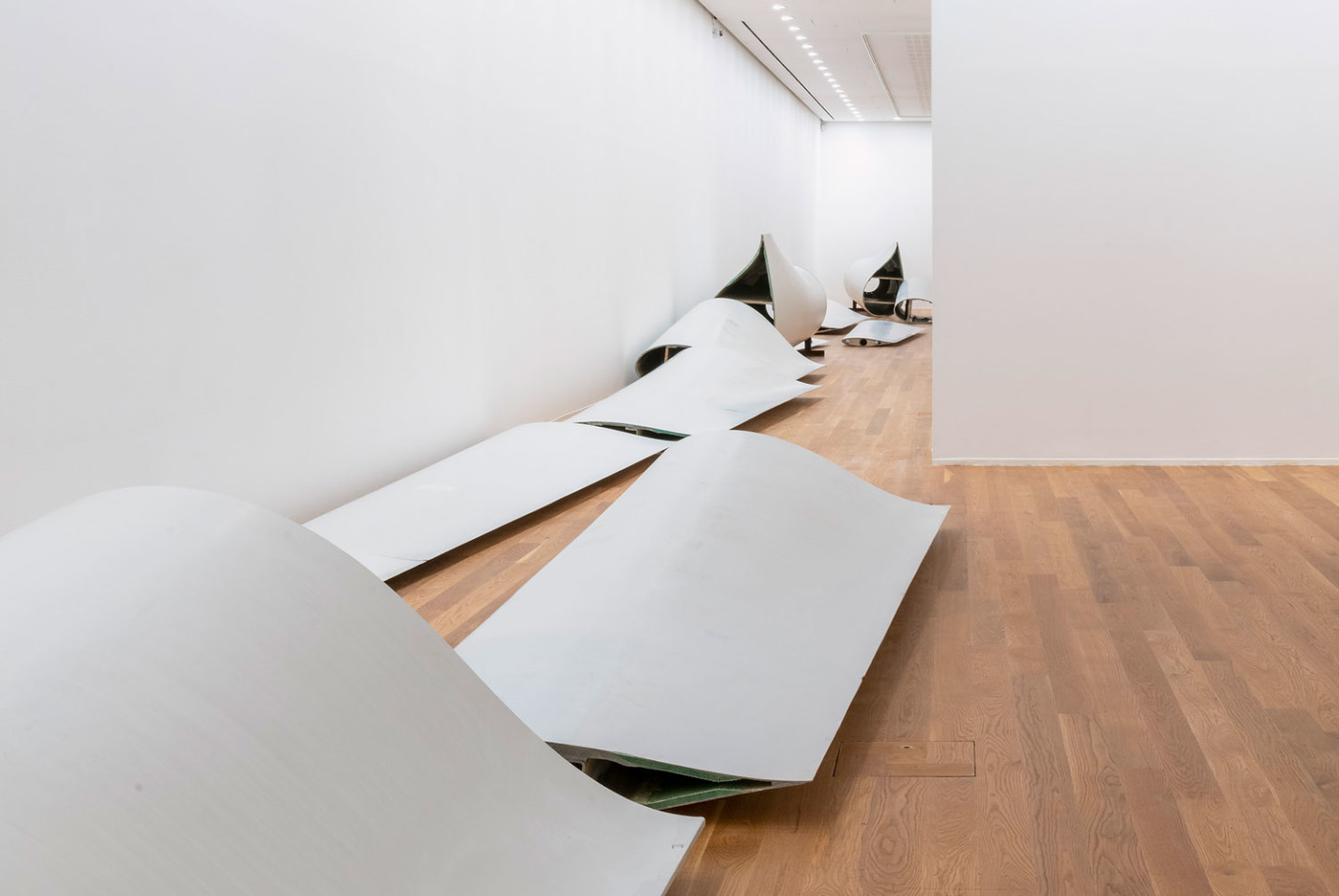 "G.O.D.", and the 3D digital animation "MIGHTY RUSHED EXPERIMENT", take their cue from a controversial theory in quantum physics about "dark matter winds", a cosmic phenomenon described as a critical element in the search for the universe's missing dark matter. The winds can supposedly be traced as seasonal waves to which we are exposed as the earth orbits the sun. At this level of reality, nature is of a magnitude that humans can't reach – it is a nature behind "nature".
"MIGHTY RUSHED EXPERIMENT" takes us towards this realm with abstract imagery and a soundtrack that builds on a mantra from a tantric yoga chant. Sometimes, knowledge needs to overstretch itself if we want to "meet the universe halfway", to quote nuclear physicist Karen Barad. Outside of science, human attempts at getting in touch with the more-than-human is the stuff of ecstasy: of getting out of oneself to encounter a fundamental vulnerability.
In Porsager's work, science and the esoteric are collided, as two forms of knowledge that the modern era has kept apart. There is both confusion and insight and a strange sensuality in their interference. A fourth windmill wing has been turned into a giant yellow beanbag, in the perversion of a stable order into something spent and malleable ("FULL OF BEANS").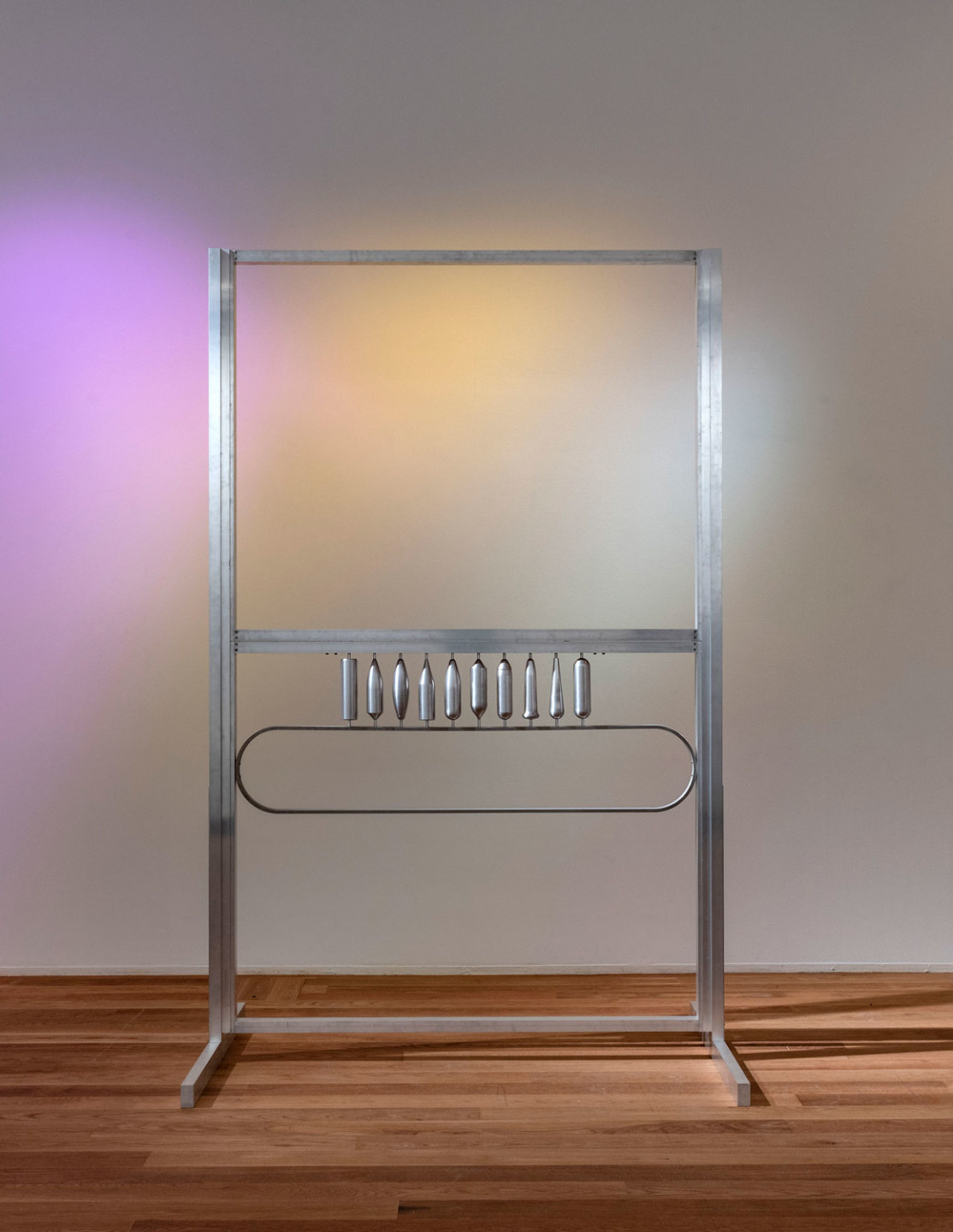 In "BARE EXCITATION", ten cylinders similar to prayer wheels are mounted on an aluminium frame that shares its measures with the artist Marcel Duchamp's "The Large Glass" (1915–23). The prayer wheels are placed in a magnetic field, so if one is moved, many are activated. Magnetism is another unseen force that appears to us through its effects, and "The Large Glass" is a kindred work that plays with leaps between dimensions – like the work of esoterically inspired artists before and after Duchamp.
The spirit of an artwork "ignites on what is opposed to it, on materiality", the philosopher Theodor W. Adorno wrote in the middle of the 20th century. There is plenty of both matter and wind in Porsager's exhibition to turn the spirit on – but when you consider materiality from the point of view of what is imperceptible, the relationship between matter and spirit becomes a slippery issue. It is by no means a given what spirituality means today. In the exhibition, another route to the spiritual is indicated by a series of paintings that, with a sexually explicit pun, sample the forms of religious icons as a pictorial system to open the soul and make the divine appear: "GLOSSOLALIC ICUnTS I–X".
Between the seen and the unseen, and between states of excitement and exhaustion, we might find an entry point to the spiritual – understood as the need to imagine and re-create ways of sensing the deep material dimensions of the world: an exercise in cosmic attunement and humility.