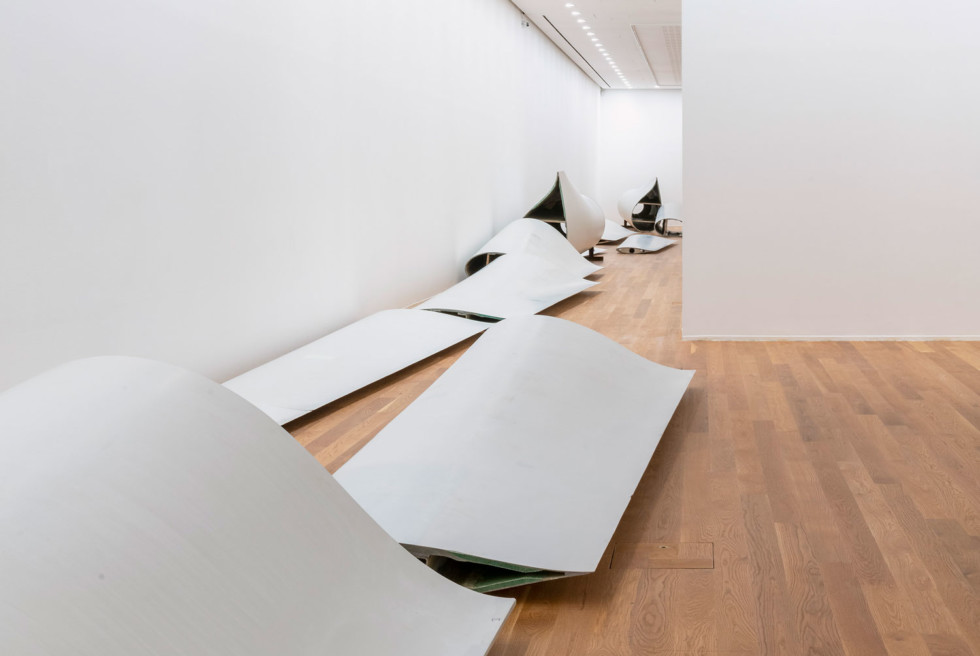 Lea Porsager
Stripped
21.11 2020 – 16.5 2021
Stockholm
Consisting of new work, "Stripped" is Lea Porsager's first major solo show in Sweden. We are in the realm of sculpture – and at the same time somewhere else entirely, with elements such as magnetic prayer wheels, sexualized icons, digital animation, a saggy beanbag, and blades from a windmill cut into slivers.
A giant set in motion by amorphous wind, the windmill symbolises the power of human imagination. Can we push our imagination further, to glimpse what is on the other side? Do we have any choice but to try, if we want to transform ourselves and our relation to the world?
The exhibition builds on ideas and motifs from tantric meditation, religious painting, and quantum theory. This is in line with how artists and spirit mediums have used technology and scientific discoveries – such as electricity, magnetism and radioactivity – to link immaterial and physical realms. The mixing of science and esoteric knowledge was a search for the spiritual, and challenged modern reason.
Porsager leaves forms and materials both excited and exhausted: vulnerable and intense states through which we can tune in to more-than-human forces. When world views collide and openings arise between different realities, it might create a potential for new experiences and pleasures – and for other interpretations of what and how we know.
About Lea Porsager
The exhibition is Lea Porsager's first major solo show in Sweden, and will consist entirely of new works. With an oeuvre that is based in research and spans themes such as mysticism, feminism, and science, Lea Porsager uses a wide array of artistic media and approaches, including sculpture, filmmaking and writing.
Lea Porsager, born 1981, graduated from the Royal Danish Academy of Fine Arts, Copenhagen, and Städelschule, Frankfurt am Main, in 2010. She has had solo exhibitions at venues such as the Henie Onstad Art Centre in Oslo, Kunstverein Göttingen, and The Emily Harvey Foundation in New York. Porsager was part of dOCUMENTA(13) and the 14th Istanbul Biennial.
She is currently working on public commissions in Denmark, Norway, and Sweden. Her earthwork "Gravitational Ripples" was inaugurated in June 2018 in Stockholm's Djurgården, commemorating the Swedish lives lost in the 2004 tsunami in Southeast Asia. Porsager is a Ph.D. fellow at Malmö Art Academy and Lund University with her research project "Cunt-splicing Thought-forms — Promiscuous Play with Quantum Physics and Spirituality". She lives and works in Copenhagen.
Curator: Lars Bang Larsen
Admissions
Ticket to Lea Porsager
Purchased on site at the museum.
Admission: 100 kr
Reduced admission: 70 kr (for seniors and students)
Advance ticket required.
Admission: 170 kr
Reduced admission: 140 kr (for seniors and students)
Free admission for those 18 and under and Friends of Moderna Museet.
Be creative here and now: explore magnetism
Just outside the exhibition is a magnetic wall where you can explore magnetism. The black and yellow shapes on the white wall can be moved around to create patterns. Try and see! Some of the shapes are more magnetic than others. Can you find them?
What is magnetism?
Magnetism is an invisible force that attracts metal. Can you think of any objects made of metal?
Can you think of other forces that are invisible but can be felt?
Wind is a force that is hard to see, but we can still feel it. The wind blows leaves around and can turn the wings of an enormous wind turbine. Wind generates the electricity that gives us light.
Love can also be a powerful force. A power that is invisible but we still feel it. That power can make people shine brightly.
Thinking about nice things makes us happy. Tell someone about something that makes you happy, and notice if anything changes inside your body.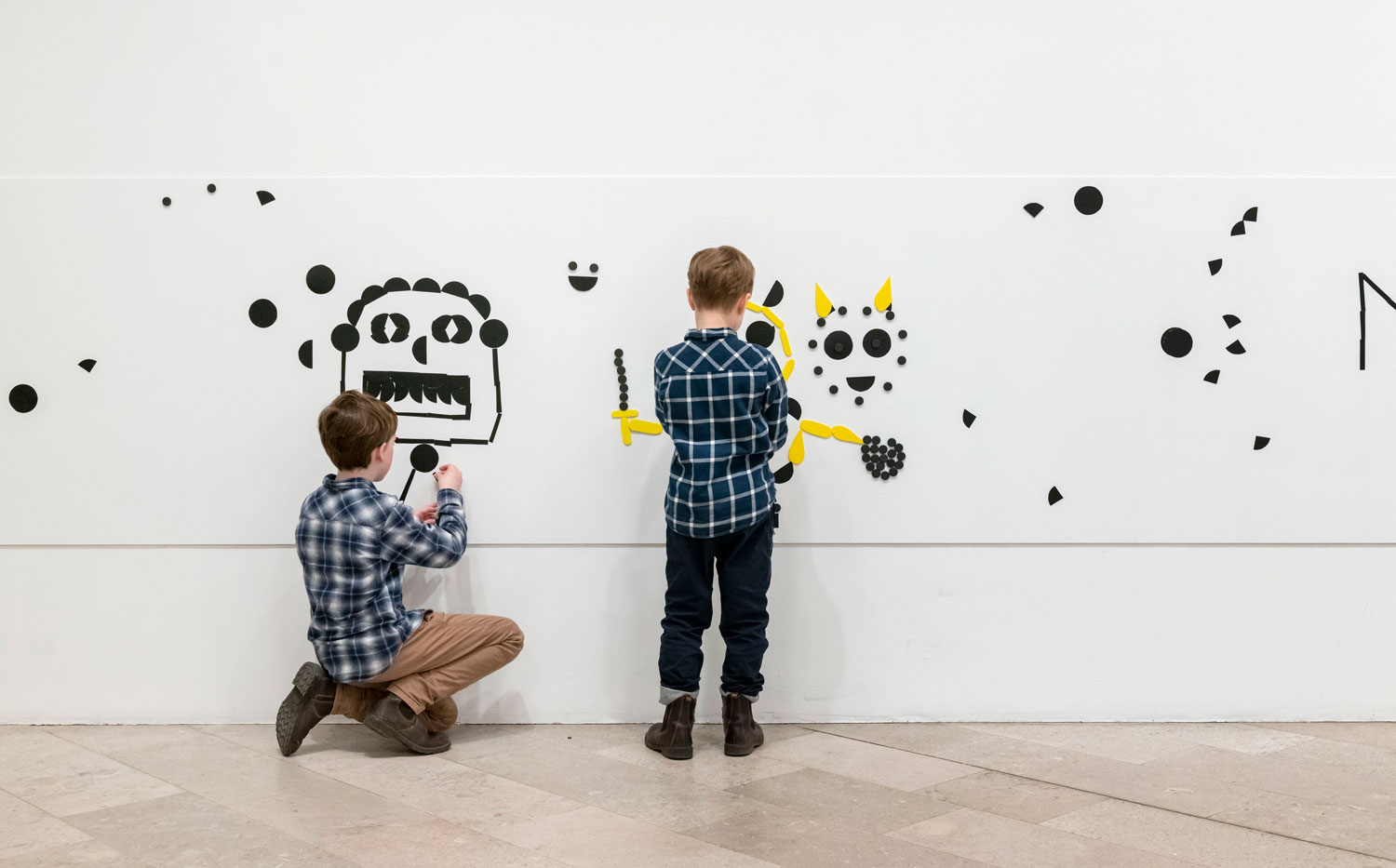 School visit
We are currently not taking bookings for groups or groups that want to visit us on their own. This includes school classes.
Read more about regulations for schools here: Schools
The exhibition is on the 2nd floor