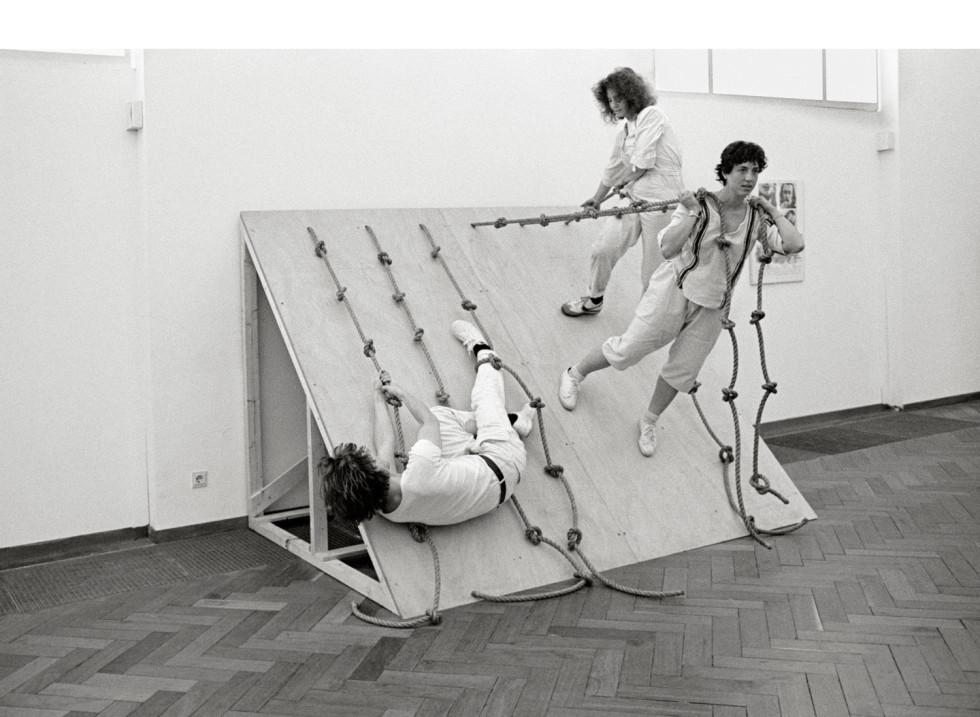 Objects and Bodies at Rest and in Motion
12.3 2016 – 23.10 2016
Stockholm
This exhibition explores the relationship between the human body and objects in a space, featuring works and choreographies by minimalists and post-minimalists active in New York in the 1960s and 70s.
Objects and Bodies at Rest and in Motion is based on the Moderna Museet collection, with a special focus on the so-called New York Collection, with the complement of some 30 borrowed works by minimalist and post-minimalist artists, including Donald Judd, Agnes Martin, Carl Andre and Richard Tuttle. Geometric figures, repetitions and processes are central concepts in minimalism. The works, many of which are made of household or industrial materials, share the space with the spectator, rather than being windows to another universe. In this way, the interaction between viewer and work that the minimalists aimed for is achieved.
The theme that runs through the exhibition begins with the choreographer Simone Forti's Dance Constructions. Forti's husband, Robert Morris, designed simple structures that served as props for the dancers in her performances. Their collaboration profoundly altered Morris' artistic career, which had formerly focused on painting. The exhibition also highlights other groundbreaking choreographers, such as Yvonne Rainer and Trisha Brown.
The minimalists' renunciation of anything that could be perceived as subjective or enigmatic was partly a reaction against the abstract expressionists of the preceding artist generation.   But later on, it was acceptable even for minimalist to have more poetic dimensions. Agnes Martin's meditative paintings, Richard Tuttle's works and Eva Hesse's tactile, sensual sculptures are examples of this transition from the earlier austere minimalism.
Objects and Bodies at Rest and in Motion features works by: Carl Andre, Jo Baer, Trisha Brown, Eva Hesse, Dan Flavin, Simone Forti, Donald Judd, Ellsworth Kelly, Sol LeWitt, Walter De Maria, Agnes Martin, Bruce Nauman, Yvonne Rainer, Joel Shapiro, Frank Stella, Richard Tuttle, Ruth Vollmer, Franz Erhard Walther, and Hannah Wilke.
Conservation
The exhibition Objects and Bodies at Rest and in Motion shows for the first time six drawings of Ruth Vollmer from the Moderna Museet collection. One of these is housed in an original 'Plexibox' from the 1970's made by Robert Kulicke. Read about the conservation research in preparation for the exhibition Objects and Bodies at Rest and in Motion.
Read the full article on the conservation work: Ruth Vollmer's drawings, the Betty Parson Gallery and Robert Kulicke's Plexibox
Curator: Magnus af Petersens
Co-curator: Andreas Nilsson
Preview Friday, 11 March, at 18–20
At 18.30: Welcome address by Daniel Birnbaum, director, and Ann-Sofi Noring, co-director The exhibition curator Magnus af Petersens presents the exhibition and the artist, Richard Tuttle, who is present.
Magnus af Petersens and co-curator Andreas Nilsson will demonstrate the work "Sehkanal, No 46 of 1. Werksatz" (1963–69) by Franz Erhard Walther.
The artist Luca Frei will present "See-Saw" (1961) by Simone Forti.
Simone Forti's dance constructions "See-Saw" and "Slant Board" (1961) will be performed by the dancers Jonna Tideman, Christine Brorsson and Khamlane Halsackda.
The Moderna Bar will be open until 23.
Welcome!
The exhibition is on the 4th floor