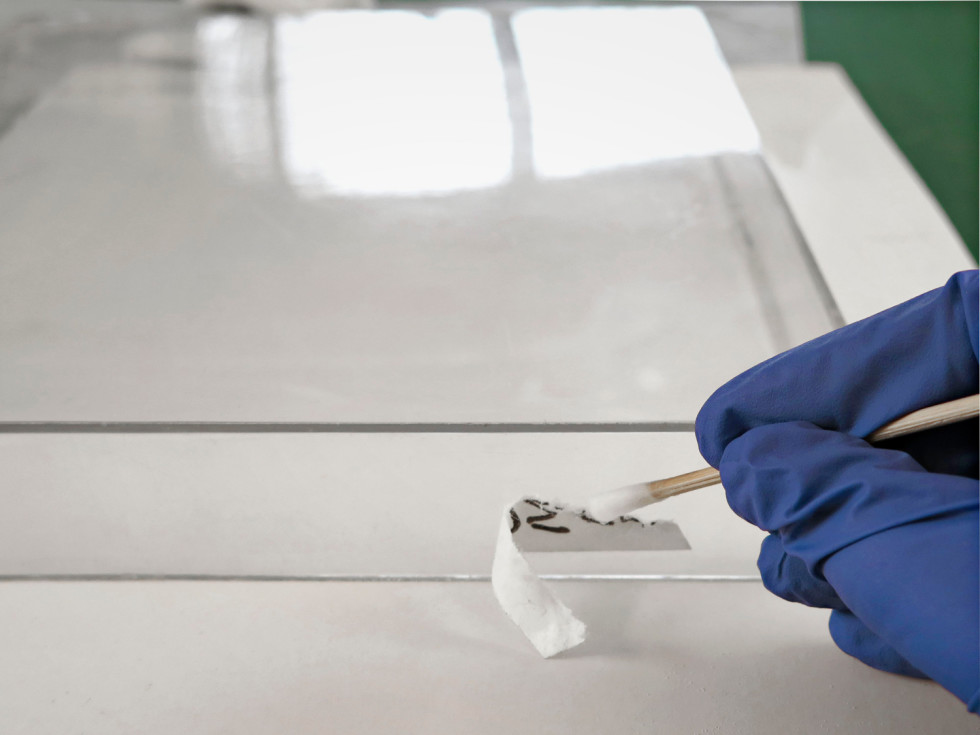 19.5 2016
Ruth Vollmer's drawings, the Betty Parson Gallery and Robert Kulicke's Plexibox
The exhibition Objects and Bodies at Rest and in Motion shows for the first time six drawings of Ruth Vollmer from the Moderna Museet collection. One of these is housed in an original 'Plexibox' from the 1970's made by Robert Kulicke. Read about the conservation research in preparation for the exhibition Objects and Bodies at Rest and in Motion.
Ruth Vollmer
The exhibited drawings at Moderna Museet in Stockholm date from 1973 and 1978/79 and are derived from equations – exact and academic, but also fragile – executed in graphite and coloured pencil on thin transparent paper, and are shown with a sculpture in plaster.
Ruth Vollmer (1903–1982) emigrated from Germany to the US in 1935 and worked as a designer and window dresser for Tiffanys and Bloomingdales in New York. In one display she constructed mannequins solely from wire netting, exhibiting it commercially for its own beauty. She developed as an artist, and became a distinctive figure amongst the American artists who turned to geometric and minimalist form in the 60's and 70's. She worked largely with sculpture, in a variety of materials, with an emphasis on geometry, mathematics and also on organic forms focused on a fascination with the sphere. Although a generation older she was both a peer and an influence to a wide group of artists working in New York such as Richard Tuttle, Donald Judd, Sol LeWitt, and Eva Hesse.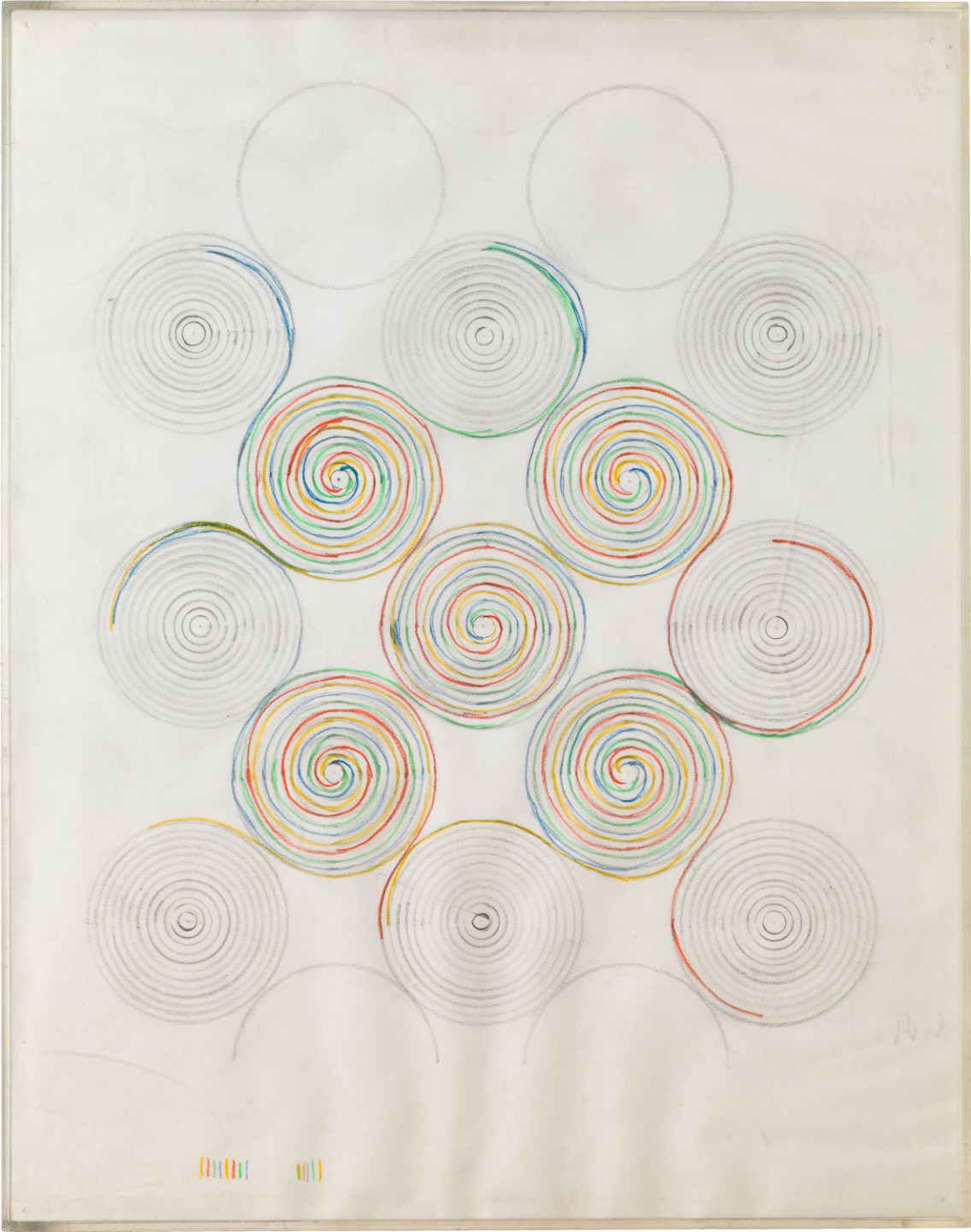 There are at least 30 right ways to frame every picture and 10,000 wrong ways to frame every picture" Robert Kulicke
Betty Parsons Gallery
The drawings from the collection were donated to Moderna Museet in 1985 by the Betty Parsons Foundation through the America Federation of Arts. The Betty Parsons Gallery in New York represented Ruth Vollmer and the two were close friends. Betty Parsons (1900–1982) herself was an early advocate of the Abstract Expressionists, including Pollock, Rothko and Ad Reinhardt, giving a start to many artists. Her gallery which opened in 1946 with an exhibition organized by Barnett Newman, and closed in 1981, is renowned in the art world. She welcomed avant-garde art, always seeking the spirit of the 1913 Armory Show in New York which had inspired her devotion to modern art as a child. Her intense exhibition schedule reflected the swiftly changing landscape of the art scene of the time, and in later years she did much to promote unrecognised artists, providing a haven for women and LGBT artists.
Robert Kulicke
All of the framed drawings retained labels on the verso from the Betty Parsons Gallery, five in simple wooden frames and one is housed in a 'Plexibox' which additionally has a label stating 'Kulicke/Contract'. Robert Kulicke (1924–2007) is probably the most innovative and influential picture frame designer from the US, and the fact that the work remains with this framing is exciting. Kulicke Frames opened in 1951, and soon revolutionized the presentation of modern artworks. He worked with many of the Abstract Expressionists who urged him to design thin frames, and a collaboration with the Museum of Modern Art in New York (MOMA) resulted in a thin welded polished aluminium frame, known as the Kulicke frame.
The wrong frame can destroy the effect of an artwork, as Kulicke stated: "There are at least 30 right ways and 10,000 wrong ways to frame every picture" (New York Magazine 19 July 1971 pg 62). Historically frames were designed primarily for the rooms they were to be hung in, until the nineteenth century when they began to be designed around the works of art themselves. Kulicke was himself a painter, a jeweller and a master period frame maker, creating accurate period antique reproductions, for example for Giotto's Epiphany in the Metropolitan Museum. Yet Kulicke also 'changed the look of postwar art by modernizing frame design' and was unrivalled in balancing the competing demands of artwork and architecture.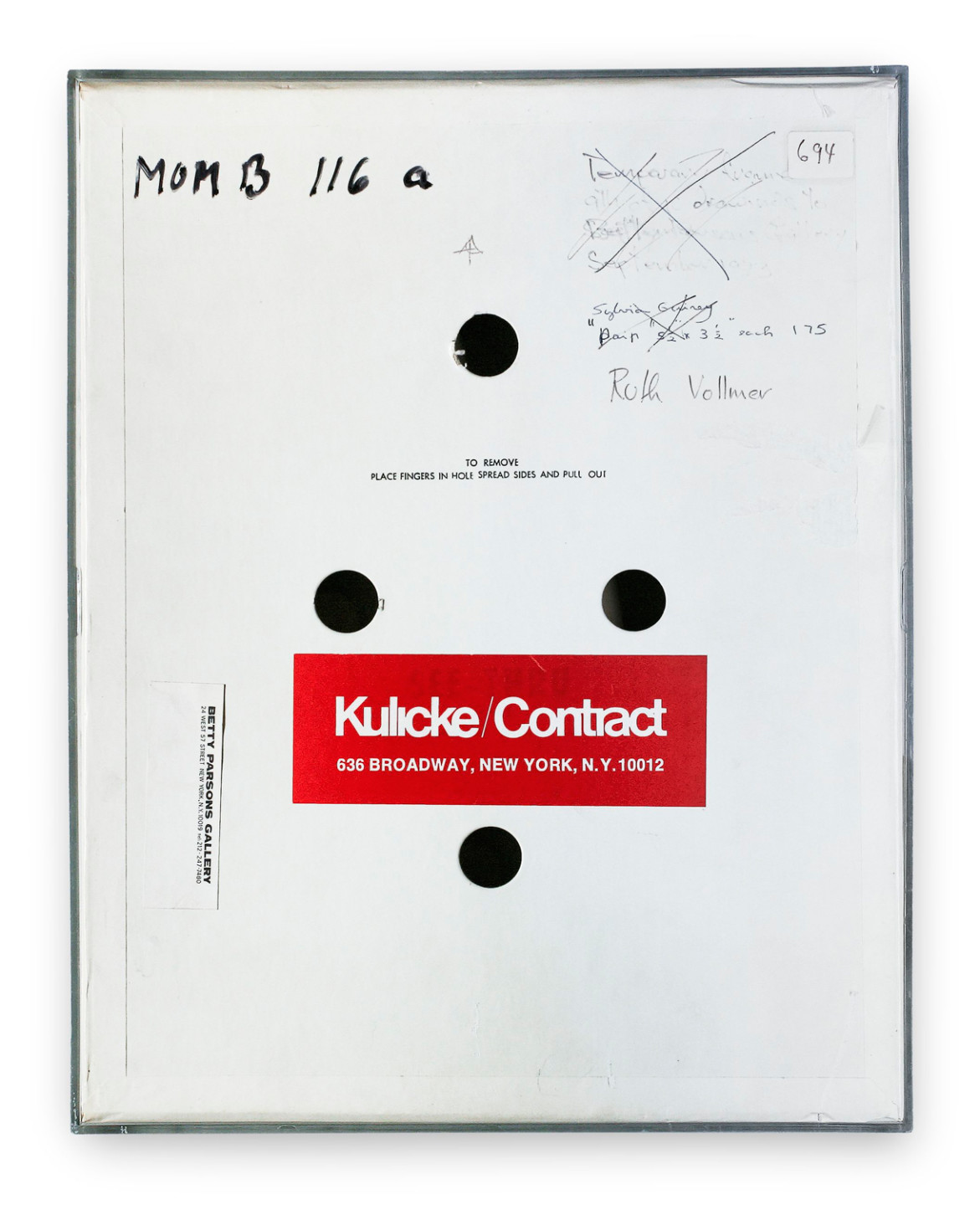 The 'Plexibox'
Kulicke worked with Andy Warhol to develop frames with two sided visibility, an acrylic sandwich 'trap frame', and in 1964 produced the first Lucite 'no-frame' box which allowed artworks to be seen without distraction. Lucite, an 'acrylic glass', is a US tradename for the transparent thermoplastic Poly (methylmethacrylate)(PMMA) acrylic, and is also known as Plexiglas, Acrylite or Perspex. It has multiple industrial and manufacturing applications and was used by artists for both framing, sculpture and printed artworks. The wrap-around clear 'Plexibox' which the Vollmer drawing is housed in is moulded from one sheet, without joins or adhesive, giving it a beautiful simplicity and clean finish. It is also made from a high grade PMMA which has resulted in very little discolouration or yellowing of the plastic. The drawing is sandwiched between the front of the Plexiglas and an accompanying original cardboard box that slots exactly into the 'Plexibox', with finger holes for removal and hanging on the verso.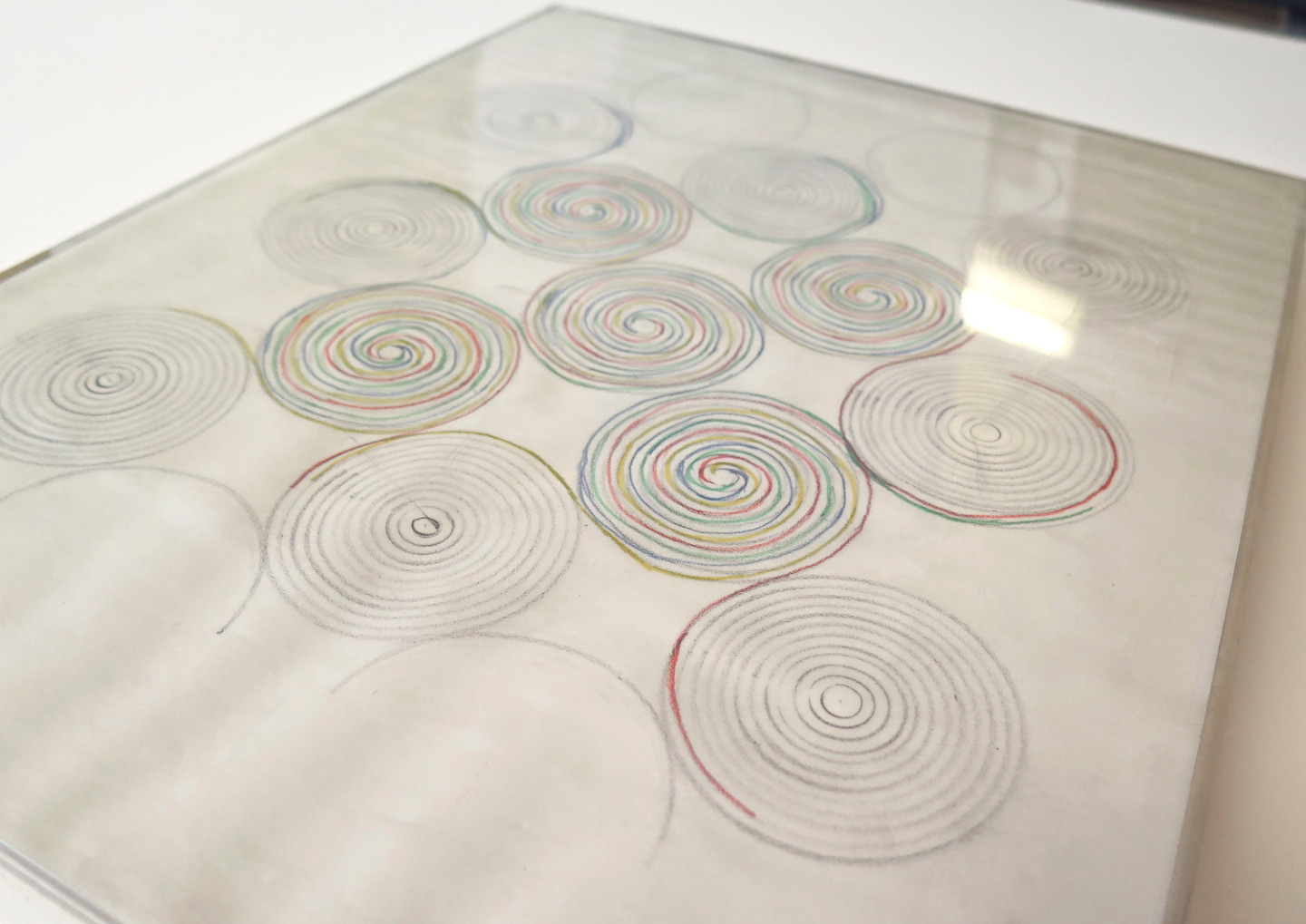 Conservation
Plexiglas is easily scuffed and scraped mechanically and many solvents will damage the surface, changing the opacity to cloudy. The plexibox has been scratched during its lifetime quite heavily and had a number of stickers, labels and accretions on the surface which were removed by conservation staff using water, isopropanol, Synperonic N, a high grade detergent, and patience. Tracing paper is very hygroscopic and reacts dramatically to moisture and the drawings themselves had cockling and deformations. Stains, adhesive residue and poor quality earlier hinges were visible through the tracing paper supports. These were also removed, and replaced with very fine tissue hinges using a solvent based adhesive to avoid the use of water. The drawing in the box sits directly against the plexi glazing, which is usually advised against, but maintaining the work in its original presentation is essential. Original frames are often replaced with modern alternatives – this can improve the presentation of an artwork but can also be mistaken. Kulicke's plexiboxes have not always been appreciated for their aesthetic and historical value and are quite seldom seen in collections. Maintaining them, and the original wooden frames, allows the framing method to be appreciated and a direct link to the artworks first presentation to be kept.
Ruth Vollmer exhibited at a number of group shows at the Betty Parsons Gallery together with Richard Tuttle, and it is fitting that in this installation her works are shown together with Tuttle's ten untitled sculptural card boxes, also from the Moderna Museet collection, and new site specific temporary paper works on the walls.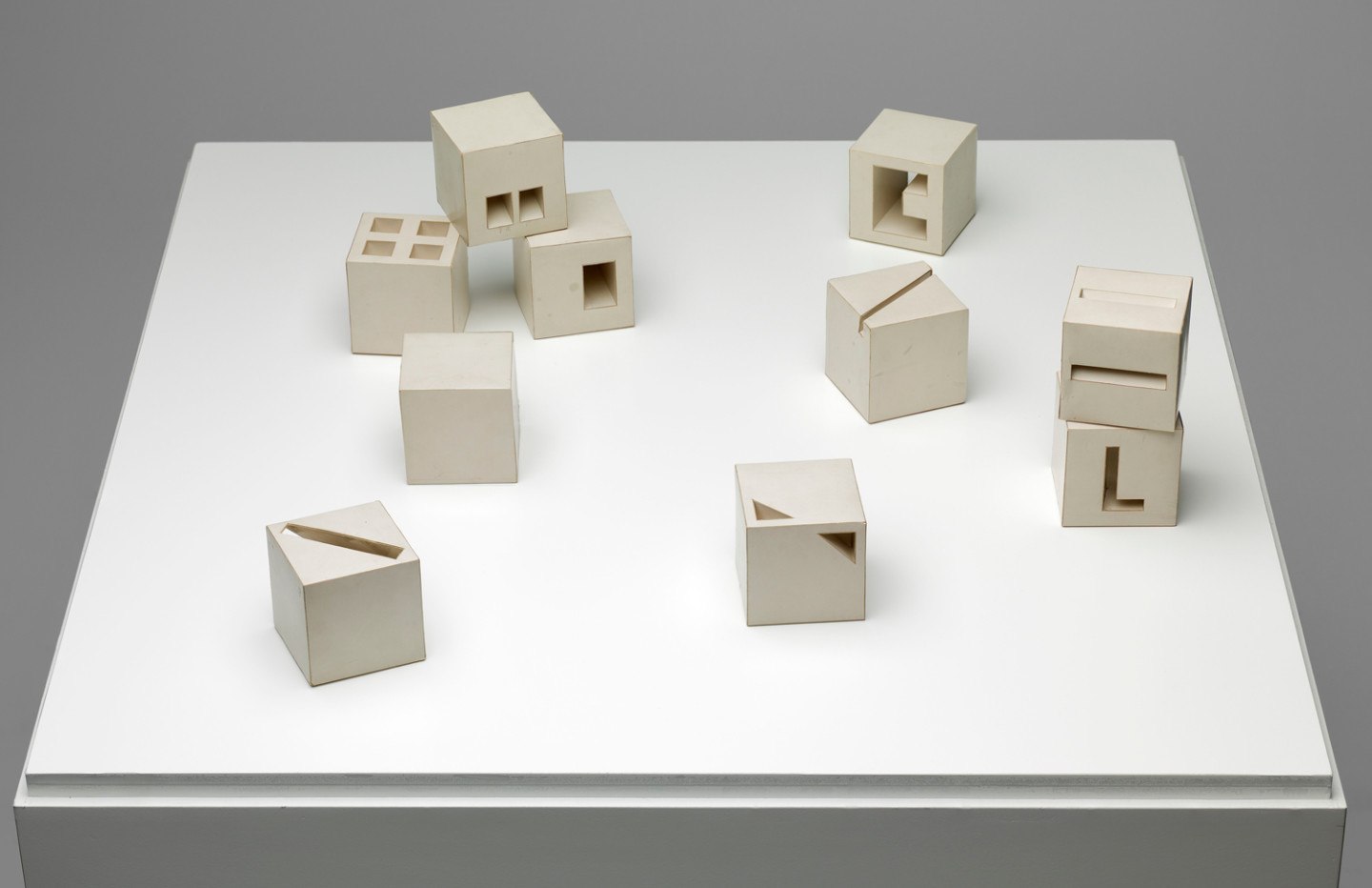 Published 19 May 2016 · Updated 24 June 2019