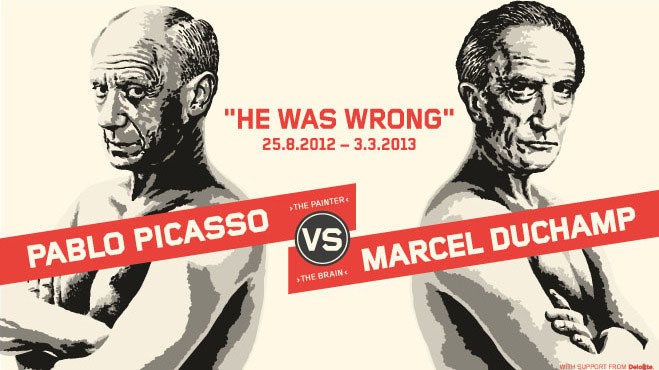 Picasso/­Duchamp
"He Was Wrong",
25.8 2012 – 3.3 2013
Stockholm
In the exhibition Picasso/Duchamp "He Was Wrong", Moderna Museet in Stockholm is exhibiting the two giants Pablo Picasso and Marcel Duchamp together for the first time. They are often regarded as the two most influential artists of the 20th century – Picasso, who personified the modernist painter, and Duchamp, the indifferent ironist and chess genius, who challenged painting and transformed art into a maze of intellectual amusements. Now, visitors to Moderna Museet have a unique opportunity to witness this battle of giants and see where it leads.
Pablo Picasso (1881-1973)
Pablo Picasso is one of the most influential artists of the 20th century. He was born in Spain but worked mainly in France, where he became the most renowned artist of his time. Picasso's vast output of paintings, sculptures, drawings, prints and ceramics was inspired by many different sources. In the first decade of the 1900s, Picasso developed cubism together with his artist colleague Georges Braque (1882-1963), a movement that marked the beginning of modernism.
"If only we could pull out our brain and use only our eyes." Pablo Picasso
Marcel Duchamp (1887-1968)
Marcel Duchamp has come to be regarded as an artists' artist in the 20th century, on account of his subversive ideas and actions. He was born in France but moved to the USA, and became a US citizen in 1955. Duchamp's ready-mades shifted the boundaries of what a work of art is, and what can be called art. Can a bicycle wheel, a urinal and a bottle rack be art even though they were originally intended for other purposes? Duchamp's answer was YES.
"I was interested in ideas, not in visual products. I wanted to put painting again in the service of the mind." Marcel Duchamp
The catalogue
An illustrated catalogue with new essays by Daniel Birnbaum and Ronald Jones will be published in conjunction with the exhibition. The catalogue is published in association with Verlag Walther König, Cologne.
Curators: Daniel Birnbaum, Museum Director, Moderna Museet, Ronald Jones, Professor, Konstfack, Annika Gunnarsson, Curator, Moderna Museet.
With support from