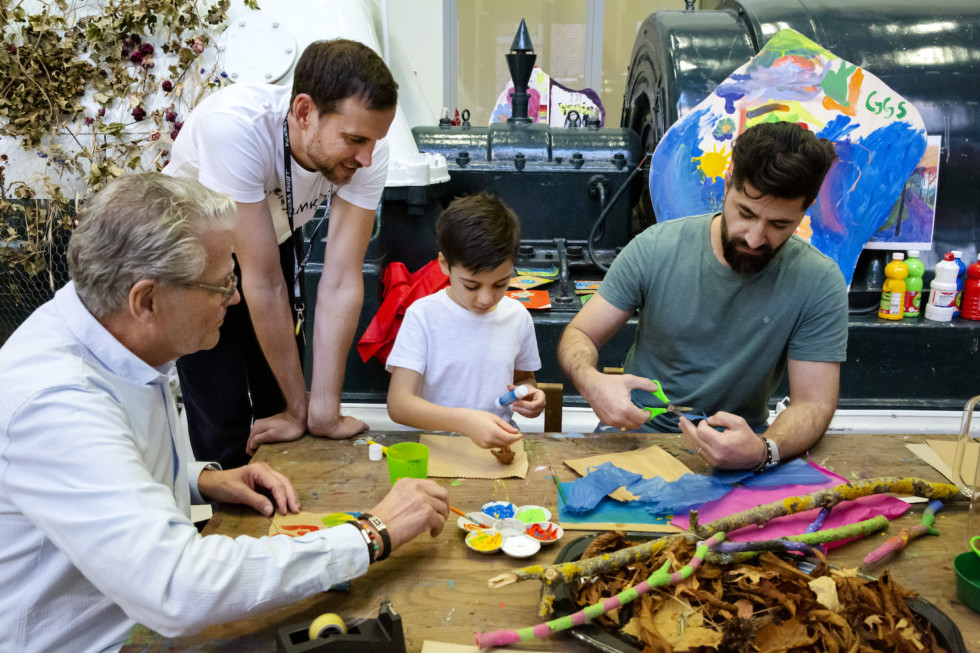 Family Workshop
Experiment and create together
Malmö
Bring your kids to the museum and set your creativity free together in our Family workshop!
Welcome to our workshop on the last Sunday of each month! Kids and adults create together with inspiration from the current exhibitions. Each workshop has a unique theme based on the exhibitions on display.

Theme 29 May: Once upon a time…there was something new!
Create new stories from familiar fairy tales! Have you heard the story of Alice in Wonderland or of Peter Pan? Do you perhaps have a favorite story? During the Family Workshop, we are inspired by the artist Per Wizén, who through collage creates new images based on well-known fairy tales.
Welcome to create your own collage inspired by the world of fairy tales! Cut out parts and details from pictures from fairy tales, put them together and create something new! What kind of story will emerge if you place pieces from Little Red Riding Hood together with pieces from Hansel and Gretel? What happens if you change something in a picture from Snow White? Find out what kind of story your collage will tell! Will it be a completely new story or maybe the same, but suddenly you discover something new, something that was hidden? In the Workshop, there will be paper and tissue paper in different colours, paint and pictures from story books and comic books to cut out details from! 
ABOUT THE ARTIST
Per Wizén's art lives in the world of fairy tales. Through the tales, he can tell about fantastic and magical worlds and about unexplored and perhaps unpleasant things hidden in worlds where only the imagination sets the limits. His inspiration comes from Disney magazines he got as a child. In his exhibition Undercurrents at Moderna Museet Malmö, you will find works based on Disney's versions of Alice in Wonderland and Peter Pan. Two fairy tale characters with something in common, they meet and explore fantasy worlds beyond the reality. His work often results in large photographs based on collage. He goes through a laborious and time-consuming process where he puts together tens of thousands of small pieces that come from selected images from the Disney magazines. From existing images he creates new images and worlds! 
Family Workshop

Time: Drop-in between 11.15–15.00
Date: The last Sunday of each month
Age: From 4 and up, in the company of an adult
Tickets: Limited number of participants. First come, first served. Children only in company with an adult.