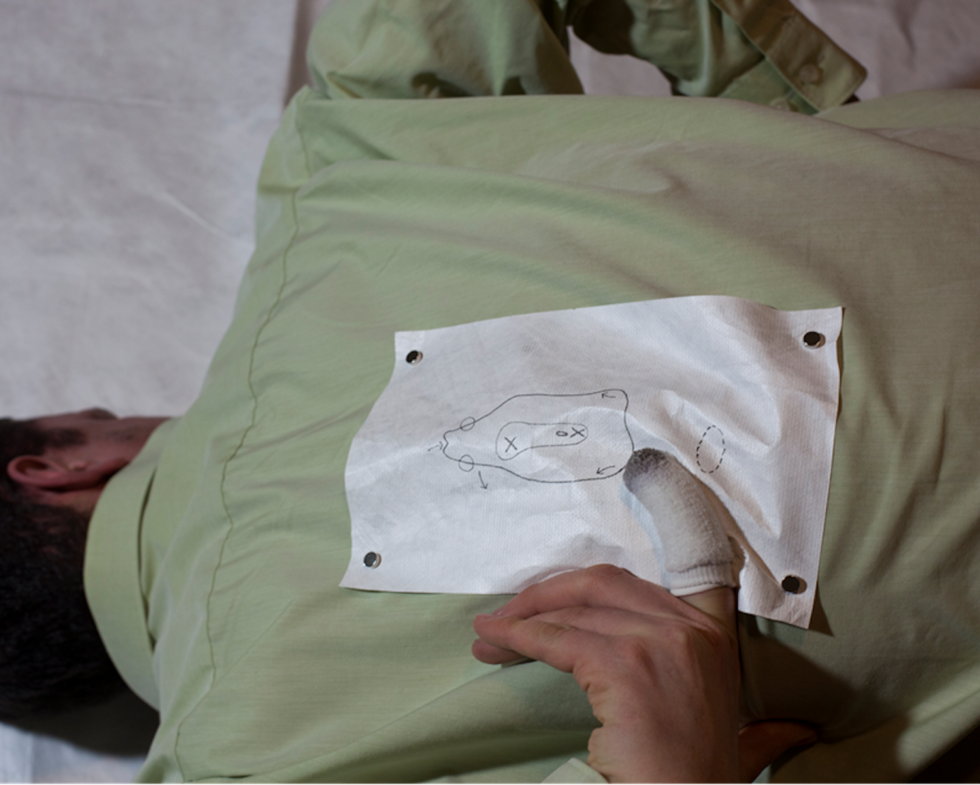 Gideonsson/Londré – Accretions
Performance in the exhibition
26.2 2022 – 27.2 2022
Malmö
We inaugurate our exhibition "Conditioned movement" with a performance. The artist duo Gideonsson/Londré, who curated the exhibition together with the museum's curator Andreas Nilsson, performs "Accretions" right in the exhibition.
In a close collaboration with Moderna Museet's conservators, the artist duo Gideonsson/Londré have followed the process of preparing the works of art on view here for the exhibition. Among other things, they have taken an interest in how an artwork is lodged in the body through conservation practice, which makes possible other forms of storage and transfer, and through which preservation becomes a continuously on-going process. In addition to drawings, which are composed of information obtained from the conservators' physical sensations, the work includes a three-part performance during which Gideonsson/Londré sequentially explore the conservators' practice as a collective body.
About Gideonsson/Londré 
The artist duo Gideon/Londré work to find a common body to produce knowledge and experience through, which goes beyond the individual intention. The works are expressed in performances, sculptures and installations where alternative perceptions of time and behavioral patterns in new compositions of bodies and languages are explored. 
Gideonsson/Londré lives and works in Kallrör, Sweden, and took an MFA from the Royal Academy of Fine Arts in 2014. They also run Konstfrämjandet Jämtland together with Christina Langert and Ola Fransson.
Accretions – performance
Date: Saturday 26 and Sunday 27 February
Time: 14.00 – 15.45
Location: Floor 2 in the exhibition Conditioned Movement
Tickets: Free admission. No pre-registration.
The performanc lasts for about 75 minutes. The audience is welcome to move freely and you can experience the exhibition at the same time.
Any questions about the program? Please contact curator Andreas Nilsson.