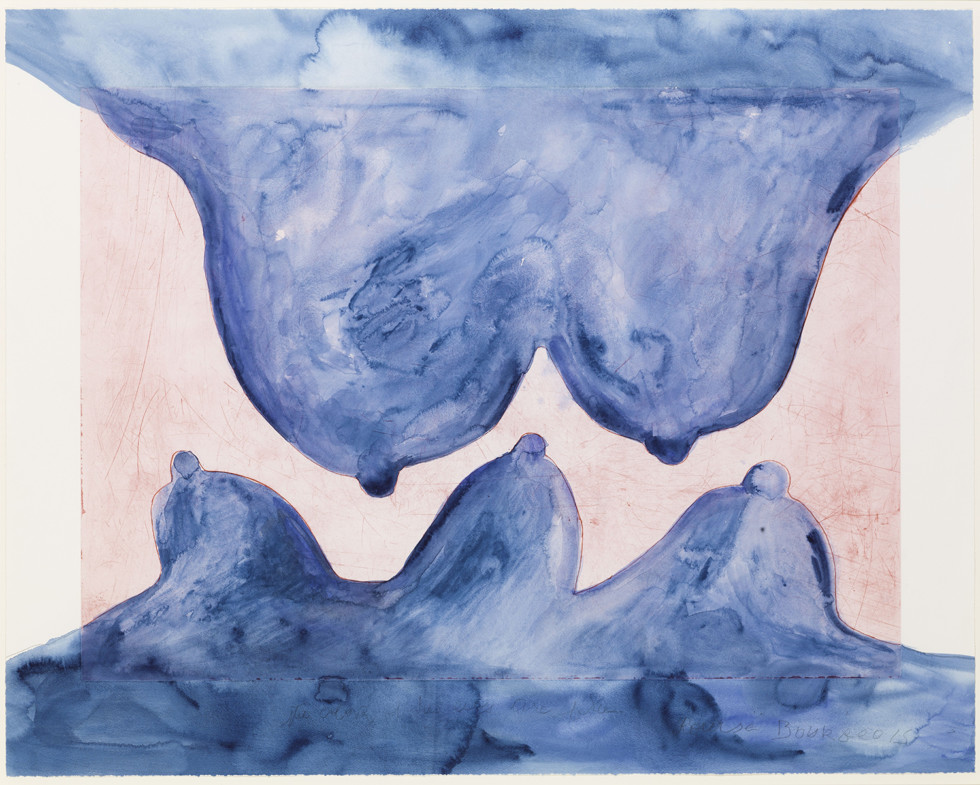 Blue Is the Color of Your Eyes
On Materiality and Abstraction in the Moderna Museet Collection
2.2 2019 – 1.3 2020
Malmö
Blue Is the Color of Your Eyes is an exhibition where works by Louise Bourgeois guide us through an examination of issues of materiality and abstraction. The exhibition features, apart from Bourgeois, a group of internationally active artists who discuss and challenge sculptural and painterly expression in a variety of ways. The title Blue Is the Color of Your Eyes is taken from a work by Bourgeois that is on view in the exhibition.    
The exhibition features work from a long span of time, from the 1940s to the present. The presentation of key selections from Moderna Museet's permanent collection highlights both a soulful and a bodily approach to the creative process as well as social issues.
Louise Bourgeois was a trailblazer in several ways, not least as a feminist artist, and throughout her entire working life she experimented with various materials and techniques. The exhibition presents both sculptures, works on paper, and textiles by Bourgeois. In her work, a personal confrontation with the past is often combined with overarching universal topics.
The exhibition also features large-scale abstract paintings by Stanley Whitney, Amy Sillman, and Torsten Andersson. In a variety of ways, these artists discuss the status and challenges of painting, and at the same time they often allow personal issues and conditions to assert themselves on an underlying plane.
Four more artists—Eva Löfdahl, Nina Canell, Sofia Hultén, and Johanna Gustafsson Fürst—express themselves sculpturally in the borderland between the abstract and the representational. Their work often integrates found objects and sometimes even immaterial components. The issues addressed in their art span from the existential to the social critical.
In the works of Mette Prawitz, Axel Lieber, R.H. Quaytman, and Bella Rune we find a fascination with textile and tactile materials. These artists dissolve, among other things, the distinctions between clothing and sculpture, painting and photography, the exclusive and the synthetic.
Artists: Torsten Andersson, Louise Bourgeois, Nina Canell, Johanna Gustafsson Fürst, Sofia Hultén, Axel Lieber, Eva Löfdahl, Mette Prawitz, R.H. Quaytman, Bella Rune, Amy Sillman, and Stanley Whitney.
Curators: Iris Müller-Westermann and Andreas Nilsson.