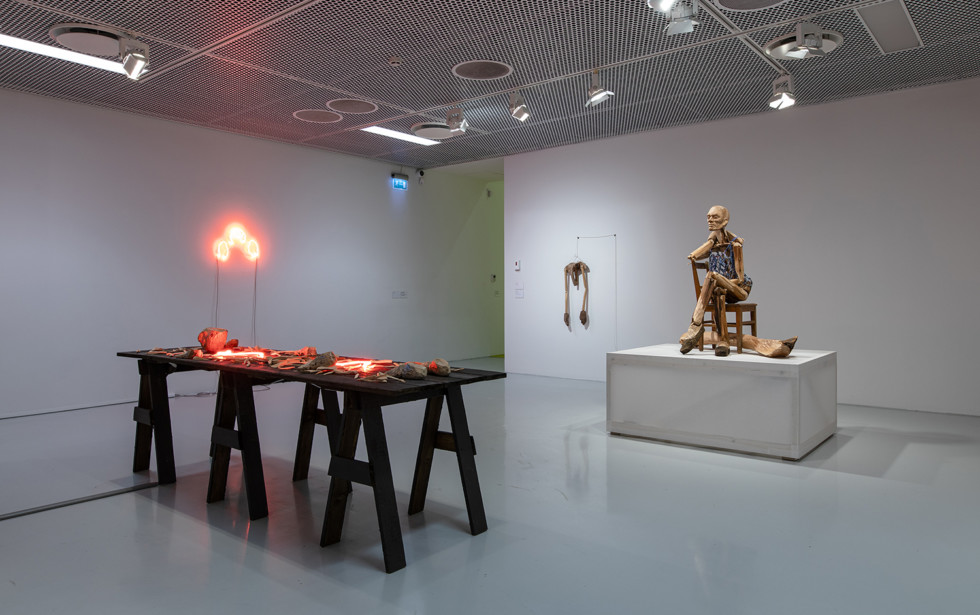 Julia Bondesson's exhibition Cradle My Bones presents several facets of her artistic oeuvre: wood sculptures, video and painting. The exhibition will also be activated at regular intervals with performances, a fully integrated part of Bondesson's practice. A regular feature in the artist's works is bodies and body parts charged with beauty and gloom.
The carefully carved and chiselled sculptures with occasional scorch marks seem at once both exposed and vulnerable yet composed. They also leave ample room for interpretation. Julia Bondesson explores the relationship between body and soul. Her inspirations include Chinese philosophy and embodied cognition, where human progress focuses on an active interplay of the senses and the physical body. The works combine aesthetics with psychology. Gently, they take possession of the gallery space, like entities awaiting activation and interaction.
The exhibition features older and very recent works in two rooms, one that feels like stepping into the artist's studio. Wood limbs are scattered on a table, as if waiting to be assembled into a larger totality. In the same room, a seated elderly lady watches the scene. A few smaller early paintings are also shown here, in which the artist seems to have made rapid, sketchy renderings of her shoes. Apart from wood, Julia Bondesson often revisits neon in her works. The material seems to draw temporary lines in motion, marking relationships or contrasts between the physicality of wood, and the immateriality of evanescent light.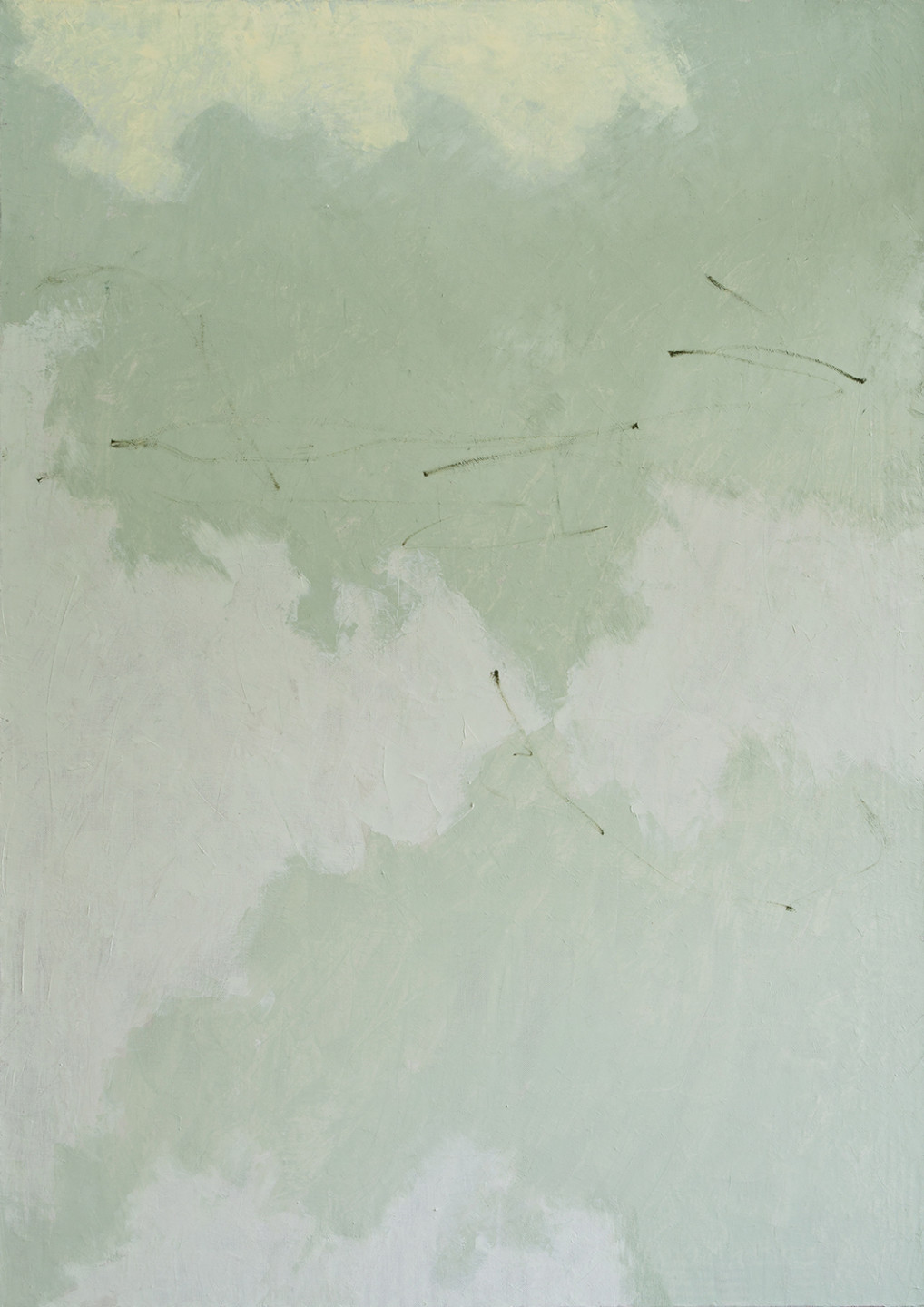 The other room is populated with the group Eternal Gestures (2011), which consists of six puppetlike wood sculptures arranged across the floor. These works have accompanied Julia Bondesson for years and been co-creators in performative artist-sculpture dances.
In the same room we also find a temporary wall with dual functions — one as a room divider that creates a separate place to watch a documentation of one of Bondesson's performances — the other as part of the set for the occasions when the new performance work Cradle My Bones (2021) is presented live in the exhibition. On the permanent walls hang two larger paintings, Moth and Shoreline (both 2017), of landscape reflections. In this context, they, like the temporary wall, can also be seen as parts forming an overall set design together with the other works in the room.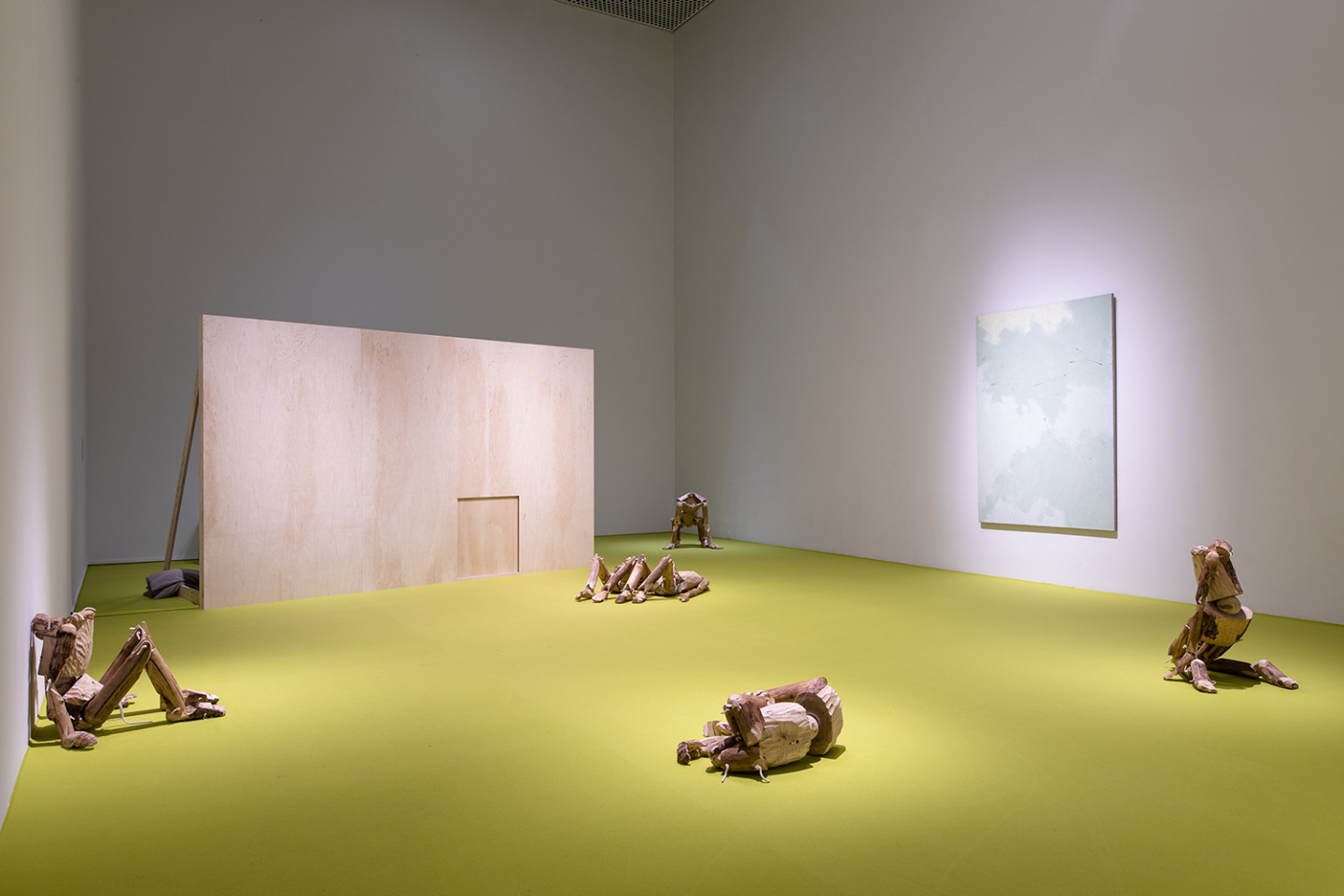 The doll
Across cultures, and throughout history, dolls have played an important part as symbols. Just think of all the dolls and figurines in all kinds of museums – ethnographic, natural history and art. Dolls have been revered as spiritual vessels where the characteristics of their creators can live on. They can also, if one is open to this communication, serve as companions in life, giving answers, encouragement, instructions and directions. The Jungian analyst and writer Clarissa Pinkola Estés touches on this in her essay "Nosing out the Facts: The Retrieval of Intuition as Initiation".
In recent art history, there are also a number of artists who have used constructed dolls in their works, including Sophie Taeuber-Arp's geometric puppets from 1918, and Tadeusz Kantor and Hans Bellmer, to name but a few. Kantor's dolls represented younger versions of their characters (in the play The Dead Class from 1976), while Bellmer used them to portray desire, control and resistance (in the photographic series Die Puppe from the 1930s). The relationship and narrative between Bondesson and her sculptures is harder to define. Here, forms of tenderness and control alternate constantly, in an exchange that always seems to build on mutual veneration and respect.
Object – subject
Reconnecting with the beginning of this introduction — who is waiting for whom in this staging? In her works, Julia Bondesson dissolves the difference between object and subject. Her art seems to defy the dichotomies of conscious and unconscious, concrete and abstract, and instead proposes the necessary mutual influence of polar opposites. An intimate and emotional relationship arises between works and artist, and the sculptures become ambiguous characters — both inanimate and living beings — vehicles connecting the static and active states. And maybe the permanence of the sculptures also reminds beholders of their own transience.
Julia Bondesson's art does not offer any definite clues to a given meaning. Instead, her works are equally descriptive and projecting, depending on how we choose to engage with them. The works sometimes appear to be stalled in a rather trying wait or frozen moment. But at the same time, Bondesson's focus might instead be the movement of the body and mind — both the human and the sculptural.
Curator and text: Andreas Nilsson