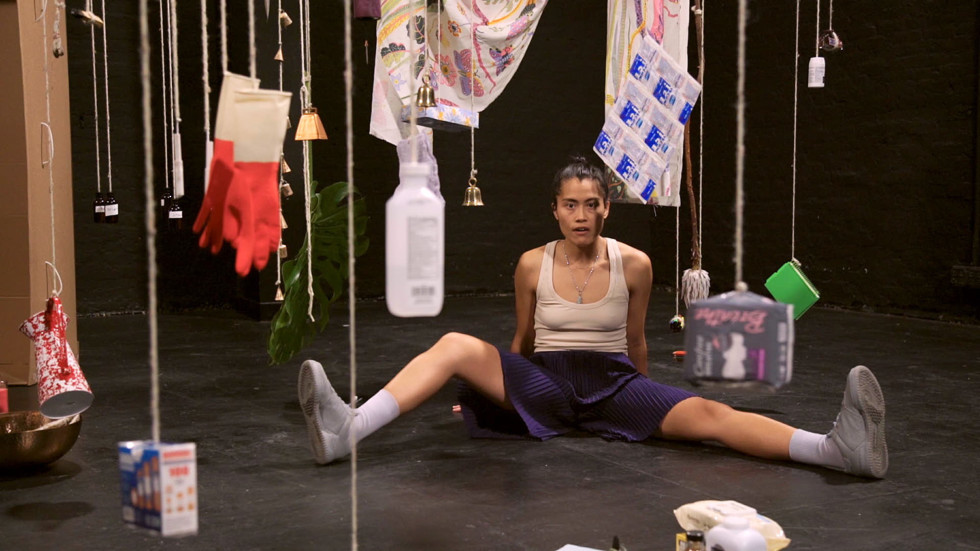 The Film Club: One Big Bag
Film & Discussion
25.3 2022
Stockholm
The Film Club welcomes you to an evening with the artist Every Ocean Hughes and her film "One Big Bag" (2021), which is a part of the exhibition "Alive Time". See the film on the big screen, and have a discussion with the artist in the Q & A following the screening, which is led by the curator Mason Leaver-Yap.
The script of "One Big Bag" is drawn from workshops, research and interviews Every Ocean Hughes conducted with several end-of-life doulas from different cultural backgrounds. The video uses the "mobile corpse kit – a bag filled with everyday objects doulas use to care for the newly dead – as both the visual structure and narrative driver of the video.
With a matter-of-fact-demeanour and intense physicality, the performer guides the viewer into the largely uncharted waters of corpse care – practical, political and spiritual. The form of the video creates a tension between the subject matter of dying and the forceful aliveness of the performance itself.
The screening is followed by a conversation between Every Ocean Hughes and the curator Mason Leaver-Yap, who through earlier collaborations is intimately familiar with the artist's work.
One Big Bag (40 min, 2021)
by Every Ocean Hughes
Date
Friday 25 March 2022
Time
At 18–20
Place
The cinema, floor 2
Language
English
Price
60 SEK, 30 SEK for members in the Film Club.
Every Ocean Hughes
Every Ocean Hughes is a transdisciplinary artist and writer. Spanning photography, sculpture, installation, performance, film, as well as writing and publishing, her practice manifests from an ongoing inquiry into performativity and the spaces that hold queer life, and, most recently, queer death. Collaboration is at the core of her work, for instance through the rich history of collaboration with LTTR, in addition to lyric writing, costume design, and curatorial projects.
Her recent solo exhibitions include Alive Time at Moderna Museet (Stockholm, 2022), One Big Bag at Studio Voltaire (London, 2022), Kunsthalle Lissabon (Lisbon, 2017), Secession (Vienna 2015), and PARTICIPANT INC, New York (2015). Hughes has presented commissions of new work at Tate Modern (London, 2012, 2017), the Stedelijk Museum (Amsterdam, 2014), Portland Institute of Contemporary Art (2014); and the Kitchen (New York 2010), among others.
She has also presented numerous projects in group exhibitions and festivals, including the Berlinale (2022), Witch Hunt at the Hammer Museum and ICA LA (Los Angeles, 2021), 11th Gwangju Biennale (2016); the Biennale of Sydney (2014); the Museum of Modern Art (New York, 2014); Future Generation Art Prize at the 55th Venice Biennale (2013); the Museo Nacional Centro de Arte Reina Sofía (Madrid, 2010); and the Whitney Biennial (New York, 2010). Hughes was a fellow at the Radcliffe Institute for Advanced Study at Harvard University in 2019-2020. She is currently the Sachs Visiting Professor at University of Pennsylvania.
Every Ocean Hughes is based between Sweden and the United States. She is formerly known as Emily Roysdon.
Mason Leaver-Yap
Mason Leaver-Yap works with artists to produce texts, exhibitions, and events. They have recently been working with Ingrid Pollard, Renée Green and Free Agent Media, Renèe Helèna Browne, Onyeka Igwe, Lin+Lam, Uri Aran, Evan Ifekoya, Oreet Ashery, Laura Guy, Sunil Gupta and the Estate of Tessa Boffin, Sharon Hayes and Mathew Parkin, Lucy McKenzie, Iman Issa, Wendy Jacob, Alejandro Cesarco, Jimmy Robert, Rachel O'Reilly, Andrea Büttner, Kat Anderson, Jamie Crewe, and Beatrice Gibson. Mason Leaver-Yap is based between Berlin and Glasgow.
BECOME A MEMBER!

Do you want information about the Film Club and our screenings? Become a member! Membership is free. Become a member by sending your name and email address to filmklubben@modernamuseet.se (membership communication is in Swedish).
Processing of personal data
To become a member in the Film Club, we need to store your personal data (name and e-mail address). We process your personal data in accordance with the General Data Protection Regulation (GDPR). Read more about how we process personal data here: Moderna Museet's integrity policy
The Film Club editorial team
Lena Essling, curator, Catrin Lundqvist, curator.
Contact
filmklubben@modernamuseet.se
About the Film Club
What has the Film Club shown before?