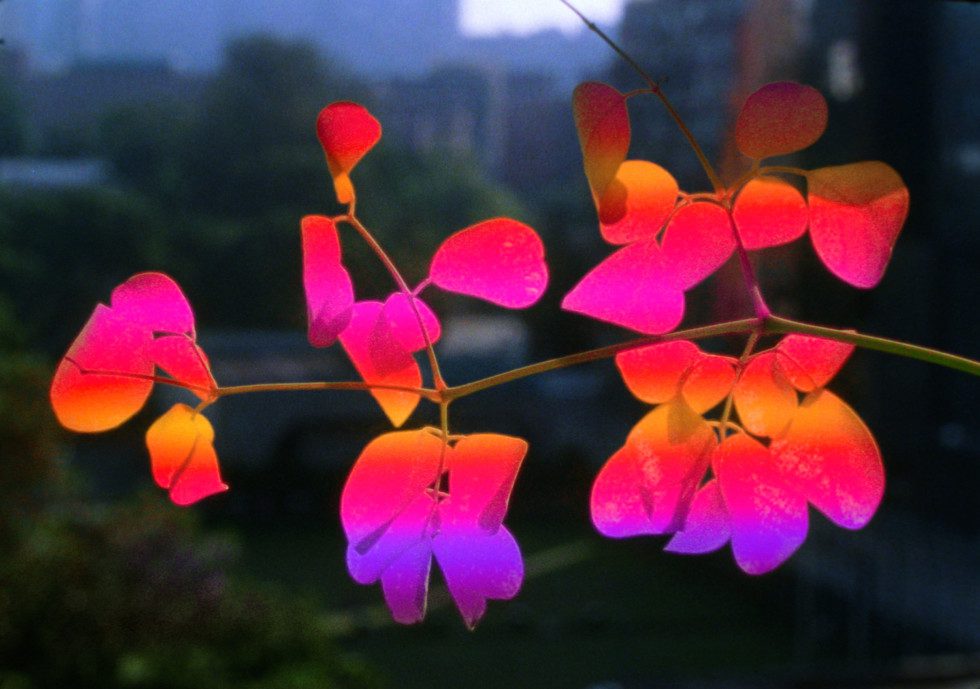 The Film Club: It Don't Look Like Rain
Films & discussions
2.5 2023
Stockholm
Explore the work of the New York-based filmmaker Simon Liu. In his analogue experimental films, Liu looks for interpersonal relationships and identity in a digital world. See five shorts made during the sociopolitical turbulence in Liu's native Hong Kong. The film screenings will be followed by a web discussion between Liu and Benjamin Gerdes, Senior Lecturer at the Royal Institute of Art.
The Film Club: It Don't Look Like Rain
By Simon Liu:
E-Ticket (13 min. 2019)
Signal 8 (14 min. 2019)
-force- (9 min. 2020)
Happy Valley (13 min. 2020)
Devil's Peak (30 min. 2022)
Date
Tuesday 2 May 2023
Time
At 18–19.45
Place
The Cinema, floor 2
Language
English
Price
60 SEK, 30 SEK for members in The Film Club and Klubb Moderna
Contact: Camilla Carlberg, Moderna Museet
Made between 2019 and 2022, Liu's sensorially overwhelming repositories of memory and feeling function as transnational time machines. Over this short period, Liu—who was born and raised in Hong Kong and is now based in New York City—has created a psychogeographic archive of his homeland as it undergoes rapid historical changes, a body of short films that powerfully reflect on his place of origin and family. His work channels the post-digital, post-colonial, and postmodern qualities of a contemporary diasporic experience. A slew of labor-intensive image-making processes, utilizing both the camera and film lab, reveal a search for unpredictable images, reflecting dislocation and pushing visual experimentation to extremes. Liu's unique combination of editorial precision and trust in light and photochemical processes allows for moments of tender clarity amid frenetic abstraction.
"Devil's" Peak and an earlier trio of works made amid the ongoing sociopolitical upheaval in Hong Kong subvert documentary form and consciously avoid explicit imagery of the unrest, but eeriness, pain, and violence haunt the edges of their hypnotic frames. When working in Hong Kong, a city already richly captured in its own cinematic history, Liu focuses an expansive gaze on overlooked details, elevating the mundane to conjure ghostly whispers from the concrete. These deeply enigmatic works can be viewed as clues to what it means to call a place home. Liu's films wonder, can we ever go back? Perhaps only through images.
Simon Liu
Simon Liu (b. Hong Kong, 1987) is an artist filmmaker whose films, video installations, and expanded cinema performances have been exhibited at film festivals and museums globally including the Berlinale International Film Festival, Toronto International Film Festival, New York Film Festival, Sundance Film Festival, New Directors/New Films, The Shed, M+ Museum, Tai Kwun Contemporary, Portland Institute of Contemporary Art, MOCA Los Angeles, "Dreamlands: Expanded", and a solo screening at the Museum of Modern Art in their Modern Mondays series.
He has received grants and commissions from the Jerome Foundation, NYSCA, M+, and The Shed, and his films and performance works are in the permanent collections of the M+ Museum and MoMA. Profiles of his practice have been in publications such as The New York Times, Art in America, Cinemascope, MUBI, Nang Magazine, and Millenium Film Journal. Liu is a teacher at the Cooper Union School of Art, a member of the artist-run film lab Negativeland, and is currently editing his first feature film Staffordshire Hoard.
BECOME A MEMBER!
Do you want information about the Film Club and our screenings? Become a member! Membership is free. Become a member by sending your name and email address to filmklubben@modernamuseet.se (membership communication is in Swedish).
Processing of personal data
To become a member in the Film Club, we need to store your personal data (name and e-mail address). We process your personal data in accordance with the General Data Protection Regulation (GDPR). Read more about how we process personal data here: Moderna Museet's integrity policy
Contact