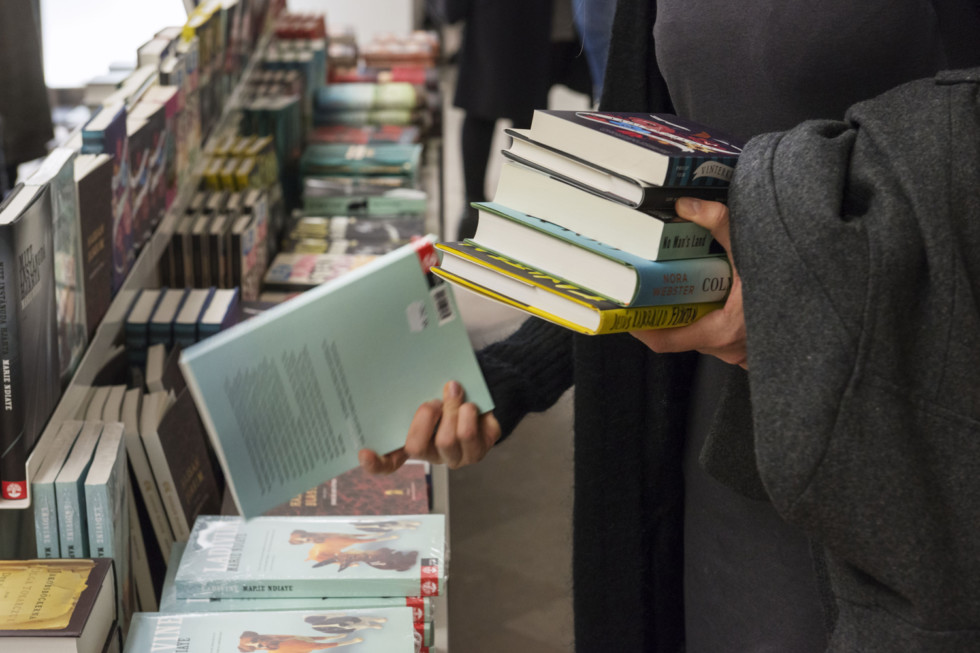 The participating translators at the festival are presented here along with the award winner of The Translation of the Year Prize 2016.
Translation of the Year 2016
The Translation of the Year Prize was founded in 2010 and is awarded by the translators' section of the Swedish Writers' Union. The purpose of the Prize is to acknowledge the art of translating and to reward translations that commendably combine boldness with precision, and brilliance with accuracy. For the third consecutive year, the Prize is awarded at the opening of Stockholm Literature.
Henrika Ringbom (born 1962) lives in Helsinki and is a practising author and translator, specialising in Finnish poetry. She is awarded the Prize for her translation of Henriikka Tavi's collection, Toivo. Henrika Ringbom published her first collection of poetry, Båge, in 1988, and has since then produced a further seven poetry and prose works. The Finnish poets she has translated include Mirkka Rekola, Markku Paasonen, Saila Susiluoto, and Jurki Kiiskinen. In autumn 2016, her poetic essay eldens leende, an account of her journey to Japan, will be published by Förlaget.
In association withhe literary translators' section of the Swedish Writers' Union.
The Auditorium FRI at 19–19.45 (Eng)
The Cinema SAT at 13–13.45 (Sw)
Readings SAT at 14.30–14.50 (Sw)
Honorary mentions
Malin Bylund Westfelt, for her translation from English of Can't and Won't Stories by Lydia Davis.
Inger Johansson, for her translation from Romanian of The Levant by Mircea Cărtărescu.
Sara Gordan was born in Stockholm in 1972. She is a writer, critic, arts journalist and translator, and teaches creative writing at the Biskops-Arnö Nordic Folk High School.
Kerstin Munck is a retired docent of history of literature at Umeå University. She was a lecturer in Swedish at the University of Bordeaux in 1987-89. She wrote the first book in Swedish about Hélène Cixous' writing, Att föda text (2004).
Sara Gordan and Kerstin Munck have together translated several works of Hélène Cixous.
Readings SAT at 13.30–13.50 Sara Gordan & Kerstin Munck (Sw)
Niclas Nilsson is a poet and translator, mainly from English into Swedish. In the past decade, he has translated more than thirty books by authors such as Lyn Hejinian, Marilynne Robinson, C.D. Wright, Jamaica Kincaid, George Saunders, Rosmarie Waldrop and Anne Sexton. His latest collection of poems, Mene tekel, was published in 2015. Born in 1971, he lives in Malmö.
Readings SUN at 12–12.20 (Sw)
John Swedenmark is a translator and writer. He has translated some 15 books and dramas since 1989, in addition to contributing to arts magazines as a writer, editor and translator. Selected essays by Swedenmark are published in Kritikmaskinen (2009) and Baklängesöversättning (2014). In 2014, he was awarded the Romanian Cultural Institute's Sorescu prize.
The Cinema SAT at 13–13.45 (Sw)
Redaings SUN at 13–13.20 (Sw)
Zon SUN at 14–14.45 (Sw)
Tickets
Tickets required for all events in the Auditorium and the opening party on Friday.
Supplementary tickets for special events SEK 35.
Opening party SEK 100
Admission free in 2016
Thanks to a contribution from the BA Danelii Foundation, the Festival card for 2016 will be free. Like before, however, supplementary tickets are required for special events.
Support Stockholm Literature
We are very grateful for all contributions towards the funding of Stockholm Literature, regardless of the amount. Please mark your contribution "Stöd till Stockholm Literature" (Contribution to Stockholm Literature). BG 115-7957