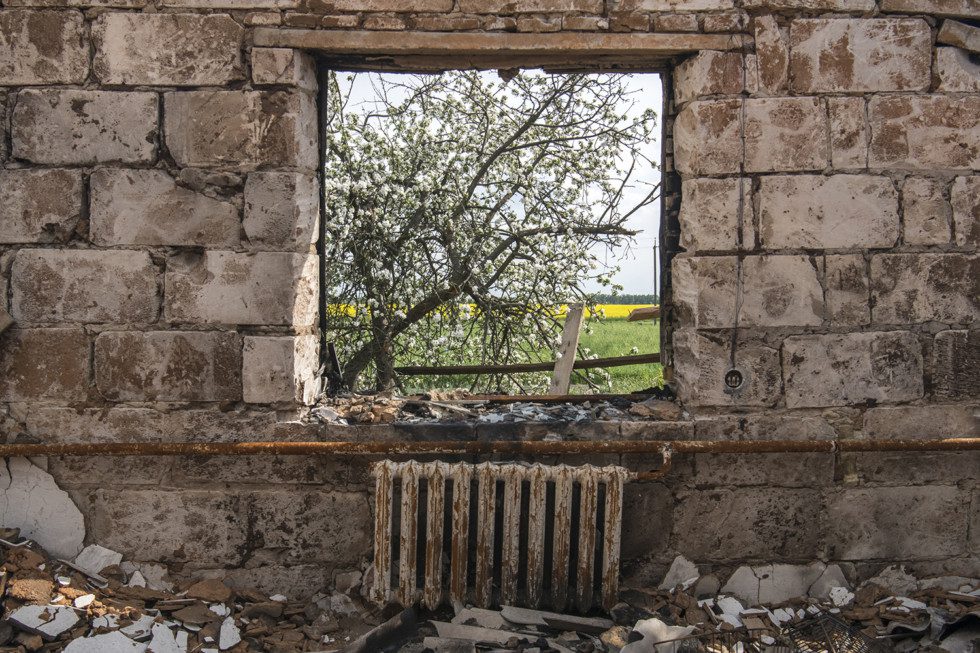 Voices from a War
Music and Poetry
15.4 2023
Stockholm
This spring, Moderna Museet participates in "European Festival: Ukrainian Spring" with the event "Voices from a War – Music and Poetry". Listen to readings from the anthology "Under Ukrainas öppna himmel. Röster ur ett krig" alternate with music by Ukrainian composers on 15 April.
The anthology "Under Ukrainas öppna himmel. Röster ur ett krig" [Under the Open Ukrainian Sky. Voices from a War] conveys experiences from the Russian invasion through nearly three hundred pages of drama, poetry, chronicles, diary entries and essays. The Ukrainian actor Kateryna Kisten, who came to Sweden in late March last year, and the Dramaten actor Hannes Meidal read from the book.
Alternating with the poetry readings, pianist Natalya Pasichnyk, violinist Christian Svarfar and guitarist Jakob Kellermann perform works by the Ukrainian composers Borys Lyatoshynsky, Valentyn Silvestrov, Mykola Lysenko and Viktor Kosenko.
"Under Ukrainas öppna himmel. Röster ur ett krig" is the first literary anthology from Ukraine in Swedish for nearly three decades. It is published by Ariel förlag in association with Swedish PEN.
Voices from a War
Music and Poetry
Date
Saturday 15 april 2023
Time
At 14–15
Place
The Auditorium, floor 2
Language
Swedish and Ukrainian
Price
150 SEK, 120 SEK reduced price. 100 SEK for members of Klubb Moderna.
Free admission for people with a Ukrainian passport.
Contact: Karin Malmquist
European festival: Ukrainian spring
"Voices from a War – Music and Poetry" is one of many events in a series this spring highlighting Ukrainian art and Ukrainian cultural workers. The events take place in different parts of Stockholm and features music, film and lectures.
The programme includes the premiere of "Butterfly Vision" on 14 April – a drama by Maksym Nakonechnyi at the Victoria cinema. On 23 April, you can enjoy listening to two up-and-coming Ukrainian pianists, Hanna Kozyak (16) from Lviv, and Amelie Ploshko (14) from Kyiv, in a concert at Artipelag.
Europe Day on 9 May is the grand finale in the main concert hall at Konserthuset, featuring the Lviv National Philharmonic Orchestra of Ukraine, on their first-ever visit to Sweden. The conductor is the new star, Jaroslav Shemet (born in Kharkiv).
See the whole programme here: European Festival: Ukrainian Spring
Hannes Meidal
Hannes Meidal is part of the permanent ensemble at the Royal Dramatic Theatre in Stockholm and has lately featured in the plays Som löven i Vallombrosa, The Seagull, The Wild Duck, Fathers and Sons, Phoenix and Oedipus/Antigone. Meidal is also a theatre historian and playwright.
Natalya Pasichnyk
Natalya Pasichnyk is one of Sweden's most internationally-renowned concert pianists. With roots in Ukraine, and in addition to her broad repertoire, Pasichnyk has devoted recent years to promoting the largely unknown treasure of Ukrainian music. Her latest album, Consolation – Forgotten Treasures of the Ukrainian Soul (BIS Records) was an international success with critics and was dubbed "highlight of the year" by the German magazine Mitti Bayerische.
Kateryna Kisten
Kateryna Kisten is a Ukrainian actor born in Kiev. Kisten has participated in numerous Ukrainian movies and TV series, including "Servant of the People", where she played against Volodymyr Zelensky. Kisten came to Sweden in late March last year and quickly became a vibrant contributor to the Swedish arts scene that draws attention to the situation in Ukraine.
Jacob Kellermann
Jacob Kellermann is one of Sweden's best-loved guitarists. In addition to playing regularly all over Sweden, he has appeared as a soloist and chamber musician internationally at Prinzregententheater and the Gasteig, Munich, Seoul Art Center, Brucknerhaus – Linz, Tokyo Bunka Kaikan, and at festivals such as the Enescu Festival (Romania), FestivalDat in de Branding (Netherlands) and El Jem (Tunisia). As a soloist, he has worked with the London Philharmonic Orchestra, the Swedish Radio Symphony Orchestra and the Gävle Symphony Orchestra.
Christian Svarfar
Christian Svarfar is one of the foremost violinists in Scandinavia. He has performed with world-leading orchestras in prestigious concert halls and festivals, including the Luxembourg Philharmonie, the Kölner Philharmonie in Cologne, Megaron in Athens, Der Musikverein in Vienna, Concertgebouw in Amsterdam, La Cité de la musique in Paris, Palais des Beaux-Arts in Brussels, and Carnegie Hall in New York. He has also recorded with the London Philharmonic Orchestra.
In association with Swedish PEN's international journal PEN/Opp, the Ukrainian Institute in Sweden and EUNIC.