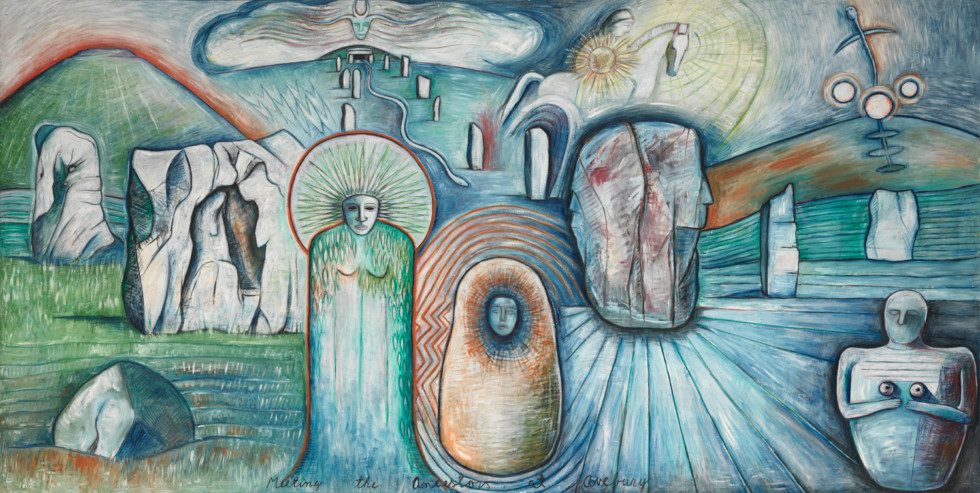 Woman Magic
Presentation
23.9 2023
Stockholm
How do surveillance and censorship relate to the role of feminism in art history? Hear the British researcher Amy Tobin in a lecture on spirituality and feminist policy based on Monica Sjöö's artistic practice.
Woman Magic
Presentation
Date
Saturday 23 september 2023
Time
At 14–15
Location
The Cinema, Floor 2
Language
English
Price
Free admission
Contact: Karin Malmquist
The artist Monica Sjöö (1938–2005) sought to challenge norms and prevailing ideas. From the very start, Sjöö's works caused a stir, but she became startlingly aware of the power of her images when "God Giving Birth" (1968) was removed from an exhibition at Guildhall during the St Ives Art Weeks in 1970, and she was charged with blasphemy.
These experiences led her to the community of the women's liberation movement in the 1970s. In 1979, Monica Sjöö organised a touring group exhibition, "Woman Magic; Celebrating the Goddess Within Us", which put women's art in new contexts, with new audiences, far from the normative criteria for artistic value and success.
In her lecture, Amy Tobin will discuss spirituality, women's rights and censorship in art history, with Monica Sjöö's cosmic feminism as her starting point.
Amy Tobin
Amy Tobin is an assistant professor at the Department of History of Art at the University of Cambridge. She is also the Curator of Contemporary Programmes at Kettle's Yard and a Fellow of Newnham College. Her research is concerned with art and collaboration and feminism in the 1970s and 1980s.
Tobin co-authored the catalogue for the exhibition "Monica Sjöö: The Great Cosmic Mother". Her coming book, "Women Artists Together: Art in the Age of Women's Liberation" will be published by Yale University Press in autumn 2023.
Read more about Amy Tobin's publications and exhibitions here: University of Cambridge