A
Akinbode Akinbiyi (b. 1946, Oxford, UK)
Akinbode Akinbiyi lives and works in Berlin, Germany. He studied literature in Nigeria, the UK and Germany. He began taking photographs in 1974, initially focusing on urban space, and then on big cities. For several years, he has been working on four African megalopolises: Cairo in Egypt; Lagos in Nigeria; Kinshasa in the Democratic Republic of Congo; and Johannesburg in South Africa. During his walks along their roads he captures an everyday life that is somewhat out of joint.
Jane Alexander (b. 1959, Johannesburg, South Africa)
Jane Alexander lives and works in Cape Town, South Africa. She trained as an artist in Johannesburg. She works with various media, including: sculpture, photomontage and video. In her installation African Adventure (1999-2002) Alexander reworks South Africa's official history. This work was originally set up in the Castle of Good Hope in Cape Town, the oldest building in South Africa and built by the Dutch East India Company in the 17th century.
Fernando Alvim (b. 1963, Luanda, Angola)
Fernando Alvim lives and works in Luanda and Brussels, Belgium. Alvim is a self-taught artist who works with various media. In his art he relentlessly deals with the wounds inflicted on war-torn Angola: especially the repercussions and consequences of the conflict in people's cultural memory. Alongside the traditional artist's role, Alvim has also founded several African cultural centres, produces films, and been editor of Co@rtnews.
Ghada Amer (b. 1963, Cairo, Egypt)
Ghada Amer lives and works in New York, USA. She studied art in France and the USA. Amer's works are often interpreted as a calling into question of the roles that are allotted to women, and as an investigation of the relationship between popular and high culture, Islam and Christianity. In Wallpaper RFGA (2003) women's bodies in erotic stagings are concealed in embroidered, apparently abstract patterns.
Joël Andrianomearisoa (b. 1977, Antananarivo, Madagascar)
Joël Andrianomearisoa lives and works in Paris, France, and Madagascar. He was accepted for the Fashion Academy of Antananarivo at a very young age and then trained as an architect in Paris. Andrianomearisoa mixes genres and styles – design, fashion and architecture. In his fashion designs he experiments, for instance, with materials such as wood, metal, stone and plastic. He works as a designer and as a scenographer for theatre and TV.
Rui Assubuji (b. 1964, Cabo Delgado, Ibo Island, Mozambique)
Rui Assubuji lives and works in Maputo, Mozambique. He has been working as a cameraman since 1985. In 1987, he took a photography course in Maputo. Assubuji has worked for video and photography production houses in Italy. In 1990, he published a book on seasonal tomato pickers titled Pa Ubilé, Diario di campo. He now works as a freelance photojournalist and exhibits his own documentary photographs.
B
Lara Baladi (b. 1969, Beirut, Lebanon)
Lara Baladi lives and works in Cairo, Egypt. She has studied in London, UK, and Paris, France. Baladi works with photocollages, installations and video. The video installation Shish Kebap (2004) took a found music box as its starting point. According to Baladi, the work is "the expression of a nostalgic desire for an imagined world". This is an ambulant television as rootless as herself and many others who lack a fixed sense of belonging in our world.
Yto Barrada (b. 1971, Paris, France)
Yto Barrada lives and works in Paris and Tangiers, Morocco. Barrada trained as a photographer in New York, USA and also works with video. In 1998-2004, she worked on a series called The Strait Project. The title refers to the Strait of Gibraltar, which separates Europe from Africa both physically and psychologically. But the water is also a possible way out, a metaphor for the longing to move away.
Luís Basto (b. 1965, Maputo, Mozambique)
Luís Pedro Basto lives and works in Maputo and Harare, Zimbabwe. The sources of inspiration for his pictures include other famous photographers from Mozambique, among them Ricardo Rangel. Basto repaired his father's darkroom and taught himself to develop black-and-white photographs and Cibachromes. He worked for a while as a still photographer on various film shoots. Nowadays, he is a painter, sculptor and freelance photographer.
Hicham Benohoud (b. 1968, Marrakech, Morocco)
Hicham Benohoud lives and works in Marrakech. He studied in Strasbourg, France. He works as a high-school art teacher in Marrakech. In La Salle de Classe (1994-2001) we meet his pupils, who he had asked to come up with surprising poses, in which Benohoud then photographed them. To assist them they could use objects and materials found in the classroom. While the pictures were being taken, the rest of the class carried on with their schoolwork as though nothing special was going on.
Willie Bester (b. 1956, Cape Town, South Africa)
Willie Bester lives and works in Cape Town. Bester has had no formal art education. His introduction to art was through a "Community Arts Project", where he met people who expressed their political views through art. He later became one of the most important South African resistance artists of the 1990s. In his paintings, assemblages and sculptures he often uses found materials. Bester's art focuses on human rights and injustice.
Berry Bickle (b. 1959, Bulawayo, Zimbabwe)
Berry Bickle lives and works in Harare, Zimbabwe. She studied art in South Africa and then began practising as a painter and ceramicist. Today, she works with a variety of installations that explore the history of Zimbabwe as seen in notes made by its colonisers in both official and more personal contexts. Bickle is interested in the presence of the "archaeological" in the present and in the difference between history and personal memory.
Bili Bidjocka (b. 1962, Douala, Cameroon)
Bili Bidjocka lives and works in Brussels, Belgium, Mana, French Guiana, New York, USA, and Paris, France, where he moved as a 12-year-old. Bidjocka primarily works with painting and installations. In L'Ecriture Infinie ou le plus grand livre du monde (2006), he was inspired by the French author and philosopher Maurice Blanchot's L'entretien infini (The Infinite Conversation). Visitors are invited to participate in an ongoing conversation by writing their thoughts down in books.
Andries Botha (b. 1952, Durban, South Africa)
Andries Botha lives and works in Durban, where he also teaches at the university. Botha was originally a sculptor and trained in Pietermaritzburg, South Africa. More recently, he has increasingly worked with installations. History has an aspect of oversight in the process of progressive blindness (2004) addresses our 'flawed humanity', which we deny or seek to conceal.
Wim Botha (b. 1974, Pretoria, South Africa)
Wim Botha lives and works in Pretoria. Trained in Pretoria, he is a sculptor, printmaker and multimedia artist. Botha's installations explore the way icons change meanings over time. Commune: Onomatopoeia (2003) is the second part of a series of three installations. Each object in the installation has undergone a slight alteration. This is a place for dreams, where everything is suspended in the air. The dripping water can be interpreted as the substance of life.
Zoulikha Bouabdellah (b. 1977, Moscow, Russia)
Zoulikha Bouabdellah lives and works in Paris, France. Bouabdellah grew up in Algeria before her family moved to France, where she studied art. She primarily works with video. This exhibition includes the video installation Dansons (2003), which metaphorically suggests an encounter between different cultures. The film shows Bouabdellah's belly in close-up while she is dancing to The Marseillaise. Around her waist – one after the other – she ties three silk scarves, blue, white and red, the colours of the French flag.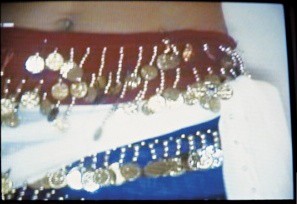 Frédéric Bruly Bouabré (b. around 1923, Zéprégühé, Ivory Coast)
Frédérick Bruly Bouabré lives and works in Abidjan, Ivory Coast. He explores and maps out the relationship between language, signs and symbols, and has, for instance, created over 400 pictograms that can be combined to make a written language for one of the country's ethnic groups, the Bété. His art originates in visions, and he sees himself as a seeker who records his observations in drawings. The pictures mix popular cultural, urban and ethnic references.
C
Paulo Capela (b. 1947, Ouiz, Angola)
Paulo Capela lives and works in Angola. A self-taught artist, he started painting in the 1960s, later turning to a more conceptual approach. His altar-like installations combine drawings and paintings with found objects and texts. Political, religious and commercial icons are placed side by side: a crucifix, a picture of the revolutionary Che Guevara, soft-drink cans and national flags.
Loulou Cherinet (b. 1970, Göteborg, Sweden)
Loulou Cherinet lives and works in Stockholm, Sweden. She was educated in Addis Ababa, Ethiopia, and in Stockholm. Several of her works place the viewer in situations in which it is hard to decide whether they are staged or documentary. In the film White Women (2002) a group of men of African origin are shown having a meal. The conversation is about their impressions of Swedish women.
Soly Cissé (b. 1969, Dakar, Senegal)
Soly Cissé studied and lives and works in Dakar. In parallel with his painting Cissé works as a designer, scenographer and photographer. His artworks are characterised by silhouettes and shadow figures, as in these charcoal drawings. According to Cissé himself, the almost theatrical tableaus show scenes from contemporary Dakar in particular and from the urban, global society in general.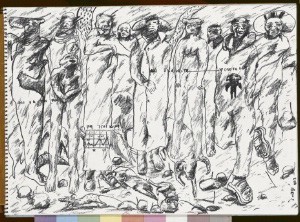 D
Omar D (b. 1951, Algeria)
Omar D lives and works in Paris, France, and Algiers, Algeria. He is a self-taught photographer. The political situation in Algeria meant he was unable to fulfil his dreams of being a journalist, and instead he trained as an ophthalmogist. Alongside this he photographed everyday life in Algeria, but without publishing or exhibiting his pictures. Since 1999, he has published and exhibited his photographs under the pseudonym Omar D.
Tracy Derrick (b. South Africa)
Tracey Derrick lives and works in Cape Town, South Africa. She is a photographer and, during the 1990s, worked on various series of documentaries, some of them about refugees, sex workers and street children. In the Earth Works series (2001-2004) she focused attention on various lifestyles, in the hope that "people will not only come to appreciate their differences, but also recognise how much they have in common." She also trains other photographers so that the new South Africa will be documented from within.
Cheick Diallo (b. 1960, Bamako, Mali)
Cheick Diallo lives and works in Rouen, France. He studied at universities of architecture and design in France, and works as an architect, designer and researcher. For the furniture he designed for the reading corner in Africa Remix, Diallo was inspired by various traditional techniques used by the artists and craft workers in Mali, e.g. weaving and basket making. The furniture mirrors a mixture of cultures, combining tradition with the contemporary.
Dilomprizulike (b. 1960, Enugu, Nigeria)
Dilomprizulike lives and works in Lagos, Nigeria, where he has his own museum – the Junkyard Museum of Awkward Things. He studied in Nigeria and has a degree in art from Scotland. He is known as "The Junkman of Africa". Waiting for Bus (2003) is an installation made of found objects, in which the composite people appear trapped between their own culture and an imposed western civilisation.
Marlene Dumas (b. 1953, Cape Town, South Africa)
Marlene Dumas lives and works in Amsterdam, The Netherlands. Dumas studied both psychology and art. She is primarily a painter and drawer, and her works can be described as social portraits. She takes her starting points in images from newspapers, archives or photographs. Through her art Dumas links together politically and ethically complex issues, such as race, gender and sexuality.
E
El Anatsui (b. 1944, Anyako, Ghana)
El Anatsui lives and works in Nsukka, Nigeria, where he also teaches at the university. He trained in Ghana. El Anatsui has worked a lot with wood, which he has, for instance, sculpted with a chain saw. In Sasa (2004) various metal bottle tops have been flattened out and put together. He uses this re-creation as a metaphor for commenting on West-African cultures and societies, their traditions and changes occurring in them.
Mohamed El Baz (b. 1967, El Ksiba, Morocco)
Mohamed El Baz lives and works in Lille, France. Since 1993, Baz has been working on an experimental project Bricoler l'Incurable (2004). Each new exhibition is a part of this project, with various details being adapted to suit the place or situation. This work mixes politics and legends, which are given topical relevance by the civil war in Ivory Coast and the war in Afghanistan. The installations often combine photography, video and, occasionally, found objects.
Abd El Ghany Kenawy (b. 1969, Cairo, Egypt) and Amal Kenawy (b. 1974, Egypt)
Abd El Ghany Kenawy and Amal Kenawy live and work in Cairo. This brother and sister studied in Cairo, Abdel Ghany Kenawy film and design and Amal Kenawy sculpture, film and design. Since 1996, they have worked together on installations, sculptures, video installations and performances. In Frozen Memory (2003) they explore the relationship between identity and memory.
Shady El Noshokaty (b. 1971, Dammieta, Egypt)
Shady El Noshokaty lives and works in Cairo, Egypt. He studied art in Cairo and the USA. In his art he uses animation, digital graphics and video installations to investigate concepts such as identity. In The Tree of my Grandmother's House, The Dialogue (2001) we meet the artist's father and the father's sisters, who talk to their deceased mother about religion, life and love.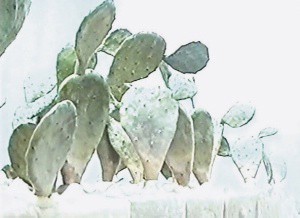 F
Ymane Fakhir (b. 1969, Casablanca, Morocco)
Ymane Fakhir lives and works in Marseille, France. She is a photographer and studied in both Morocco and France. She has previously used her photographs of tailor's dummies to portray the idealised image of beauty. In the Un ange passe suite (2003) Fakhir documents a young Arabic woman's wedding in close-up, an intense, decisive moment in life.
Mounir Fatmi (b. 1970, Tangiers, Morocco)
Mounir Fatmi lives and works in Tangiers and Paris, France. Fatmi acquired his art education in Rome, Italy. From the beginning, he mainly used video as a medium of documentation, but he has increasingly integrated this into artworks, such as Obstacles (2003-2005). Fatmi has himself described his works as political, existential and aesthetic. Each time they are shown, something is changed in them in a comment on a current political event.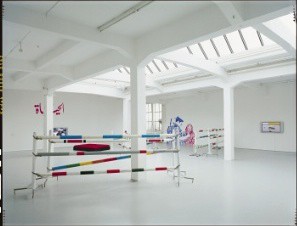 Balthazar Faye (b. 1964, Dakar, Senegal)
Balthazar Faye lives and works in Paris, France. He studied in France. Faye is a designer who is full of surprises. Regardless of whether he is working in Europe or Africa, he adheres to no fixed aesthetic. He starts with a shape or a material that inspires him, and then makes new, stylistically pure furniture with a lot of volume. The furniture does not always have a clear function, and hence can be used in many different ways.
Samuel Fosso (b. 1962, Kumba, Cameroon)
Samuel Fosso lives and works in Bangui, Central African Republic. Fosso grew up in Cameroon and Nigeria. He was apprenticed to a photographer at the age of ten, and when he was thirteen had his own photography studio. Here he began experimenting with self-portraits so that he could send pictures home to his mother. He uses costumes and settings constantly to shift the perception and significance of what identity is.
G
Meschac Gaba (b. 1961, Cotonou, Benin)
Meschac Gaba lives and works in Amsterdam, The Netherlands. From the beginning, Gaba has worked as a self-taught artist, with political collages centred on the post-colonial situation and its effects on the economy of Africa. After studying in Amsterdam, in 1997, he began developing the major work for which he is best known: Museum of Contemporary African Art, an alternative platform and a commentary on the way western art museums generally present art from Africa.
Jellel Gasteli (b. 1958, Tunis, Tunisia)
Jellel Gasteli works in Paris, France, as a photographer. His pictures capture the lines, curves and shadows in the architecture of the typical Tunisian medina [city], almost like an abstract painting. Of the Èclipse series (2001) he writes: "The hours that precede the zenith and those that follow it are an interplay between shadow, light, material, hope, the camera and time. It is a play that requires patience…"
Gera (b. 1941, Tsata, Ethiopia – d. 2000, Addis Ababa, Ethiopia)
At the same time as Gera was studying traditional chanting and prayer writing, he was also practising traditional Ethiopian medicine based on the ancient belief in the healing powers of talisman paintings. According to the tradition, the pictures communicate with the viewer's spirit, and each picture is created to correspond to a patient's ailment. Since the 1970s, Gera has worked as both an artist and healer.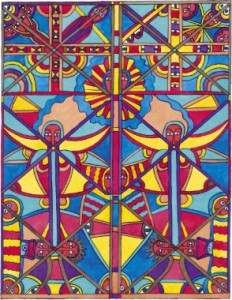 David Goldblatt (b. 1930, Randfontein, South Africa)
David Goldblatt lives and works in Johannesburg, South Africa. Goldblatt is a self-taught photographer. He focuses on social, political and cultural structures in South Africa's homelands, along with the injustices there, those who created them and those who defy them. The pictures are about buildings and structures, both physical and mental, where the boundaries between white and black, rich and poor are clearly visible. Goldblatt is the winner of the Hasselblad Foundation International Award in Photography for 2006.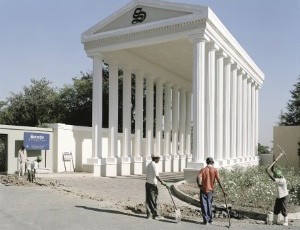 H
Romuald Hazoumé (b. 1962, Porto Novo, Benin)
Romuald Hazoumé lives and works in Porto Novo. He is a self-taught painter and sculptor. Hazoumé investigates signs, symbols and mythologies in West-African culture. He uses limited means to resituate found objects, turning them into masks, which come to represent characters from everyday life. Hazoumé calls into question the authenticity of the African masks on the art market.
K
William Kentridge (b. 1955, Johannesburg, South Africa)
William Kentridge lives and works in Johannesburg. He studied political science and art in Johannesburg and Paris, France. Kentridge works with drawing and short animated films. His works are often commentaries on South Africa's history and apartheid. The animation Ubu Tells the Truth (1997) has its starting point in Alfred Jarry's drama about King Ubu, as well as in the South African Truth and Reconciliation Commission.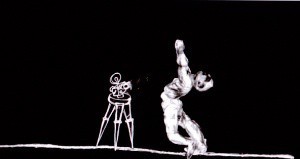 Bodys Isek Kingelez (b. 1948, Kimbembele Ihunga, The Democratic Republic of the Congo [former Zaire])
Bodys Isek Kingelez lives and works in Kinshasa, The Democratic Republic of the Congo. Kingelez is an autodidact and, since the 1970s, has worked with models of cities in cardboard, plywood and various packing materials. Form and colour are a part of this fictitious architectonic vision of the future. The models can be seen as a reaction to the western world's attempts to make Africa civilised, but also to so-called Afro-kitsch, which is mostly made for western tourists.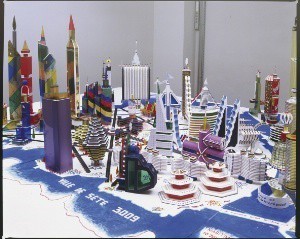 Abdoulaye Konaté (b. 1953, Diré, Mali)
Abdoulaye Konaté lives and works in Bamako, Mali. He studied in Bamako and Havana, Cuba. Konate's artworks frequently comment on political issues. L'Initiation (2004) mingles symbols from Malian secret societies with symbols for some of the systems of belief that dominated the 20th century. On the textiles hang amulets. They can contain verses from the Koran and, following West-African tradition, are attached to tunics to protect the wearer in war or on a journey.
L
Moshekwa Langa (b. 1975, Bakenberg, South Africa)
Moshekwa Langa lives and works in Amsterdam, The Netherlands. He has no formal artistic training, but he has studied in Amsterdam. Langa uses a large number of different materials and media. Everything can be transformed into markers in his self-created world. His maps show how an emigrant can get caught between new opportunities and nostalgia. Collapsing Guides (2000-2003) is characteristic of Langa's aesthetic work.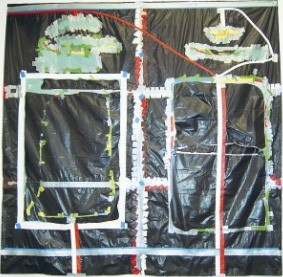 Ananias Leki Dago (b. 1970, Abidjan, Côte d'Ivoire)
Ananias Leki Dago lives and works in Paris, France, and Abidjan. Dago is a photographer who sees the world from a black-and-white perspective. His pictures often show a part of something, for example, a hand, a face, a silhouette or a shadow that in a nonchalant way plays hide-and-seek with the viewer and with our conventions. In the year 2000, he initiated a festival of photography in Abidjan, so that other photographers in Côte d'Ivoire would have a chance to show their work.
Goddy Leye (b. 1965, Mbouda, Cameroon)
Goody Leye lives and works in Douala, Cameroon, and Amsterdam, The Netherlands. He studied in Yaounde, Cameroon, and Amsterdam. Leye is primarily known as a video artist, but also works with installations, performance, painting and drawing. Memory and historical writing are central themes: "My work is about memory. I am interested in stories and histories, myths and mysteries lying underneath the surface of things, events, places and people."
Georges Lilanga di Nyama (b. 1934, Maasi, Tanzania, d. 2005)
Georges Lilanga Di Nyama lived and worked in Dar-es-Salaam, Tanzania. He taught himself to sculpt wood according to the Makonde tradition, and later moved to Dar-es-Salaam, where he was influenced by the patterns and abstractions of the Tingatinga school of painting. In his paintings and sculptures Lilanga Di Nyama has also been influenced by the more satirical Shetani (spirit) style of Makonde, which in an often humorous way depicts society in the form of spirits and demons.
Franck K. Lundangi (b. 1958, Maquela do Zombo, Angola)
Franck K. Lundangi lives and works in Paris, France. He grew up in The Democratic Republic of Congo [former Zaire]. A career as a professional football player progressively took him to France. Inspired by his memories of Africa he began to draw and paint. Lundangi's pictures show an imaginary Africa where people and animals live in harmony. Symbols and decorative elements are interwoven with simply rendered figures.
M
Gonçalo Mabunda (b. 1975, Maputo, Mozambique)
Gonçalo Mabunda lives and works in Maputo. He studied art and works with the Núcleo de Arte artists' collective. In 1998, he took part in Transforming Weapons into Art Objects, a project aimed at giving artists a chance to make works about the long civil war. The sculptures and furniture that Mabunda creates are proof that change can occur, that it is possible to build up something new without forgetting one's history.
Michèle Magema (b. 1977, Kinshasa, The Democratic Republic of the Congo [former Zaire])
Michèle Magema lives and works in Neuilly-sur-Marne and Paris, France. She studied in France and primarily works with photography and video. In her art she reworks the history of Congo. In the video installation Oyé Oyé (2002) she juxtaposes historical images of President Mobutu with images of herself dressed in a uniform marching on the spot in front of the camera. The work prompts thoughts about uncritical patriotism and the complex transition to independence.
Abu Bakarr Mansaray (b. 1970, Tongo, Sierra Leone)
Abu Bakarr Mansaray lives and works in Freetown, Sierra Leone, and Harlingen, Netherlands. He has had no formal art education. Mansaray often works with technology, using limited means to exert his own creativity. He himself says that he likes "doing strange, complicated drawings and designing intricate machines inspired by scientific ideas that are at times beyond the human imagination" and wants visitors to feel the power of creation through his work.
Julie Mehretu (b. 1970, Addis Ababa, Ethiopia)
Julie Mehretu lives and works in New York, USA. She studied in the USA. Mehretu mixes a personal form language of signs and symbols with architectonic elements in precisely worked-out abstractions. These are socially charged milieus that are delineated as fictive landscapes in the form of maps, diagrams and networks. Through their references to the world these works can be seen as metaphors for our century.
Myriam Mihindou (b. 1964, Libreville, Gabon)
Myriam Mihindou lives and works in Rabat, Morocco. She studied in France. A central theme of her artistic work is boundaries and the difficulty of crossing them – whether they be geographic or metaphorical. In Folle (2000), which is projected directly onto the floor of the exhibition gallery, a pair of feet tentatively explore the sand-filled space between two stone blocks.
Santu Mofokeng (b. 1956, Johannesburg, South Africa)
Santu Mofokeng lives and works in Johannesburg. He started out as a darkroom assistant on various newspapers and then became a photojournalist focusing on issues surrounding apartheid. Mofokeng called into question the sensational aspects of news reporting and began to take more tranquil images of rituals, concentration camps and township dwellers. In the Rethinking landscape series (1996-2002) he explores South Africa's history in relation to its cultural identity.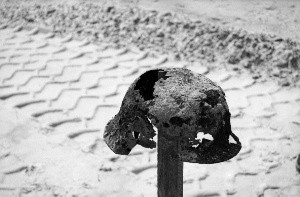 Zwelethu Mthethwa (b. 1960, Durban, South Africa)
Zwelethu Mthethwa lives and works in Cape Town, South Africa. He studied photography and visual art in South Africa and the USA. Mthethwa is known for his pictures of people living on the outskirts of Cape Town – places inhabited by those who are not integrated into society. His works raises the issues of land ownership, exploitation of the workforce, and the influence of market forces. Mthethwa has chosen to use colour photography since he sees it as offering a wide emotional range.
Hassan Musa (b. 1951, Sudan)
Hassan Musa lives and works in Domessargues Gard, France. Musa graduated from the art school in Khartoum, Sudan, and holds a doctorate in Art History from Montpellier University, France. He works with painting, calligraphy and performance, and has also worked as a writer, graphic designer and illustrator of children's books. His painting Great American Nude (2002) comments humorously and provocatively on the USA's and the rest of the world's fight against terror.
N'Dilo Mutima (b. 1978, Luanda, Angola)
N'Dilo Mutima lives and works in Luanda. After university in Luanda, he studied photojournalism and art history in Lisbon, Portugal. Mutima works with various media, including installations and photography. In Cosmogónicos. Masks I-III (1997) his face is hidden by various objects – a subtle reference both to the traditional and artistic dimensions of African masks and to clichéd western images of contemporary art from Africa.
Wangechi Mutu (b. Nairobi, Kenya)
Wangechi Mutu lives and works in New York, USA, and studied in the UK and USA. Her works repeatedly challenge the viewer to question notions such as race, gender, history and beauty. She has, for example, made "fake" African craft objects out of materials she found in New York. Her collages are full of visual metaphors and references, and can be interpreted as being commentaries on the objectification of the non-western woman.
Ingrid Mwangi (b. 1975, Nairobi, Kenya)
Ingrid Mwangi lives and works in Ludwigshafen, Germany. Mwangi studied in Germany. She works with video installations, audio works, photography and performance. Down By the River (2001) is an installation about an ambivalent situation in which pain and death are juxtaposed with hope and continuity. Mwangi herself describes it like this: "The red soil is fertile, but must 'absorb' the blood of violence. The water is red, but nonetheless a symbol of life."
N
Sabah Naim (b. 1967, Cairo, Egypt)
Sabah Naim lives and works in Cairo. She studied in Egypt and her work is about the city of Cairo, the mass of information that floods the city and the people who live there. Naim creates assemblages and photomontages in which magazines are stacked one on top of another, so that only the spines are showing like a line, juxtaposed with images, but deprived of text. The function of the media as a window onto the world is manipulated, in the same way as the media manipulate us.
Moataz Nasr (b. 1961, Alexandria, Egypt)
Moataz Nasr lives and works in Cairo, Egypt. He studied economics. Nasr works with installations, painting and sculpture in a number of different materials. Tabla II (2006) takes as its starting point the most recent G8 meeting of rich western countries. It is both a sensual and a conceptual work, in which viewers find themselves in the midst of events. The idea sprang from the saying 'empty vessels make the most noise' and the work has been described as "play[ing] with the relationship between rulers and ruled".
Otobong Nkanga (b. 1974, Kano, Nigeria)
Otobong Nkanga lives and works in Amsterdam, Netherlands, Paris, France and Nigeria, where she also studied. Nkanga uses performance, sculpture, drawing, photography and installations as her means of artistic expression. The Stripped Bare series (2003) shows unfinished buildings in surroundings that are often at odds with their function. Each image exposes a structure isolated in its space, reflecting an aspect of ongoing construction and deconstruction, showing the dreams of individuals, their expectations and deceptions.
Aimé Ntakiyica (b. 1960, Burundi)
Aimé Ntakiyica lives and works in Beersel, Belgium. He primarily works with interactive installations, challenging ingrained ways of seeing. In Wir (2003) a series of images of himself as a Tyrolean, a Scot and a Spaniard, Ntakiyica plays with our visual codes. The idea of national identity is called into question. His works are adapted to each situation and invite the viewer to become part of them.
O
Antonio Ole (b. 1951, Luanda, Angola)
Antonio Ole lives and works in Luanda. Ole is a self-taught artist. He started painting at a young age and then turned to sculpture, video and photography. He is now also a film director. A large number of his photographs have formed the foundation for the Walls series. The walls of rusty corrugated iron and other materials can be seen as a symbol for the marginalised life in the townships and their human presence, for the boundary between private and public space.
Owusu-Ankomah (b. 1956, Sekondi, Ghana)
(Kwesi) Owusu-Ankomah lives and works in Bremen, Germany. He studied in Accra, Ghana. In his paintings Owusu-Ankomah mixes symbols from various cultures with styles and details from diverse time periods. In Mouvement (2004) camouflaged wrestlers hide among Adinkra symbols. One place that these symbols appear in Ghana is on shrouds, sending messages to souls who leave their bodies.
P
Eileen Perrier (b. 1974, London, UK)
Eileen Perrier lives and works in London where she also studied. Perrier frequently works on series of photographs, in which the individual portraits are put together out of, for example, the place where they are photographed, an act or their occupation. Everyone in Grace (2000), like the artist herself, has a gap between their front teeth – which is seen as a sign of beauty in certain African cultures. According to Perrier, the work is a homage to our differences.
Rodney Place (b. 1952, Johannesburg, South Africa)
Rodney Place lives and works in Johannesburg. Place has studied architecture in the UK and USA. He is the initiator of ZAR Works, which combines art and architecture, as in RETREKS, a large co-production combining visual art, theatre, dance and music. Three Cities Triptych (Cape Town, Johannesburg, Durban) (2002), shows a new African migration and the South African cities to which people are now returning.
Pume (b. 1968, The Democratic Republic of Congo [former Zaire])
Pume lives and works in Kinshasa, The Democratic Republic of Congo. Pume is self-taught. He makes sculptures, drawings and impossible design objects that arise out of completely utopian visions. Pume has a passion for machines of various kinds, including technical cinematographic projection equipment, which has resulted in a technologically enhanced operation that goes by the name of Bylex. Some of his works are made in multiple editions, as a commentary on the idea of the specific value of a unique object.
R
Tracey Rose (b. 1974, Durban, South Africa)
Tracey Rose lives and works in Johannesburg, South Africa. Rose principally works with photography, performance and video. She often uses her own body to give shape to issues of identity, race and gender. In TKO we see the artist hitting a punchbag, watched over by four cameras. "My understanding of boxing was that it was an art, a passion, like dancing, and the intention was that each punch would be a mark, a gesture, building up to something."
S
Chéri Samba (b. 1956, Kinto M'Vuila, The Democratic Republic of the Congo [former Zaire])
Chéri Samba lives and works in Kinshasa, The Democratic Republic of the Congo and Paris, France. Samba started out as a sign painter before becoming an artist. He draws his inspiration from popular Congolese themes and daily life. Several of his works are based on his own experiences and his own portrait is present in the pictures. There are also texts that accentuate the significance of the paintings. Samba sees himself as a popular artist and says: "Artists should make people think."
Sérgio Santimano (b. 1956, Maputo, Mozambique)
Sérgio Santimano lives and works in Maputo and Uppsala, Sweden. He is a photographer and has taken pictures of war and famine that have been published in Mozambican and international magazines. In 1988, he moved to Sweden where he studied and worked with documentary photography. Following peace in 1992, he returned to Mozambique as a freelance, working for the UN, SIDA (Swedish International Development Cooperation Agency) and others. Today, he photographs the people and situations he encounters during his travels in Africa.
Zineb Sedira (b. 1963, Paris, France)
Zineb Sedira lives and works in London, UK. Sedira is of Algerian origin, but she grew up in Paris and studied in London. She uses the image of herself to pose questions about (and call into question) identity and origin. In Mother, Father and I (2003) she invited her parents to talk about their experiences of the Algerian War that led to independence in 1962.
Benyounès Semtati (b. 1966, Oujda, Morocco)
Benyounès Semtati lives and works in Paris, France. Semtati studied in France. He mainly works with painting and drawing, mostly in black-and-white and generally in large formats. Several of Semtati's works are reflections on industrial society and its residents, surface, attitudes and tendencies. The people are caricatures, often dressed in a "costume", but they lack personality since they often have no faces.
Yinka Shonibare (b. 1962, London, UK)
Yinka Shonibare  lives and works in London. He studied in London but grew up in Lagos, Nigeria. Shonibare's artistic work is bound up with his personal history and centred on issues of identity, tradition, economics and trade. His work prompts us to reflect on our ideas about where things come from. Victorian Philanthropist's Parlour (1996-1997) shows an English drawing room lined with batik fabrics of Indonesian origin, made in Holland for the African market.
Allan de Souza (f. 1958 i Nairobi, Kenya)
Allan deSouza (f.1958 i Nairobi, Kenya) är verksam i Los Angeles, USA. Han är utbildad i London, England och New York, USA. Han blev under 1980-talet känd som konstnär och skribent i Black Arts Movement. Hans senaste fotografier visar konstruerade och fiktiva stadslandskap, med utgångspunkt i offentliga rum. De är gjorda av antingen upphittade föremål och elektroniska komponenter eller så är de digitalt bearbetade bilder. I dessa verk ifrågasätter deSouza maktförhållanden och den nya världsordningen.
T
Pascale Marthine Tayou (b. 1967, Yaounde, Cameroon)
Pascale Marthine Tayou lives and works in Yaounde and Brussels, Belgium. He studied law and is a self-taught artist. He began exhibiting his art in 1994. Tayou describes everyday life with its corruption and worn-out products. His works play with the artworld's norms, and evoke free associations between different materials such as the media, the chaotic society and the world.
Patrice Felix Tchicaya (b. 1960, Paris, France)
Patrice Felix Tchicaya lives and works in Paris. Tchicaya used to be a fashion photographer, travelling between London, UK, Paris, France, and New York, USA. In parallel with this he simultaneously developed his interest in writing, working with video and installations. In 1999, he began work on a project involving objects with sound, primarily portraits. Fin de Cycle (2000-2001) is a work that takes its form from the place where it is shown.
Guy Tillim (b. 1962, Johannesburg, South Africa)
Guy Tillim lives and works in Durban, South Africa, and Paris, France. Tillim is a photojournalist and worked for Afrapix, Reuters and Agence France Press before going freelance. He has been interested in various war zones and their conflicts, which led him to reconsider his career after he got caught between two warring parties. Nowadays, Tillim works with the same themes, but views them from different angles using portrait photography and photographs of urban landscapes.
Titos (b. 1963, Maputo, Mozambique)
Titos lives and works in Maputo. Fernando Agostinho Mabota is a self-taught artist, and calls himself Titos. His works can be both macabre and comic. His installations, sculptures and reliefs give prominence to the daily life in the countryside through their choices of different materials, both found and from nature. These are not direct representations that he is showing, but a self-contained, critical view of his surroundings.
Barthélémy Toguo (b. 1967, M'Balmayo, Cameroon)
Barthélémy Toguo lives and works in Düsseldorf, Germany, Paris, France, and Bandjoun, Cameroon. Toguo works with installations that combine drawing, painting, photography, performance and video. He addresses themes such as discrimination, ritual, being an alien, along with other social issues and universal themes. Toguo has personally funded the launch of The Bandjoun Station Institute of Visual Arts.
Cyprien Tokoudagba (b. 1939, Abomey, Benin)
Cyprien Tokoudagba lives and works in Abomey. Tokoudagba is an initiate of the Voodoo religion, to which he often refers in his pictures. His artistic career began as a mural painter and sculptor doing commissions for Voodoo temples. Tokoudagba has created his own symbols and images, for example, hybrid divine beings and animals with supernatural powers. One example of this is Dangbe, the python god who protects the harvest.
Fatimah Tuggar (b. 1967, Kaduna, Nigeria)
Fatimah Tuggar lives and works in New York, USA. Tuggar got her education in art in the UK and USA. She works with photomontage, sculpture and installations, in which she contrasts "realities" so as to explore the subtle differences between them. She often uses images from the media. Money & Matter (2002) investigates the relationship between people and capital. Money is, on the one hand, a means of getting what we want, but it can at the same time be a hindrance.
W
Ernest Weangaï (b. 1963, Central African Republic)
Ernest Weangaï lives and works in the Central African Republic. Before he began doing paintings and sculptures, he drew comic strips and caricatures. For the last ten years or so, Weangaï has been exploring material from his immediate environment. One example is Le costume du Vieux Négre, which is sown together out of fibres from coconut palms. The costume can be seen as a symbol for colonisation, and as the starting point for adaptation to the western world.