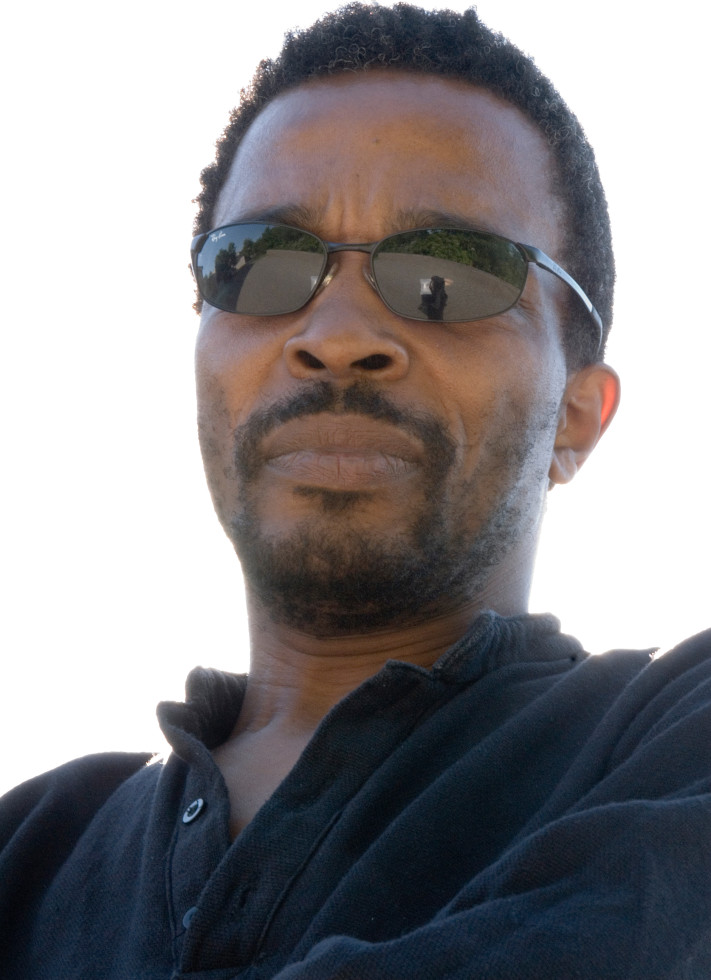 Simon Njami is the chief curator of Africa Remix and has been working on the exhibition for ten years, travelling around the African continent to meet artists, visit art schools and study the different approaches and cross-over cultures that thrive as intensely and as contradictorily as anywhere else in the world.
For many years now, Simon Njami has been the editor-in-chief of Revue Noir, a Paris-based magazine for culture with African roots. Born in Cameroon, educated there and in Europe, he is one of the foremost experts on African culture, which he has introduced to the rest of the world.
Regarding Africa Remix Simon Njami has said:
"The secret of a work of art that achieves its purpose is that it speaks to us. Whatever language the artist chooses to use, whatever personal tone the work has, it will move the part of us that defines humanity. That is probably why it is not always easy to deal with contemporary African art. It's not about form but about a history of tones."
Dealing with contemporary Africa inevitably involves reinterpreting history. It also involves creating a theoretical framework that will make the various aspects of the exhibition accessible to a wider audience. Hence, the selection of artists and works is the most interesting element. Individuals are highlighted, and through their works answers can emerge or at least show the way towards a new way of thinking.
QUESTIONS TO SIMON NJAMI, CHIEF CURATOR
Paulina Sokolow, Pressofficer, Moderna Museet: When you read the material around Africa Remix you read about the expression "Anthropologic death". It's a somewhat complicated but crucial notion. Could you explain that a little?
Simon Njami, Chief Curator I don't know what those who wrote that were referring to. I guess they are alluding to the fact that Africa have always been portrayed in a anthropolocal mood. Otherness and so on. This exhibition aims to put an end to the way Africa and African were seen and looked at.
P S: When looking through the images, the art works in the catalogue, you're struck by the multiple choices of materials: found objects, installations, video, photography etc. But not so many paintings. Why?
S N: Because everuwhere in the world, painting have come to a complicated area. As far as Africa is concerned, I didn't want to include some paintings that people always expect from Africa. Even if I gave some exemple of popular painting. But painting is in a reframing period where African artist have to find a new language that would not be related only to the past and to the ancient technique of depiction.
P S: Photography on the other hand is well represented. Is there an explanation for that?
S N: Photography is part of visual culture in Africa and a lot of talented artists. I have personnaly been involved in photography for many years. Photography being a contemporary medium largely used in Africa, I thought that it deserved a space proportional to its impact in contemporary Africa.
P S: In the formidable catalogue there's a very enlightening survey of African art history. Some fifteen years ago, many artists seemed to be worried about being shown because of their African origin and not in their own rights as artists. Some didn't even agree on participating in big shows because of that. Did you, during the work with this exhibition, ever get these kinds of reactions? And if, did you try to argue, and how?
S N: I didn't have those kind of arguments because many of the artists in this show are artists I have been working with for a long period of time. They knew that there would be no misrepresentation and preconceived ideas in my approach. The exhibition is not so much about than about contemporary creation by African.
P S: Now there's been some time since you showed this exhibition for the first time. What have you been doing since then? Do you keep on searching up artists with African strings?
S N: I published a biography on Leopold Senghor. I am opening a show in september on representation in the Arab world (Tunis), and preparing a couple of other shows. I lecture, research, and write. That's what I've been doing for the past twenty years.
P S: In the exhibition, the male artists outnumber female by far. Is there an explanation? What are the obstacles for female artists?
S N: If you look at any contemporary group show, you'll notice that this is always the case. As for Africa, there is cultural phenomenon that is shifting more and more. But this cultural situation was the same evrywhere. The place of the woman in the society. The preconception about a woman artist and so on. On the contrary i find it quite positive to find about twenty female artists in the show. Just look back and you'll see the difference.
P S: In the catalogue you can read about the situation for the artists with African strings, the importance of freedom of mind and identity as well as geographical freedom. But what about the audience? Is there an African public/audience?
S N: There is a growing African audience. But contemporary art is something quite new in the world. No contemporary exhibition can fight Chagall or Picasso. People tend to go where to what they know. In places where there are few structures, artists get organized in workshops and so on. It is very important for them to create an audience in Africa.