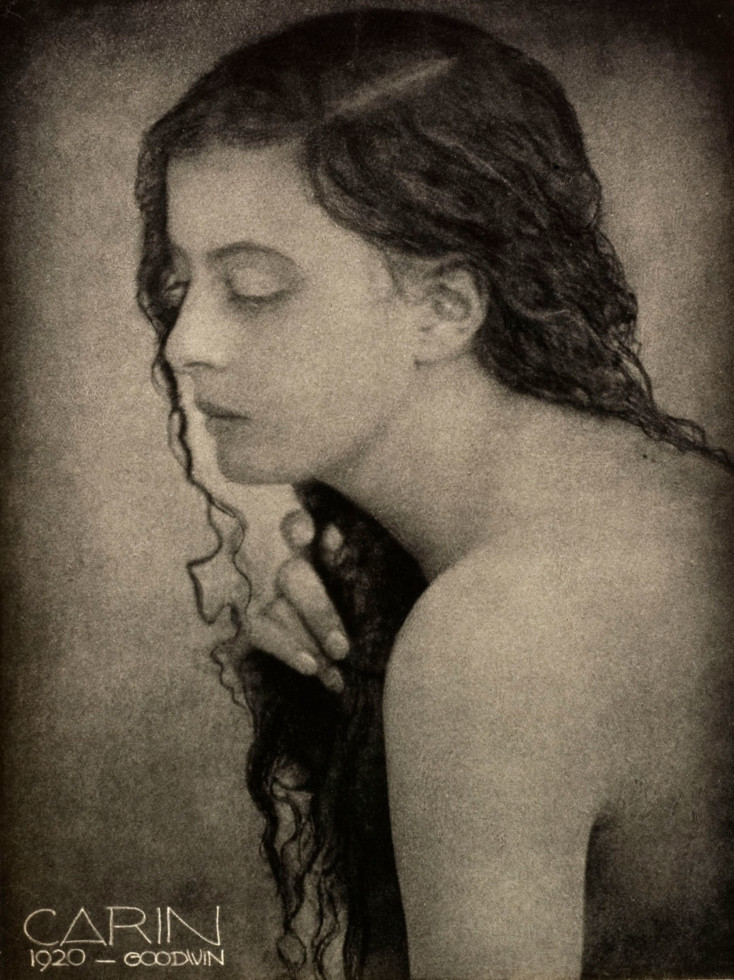 Biographies In Lady Barclay's Salon
Read about some of the artists featured in the exhibition "In Lady Barclays salon". This exhibition is based on the rich collections of Moderna Museet and Nationalmuseum, with art and photography dating from the late 1800s to the First World War.
Henry B. Goodwin (1878–1931)
Henry B. Goodwin, born in Munich as Henry Buergel, was the most successful representative of pictorialism. He arrived in Sweden in 1905 in order to teach German at Uppsala University. Some ten years later, in 1914, he moved to Stockholm where he opened a studio, Kamerabilder, which was popular with painters and artists.
His many superb portraits were achieved with small means: the subject is captured against a dark, neutral backdrop. His soft, smoky Stockholm cityscapes have been collected in a series of special editions, and Goodwin's keen interest in gardening was expressed through meticulously arranged close-ups of plants.
Goodwin enjoyed a large, international network and launched the term bildmässig (pictorial) photography as an alternative to artistic photography. It was a term that came to be used frequently in the photographic debate.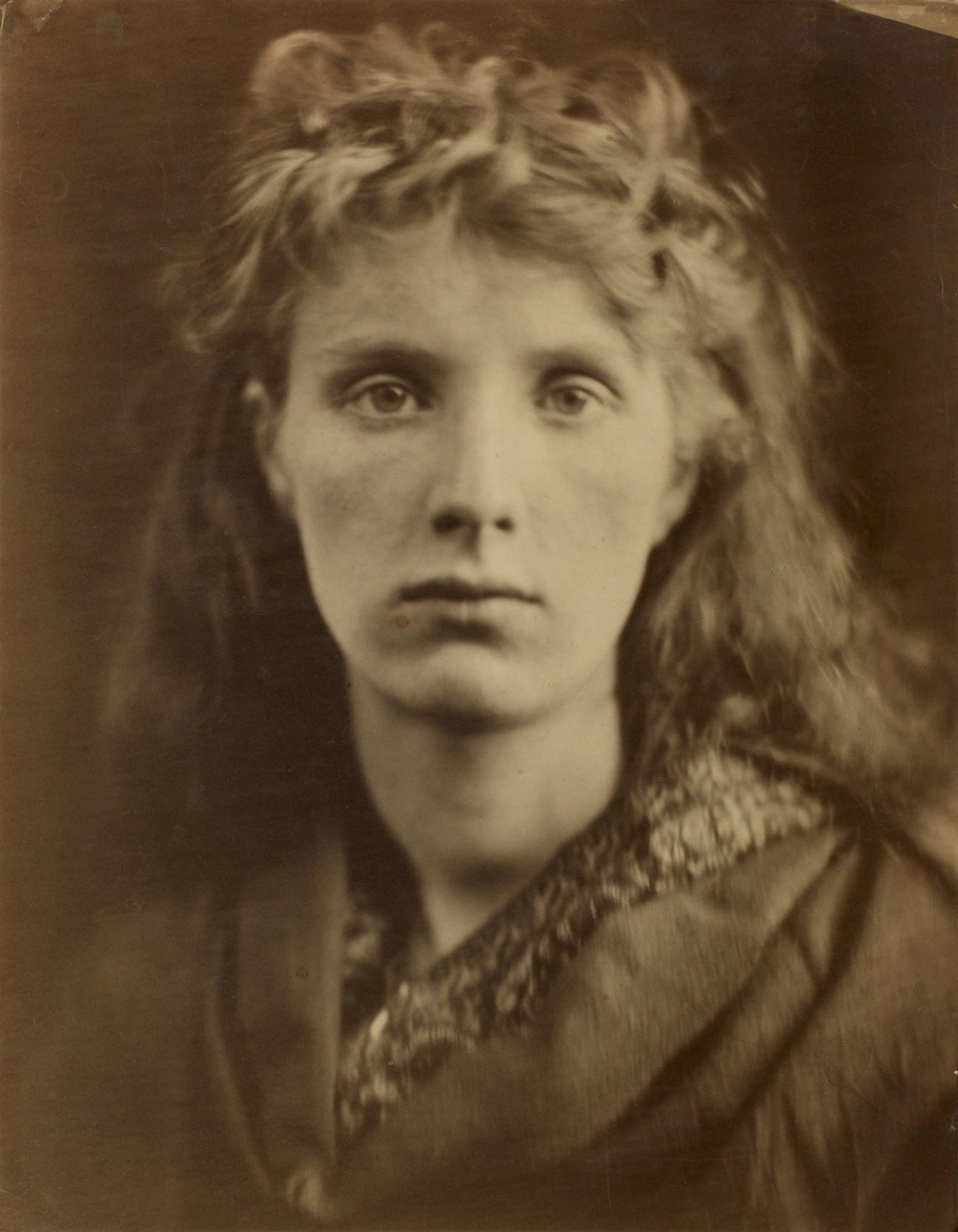 Julia Margaret Cameron (1815–1879)
A small pioneering group of photographers in Victorian England were the first to experiment with, and who attempted to formulate, an aesthetic around artistic photography. Julia Margaret Cameron was part of this group. She left behind a wonderful collection of intimate portraits of members of her family and large circle of friends. She was an amateur, predominantly active during the 1860s and 1870s.
Cameron specialized in expressive soft-focus photographs of staged motifs borrowed from mythology, the Bible or English literature, as in her rendering of Alfred Tennyson's famous poem "Maud" from 1855.
Cameron's photographs evoke the Pre-Raphaelites with their penchant for the Middle Ages and Renaissance painting. She was a precursor of the photographers that a few decades later formed part of the pictorial movement.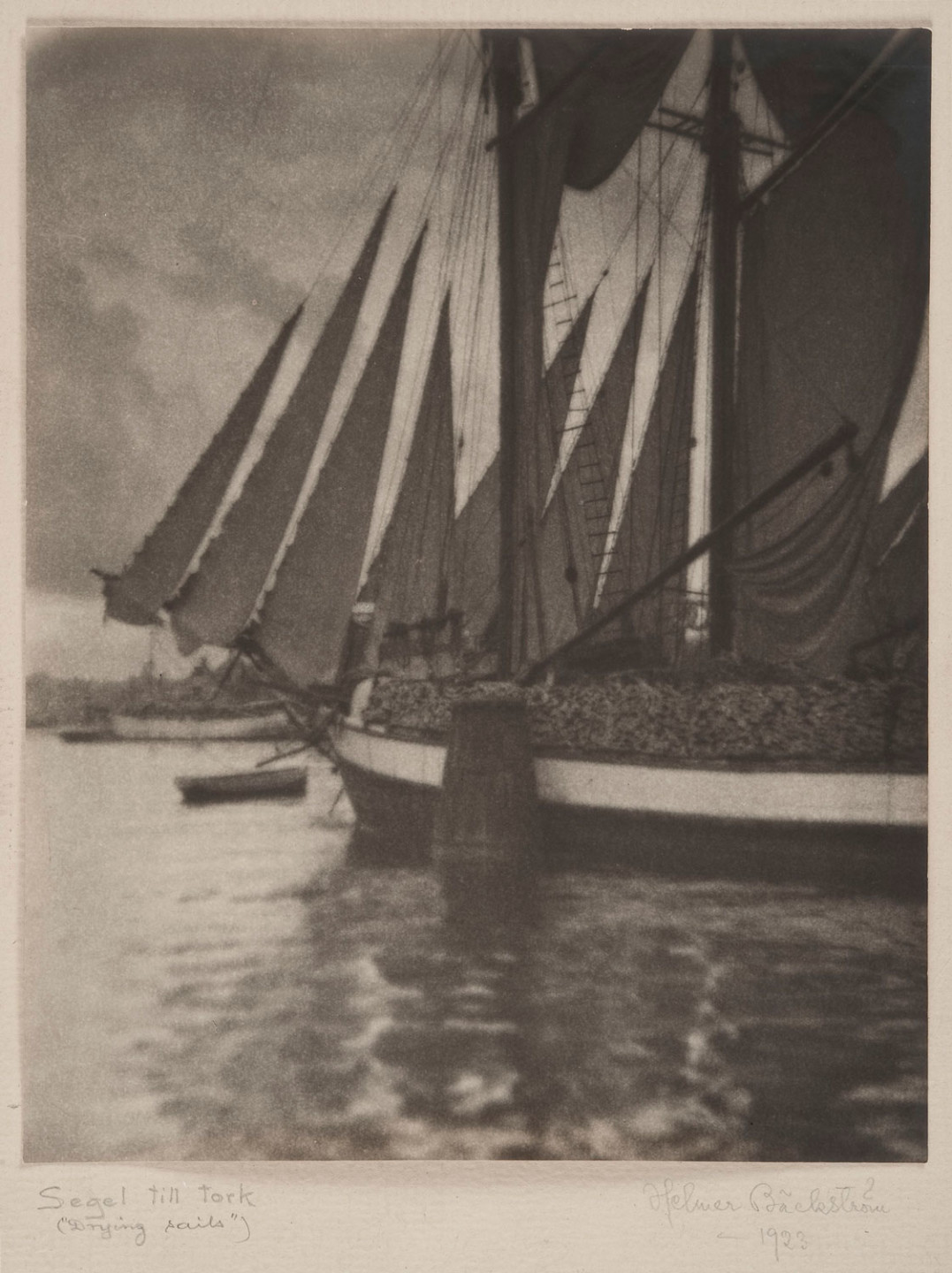 Helmer Bäckström (1891–1964)
Helmer Bäckström was an important member of Fotografiska Föreningen (the Photographic Association). The association, which was formed in 1888, organized meetings where photography was discussed. A library of books on photography was accumulated, but most important were the photo competitions.Bäckström was a researcher, collector, historian and photographer. In 1948, he was appointed professor of photography at the Royal Institute of Technology. Throughout his career, he wrote about early photography and technical innovations in a series of articles entitled "Samlingar till kamerans och fotografins svenska historia" (Collections of the Swedish History of Cameras and Photography). They were published in the association's journal, "Nordisk Tidskrift för Fotografi".
Bäckström was also a pictorialist; studies of flora and fauna were his favourite motifs. His large collection of photographs was acquired by the Swedish state in 1965. It has been part of the Moderna Museet collection since 1971.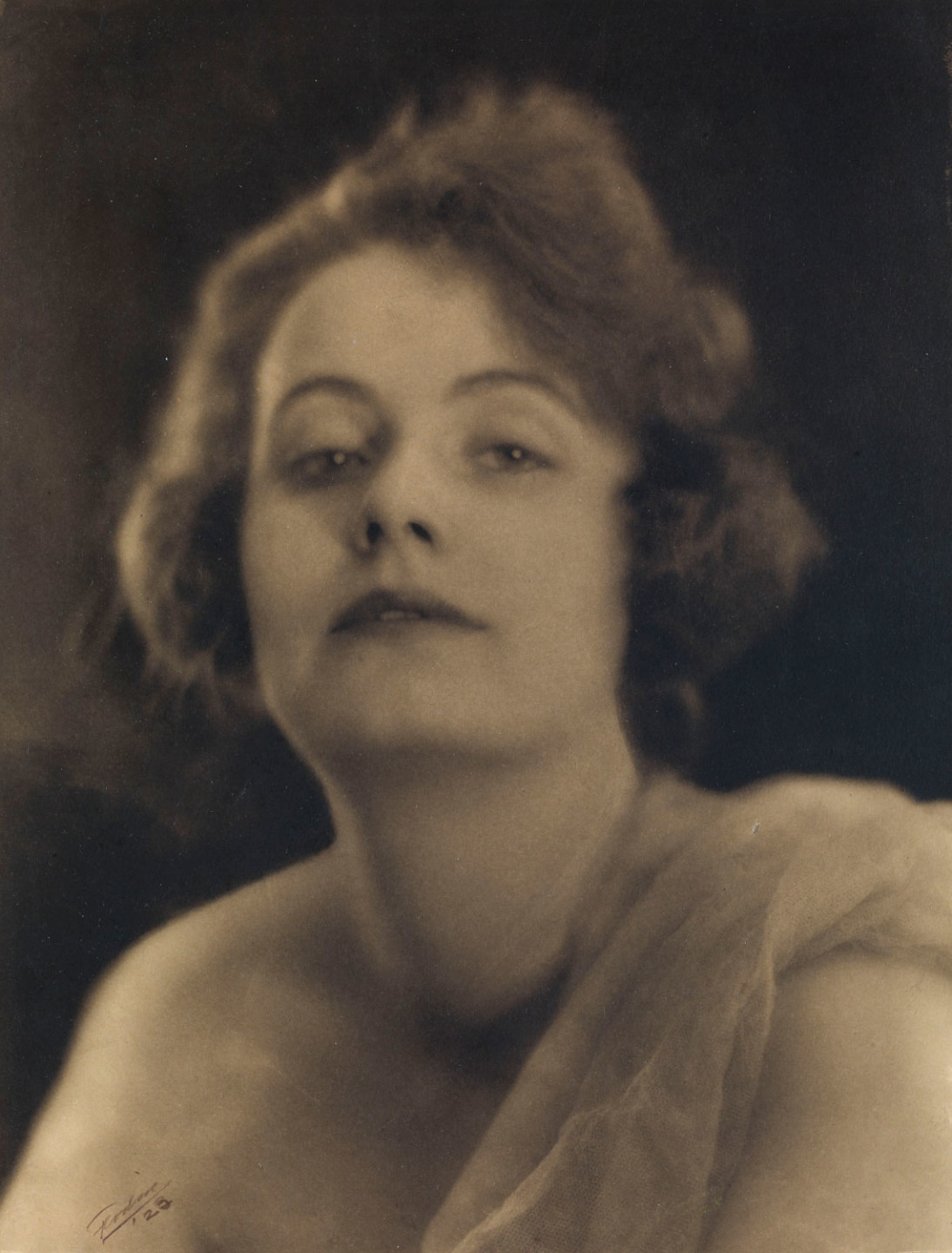 Ferdinand Flodin (1863–1935)
One of the foremost portrait photographers of the period was Ferdinand Flodin. During his long career he tried all the different processes that were typical of pictorialism, and he became a highly skilled photographer. As a young man, he travelled to the United States, and for a number of years he worked in Worcester near Boston. After his return in 1889, he opened a studio in Stockholm where he received celebrities associated with the theatre, art, politics and science.
Besides portraits, his large body of work includes a number of beautiful cityscapes in different colour tones. Flodin continued to travel; he was interested in the international scene and he knew a great deal about early photography. He went on to build a collection of historical photographs, later acquired by Helmer Bäckström. Flodin was active in Svenska Fotografers Förbund (the Swedish Association of Professional Photographers) for many years, and he regularly wrote about technical and financial matters in the association's journal.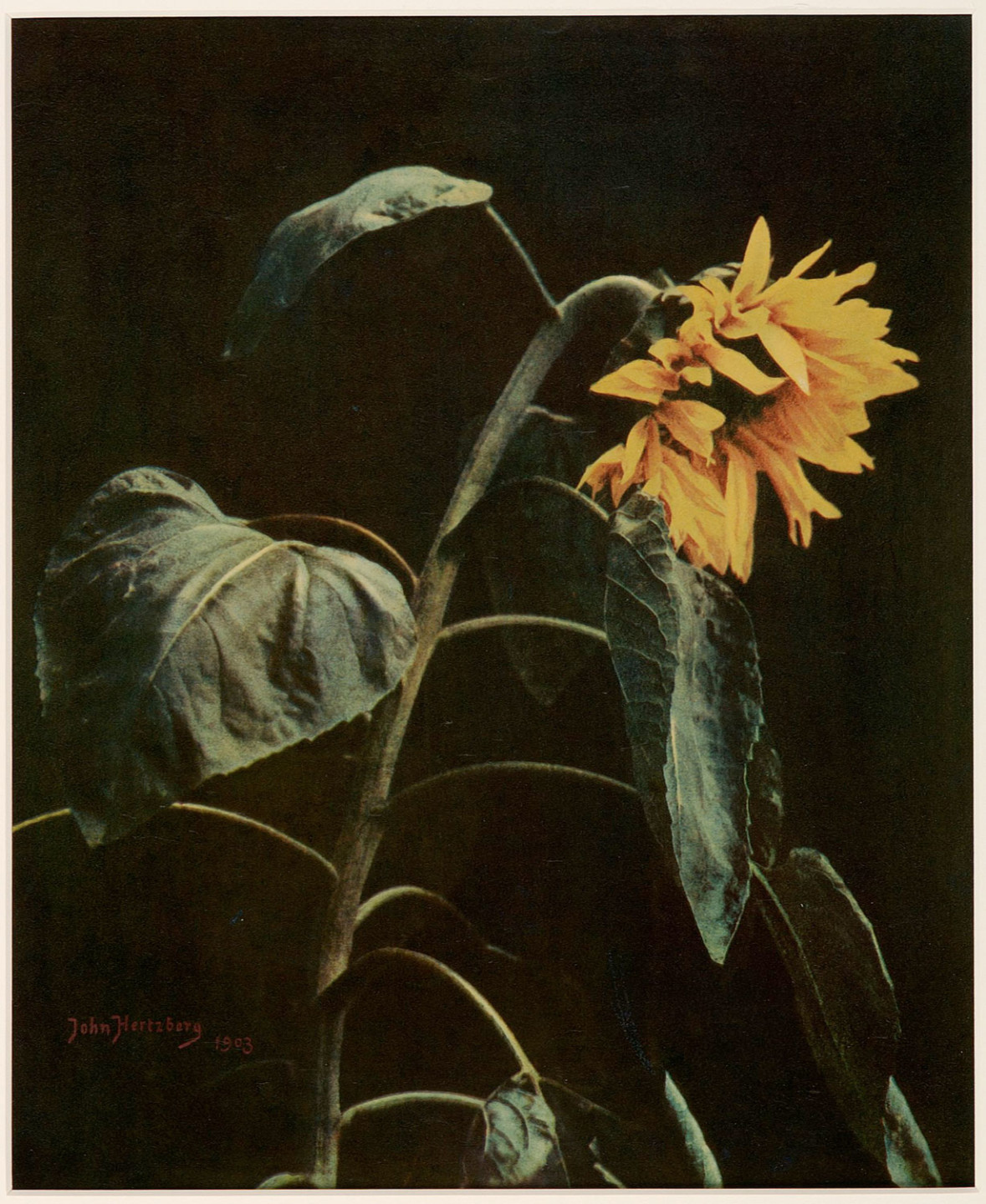 John Hertzberg (1871–1935)
John Hertzberg was a technically accomplished photographer. He developed colour photography in Sweden. He was educated in Vienna and was later offered to teach at the Royal Institute of Technology where he was later senior lecturer in photography. He was thereby a key figure in photographic circles.
When Nils Strindberg's rolls of film were discovered on Kvitøya in the Svalbard archipelago thirty years after S. A. Andrée's failed Arctic Expedition in 1897, Hertzberg was given the prestigious task of developing the exposed films. He was also editor of the journal "Nordisk Tidskrift för Fotografi" for many years and chairman of Fotografiska Föreningen.
He experimented with different techniques and groups of motifs in a style typical of the time. These include pictures of Stockholm from the water as well as compositions of clouds and shadows.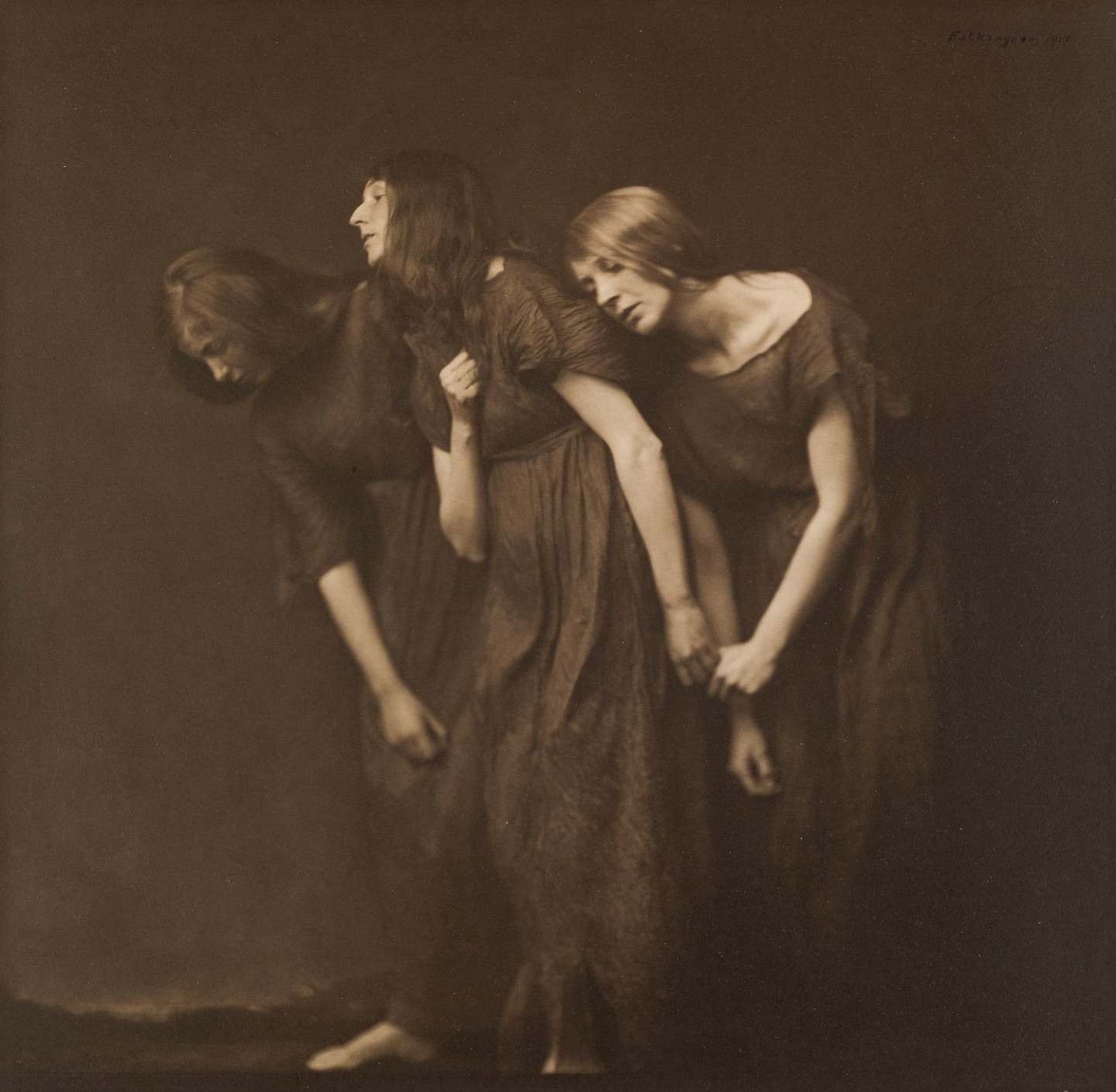 Uno Falkengren (1889–1964)
Uno Falkengren belonged to the inner circle around Henry B. Goodwin. Goodwin was also instrumental in allowing Falkengren to study under the distinguished German photographer Nicola Perscheid in Berlin. It was a formative period during which Falkengren developed a minimalistic, elegant style. Among his works are a number of interesting portraits of famous dancers in expressive scenes and groups.
In 1916, he was appointed head of the Nordiska Kompaniet studio. He then worked at his own studio for a few years until he moved to Berlin in 1924. Only a year later, he returned to Stockholm and gave up photography completely. On account of his homosexuality, Falkengren lived an itinerant, partly secret, life. There are elements of queer culture within pictorialism, as practitioners were often attracted to alternative settings or artists' communities.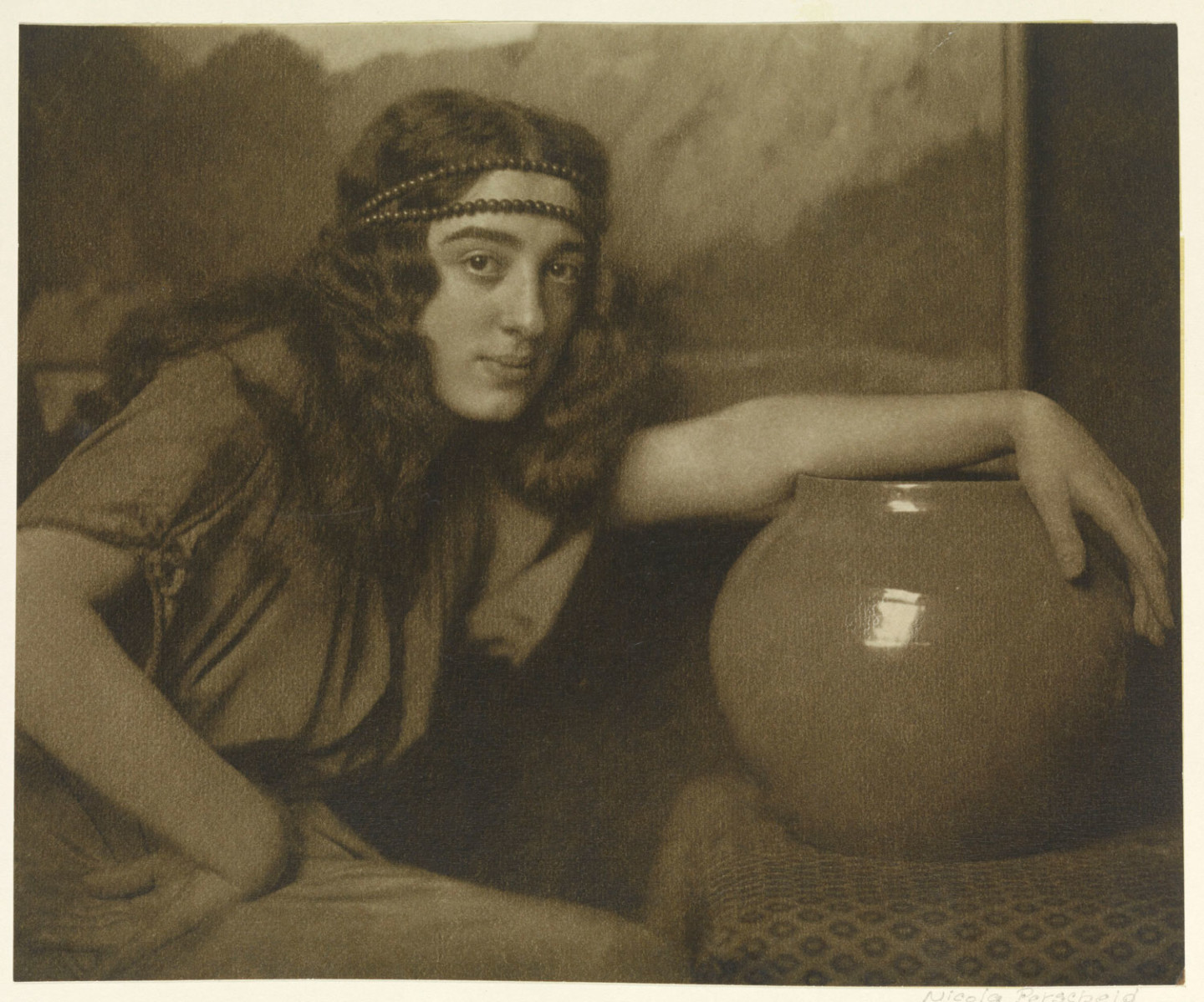 Nicola Perscheid (1864–1930)
Nicola Perscheid was one of the international figures that came to have a major influence on pictorialism in Sweden. In the autumn of 1913, he arrived in Stockholm in order to conduct what we would today call a workshop. It was enormously popular. His fame had reached Sweden partly via his former pupil, Henry B. Goodwin.
Perscheid was against retouching, which meant he spend a great deal of time on preparations. Among his portraits are many full-length and half-length photographs of distinguished men and nameless women. Especially his expansive, pared down photographs of women with their soft lines and ornamental jewellery and flowers evoke the pictorial language of symbolism, but also older painting practices.
The Perscheid lens was launched in 1920. This soft-focus lens became especially popular in Europe and Japan.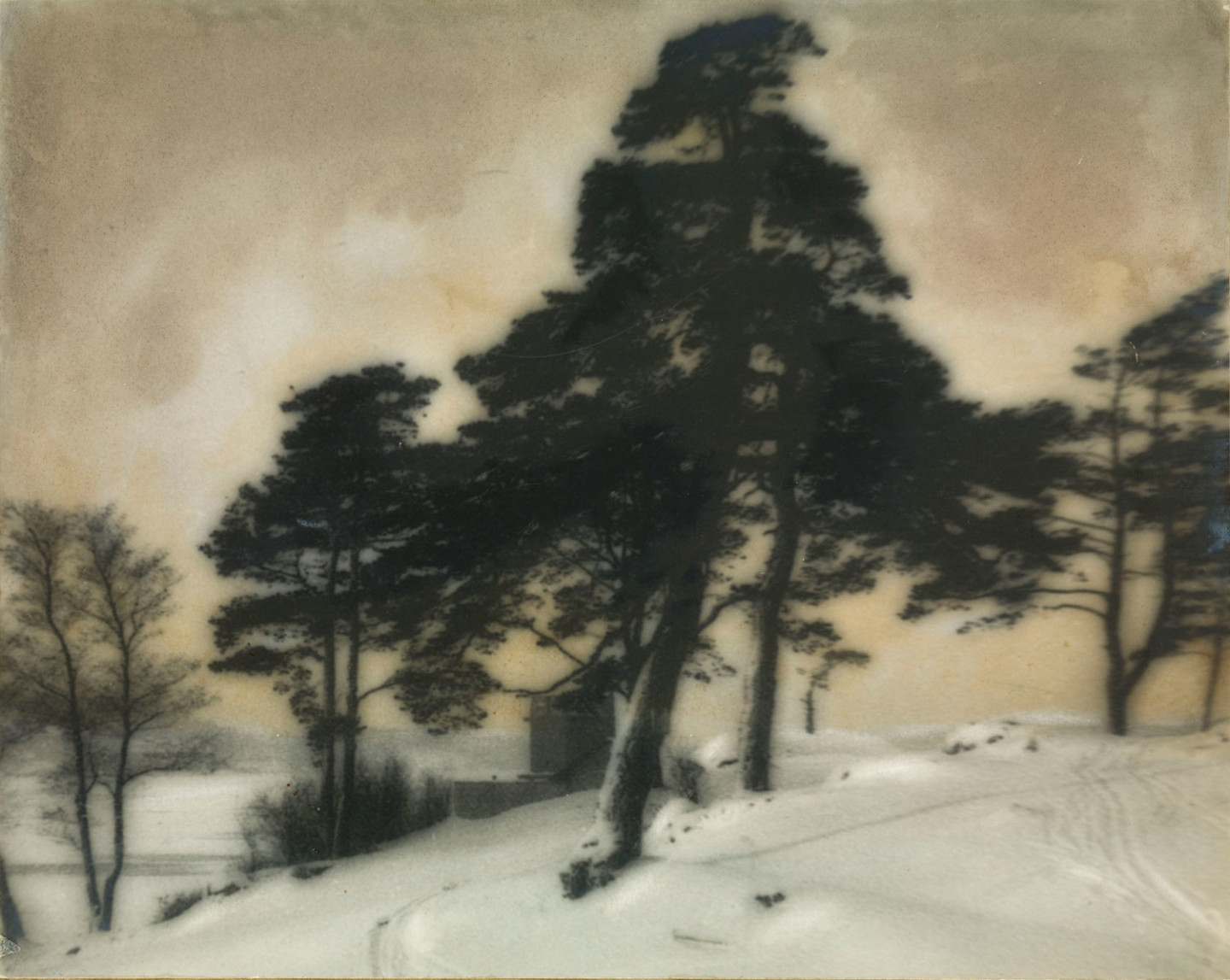 Gösta Hübinette (1897–1980)
With their more independent position and experimental approach, amateur photographers were fundamental to the development of the pictorial movement in Sweden and internationally. Gösta Hübinette was interested in art from an early age, but on his family's advice he studied business administration, and he worked at the carpet business, Myrstedts Matthörna, until he retired. He practiced several disciplines, including painting, but he was most successful as a photographer. Hübinette was part of the circle around Henry B. Goodwin, and in the 1920s he often took part in exhibitions and the important photo competitions.
Hübinette's photographs are testament to his proficiency in painting, drawing and printmaking. With delicate works such as "Japanskt" (ca. 1925) he is also one of the Swedish photographers for whom Japanese woodcuts served as inspiration.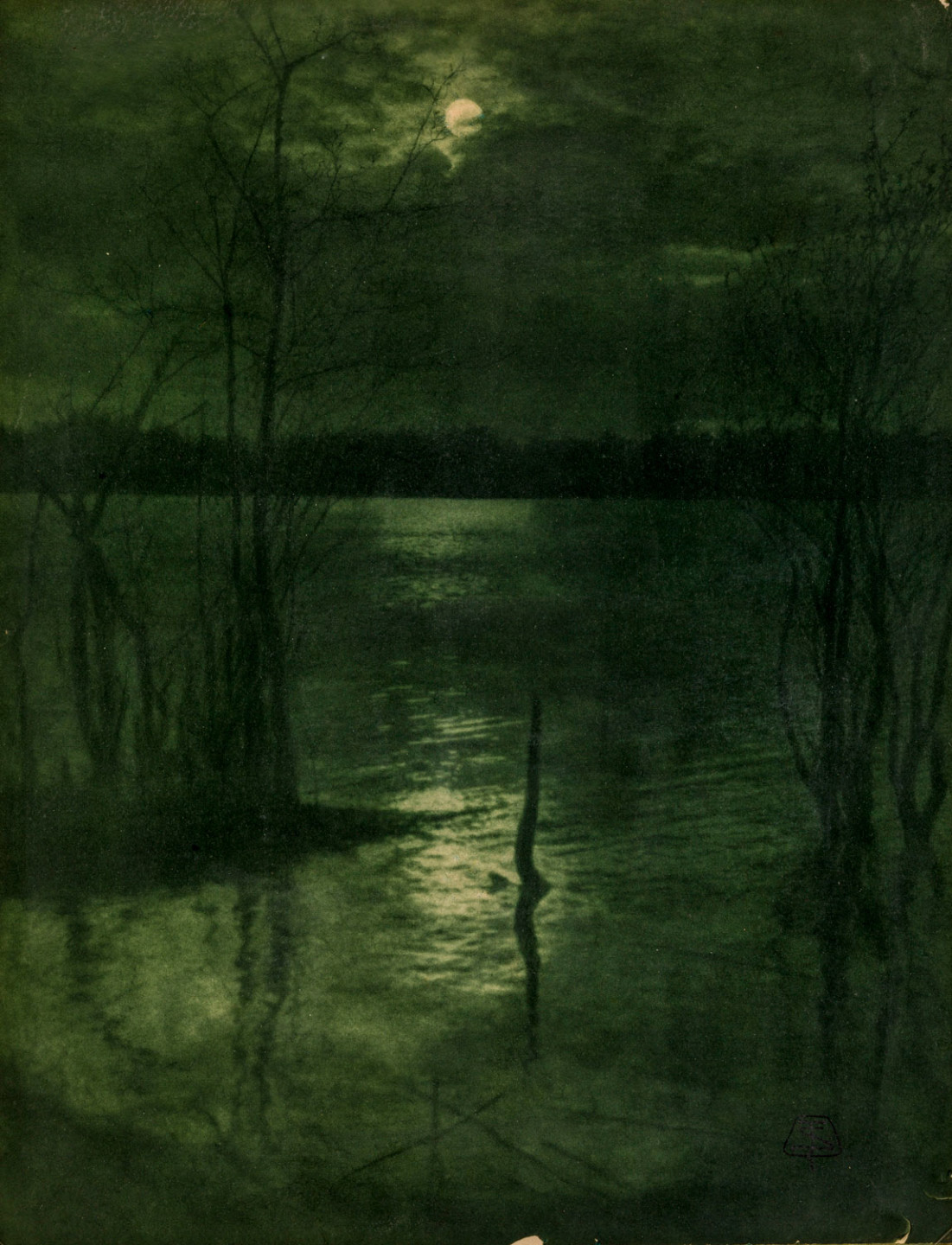 Ture Sellman (1888–1969)
As an architect, Ture Sellman had his own approach to photography. He was well acquainted with the compositional and technical aspects and was therefore an important figure who also gave lectures. He later became an astute critic. Sellman was among the most vociferous advocates of photography as an artistic medium. His early bromeoil prints are some of the most graphic examples of Swedish pictorialism.
After having experimented with different artisan processes, Sellman did a complete U-turn in 1920 and became a supporter of the straight photography expression, but his interest in tonality and composition are still visible in his soft-focus photographs from the 1920s.
Sellman designed some seventy buildings, and many of his photographs are testament to his eye for architecture.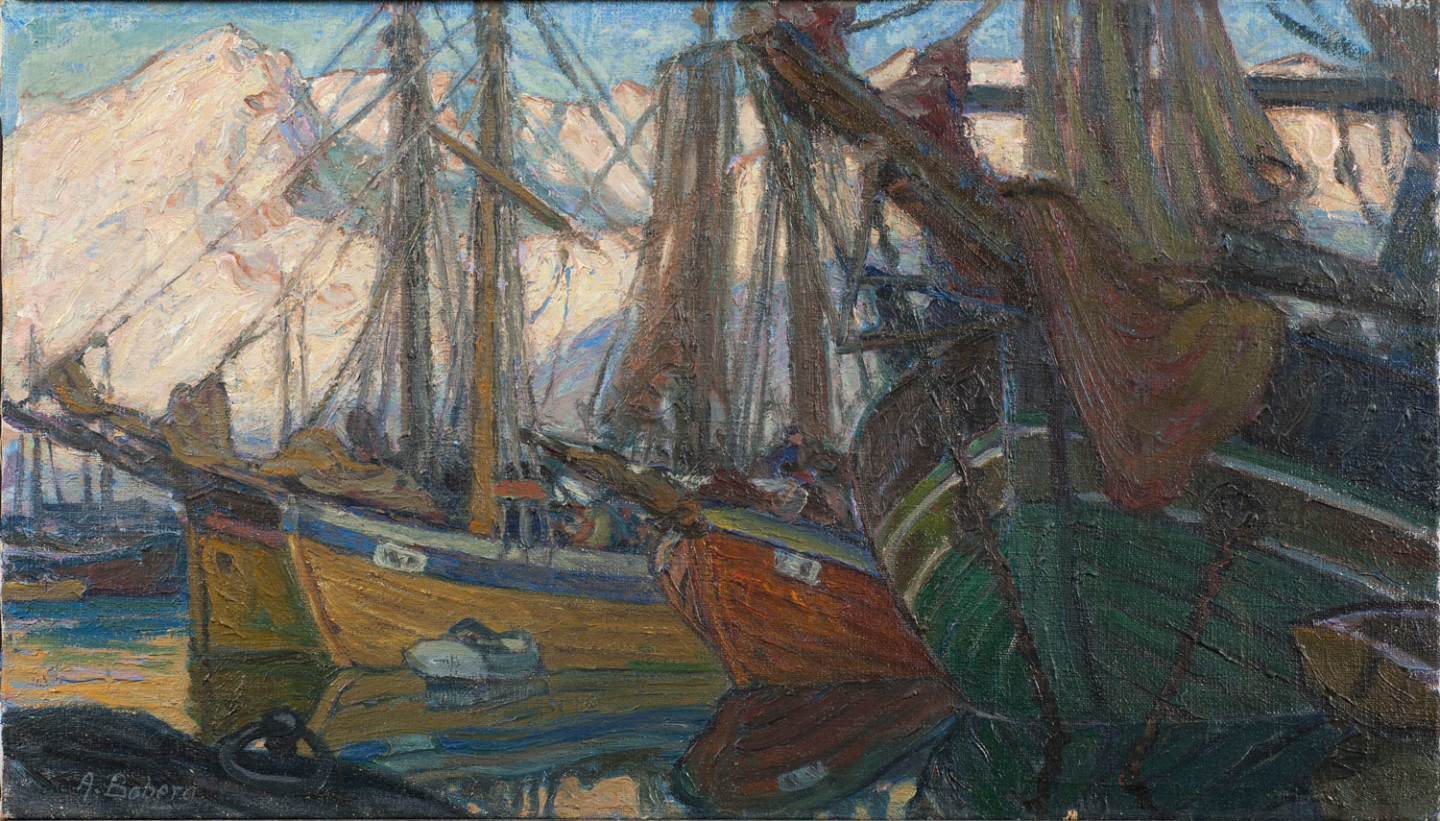 Anna Boberg (1864–1935)
Anna Scholander's family was part of the Stockholm elite. She was well educated and moved with ease in the salons of Paris and other cities. In Paris she met Ferdinand Boberg, who was to become one of Sweden's leading architects. They were married in 1888. The couple dedicated their lives to work and travel.
Anna Boberg was highly versatile. She designed textiles, glass and Jugend pottery – one example is the elegant peacock vase from around 1897 for Rörstrand. In 1901, she made a life-changing trip to northern Norway where she fell in love with the rocky landscape around Lofoten, which seemed to rise out of the sea. It woke in her an irresistible urge to paint.
Anna Boberg returned to this location over a period of thirty years. Contrary to her life as a society lady, she embarked on strenuous expeditions on foot and by sea, and she made oil sketches of what she saw which she later used as inspiration in her studio.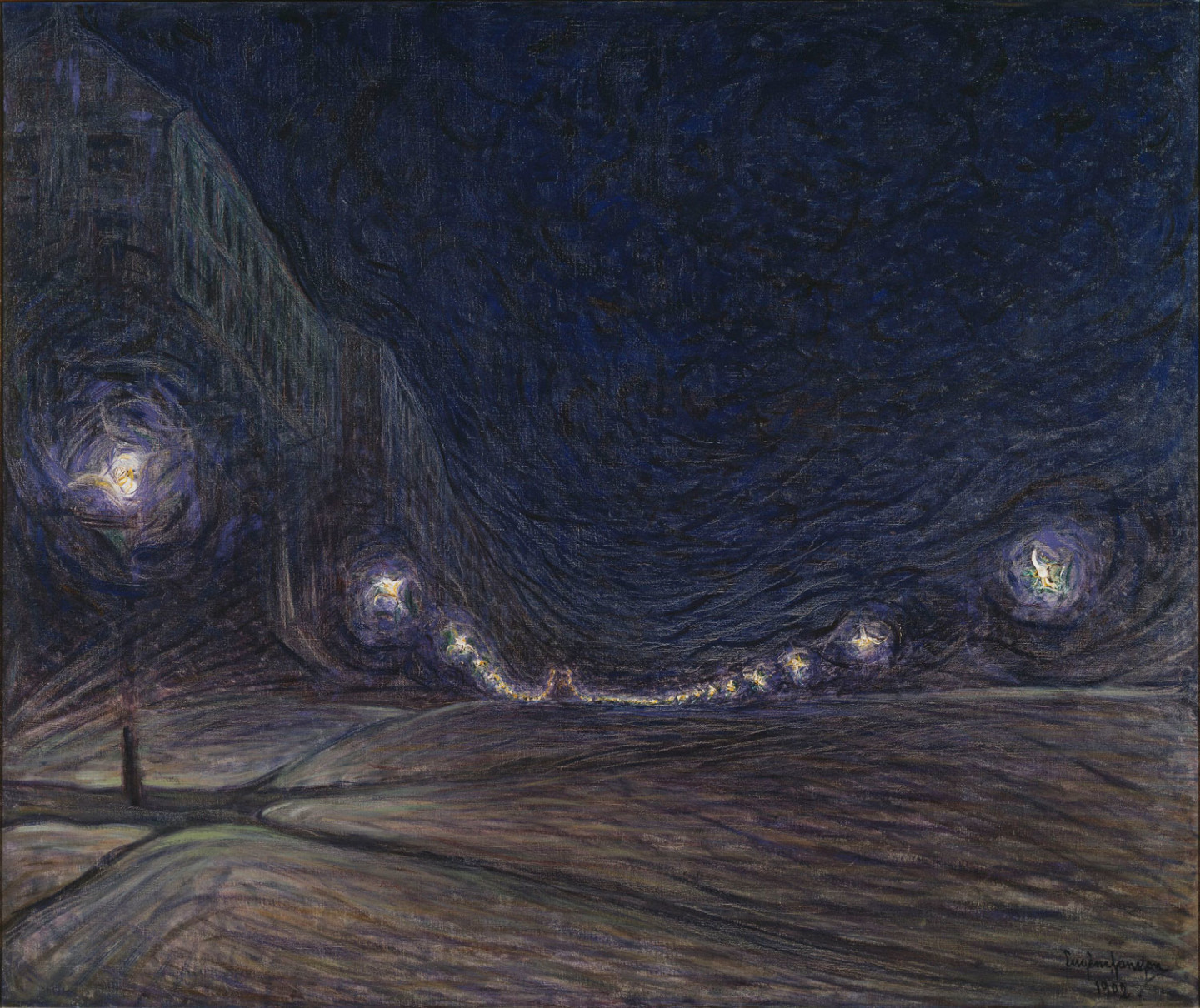 Eugène Jansson (1862–1915)
Eugène Jansson became a member of the Konstnärsförbundet association of artists in 1886. Inspired by periods spent in France, they painted plein air, impressionist landscapes. Jansson was influenced by these movements from early on. However, he soon progressed to depicting moods rather than the concrete objects he observed.
Many know him from his blue, early evening panoramas of south Stockholm, where he moved in the mid-1890s. In "Hornsgatan nattetid" (1902), everything seems to merge into a blue vision where houses, gas lights and sky form a synthesis.
When Eugène Jansson embarked on a new phase a few years into the 20th century, his motifs were athletic, sun-lit, bathing men. Many found these paintings offensive. Eugène Jansson was a homosexual man at a time when sexual activity between men was against the law.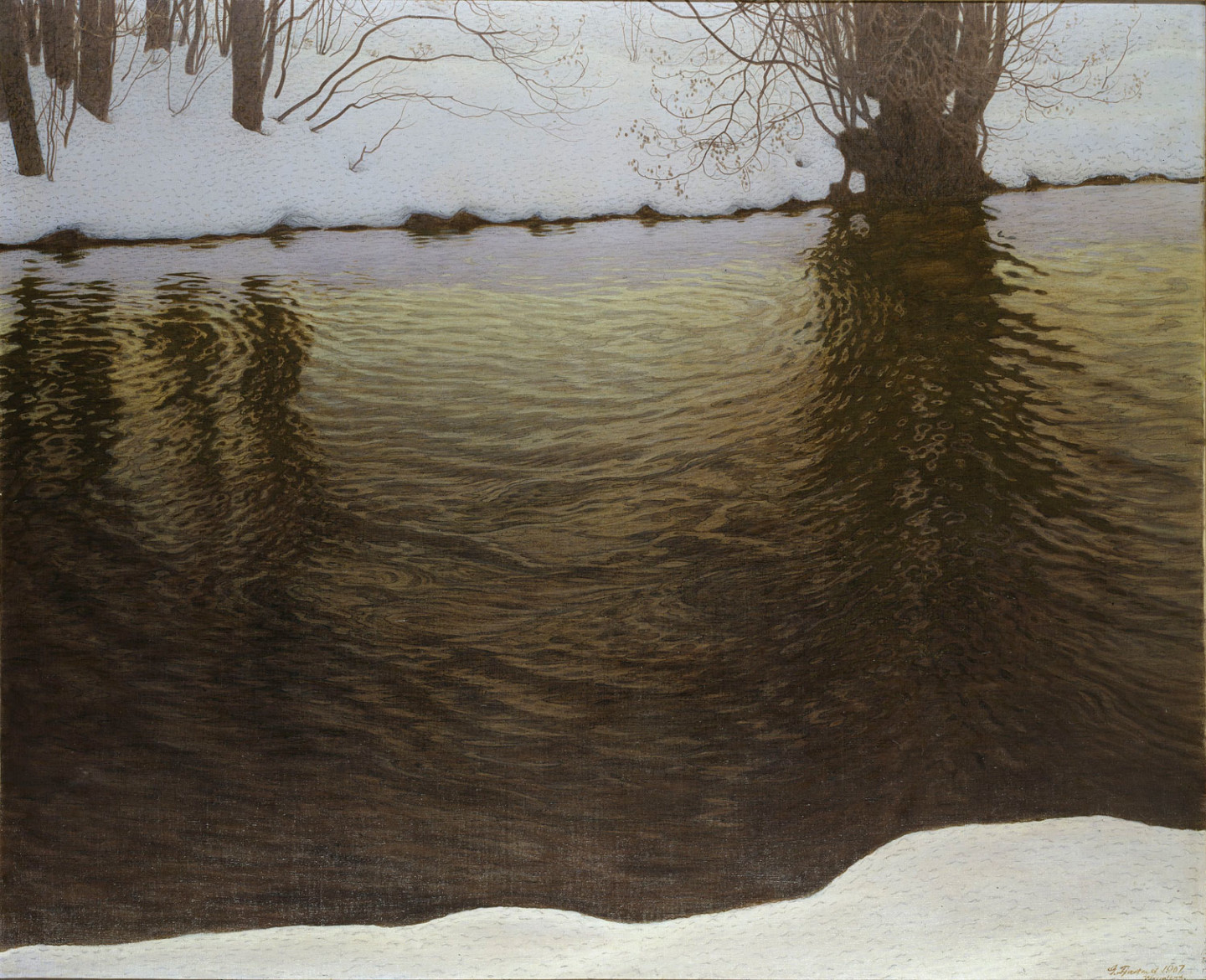 Gustaf Fjæstad (1868–1948)
After having attended art school in Stockholm, Gustaf Fjæstad settled by Lake Racken in Värmland where he founded an artists' colony. The collective had no common programme, but they supported each other and exhibited their work together. There was also an idea of not distinguishing art from craft.
Fjæstad was not only a painter, he also designed furniture and textiles. "Vinterafton vid en älv" (Winter Evening at the River Bank, 1907) is testament to Fjæstad's interest in Japanese woodcuts. The painting communicates a strong sense of nature and existential intensity. The surface is accentuated by fields of colour and a Jugend-inspired linear pattern. The motif is a seemingly random section of the river. The trees are cropped at the top of the canvas but touch the water where the eddies evoke the growth rings of the wood.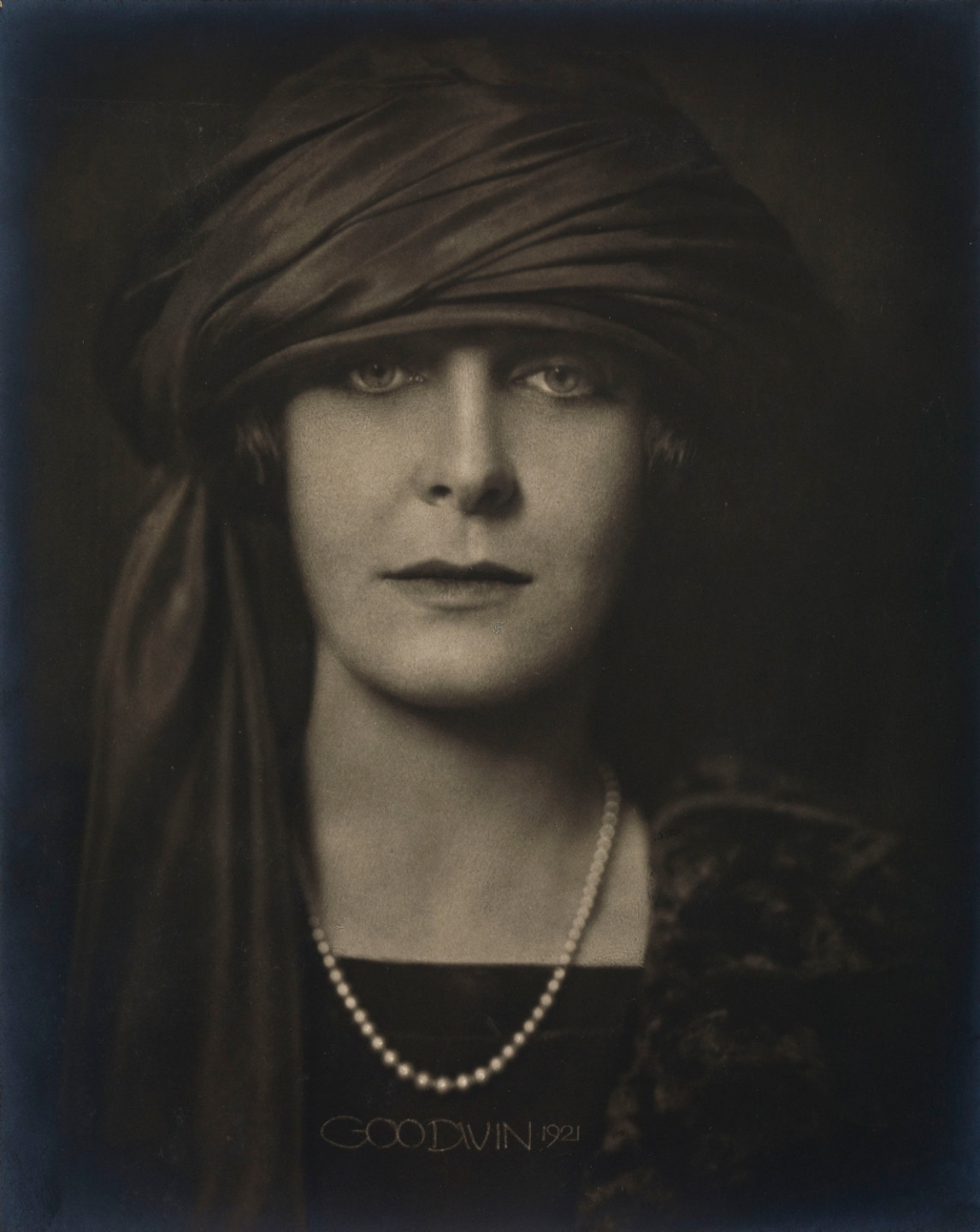 Sarita Enriqueta Barclay (1891–1985)
The portraits that Henry B. Goodwin took of Lady Barclay between 1920 and 1922 show a fashion-conscious society woman. Sarita Barclay moved to Stockholm just after the end of the First World War with her husband, Sir Colville Barclay, and their three children. Her husband was Minister to Sweden, a high-ranking British diplomat.
During the five years that Lady Barclay lived in Stockholm she hosted various events, including a dinner in conjunction with an exhibition of French art at the Liljevalchs art gallery at the initiative of Prince Eugen in 1923. Sarita was the daughter of the British sculptor Herbert Ward.
After the death of her first husband, she married Robert Vansittart, a diplomat who spoke out against Nazism before and during the Second World War.