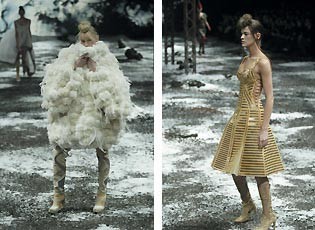 Foreword by Museum Director Lars Nittve
We are living in a fascinating era. Concepts – those useful tools that help us orientate ourselves in life – are getting more unruly. They are expanding and mutating, merging with one another and receding; and in the borderland between them lie many of the keys to what is happening around us, to own times.
The borderland between art and fashion is perhaps one of the most dynamic. Many of the more notable fashion designers of our time produce collections and shows which, if they were exhibited in an art gallery or museum, would automatically be assimilated as art. Some are veritable conceptual installations, others tend more towards performance, while yet others fit into the perspective of relational aesthetics, where the interaction between viewer and artwork is often direct and tangible. The distinguishing feature of fashion, which also sets it apart from art, would be its high degree of visuality and exquisite craftsmanship. A feast for the eyes is in short supply in contemporary art these days.
In a similar way, some artists have approached fashion – not as a mirror image of fashion designers' advance towards art – but urged by a mixture of pleasure and disgust. They reveal a disgust for the visuality of fashion, but also a fascination for its unbelievable social, economic, political and sexual power, finding it both alluring and disturbing. The primary concern is not the garments themselves (and fashion is, of course, much more than garments), but the fashion system and how it operates.
At the centre of this zone of mutual, if not symmetrical, fascination – or why not call it Fashination – we find the fashion photographers. Some of them come from the art world, and have this as their starting point for their regular forays into the main fashion arena: the glossy pages of the fashion magazines. Others see the fashion world itself as their base, but their images work fantastically – albeit in a distinctly different way – in the white cube of the art space.
This exhibition, Fashination, has a long history. For me, it started when we were working on Nutopi, an exhibition at Rooseum – Center for Contemporary Art, in Malmö in 1995. This was a tentative examination of the borderland between art and design. I had seen Maison Margiela's hand-sewn jumper made of army socks a year or so earlier, and felt it would fit into the context. I cannot recall exactly why it was not included in the exhibition, but in hindsight that was regrettable. It would have made a great exhibition even better. Another part of the prehistory was the video Hussein Chalayan made for his collection in 2000, in which the furniture was converted into clothes with a simple touch of the hand, a work that was part slapstick comedy and part comment on the fact that an increasing part of the world's population are refugees. I talked a great deal about Margiela and Chalayan – and, obviously, about Alexander McQueen – with the artist Lars Nilsson, who at the time was working on Game Over for the DAKS fashion house in London. The rudiments of an exhibition idea fell in place with the Steven Meisel exhibition in London in 2001 – the transference of his features for Versace from the pages of Vogue to the walls of White Cube generated an exhibition that I would gladly call the best photo-based show I had seen that year. The exhibition concept was created for Tate Modern, and I brought it with me to Moderna Museet, where we put together an exhibition team. In the intense dialogue between Lars Nilsson, the fashion journalist Salka Hallström Bornold and Moderna Museet curator Magnus af Petersens, a few of the disparate ideas became more concrete. Fashination was growing.
It is vital to point out that what was formulated is not a statement, nor a definite claim that fashion has now become art – or that art has become fashion. Rather, we are posing a few questions – that will probably lead to even more questions, and, hopefully, to a few breathtaking, exhilarating experiences. If art has inspired fashion to seek subjects outside the domains of fashion – and this is apparent in all the designers featured in Fashination – then fashion has also inspired some of our contemporary artists to allow themselves a few visual extravagances, not to say flamboyances.
I can only say that the team who worked on Fashination has been extraordinary. In addition to the previously mentioned team members, I should add the exhibition coordinator, Lena Essling, whose contribution has been critical to the realisation of the project. I am also deeply grateful to the other Moderna Museet team members who have worked on the exhibition and the catalogue, David Amberton, Desirée Blomberg, Nadine Gaib and Teresa Hahr.
Many thanks, also, to Jesper Hiro, Stink Stockholm; Yuko Hasegawa, Kanazawa 21st Century Museum of Contemporary Art; Åse Inde, Energy Projects; Rufus Kellman, Ewa Kumlin and David Neuman for their assistance at various stages. With regard to the joint project with Sveriges Television in producing Yinka Shonibare's work, we wish to specially thank Daniel Alfredsson, Gunnar Carlsson, Pia Ehrnvall, Torbjörn Ehrnvall and Peter Mokrosinski, SVT Fiction; Ozan Sunar and Ann Viktorin, SVT Kultur; Anders Graneld, Teaterförbundet (Swedish Union for Theatre, Artists and Media); Lena Dahlström; Karin Erskine; Bo Ruben Hedwall; Ingrid Pling Olson; Lena Rangström, The Royal Armoury; Johanna Thelander and Lisa Torun.
However, Fashination is to an unusually high degree a creators' exhibition. Therefore, a warm thank you to all the fashion designers, photographers, artists, and their assistance, who have helped in different ways to make Fashination: Vanessa Beecroft; Desirée Heiss and Ines Kaag, Bless; Hussein Chalayan with Milly Patrzalek, Hussein Chalayan; Philip-Lorca DiCorcia; Alicia Framis; Anne Valérie Hash; Martina Ivanow-Hoogland; Inez van Lamsweerde and Vinoodh Matadin; Martin Margiela with Patrick Scallon and Peggy Canovas, Maison Martin Margiela; Alexander McQueen with Amie Witton, and Myriam Coudoux, Alexander McQueen; Steven Meisel; Benoît Méléard; Lars Nilsson; Terry Richardsson; Yinka Shonibare; Jun Takahashi with Maki Hamaguchi, Under Cover; Viktor Horsting and Rolf Snoeren with Bram Claassen, Viktor & Rolf.
Last, but not least, I would like to thank all those who have lent works to us for the exhibition: Centraal Museum, Utrecht; DAKS Simpson Group, London; Pace McGill, New York; Sisley, Milano; Stephen Friedman Gallery, London; White Cube, London