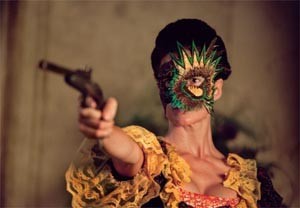 Fashination investigates the borderland between art and fashion. This is a minefield. The self-image of both disciplines is challenged and questioned, often fruitfully. The recent extension of the concept of art is difficult to grasp. Practically any technique or practice can be considered to be, or ordained to be, art. This is why it may be easier for art to approach fashion than vice versa.
But the fashion scene has also changed. There are many fashion designers whose work and methods have many similarities to those of contemporary artists, not only visually, but also conceptually. Of course, historically, there have been extensive exchanges between art and fashion, but this exhibition concentrates on the past decade, when these exchanges intensified and deepened.
Fashination presents works by designers, artists and photographers – these last operate in both worlds, although some started as artists and others as fashion photographers. Fashion designers, on the other hand, often meticulously point out that what they do is not art. Fashion has its own specific cultural significances and codes. Roland Barthes claimed that the fashion system is not about function, but is a form of semiotics (or semiology) in which cultural meaning is constructed. At the same time, it is crucial that fashion always has a tactile aspect, a relationship to the body and the body's movements: that the material and fabric are more than just visually appealing.
We have limited the selection of fashion designers to those who are part of the international fashion system, which is still powerfully dominated by a handful of cities – Paris, London, New York, Milan, Tokyo and Antwerp – even if interesting fashion can also emerge elsewhere. Despite their radical practices, the designers we have chosen all have an influence on this inner fashion system.
The artists in the exhibition are united by their explicit interest in fashion. Most of their works in the exhibition were created in dialogue with the fashion scene and presented in a fashion context – except where they were produced especially for this exhibition, as with Yinka Shonibare.
Love-hate relationship
Art's relationship to fashion is a complex one. At times, the art world has turned its nose up at the ephemeral and superficial – art should be timeless and serious, an opinion that many people still abide by. The idea that the development of art, the permutations of expression and meaning, are in any way linked to fashion is frightening to many of the more ascetic proponents of art. A division into high and low, elitist and popular, mass culture and avant-garde, has long been applied in discussion on modern culture. According to these old values, art is 'high' and fashion 'low' in status, but to describe fashion as a popular mass culture is not entirely without its problems: just consider haute couture.
The British curator and writer Chris Townsend points out that fashion has traditionally been a craft with close links to embroidery and sewing. It was produced by and for women and designed by 'effeminate men', setting it firmly in the women's domain, whereas art – using nobler materials to express ideas – was perceived as a male reserve.
The occasional symbiosis between art and fashion is perhaps not surprising, considering their shared interest in the visual dimension. Fashion writer Suzy Menkes highlights three periods when this exchange was particularly intense: the 1920s and '30s, when Bauhaus wanted to fuse modernism with the applied arts, and when Elsa Schiaparelli became famous for her fashion art, which occasionally came out of a collaboration with the surrealists Salvador Dalí and Jean Cocteau; the 1960s, when street fashion gained momentum, and pop art – especially the work of Andy Warhol, who started his career as a draughtsman for fashion magazines – had its breakthrough (Warhol's fascination with glamour and ephemerality was expressed in innumerable ways in his art and life); and the third period, which is still going on: the 1990s in London, where contemporary art flirted with popular culture and became truly popular in the sense that artists attained a status comparable to that of pop or film stars. For the Young British Artists, the YBAs, collaboration with the fashion world was de rigeur. Tracey Emin, Sarah Lucas, Sam Taylor-Wood and Damien Hirst are some of the artists who have worked in dialogue with the world of fashion, or made reference to it in their art. And the phenomenon is by no means limited to Britain.
Some, like the photo historian Abigail Solomon-Godeau, claim that the current interest in the borderland between art and fashion is merely an expansion of something that started back in the 1980s. Already in 1982, the seminal magazine Art Forum featured a photo of a dress by Issey Miyake on its cover. Yet, something appears to have happened to this relationship since the early 1990s. The exchange has heated up. Not least in fashion, many radical changes took place in the late 1980s, but even more so in the 1990s. It was at that time that a number of more conceptually orientated fashion designers made their debut: Martin Margiela, Viktor & Rolf, Hussein Chalayan and Alexander McQueen.
One sign of this mutual fascination is that several fashion houses not only sponsor major exhibitions, but have also acquired their own galleries. The fashion houses advertise in art magazines, and the art magazines analyse fashion photography. Many fashion magazines also review contemporary art in a way that demonstrates that they assume their readers are not only interested, but initiated. Even Time Magazine has devoted a cover to this phenomenon.
In addition to the individual oeuvres and activities of various fashion designers, a few group exhibitions have focused on the relationship between art and fashion. One of the first and largest was the Florence Biennial in 1996, curated by Germano Celant and Ingrid Sischy. In the contemporary section of the Biennial fashion designers worked together with artists. The fashion designers' attempts to create art were not always that successful. Other exhibitions have incorporated works by artists that in one way or another resemble clothes – but perhaps do not bear that much of a relation to fashion, other than in very broad terms. There have also been art exhibitions themed around the significance of certain items of apparel.
The most obvious and natural exchange is within photography, where it has existed the longest. The same photos can feature in both fashion and art contexts. There are many examples of art photographers who have had to earn their living by doing fashion shots and campaigns for the press. Some of these photos have come to be an important and respected part of their oeuvre. But here, again, the exchange and mobility between the disciplines have intensified since the early 1990s. If art from Andy Warhol to Cindy Sherman contains references to popular culture, then popular culture is now referring back to these and other artists – and back again. Likewise, Louis Vuitton and Chanel are said to copy the pirate copies of their products. It is like a hall of mirrors, where it becomes more and more difficult to work out which is the original and which is the copy.
Meanwhile there has been a shift in emphasis from clothes to lifestyle, from luxury and classic beauty to youth culture, post-punk, grunge and so on. More room has also been given to a more critical self-reflection.
Since the early 1990s, more and more artists have been drawn to the direct visual link between fashion and the 'man in the street', and the ability of fashion to encapsulate current issues of power, identity and the zeitgeist. Fashion's relation to the pleasure principle probably plays a part in this, whereas some contemporary art seems to incorporate a kind of moral panic in relation to pleasure and beauty. To many people, contemporary art has an educational, moral mission that is incompatible with some of the hedonism and decadence associated with fashion, unless one adopts an unequivocally critical standpoint. The concept of beauty has not been in favour since the advent of modernism. Contemporary fashion's flouting of the classical ideals of beauty may have contributed to the increased interest on the side of art. Alexander McQueen, for instance, has developed an "aesthetic of cruelty": darkly romantic and melancholy, with countless references to violence and death.
An expanded concept of art
Critical voices, such as that of Eric Troncy, maintain that fashion is approaching art to acquire some of the intellectual lustre and respect that art enjoys, while art hankers for the money and glamour of the fashion scene. In other words, cultural capital is traded against financial capital. Undoubtedly, there is some truth in this crass analysis. But there are also more profound, complex motives for this merging of disciplines. An expanded concept of art is crucial to the dissolving of boundaries. Ever since the romantic era in the late 1700s, art has been regarded as autonomous – and autonomy has been a coveted asset. Fashion and fashion photography, on the other hand, have been subject to the client. Today, few people still harbour the belief that art can or should be entirely autonomous, and yet, few can fully accept that this must necessarily lead to a close symbiosis with the 'market'. Perhaps autonomy is neither necessary nor sufficient for art to maintain a critical stance.
Following the postmodernist showdown with the utopias, the major visionary projects began to be regarded with wariness. Instead, more modest attempts were launched to cope with the contemporary world, within the framework of a form of nomadic relativism without any claims on truth, future or eternity. That brings us to the present day – the 'now' that fashion has always both reflected and articulated.
Fashion and cosmetics (as an appendix to the fashion industry) are considered by many to be the ultimate superficiality. In Western culture and philosophy, from Plato onwards, the surface was regarded as a deceptive appearance that can never do justice to the Ideas – the depths – behind it. The surface was viewed with contempt. Postmodernism involved a new approach: the surface became highly interesting, perhaps even the only thing we could speak about, and the screen for the meaning we projected onto it. Postmodernism twisted our perspective – the meaning did not lie behind the surface, but was created by us – the viewers. A perspective like that makes fashion much more interesting for art.
Art and design – identity and branding
The interest of the art world in fashion can be seen in a broader perspective that includes design and architecture. And this, in turn, can be seen as an increased interest from contemporary art in so-called reality: social, economic and political issues.
Identity is another issue that is interesting to both art and fashion. Fashion constructs and marks the identity of the wearer – or rather, the identity the wearer wants to assume. This can involve various forms of belonging, power positions or sexuality. As the drag queen Ru Paul puts it: "Honey, you were born naked. The rest is drag."
When we talk of identity in commercial contexts, we often mean 'branding', trademark promotion – a crucial component of the fashion system. Designer labels are built up and invested with a vast symbolic, not to say financial, value. Pumping up a brand name has grown into a vital strategy in many sectors of society – symbolic value has become more and more important in our media-dominated information society, while other values have taken a back seat. Branding is a phenomenon that fascinates many artists, including Svetlana Heger and Sylvie Fleury. The architect Rem Kolhaas and his bureau OMA/AMO try to combine design, art and architecture with an ambiguous and, at least theoretically, critical attitude to the market. 'Now that the museum has approached the shop, why not let the shop work partly like a museum?' he asks in his book about the Prada shop in New York, which he designed to be a hybrid between a shop, gallery space and theatre.
Fashion photography
Photography is a technique and a medium with many applications and connotations. Unlike, say, oil on canvas, it can be used for many things apart from art. Photography is the most common, or at least the most accessible, means of consuming the more advanced fashion – mere mortals do not get any closer than this to haute couture. In some ways, photography refines the symbolic function of fashion – that which sets fashion apart from clothes, which, above all, serve a practical purpose.
Fashion photography appears mainly in fashion magazines, just as galleries, art institutions and museums are the usual forums for art. The importance of fashion magazines to fashion photography cannot be overstated. Today, when artists are often commissioned to do work for fashion magazines, and photographers have something of the star quality that supermodels had in the late 1980s, we risk forgetting that fashion photography is largely the result of teamwork, frequently requiring a wide variety of skills. Fashion editors often have a large influence on the design of the feature, the choice of fashion designers whose clothes are photographed, the stylists, models, make up artists, and so on.
The British magazines The Face and i-D had an enormous impact in the 1980s and '90s, with their mixture of fashion and music features with sometimes sharply critical discussions on current issues. Unlike the conventional fashion magazines, they promoted fashion as a lifestyle. They were inspired by punk and British street fashion, which permeated everything from the photography to the layout and typeface – raw, cellotaped collages, and cut-out letters, like in a ransom note. i-D was started in 1980 by Terry Jones, former director of British Vogue. The Face and i-D were an important platform for innovative photographers, stylists, editors and art directors, and revitalised fashion photography with names like Travis, Glen Luchford, David Sims, Nigel Shafran, Nick Knight, Wolfgang Tillmans, Corinne Day, Juergen Teller, Mark Lebon and Derek Ridgers. Nick Knight was also the editor of i-D in the late 1980s and early 1990s. Phil Bicker, art director of The Face, gave unestablished photographers a free hand and wide scope, which helped launch their careers with other magazines. Other publications, such as Dazed, Purple, W, Tank, Dutch, Spoon, Blitz, Self Service, Citizen K and Another Magazine have also contributed to a new approach to fashion and fashion photography, and new ones are appearing all the time. These magazines sometimes include photos that are not even of clothes in fashion features, and in many features the clothes are mere props in a larger narrative in which the models and the setting are at least as important.
Some critics say that fashion photography loses impact when shown in exhibitions. The fashion magazine setting and the original purpose of the photos are, of course, essential, and something happens when the photos are transposed to another context, but since artists are employed by the fashion and lifestyle magazines, it becomes hard to maintain this strict division into genres, so the photos also stand to gain something. Not only the cultural status and legitimacy of the photograph, but also its impact is blown up and given more space.
In the catalogue for the exhibition Fashioning Fiction in Photography Since 1990, which was shown at the Museum of Modern Art in New York earlier this year, the curators Susan Kismaric and Eva Respini describe how fashion photography has developed from depicting clothes in the tableau-like still-life tradition to reflecting and creating lifestyles where the clothes are part of a flow, a narrative. This narrative photography is influenced primarily by the cinema and the snapshot. Snapshot aesthetics formed part of the realism that was introduced by magazines such as The Face and i-D. Photographers such as Corinne Day, Wolfgang Tillmans and Terry Richardson highlighted the personal and private (friends, domestic environments, clubs), using natural light or flashbulbs. The world they evoked is starkly different from the artificial, strictly arranged reality of conventional fashion, which few people identified with, but were expected to aspire to. Terry Richardson participates personally in many of his photos. His images revel in everything that is usually associated with bad taste and vulgarity. The models are frequently nude, and they snog, booze and smoke. What sets () these pictures apart from run-of-the-mill pornography is that the female and male models appear to be having fun, and also that they have the character of snapshots rather than arranged scenes. These are among the more controversial and criticised images in fashion photography.
The power that fashion has on ideals and people's self-images should prompt a sense of responsibility for the ideals it creates. Both the retouched perfection of the supermodels and the wasted look sometimes called "Heroin Chic", have been criticised for setting unhealthy examples. Corinne Day is possibly the photographer who first springs to mind when it comes to pictures of skinny, hollow-eyed models with glazed-over eyes, in squalid apartment settings (see Salka Hallström Bornold's essay for a discussion of heroin chic). Nor should one underestimate the importance of Kate Moss in setting a new standard of beauty, but perhaps there's very little danger of that happening, considering how celebrated she is.
This snapshot aesthetic – realism, punk attitude – in fashion photography emerged at the same time as a new form of deconstruction was being promoted by a set of new fashion designers, the foremost exponents – Demeulemeester, Margiela and others – coming from Antwerp. These designers remodelled used clothes, and second-hand – vintage – clothes even made their way into the fashion pages as an expression of a more personal style. It was perfectly legitimate to mix designer creations with cheap chain-store garments and second hand clothes. This showed independence, personal choice, rather than slavishly purchasing a complete outfit from a few well-known labels. Even haute couture was more influenced by street fashion and youth culture. (A paradoxical movement was the gangsta rappers' appropriation of the extreme luxury of the old fashion houses.)
Narrative Fashion Photography
This cinematic, narrative fashion photography has a forerunner in Guy Bourdin, who photographed for French Vogue from the 1950s to '80s, and did promotions for Charles Jourdan. He often created disturbing, slightly bizarre, sexually charged scenes, with allusions to violence. His images also contain references to surrealism. Helmut Newton's photos have also influenced the fashion photography that leans towards eroticism and fetishism. But it was Bourdin above all who first, and most blatantly, introduced the combination of violence, death and eroticism into his pictures. Many of them also have a black sense of humour and involve a provocation aimed at decency and morality. (The decadent world he portrays is reminiscent of J. G. Ballard novels such as Crash, Cocaine Nights and Super-Cannes, in which a bored upper class seeks excitement and titillation in a mix of violence, power and eroticism/sex.) This has subsequently become a popular theme for many fashion photographers and designers. In Izima Kaoru's photos representing brutally murdered, blood-smeared models in opulent settings the allusions have become explicit. Pictures with titles like Akikawa Risa wears Chanel are revolting.
Philip-Lorca diCorcia has been the forerunner of a kind of cinematic fashion photography with narrative elements. He is one of the established artists who occasionally ventures into the world of fashion. Since 1997, he has produced approximately one series of photographs a year for the magazine W. The pictures are characterised by dramatic lighting and stillness. They also have an air of longing, desire and nostalgia. The models are perfect, like dolls, and appear otherworldly, enhancing the artificiality of the fashion. One of diCorcia's picture suites shows an exclusive cocktail party, with a nude young male model being displayed in a glass cage, obviously as a tantalising entertainment. The yearning and hungry gazes of the guests, both men and women, in the initial pictures develop into images in which various party guests have encounters with the young man.
In Fashion Images de Mode diCorcia describes his idea for the feature: "At first I thought the class exploitation and decadence thing was a little predictable but then I decided that it was important for me to maintain a critique of the medium in which I was working, which I have consistently tried to do. I saw the characters as both models of production and consumption at a time in the US when big money and rampant materialism were so all-pervasive as to have become applaudable to most." Could fashion photography and fashion magazines, as diCorcia seems to imply, have both a commercial and a critical dimension? diCorcia is among those who avoid, not to say challenge, the objectification that still pervades the fashion industry.
Martina Hoogland Ivanow's fashion photos also avoid stereotypical sexual objectification. She is a Swedish photographer who does fashion features and promotions for Prada and Miu Miu, alongside photo essays in magazines such as i-D and Colors on a wide array of topics from ice-racing in northern Sweden to oil wrestlers in Japan. Even in her fashion shoots she incorporates photos that relate to clothes solely by evoking atmospheres.
Inez van Lamsweerde and Vinoodh Matadin were among the first to use digitally enhanced images where the inhuman perfection of the models made them monstrous. In their more recent work these manipulations are almost imperceptible. They often collaborate with stylists Joe McKenna and Melanie Ward, who are so familiar with the codes of the fashion system that they know how to break the rules and create images that are unnerving through subtle contradiction.
Artists in dialogue with the fashion system
Several of the artists featured in Fashination who are not directly involved in fashion photography have still created their works in some form of dialogue with the fashion system. Although these works are not necessarily about fashion, they can, nevertheless, work in a fashion context. Lars Nilsson's Game Over was commissioned by the DAKS fashion house and was shown for the first time to accompany the opening of their boutique on Bond Street in London. The tailor Timothy Everett, who makes the suits for Lars Nilsson's sculptures, had long been trying to persuade Nilsson to exhibit them in a shop setting, but Nilsson had persistently declined, since they had been made with another context in mind. But when he was given carte blanche to create a site-specific work he began to see other potentials.
Alicia Framis's Anti-Dog Collection was presented as a fashion collection in Paris. This meant she had to submit to the rules and entrance requirements that fashion designers have to abide by. A collection has to include a minimum of eight dresses. An artist working in a new context, that of fashion, has to adapt to other codes and rules. The translation and transference of artistic approaches, issues and significances to another system can be interesting in itself, since contemporary art is so preoccupied with the question of how context impacts on interpretation, or rather, the production of meaning. In a more practical sense, also, it is a way of getting closer to a utilitarian function – departing from the symbolic sphere of art in favour of a sphere where the work has practical usage.
Vanessa Beecroft's work Twins was originally conceived for Italian Vogue (October 2003), but has been enlarged for this exhibition so that the women in the photograph are life-size. This makes them reminiscent of the real models Beecroft uses in her performance works. As in the performances the women are almost identical, with identical, minimal clothing, physique, skin and hair colour and styles – but in Twins she has taken this to the edge, the women are actually twins. Here, as in many of Beecroft's works, she reveals the cruel and vaguely alarming side of fashion's power to shape us. The women look like they've been cloned.
In Yinka Shonibare's work, the clothes convey a complex fabric of social and political implications, while also being seductively attractive and opulent. His way of investing beautiful, historical costumes with new, subversive implications by changing certain details, has a counterpart in the fashion world in Vivenne Westwood, even though their work is obviously substantially different. Yinka Shonibare often creates electric scenes with headless dummies dressed in historical costume, using prints that have come to be associated with African identity even though they were, in fact, produced by British and Dutch colonialists based on Indonesian patterns. The capacity of fabrics and clothes to shape identity, change meanings and signal class is both used and problematised in Shonibare's work. Today, these questions are also being raised within the fashion system itself.
Text: Magnus af Petersens