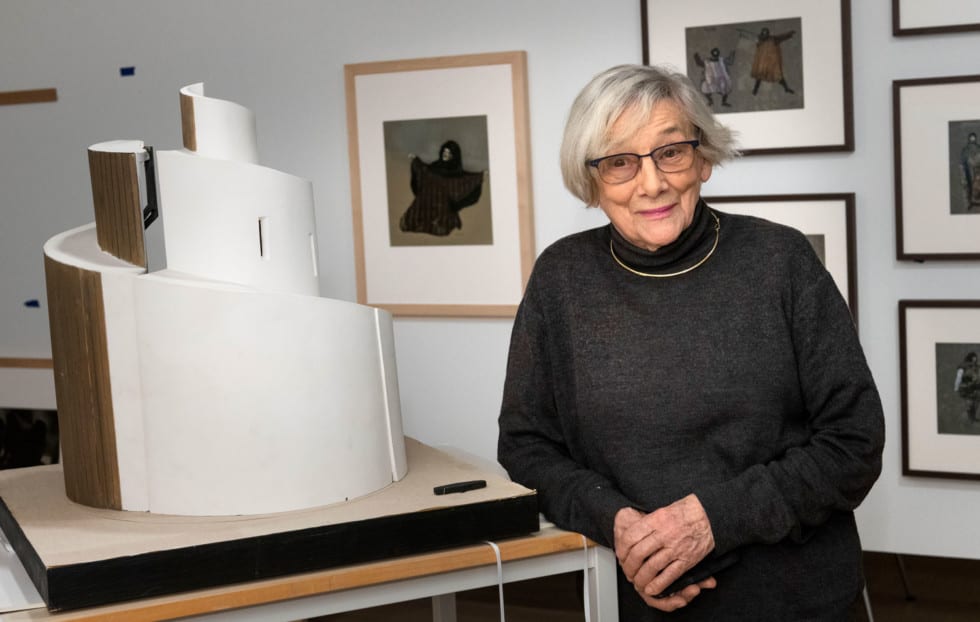 Biography Gunilla Palmstierna-Weiss
Gunilla Palmstierna-Weiss was born in Lausanne, Switzerland in 1928 and grew up in Stockholm, Vienna and Rotterdam. She studied at Tekniska skolan (now Konstfack) in Stockholm, the Gerrit Rietveld Academie in Amsterdam, and the École nationale supérieure des Arts Décoratifs in Paris.
In 1952, she began making films with her partner, Peter Weiss.  They worked together for many years, gravitating towards stage productions from 1963 and onwards. The two became international key figures, both within the new radical left and in the emerging modern theatre movement.
Palmstierna-Weiss has also designed stage sets for Peter Brook at the Royal Shakespeare Company, for the Götz Friedrich opera festivals in the Netherlands, and for Ingmar Bergman at the Royal Dramatic Theatre in Stockholm, and in Salzburg and Munich.
Her autobiography "Minnets spelplats" was published in 2013 by Bonniers förlag.
Solo exhibitions include: Galerie du Siécle, Paris, 1954; Tiergarten, West Berlin, 1965; Grassi Museum, Leipzig, 1966; Umeå Bildmuseet 1970 and 1989; The Prague quadrennial, Prague, 1975 and 1979; Akademie der Künste, Berlin, 1991; Prince Eugen's Waldemarsudde, Stockholm, 1996–1997; Bochum Museum, Bochum, 1997–1998; Central Academy of Drama, Bejing, 2018.