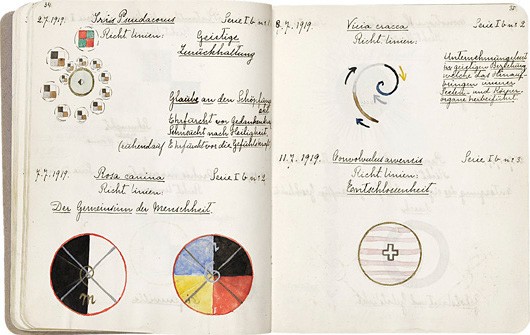 Symbols in Hilma af Klint's imagery
Hilma af Klint's imagery is full of symbols, letters and words. Symbols are like doors into another dimension. For Hilma af Klint, her entire work was about conveying the messages she received, and to shed light on the great existential issues.
It would be pointless to translate the symbols and letters in Hilma af Klint's works into definite, unambiguous terms. They must always be seen in relation to the entire context. In her notebook Symboler, Bokstäver och Ord tillhörande Hilma af Klints målningar [Notes on Letters and Words pertaining to Works by Hilma af Klint] she attempts to clarify the complex meanings of the various signs. Here are a few general explanations:
The snail or spiral represents development or evolution.
The eyelet and the hook, blue and yellow, and the lily and the rose represent femininity and masculinity respectively.
W stands for matter, while U stands for spirit.
The almond shape arising when two circles overlap is called the vesica piscis and is an ancient symbol for the development towards unity and completion.
The swan represents the ethereal in many mythologies and religions and stands for completion in the alchemical tradition.
In Christianity, the dove represents the holy spirit and love.
Terminology
Esoteric and occult denote "the science of the hidden dimensions". Western esotericism is a mixture of Neoplatonism, Hermeticism, Jewish kabbalah and the three occult "sciences" of astrology, magic and alchemy.
Spiritualism shares the conviction that it is possible to make contact with the spirits of the deceased. Modern spiritism was spread thanks to the Fox sisters in the USA in 1848.
Theosophy is a general doctrine incorporating inspiration from various religions and spiritism. The religions are regarded as different expressions of one fundamental truth. Theosophy teaches that the origin of everything, divinity, is inherent in every being. The Theosophical Society was founded in New York in 1875 by Helena Blavatsky and others. There is also an older form of theosophy that is significantly different to the newer version.
Anthroposophy is a life philosophy that originated in theosophy. Rudolf Steiner, who was the leader of the German branch of the Theosophical Society, left theosophy in 1913 to set up the anthroposophical movement. The two philosophies have a great deal in common, but anthroposophy in general has a stronger Christian element.
According to legend, the Rosicrucians were an esoteric society in Germany who engaged in alchemy in the early 17th century. Today, there are many secret orders that claim to uphold the Rosicrucian traditions.