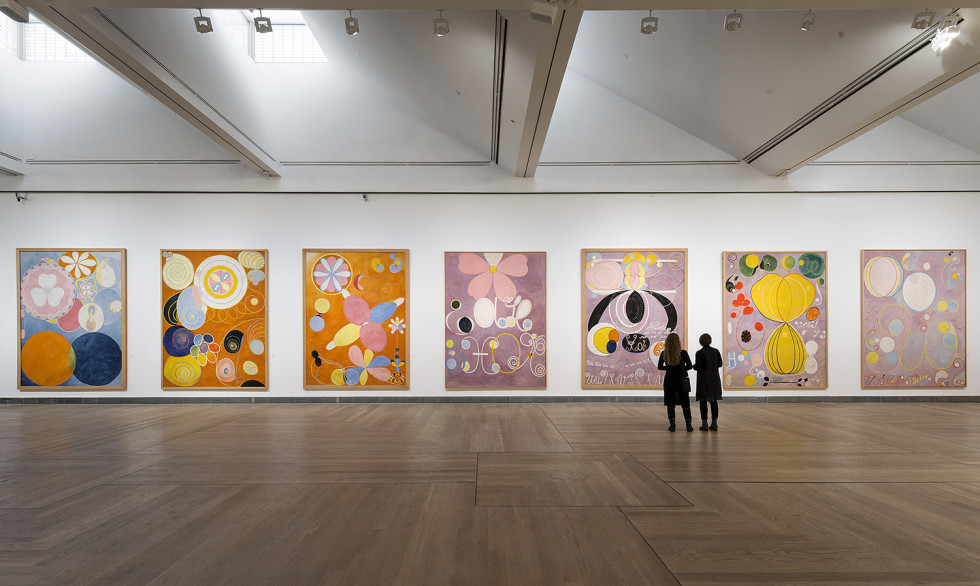 Hilma af Klint's groundbreaking images were created in the early years of the 20th century – before the dawn of abstract art in Russia and Europe. Her works are not concerned with abstraction of colour and shapes for its own sake, but are an attempt to portray that which is not visible. Kandinsky, Malevich and Mondrian also explored a spiritual dimension.
Kandinsky moved away from Expressionism and gradually left visible reality behind. He had a great interest in the occult and published On the Spiritual in Art in 1911. Malevich arrived via Cubism and Futurism at his suprematist, abstract and exceedingly spiritual images. Mondrian successively turned his back on figurative portrayals of that which the eye can see, reducing his compositions to a play of vertical and horizontal lines, and to the primary colours red, yellow and blue, with white and black. As a theosophist, he was striving for a purely spiritual expression of the eternal ideas beyond the visible world.
Spiritual searching was thus an essential element to many of the modernists who moved towards an abstract imagery. Unlike Hilma af Klint, Kandinsky, Malevich and Mondrian did not claim to be acting as mediums in their creative process. This was an experience, however, that she had in common with artists such as the artists František Kupka (1871–1957), Emma Kunz (1892–1963) and the writer Victor Hugo (1802–1885).