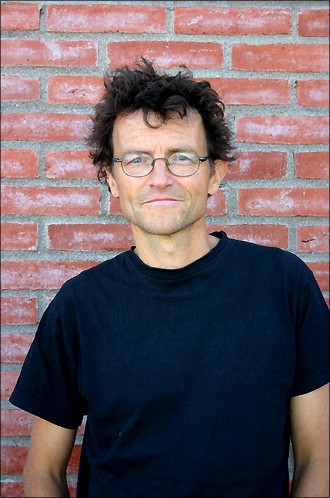 Lars Tunbjörk started his career as a press photographer at Borås Tidning in the early 1970s. His breakthrough as an artist came in the early 1990s, with his photographic series Landet utom sig (Country Beside Itself). In photos from Skara Sommarland, Supermarkets and tourist sites, he portrays the last death-throes of the Swedish welfare state. Many of the pictures in the series have quickly come to be classic icons in Swedish photography.
1956 Born 15 February in the city of Borås.
1971 Starts to photograph as a 15-year-old student, working for Borås Tidning daily newspaper.
1976 Spends his military service as a photographer for magazine Värnpliktsnytt. This periodical was in the 1970s´ a significant spot for young photographers. Returns to his hometown and starts to work as a press photographer in Borås Tidning.
1977 Moves to Stockholm.
1979 Founded the photographer company SALT together with Anders Sjöberg, Rolf Adlercreutz, Lasse Allard and Claes Löfgren. They had assignments mainly for the Social Democratic evening paper Aftonbladet, but also for weekly magazines and inhouse projects.
1981–84 Full time work as photographer mainly for the Social Democratic morning paper Stockholms-Tidningen and the flying company Linjeflyg's magazine Upp & Ner. He also regularly supplies pictures reportage to the magazine Vi.
1982 Chosen as Photographer of the Year by the Press Photographers Club. He received this award for capturing portraits of everyday life with humour, warmness and humanity.
1984 Together with the journalist Britta Svensson, Tunbjörk documents the record level of Liverpool's unemployment for Swedish Television. As a result hundred black-and-white photographs originated from this documentary and were edited to a twenty-minute programme.
1984 Closure of the Stockholms-Tidningen and split of SALT group. Tunbjörk is a stringer (member) to the photo agency TIOFOTO – one of the most successful Swedish photo association established in 1958 as Tio fotografer (Ten Photographers). Occasionally he works for the magazines Månadsjournalen and Metallarbetaren.
1988 Assignment for magazine Upp & Ner which should document provincial life. This was the groundwork for his book The Country Beside Itself. Pictures from Sweden.
1989 Receives Gullers-stipendium (scholarship) from Fotografiska Museets Vänner (The Friends of the Museum of Photography). Travels to Poland where he photographed for a project later exposed in Poland and Sweden. He also workes on an assignment to describe Paris life 200 years after the French revolution, published in the book Om sakernas tillstånd i Paris 200 år efteråt, with text by Herman Lindqvist.
1993 Major achievement with the exhibition The Country Beside Itself. Pictures from Sweden shown at Hasselblad Center in Göteborg (Gothenburg) and the book with the same title published the same year.
1994 The exhibition The Country Beside Itself. Pictures from Sweden opens at the Nordiska Museet in Stockholm and the year after at the International Center of Photography in New York.
2002 Office is presented at Arbetets Museum (Museum of Work) in Norrköping and published as a book. It is also exposed at Kulturhuset in Stockholm, Akademie der Kunste in Berlin and Museet för Fotokonst i Odense. The project Home is showed at Hasselblad Center in Gothenburg and published as a book.
2003 Takes photographs for the Filmkonst Magasin during Gothenburg International Film Festival. Publishes the book Dom alla together with the author Göran Odbratt.
2007 Publishes the book I love Borås! which presents unused pictures from the years 1989 to 1996.
2007 Lars Tunbjörk lives and works in Stockholm, Sweden. He is a frequent contributor to journals all over the world as the New York Times Magazine. He is represented by Brändström & Stene Gallery in Stockholm, Galerie VU' in Paris and Cohen Amador Gallery in New York.
Biography compiled by Petra Lorentzon Stankova.
Collections
Moderna Museet, Stockholm, Sweden
Hasselblad Center, Göteborg, Sweden
Borås Konstmuseum, Borås, Sweden
Museet for Fotokunst, Odense, Denmark
Preus Museum, Horten, Norway
Maison Européenne de la Photographie, Paris, France
DG Bank Collection, Germany
The Museum of Modern Art, New York, USA
Group Exhibitions
1983 Photographs of the Year, (catalogue) Kulturhuset, Stockholm, Sweden
1984 The Photographers from Stockholms-Tidningen, Fotograficentrum, Stockholm, Sweden
1984 Portraits, Fotografiska Museet, Moderna Museet, Stockholm
1990 Made by Swedish, (catalogue), Galeria ZPAF, Krakow, Poland
1990 Machine of Sight, (catalogue), St. Petersburg, Russia
1991 Lika med, (catalogue), Moderna Museet, Stockholm, Sweden
1992 From Poland to Poland, (catalogue), Fotomässan, Göteborg, Sweden
1993 De refuserade, Liljevalchs konsthall, Stockholm, Sweden
1995 Three Generations of Swedish Photographers, touring exhibition, USA, Argentine, China
1996 Tokyo Today, (catalogue), touring exhibition, Copenhagen, Tokyo, Stockholm
1998 Work and Culture, (catalogue), Landesgalerie, Linz, Austria
1998 Tempo, Kulturhuset, Stockholm, Sweden
1998 Memento Metropolis, (catalogue), Kulturfabriken, Stockholm, Sweden
1998 Under/Exposed, (catalogue), Stockholm Underground, Sweden
1998 Photo Espania, Madrid, Spain
1998 Trégor Photo Festival, (catalogue), Lannion, France
1999 Longing for Longing, (catalogue), touring exhibition, Berlin, Germany, New York, USA
2000 On the Job, (catalogue), National Building Museum, Washington, USA
2001 Noorderlicht Fotofestival, (catalogue) Groningen, Holland
2001 Faces and Figures: Contemporary Scandinavian Photography, Scandinavian House, New York, Haggerty Museum of Art, Milwaukee, Wisconsin, USA
2001 Galleri Nordenhake, Stockholm, Sweden
2002 Stockholm Too Close, Kulturhuset, Stockholm, Sweden
2002 Septembre de la photographie , Musée d´Art Moderne et d´Art Contemporain, Nice, France
2003 Spirit of Globalisation , Photographic Centre, Skopolos, Greece
2003 In Natura, X Biennale of Photography, Torino, Italy
2003 Office, Photographer's Gallery, London, England
2003 Gallery Vu 10 years, Gallery Vu, Paris, France
2003 Nicholson Gallery, San Francisco, USA
2004 Anders Zorn och nordisk samtidskonst, Arken, Copenhagen, Denmark
2004 Im Rausch der Dinge, Fotomuseum Winterthur, Switzerland
2004 Instabilt, Kulturhuset, Stockholm, Sweden
2005 Swedish Photography, Faulconer Gallery, Grinell, Iowa, USA
2005 World Press Photo, Amsterdam, Holland
2005 Foto Art Festival, Bielsko-Biala, Poland
2006 Vu à Paris, Chapel Saint Louis Salpeterie, Paris, France
2006 L´amour comment ca va?, Maison de la Vilette, Paris, France
2006 On Recent Landscapes, Photoespana, Madrid, Spain
2007 Work, Rest and Play, National Gallery, London, England
Bibliography
Gränslösa bilder, text av/by Per Lindström, Lucida, Stockholm, 1987
Om sakernas tillstånd i Paris 200 år efteråt, text av/by Herman Lindqvist, Wiken, Höganäs, 1989
Landet utom sig. Bilder från Sverige/Country Beside Itself. Pictures from Sweden, text av/byThomas Tidholm och/and Göran Greider, Journal, Stockholm, 1993
Kontor/Office, Journal, Stockholm, 2002
Home, text av/by Göran Odbratt, Hasselblad Center/Steidl, Göttingen, 2002
Dom alla, text av/by Göran Odbratt, Journal, Stockholm, 2003
I love Borås!, Steidl, Göttingen, 2007
Vinter, text av/by Anna Tellgren, Moderna Museet/Steidl, Göttingen, 2007
Solo Exhibitions
1989 Fotograficentrum, Göteborg, Sweden
1990 Galleri Mira, Stockholm, Sweden
1991 Fotohuset, Göteborg, Sweden
1993 Hasselblad Center, Göteborg, Sweden
1993 Fotomässan, Göteborg, Sweden
1994 Nordiska museet, Stockholm, Sweden
1994 Bildmuseet, Umeå, Sweden
1994 Landskrona Museum, Sweden
1994 Fotograficentrum, Örebro, Sweden
1994 Center for Contemporary Art, Ujazdowski Castle, Warzaw, Poland
1995 Varbergs Museum, Sweden
1995 International Center of Photography (Midtown), New York, USA
1997 Riga Photographic Museum, Latvia
1997 Norrtälje Konsthall, Sweden
1998 Galleri f48, Stockholm
1998 Fotografisk Center, Copenhagen, Denmark
1998 Trollhättans Konsthall, Sweden
1999 Bohusläns Museum, Uddevalla, Sweden
1999 Galerie Vu, Paris, France
1999 Strasbourg University, Strasbourg, France
1999 Swedish Embassy, Tokyo, Japan
2000 Sveaborg Artcenter, Helsinki, Finland
2000 Galleri IFSAK, Istanbul, Turkey
2001 Image au Centre Festival, Bourges, France
2002 Arbetets Museum, Norrköping, Sweden
2002 Akademie der Kunste, Berlin, Germany
2002 Museet for Fotokunst, Odense, Denmark
2002 Kulturhuset, Stockholm, Sweden
2002 Home, Hasselblad Center, Göteborg, Sweden
2002 Galerie Vu, Paris, France
2003 Västerås Art Museum, Västerås, Sweden
2004 Moscow Photobiennale, Moscow, Russia
2004 Hembygd, Borås konstmuseum, Borås, Sweden
2004 Midlanda Konsthall, Timrå, Sweden
2004 Swedish Embassy, Washington, USA
2005 Reykjavik Museum of Photography, Reykjavik, Iceland
2006 Brändström & Stene Gallery, Stockholm, Sweden
2006 I Karlskrona, Installation in the city of Karlskrona, Sweden
2007 Open Eye Gallery, Liverpool, England
2007 Galleri Kontrast, Stockholm, Sweden
2007 Winter/Home, Moderna Museet, Stockholm, Sweden