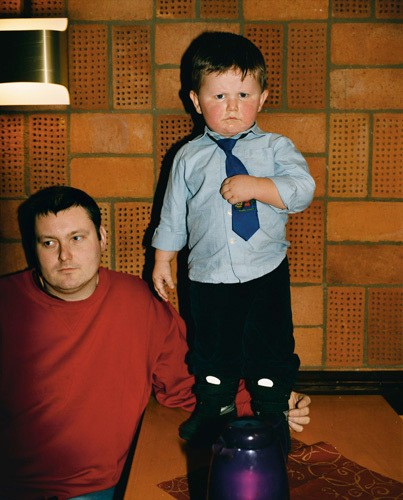 Lars Tunbjörk's Sense of Snow
The photographs in the Winter series deal with the mental state we enter during the dark period of the year. Between 2004 and 2007, Lars Tunbjörk travelled around Sweden, trying to capture the mood that the winter months put us in here in northern Europe. Text: Anna Tellgren, Curator, Moderna Museet.
The project became a way of doing something creative with the feelings of depression that beset him in the winter season. He shows us snowed-in playgrounds, streets and houses, but the selection of pictures also includes interiors, from cafes, restaurants and shops. We see people in their homes, at work or at parties. They have met the photographer Lars Tunbjörk and they connected somehow. This series of photographs has another tone, another colour range, another temperament than his previous work, yet we recognise his style, his understated humour and frequently absurd subjects.
Lars Tunbjörk was born in Borås in 1956 and started out as a press photographer at Borås Tidning before moving on to Stockholms-Tidningen. Since the early 1980s, he has worked as a freelance photographer based in Stockholm, and has had around 40 solo exhibitions in Sweden and abroad. In 1993, he published the book Country Beside Itself. Pictures from Sweden, a compilation of photographs of public spaces he visited to document Swedes on holiday. The book and the exhibition were his major breakthrough. Other projects have also resulted in books and exhibitions: Office (2002) is a documentation of workplaces all over the world. Rooms where people spent most of their day, perhaps even most of their lives appear enigmatic and mysterious in Tunbjörk's interpretation. The series titled Home (2002) describes Borås and other towns and the vicinity, the area where he grew up and the house his mother still lives in. Lars Tunbjörk uses his own life to tell a story about an era and an environment, a way of life, that many people can identify with and strongly relate to.
Lars Tunbjörk learned his profession in the photo-journalistic environment. He did not study at any of the art colleges in Sweden and is not one of the Swedish artists who emerged in the early 1990s and work with photo-based art. He is a photographer who is at home in photographic circles. He upholds the tradition – in between documentary and artistic photography – of which Christer Strömholm (1918-2002) is one of Sweden's foremost exponents. Tunbjörk recalls the pivotal experience of leafing through Strömholm's book Poste Restante (1967) at the Borås Public Library when he was young, and he was later among the many young photographers who visited Strömholm to discuss their pictures and life in general.
If we try to put Tunbjörk in an international context, he belongs in more or less the same genre as the photographers William Eggleston, Esko Männikko and Martin Parr. Tunbjörk travels widely and applies similar methods to many artists and photographers whose work explores the contemporary world, artists such as Willie Doherty, Sophie Ristelhueber and Allan Sekula, who have applied an artistic approach to challenge and regenerate the documentary form. Tunbjörk has portrayed a nation heading into late modernism – away from the Welfare State – but he does not have an overtly political message. He does not judge, does not add any long, explanatory captions, but is an observer who leaves it to the visual narratives themselves to generate questions in the viewer. His photographs thus serve as testimonies to the state of things, but without any claims of delivering the whole truth.
In his crime novel Smilla's Sense of Snow the author Peter Høeg tells of the mysterious circumstances surrounding the death of a child one snowy winter's day in Copenhagen. The novel develops into a sad story about the waning culture of Greenland and a harsh critique against western civilisation. Smilla Qaavigaaq Jaspersen from Greenland respects the Danish winter – not for the measurable temperature but for how it is experienced. Lars Tunbjörk's winter photographs also portray an experience. Like a crime novel, Winter chronicles a few characters, gives a few clues and evolves into an elegy on life in Scandinavia today, in the early 21st century, and on simply enduring the dark part of the year.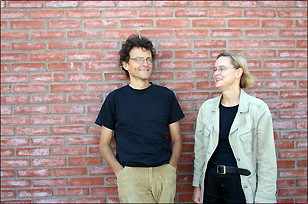 Anna Tellgren
Anna Tellgren, PhD, is the curator of photography at Moderna Museet since 2004. She was previously a researcher and lecturer at the Department of Art History at Stockholm University.
Anna Tellgren is a committee member of the Nordic Network for the History and Aesthetics of Photography and is the Associate Editor of Konsthistorisk tidskrift/Journal of Art History. She produced the Arbus, Model, Strömholm exhibition and was the editor of the catalogue with the same title, published in 2005 by Steidl. In spring 2007 she was in charge of installing the exhibition Robert Rauschenberg: Combines at Moderna Museet.
Anna Tellgren also heads a research project on the history of Moderna Museet in its fifty years of existence, which will be published in 2008.