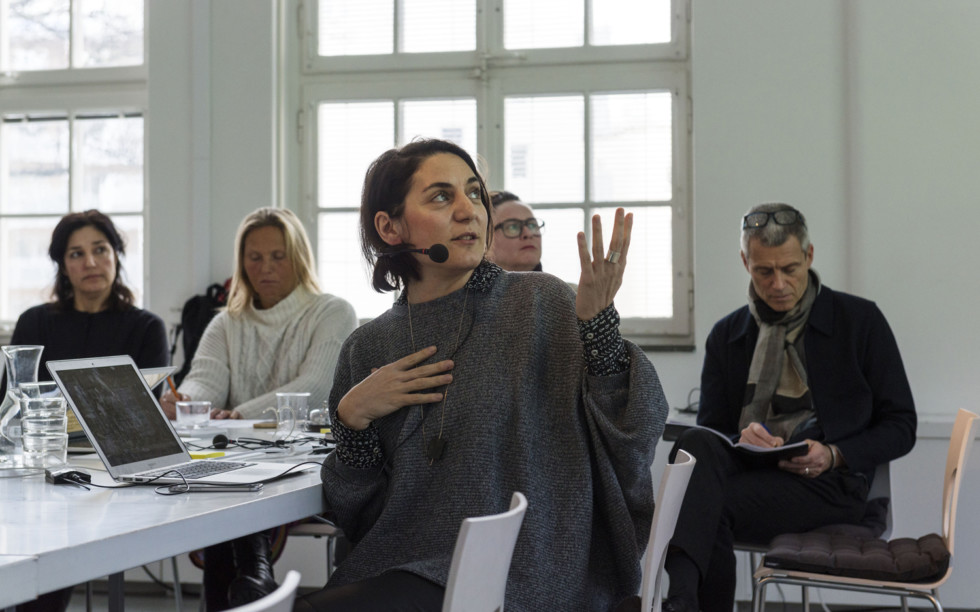 A journey through the Swedish art scene
How does one research the Moderna Exhibition? Where does the Swedish art scene actually begin and end? What artistic practices would be interesting to highlight right now, and why? Joa Ljungberg and Santiago Mostyn are the curators of the Moderna Exhibition 2018. Here they talk about studio visits and seminars as well as the extensive work of selecting artists and artworks for the exhibition.
Joa Ljungberg: We decided early on to conduct research that was as exhaustive as possible, but without defining a thematic framework in advance or assuming an idea of where we would eventually land. We both felt that we wanted to take advantage of the opportunity to get to know many (to us) new artists and to reach beyond the existing narrative about the scene.
Santiago Mostyn: We also started with this question of what it means to build an exhibition within the framework of a national survey. What does it mean today, and what does it mean for someone like myself, an artist rather than a curator, and a relatively new resident in this country? We wanted to see as much as we could, discover practices we may not have come across otherwise, and let those encounters set the course for our project. Every newcomer sees 'place' differently, and that shading of perspective found its way quite naturally into our process.
It felt obvious right from the outset that any attempt to define the Swedish art scene would involve boundaries that are moveable and subjective.
The Swedish art scene's hazy and movable boundaries
JL: Together we carried out a great many studio visits in various parts of the country and to places beyond Sweden's borders. It felt obvious right from the outset that any attempt to define the Swedish art scene would involve boundaries that are moveable and subjective. Artists from a wide variety of countries and cultures are active in Sweden. Some have lived here for a few years, others for considerably longer. There are also Swedish artists who identify strongly, sometimes exclusively, with Sápmi, the cultural lands of the Sami people that extend beyond the borders of Sweden and into Norway, Finland and Russia. The boundaries of  the 'Swedish art scene' cannot therefore be identical with the borders of the nation state, despite the wealth of associations within this scene to the country of Sweden, its history, educational system, social model and relations with the wider world.
SM: The idea of the local became a useful measure – almost a shield – against the seductiveness of more consumerist aesthetics, familiar from the international art world. I've always been interested in how art can engage with the histories and processes of change taking place in society at large, and during our studio visits and discussions we began to consider more closely the narrative geographies of this country from the viewpoints of artists working and living here today.
Effects of exclusion and inclusion
JL: During our studio visits and research trips, we have gotten to know many fascinating artists and their work while also gaining deeper insights into Swedish society. With our own eyes we have witnessed the transformation of vast natural landscapes into mines and power stations. We have seen traces of the dismantling and relocation of the Swedish industry, and we have observed the effects of exclusion, inclusion, solidarity and xenophobia.
SM: At the same time, an image of a richer and more nuanced art scene came into focus. One in which the balance between centre and periphery has shifted, and in which hierarchies and power relations – in terms of gender roles and the urban/rural divide – have begun to soften.
JL: What was also striking was a powerful and growing interest in collaboration, in creating collectively as a means of learning together. This may be an expression of a desire to reach beyond the individualism that characterises Swedish society at a fundamental level, but it may also be a symptom of the fact that the Western way of life has shown itself to be unsustainable (not to say profoundly destructive), and that this realisation has hit home for an ever greater number of people. We simply have to find new ways of living together, new ways of being human.
Artistic discoveries and important tendencies in the Swedish art scene
SM: As a way to bring more voices into the conversation, Joa proposed that we organise four full seminar days – one each in Malmö, Gothenburg, Stockholm, and Umeå. We invited a diverse group of curators, museum and konsthall directors, writers, consultants, and researchers to take part.
JL: We asked all of them to share their thoughts and insights about important trends in the Swedish art scene, in the form of short presentations and discussion groups. In return, the participants in each city were invited to attend the presentations in the other three cities, with the events becoming a unique platform for knowledge exchange for everyone involved.
Instead of thinking about the Moderna Exhibition as a survey of the most prominent artists in Sweden at the moment, we began to see it as a means of looking at Swedish society – its history, its current state and its relations to the world around it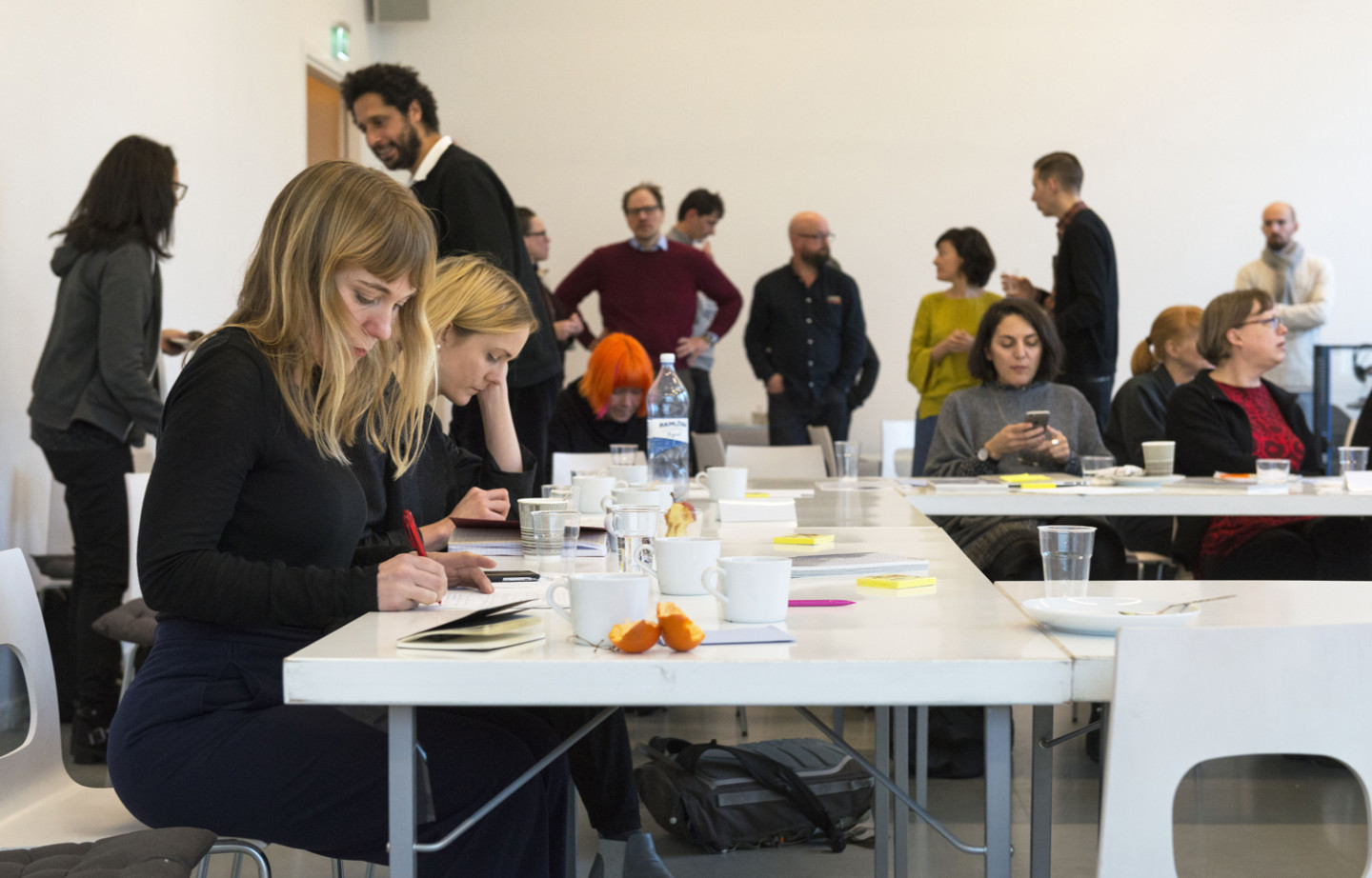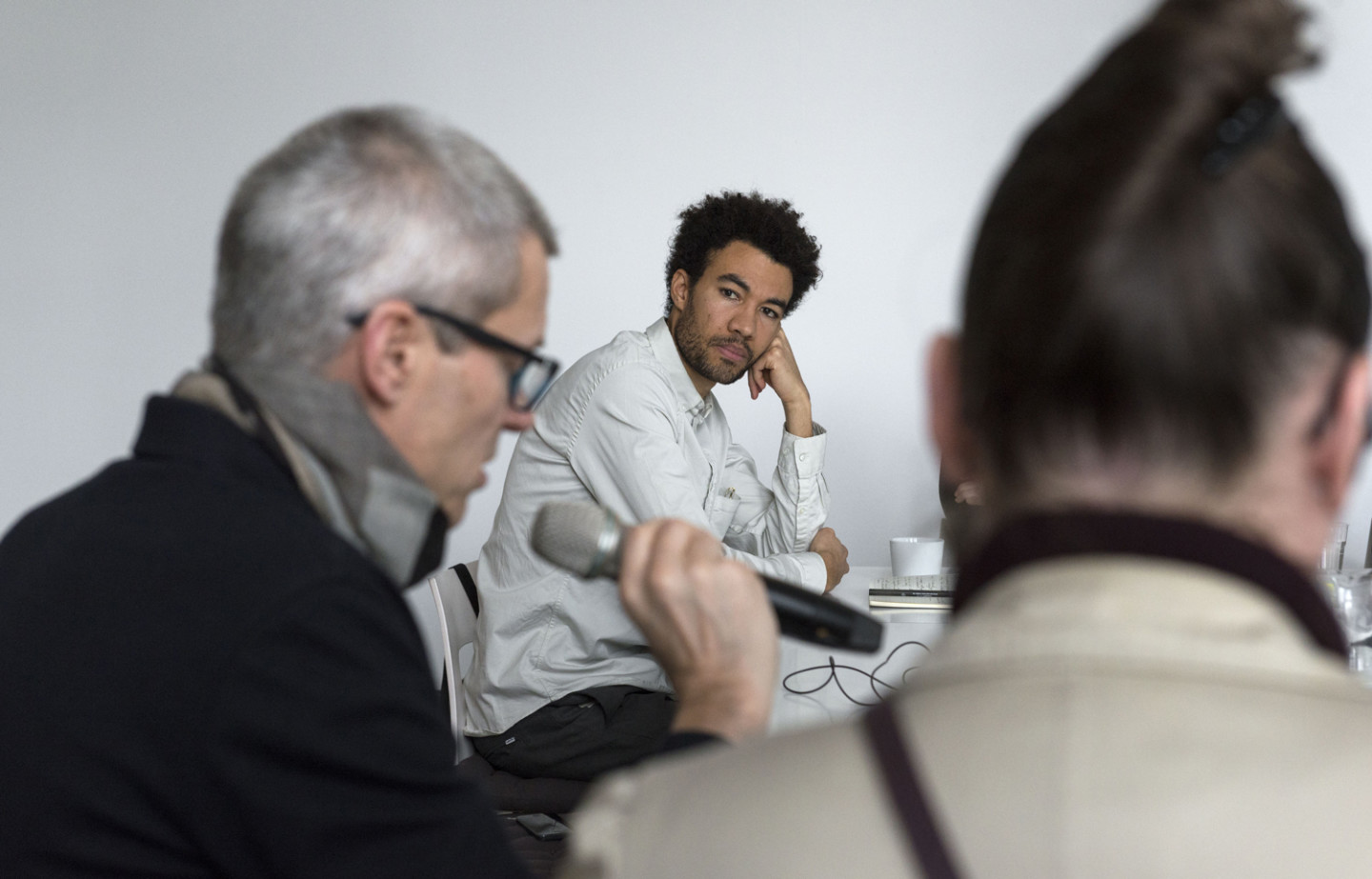 The Moderna Exhibition as an opportunity to reflect on Swedish society
JL: Some of the tendencies brought up in the seminar days will be reflected in the exhibition. For instance, the growing interest amongst artists to engage with their immediate surroundings, exploring historic events that have shaped their own communities. Instead of portraying big events taking place far away, many more artists today choose to 'dig where they stand' – with the consequence that land that might have previously been considered neutral or even innocent suddenly appears as loaded and riddled with conflict.
SM: The geographer David Harvey writes that, "The elaboration of place-bound identities has become more rather than less important in a world of diminishing spatial barriers to exchange, movement, and communication," and we found this to be true for many artists we met. This new awareness affected our work with the exhibition as a whole. Instead of thinking about the Moderna Exhibition as a survey of the most prominent artists in Sweden at the moment, we began to see it as a means of looking at Swedish society – its history, its current state and its relations to the world around it – via these compelling art practices.
JL: And in light of the times we are currently living in – an age of fear and suspicion, in which a climate crisis has begun to make itself felt and antidemocratic and populist forces are being nourished by human frailty while also fomenting racism and homophobia – it also felt critical to provide space for artists working from a place of historical and socio-political dedication.
Selection of artists around a few themes
JL: We want to thank all the artists who invited us into their studios and shared their practices with us. For the Moderna Exhibition we have focused our selection around four main themes that, as a whole, reflect the key points of interest between ourselves and the artists, writers, curators, and other practitioners that we met. A number of other artists are included in the publication we are making together with Iaspis / The Swedish Arts Grants Committee. In it, nearly 60 practices will be highlighted. The thematic groupings found throughout the exhibition are presented here, alongside important artists who take us in other directions.
Buy the publication: Webshop: In & Beyond Sweden: Journeys through an Art scene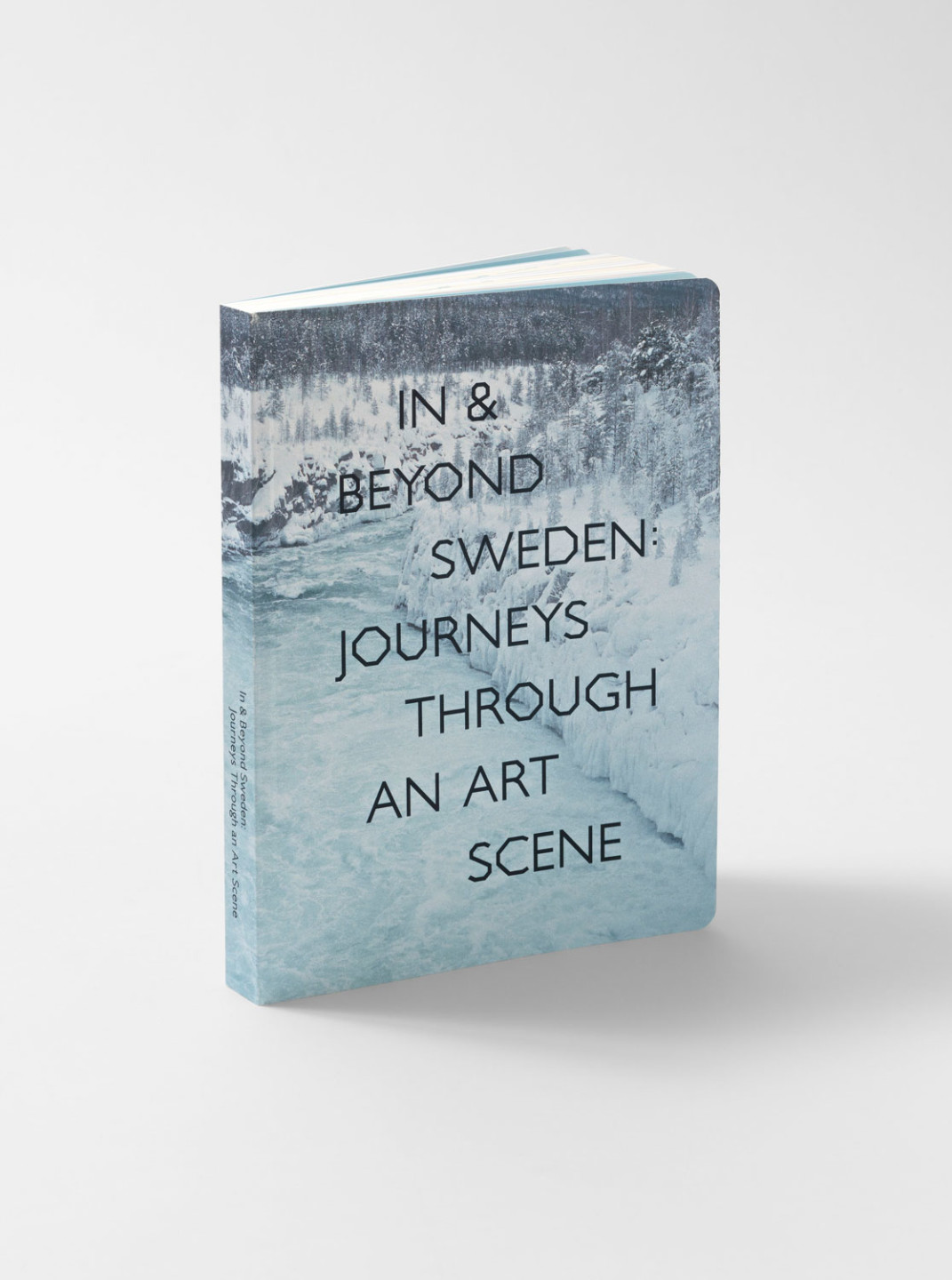 SM: So rather than presenting a survey of the most prominent Swedish artists active at the moment, we have created an exhibition that is alive to the realities of its own time and place, and engaged with the possibilities of art to generate conversations, make us rethink our standpoints, and possibly even see the world anew.
JL: We hope that the Moderna Exhibition 2018, with its diversity of artistic viewpoints, will inspire thoughts and discussions about Swedish society today, and more broadly about what it means to be human – historically, in the present day, and with an eye towards the unknowable future.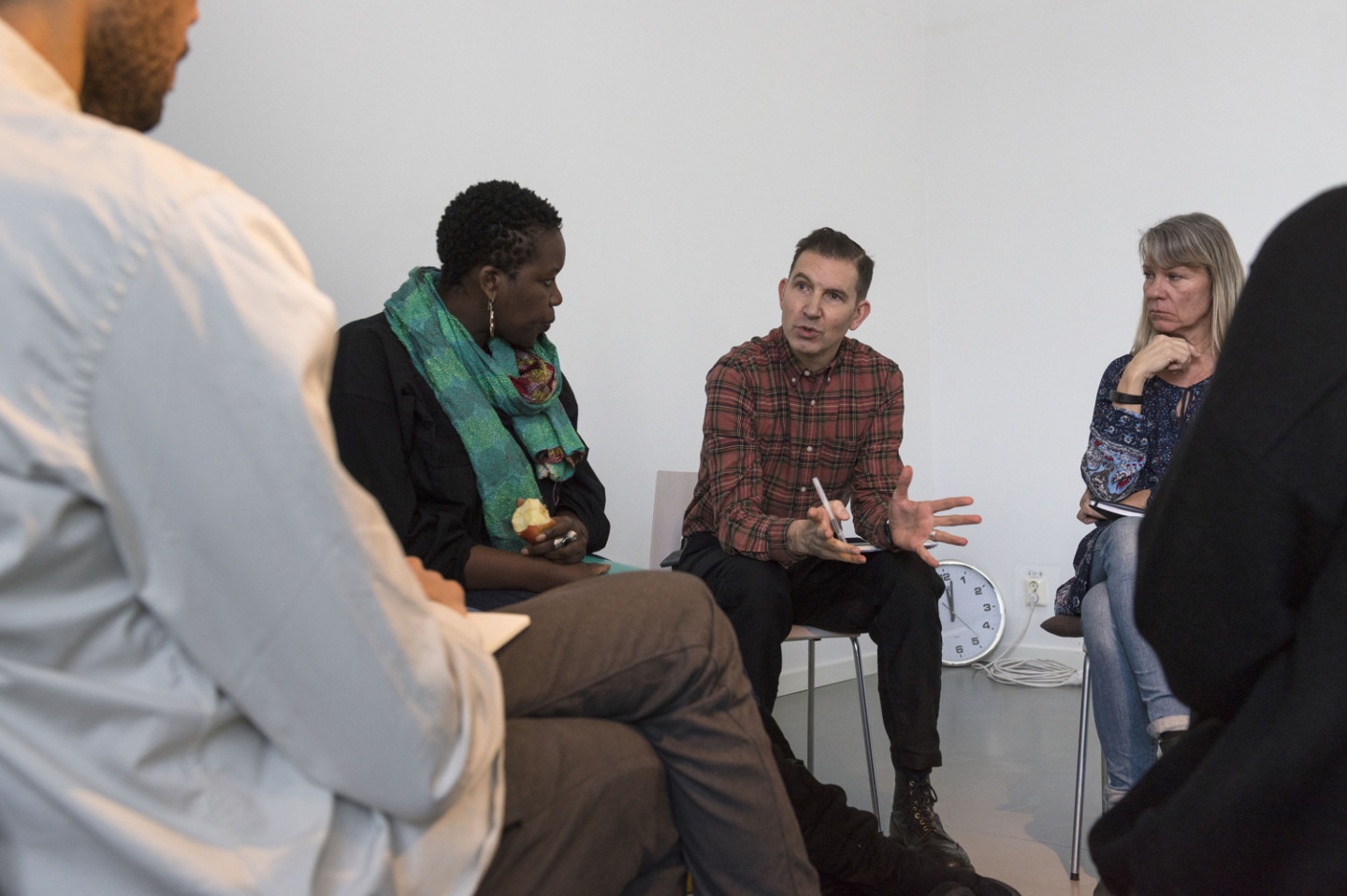 Many have participated in the work leading up to 2018 Moderna Exhibition
We would like to thank all the invited art experts who together form the Artistic Council of the Moderna Exhibition. Many thanks for sharing your valuable knowledge at the seminar days in Malmö, Gothenburg, Stockholm and Umeå:
Miriam Andersson-Blecher, Kunsthall director and Anneli Bäckman, curator at Botkyrka Konsthall; Maria Arusoo, director of the Center for Contemporary Arts, Tallinn, was invited to Iaspis as an expert in the field of visual arts in 2016; Julia Björnberg, curator at Ystad Art Museum and Ellen Sunesson, art historian, art teacher and freelance curator; Fanny Carinasdotter, artist and art consultant Västerbotten County; Stina Edblom, artistic director of Göteborgs Konsthall; Alexandra Ellis, curator at Sune Jonsson Center for Documentary Photography, Västerbotten Museum; Ulrika Flink, curator at Grafikens Hus in Mariefred; Nav Haq, curator at MHKA–Museum of Contemporary Art in Antwerp. Haq curated GIBCA 2017 in Gothenburg and was also invited to Iaspis as an expert in the field of visual arts; Albin Hillervik, freelance curator active in Skåne; Anders Jansson, director of Skellefteå Museum and MAN Museum Anna Nordlander; Richard Julin, artistic director of Accelerator, Stockholm University; Hicham Khalidi, curator at Lafayette Anticipations, Fondation d'Entreprise Galeries Lafayette, Paris. Was invited in 2016 by Iaspis as an expert in the field of visual arts; Moa Krestesen, curator at Umeå municipality; Karin Kvam, art consultant Jämtland County; Ingela Lind, art critic; Anna Linder, artist, curator and researcher for the project "Queer moving images"; Annika Lundgren and Johan Forsman, artists and artistic leaders of Skogen in Gothenburg; Jan-Erik Lundström, curator and former museum director. Previously working at the Bildmuseet in Umeå and at the Sami Center for Contemporary Art in Karasjok, Norway; Magdalena Malm, director of the Public Art Agency Sweden; Mariangela Mendez Prencke, curator at Röda Sten Konsthall in Gothenburg; Elisabeth Millqvist, operations manager and artistic director of Wanås Konst; Åsa Nacking, director of Lund Konsthall; Andreas Nilsson, curator of "The Moderna Exhibition 2014", Moderna Museet Malmö; Temi Odumosu, art historian and researcher at Malmö University; Filipa Oliveira, curator, writer and since 2015 artistic director of Fórum Eugénio de Almeida in Évora, Portugal. Was invited last year by the Iaspis program as an expert from the visual arts field; Corina Oprea, artistic director of Konsthall C in Farsta; Helena Persson, director of Norrköping Konstmuseum and Helena Scragg, curator at Norrköping Konstmuseum; Katarina Pierre, director of Bildmuseet in Umeå; Katarina Pirak Sikku, artist and researcher at the Centre for Gender Research at Uppsala University; Johan Pousette, director of Iaspis; Maria Ragnestam, director of Konstmuseet i Norr, Kiruna; Andreas Ribbung, artist and artistic director of Supermarket in Stockholm; Frida Sandström, art critic and freelance curator; Helena Selder, artistic director of the Baltic Art Center in Visby; Christian Skovbjerg Jensen, head of Inter Arts Center in Malmö and founder/curator for Somewhere, a new initiative for public art in Copenhagen; Aftab Soltani, artist and project manager for the Ortens Art Festival in Gothenburg; Liv Stoltz, educator at Göteborgs Konsthall; Hans Sundvall, director of Luleå Konsthall; Elena Tzotzi, curator, writer and one of the leaders of the Signal–Center for contemporary art in Malmö; Dragana Vujanović Östlind, chief curator at Hasselblad Foundation in Gothenburg; Anja Öhrn and Sara Edström, artists and directors of Galleri Syster in Luleå; Lena Ylipää, artist and art consultant Norrbotten County; Niclas Östlind, curator, researcher, and responsible for the Master of Fine Arts Programme in Photography at the Valand Academy in Gothenburg.
The fact that the four full-day seminars could at all be executed on such short notice depended entirely on a committed and energetic co-operation between four institutions: Malmö Konstmuseum, Göteborgs Konsthall, The Swedish Arts Grants Committee/Iaspis in Stockholm and Bildmuseet in Umeå. A big thank you to our amazing co-organisers: Stina Edblom, director, Göteborgs Konsthall; Cecilia Widenheim, director and Sofia Landström, curator, Malmö Konstmuseum; Katarina Pierre, director and Lisa Lundström, curator, Bildmuseet in Umeå; Johan Pousette, director and Lena Malm, project coordinator, Iaspis. And also a big thank you to Catrin Lundqvist, curator, Moderna Museet.