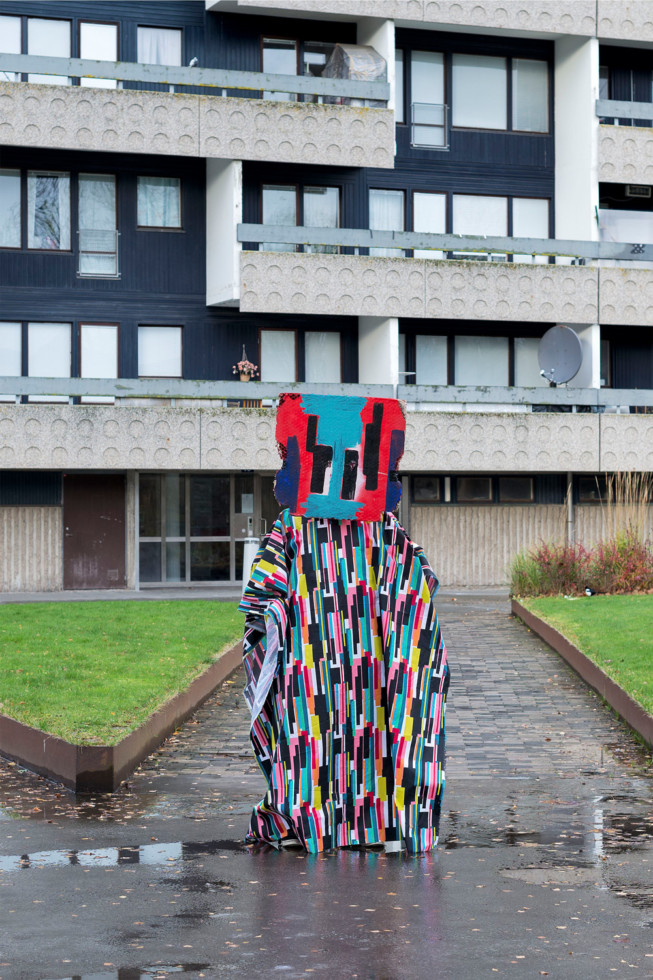 The Moderna Exhibition 2018
With the Future Behind Us
20.10 2018 – 6.1 2019
Stockholm
It's finally here again. Curated by Joa Ljungberg and Santiago Mostyn, the 2018 edition of The Moderna Exhibition presents the work of nearly forty artists connected to the Swedish art scene, offering both sober and intimate reflections on Swedish society today, on a natural world that is no longer what it once was, and a future that appears to have already begun.
The Moderna Exhibition is a large-scale project that the museum presents once every four years. Several artists in the 2018 edition look back at Swedish history and explore the events that have shaped and reshaped society. Other artists highlight alternative experiences of living in Sweden today. And in the midst of these local standpoints, the exhibition incorporates geographically distant perspectives that, in different ways, impact our lives here and now.
The human body is tangibly present throughout the exhibition – surveilled and registered, caught between legal and geographic boundaries, and shaped by ideologies, technologies, power structures and norms. Also palpable are the remnants of nature, transformed beyond recognition to make way for vast industrial tracts of land where time passes ever more rapidly.
In a more hopeful direction, we encounter the search for an existence and a sexuality unencumbered by patriarchy, consumerism, and religious heritage, with new approaches to understanding oneself as a more integral part of a cosmological whole. The hierarchy of man, animal and plant is reinterpreted and renegotiated in novel ways, opening up the potential for imaginative new forms of communal understanding.
What is The Moderna Exhibition?
The Moderna Exhibition is a recurring exhibition format featuring between thirty and fifty artists. Once every four years, you are invited to experience a comprehensive presentation of important aspects of the contemporary Swedish art scene. The first edition of The Moderna Exhibition took place in 2006 and this fourth edition will feature both a major exhibition and a rich programme of performances, film screenings, and artist talks.
Read more: Performance by Dinis Machado
Read more: Opening day The Moderna Exhibition 2018
Films on The Moderna Exhibition 2018
This playlist collects films produced in connection to The Moderna Exhibition 2018. Here you find documentation of converations and performances as well as lectures and shorter films.
How were the participating artists selected?
To select the artists for the exhibition, the curators of the 2018 edition made an extensive and geographically widespread series of studio visits with artists in and around Sweden. They also organised four seminar days in Malmö, Gothenburg, Stockholm, and Umeå respectively, bringing together some forty curators, scholars, and museum directors to present their insights and reflections around important contemporary tendencies. These seminars were made possible in close collaboration with Malmö Konstmuseum, Göteborgs Konsthall, Bildmuseet in Umeå and the Swedish Arts Grants Committee/Iaspis in Stockholm.
Read more: Research and selection
Publication on the Swedish art scene today
In connection to The Moderna Exhibition, a publication will be co-produced with the Swedish Arts Grants Committee/Iaspis. This book will present the practises of close to sixty artists that make up a vital part of the Swedish art scene today. These practises are partially aligned to the themes of the exhibition, but will also give a broader view of key tendencies.The publication will also include essays that highlight issues of critical importance for art, society, and the planet.
Buy the publication: Moderna Museet's webshop
What do we mean by "the Swedish art scene"?
Artists active in Sweden today may have a background in one or many other countries and cultures. Some have been living in Sweden for just a few years,  others considerably longer. There are Swedish-born artists based in other parts of the world, and artists who live and work outside of Sweden but did all of their studies here. The boundaries, then, of the "Swedish art scene" do not match the national borders, although within this scene, we find many content-related connections to the Swedish state, its histories, its civic and educational systems, and its relations to the rest of the world.
Participating artists
Meriç Algün, Muhammad Ali, Emanuel Almborg, Ragna Bley, Alfred Boman, Kalle Brolin, Fanny Carinasdotter, Anja Örn & Tomas Örn, Kah Bee Chow, Rebecca Digby, Sven X-et Erixson, Malin Franzén, Mark Frygell, Erik Mikael Gudrunsson, Thomas Hämén, Ingela Ihrman, Sara Jordenö & Amber Horning, Hanni Kamaly, Mårten Lange, Helena Lund Ek, Dinis Machado, Éva Mag, Eric Magassa, Tor-Finn Malum Fitje with Thomas Hill, Britta Marakatt-Labba, Fatima Moallim, Åsa Norberg & Jennie Sundén, Ida Persson, Anna-Karin Rasmusson, John Skoog, Anders Sunna, Cara Tolmie, Anna Uddenberg, Sophie Vuković, Knutte Wester, John Willgren and Christine Ödlund.
Read more: Participating artists
Opening day
Saturday 20 October 2018
The first day of the Moderna Exhibition offers performances by John Willgren, Fatima Moallim and Ingela Ihrman. You can also listen to artist talks with Britta Marakatt-Labba, Eric Magassa, Sara Jordenö and Ingela Ihrman, and the curators Joa Ljungberg and Santiago Mostyn. The curators will also introduce the exhibition. The day is rounded off with a lecture by Marina Gržinić in the Auditorium. Welcome to an activity-packed opening day!
Read more: Opening day The Moderna Exhibition 2018
Performance and film programme
Performance by Dinis Machado
Performance "Site Specific for Nowhere" by Dinis Machado, performed by Machado himself.
Date and time:
Sundays 21 October–6 January (except 4 November) at 14.00 and 16.00
Tuesdays 23 October–18 December at 13.00 and 18.00
Place: between the foyer and the exhibition, floor 4
Price: free admission
Booking: no booking required
Duration: ca 45 min
Read more: Performance by Dinis Machado
Film programme in the Cinema
With works by Cara Tolmie, Sophie Vuković, Tor-Finn Malum Fitje and Thomas Anthony Hill.
Date: Saturdays and Sundays 20 October 2018–6 January 2019, as well as every day between 26 December 2018 and 6 January 2019.
Time: at 12.00–17.15
Place: the Cinema, floor 2
Language: Swedish and English
Price: free admission
Booking: no booking required
Read more: Film programme in the Cinema
Art Adventure, from 5 and up
An art advernture is a family tours for kids and adults to do on your own in our exhibitions. Ask at the information desk on floor 4, and get ready for an exciting art adventure! From 5 and up (accompanied by an adult).
The exhibition is on the 4th floor