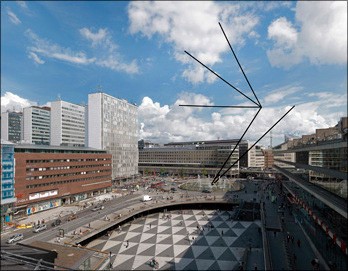 The right proportions. On Olle Bærtling's monumental projects
"Everything is movement, everything moves. There is no stable point in the universe." The words are from the introduction to Olle Bærtling's "Prologue from a Manifesto for Open Form" and reveal both the artist's fascination for space and for phenomena such as motion and speed. The quote is also indicative of the era that shaped his approach to art.
In the period after the Second World War people envisioned a new future, where the regeneration of central Stockholm was the biggest Swedish project. The top priority was traffic; everything possible should be done to facilitate access for cars. A utopian world where outer space was the next stop was within reach. Development was already halfway into the future, people felt, a future that demanded new shapes and new art.
Olle Bærtling and David Helldén, the architect who designed the tall buildings at Hötorget in Stockholm, had collaborated in the late-1950s in designing the entrance lobby for the first building (the one right by Hötorget). The walls of this complex space were completely covered with Bærtling's characteristic paintings, creating a dazzling unity in which architecture and painting are merged. Bærtling and Helldén called the lobby "the aesthetic space" and it is still there to be seen, after slight refurbishment.
Encouraged by this collaboration, Olle Bærtling sketched a sculpture for the super-ellipsis on the planned Sergels torg plaza (which celebrates its 40th anniversary in 2007). After a few drafts, he settled for Asamk, a monumental sculpture measuring 84.7 metres, or rather, a 77-metre sculpture on a 7.7-metre base, that would "shoot off into space". In its design, Asamk is typical of Bærtling's sculptures: it is comparable to the outlines in his paintings that appear to have moved away from the fields of colour.
Olle Bærtling produced Asamk in one-tenth of the intended size, a 7.7 metre "model" that was shown in the Aspects exhibition at Liljevalchs konsthall in 1961, and which will be standing outside the Moderna Museet entrance throughout this exhibition (it normally stands outside the Museum of Sketches in Lund). He also made a 1:50 model of the sculpture, which was placed and photographed in the large model of the plans for Sergels torg. That was the closest Asamk ever got to being realised. In 1962, the City of Stockholm launched a competition to design a sculpture for Sergels torg. Seven artists were invited to participate, but not Bærtling. The winner was Edvin Örström's glass obelisk.
The story of Asamk is characterised by a conflict between an artist's vision and a clay-footed, conservative society (although, compared to our times, one can only say that it was radical and progressive). In later interviews, Bærtling repeatedly referred to the petty-minded attitude he experienced in Sweden and rarely missed an opportunity to mention the far more open-minded attitude abroad, not least in the USA and West Germany, where they showed greater interest in his monumental projects. Nevertheless, he continued to plan monumental sculptures for Sweden, especially the Stockholm region. He envisioned a 73-metre version of Xyya placed on top of the Wenner-Gren Center, and an incredible 525-metre Yayo rising from the waters of Riddarfjärden.
There is an undeniable air of megalomania about Bærtling's monumental projects. Planet Earth was not big enough for him; outer space was alluring, as his proposal for a complete refurbishment of Arlanda Airport to give it a more "futuristic" rather than traditional design, clearly demonstrates. Bærtling was forever heading towards the future. Rumour has it that his most scathing criticism of a work of art was to call it "old-fashioned".
Olle Bærtling's unbending trust in the future is a vital key to understanding his monumental projects. Technically, it would probably have been impossible to erect Asamk in the 1960s, and it is doubtful whether any engineer would dare to take responsibility for building such a sculpture even today. Nevertheless, Bærtling was convinced that new technical solutions were just around the corner, and perhaps even saw it as his responsibility to propel art towards new, daring technically challenging goals.
He shared this belief in technology with many of his peers, including the American minimalists. The American artist and critic Donald Judd, who would later be seen as one of the key representatives of minimalism, was also fascinated by Bærtling, an issue that John Peter Nilsson and David Raskin explore in the exhibition catalogue, Olle Bærtling – en modern klassiker.
Donald Judd described his own objects as neither sculpture nor painting, but claimed that they were more closely related to painting than to sculpture. In his essay "Specific Objects" (1965), he argues for the use of objects that are "specific", that is, things that already have a definite purpose. This could refer to the measurements of wooden slats, the format of sheet metal or the colour of strip lighting. "If they are used directly, they are more specific," Judd wrote.
This pragmatism, which involves using a new material to create art and not being restricted to established techniques, lay close at hand for Bærtling: the newer the better. Judd's arguments for an art in between painting and sculpture are also reminiscent of Bærtling's ideas.
What Olle Bærtling meant with his concept of "open form" was, among other things, that his paintings were not limited to the frame of the canvas. Instead, painting should be regarded as "coloured light", and the edge of the canvas merely a practical boundary that the work of art strives to transcend. Bærtling's sculptures are no different; they resemble the outlines of the colour fields in his paintings and should be seen as drawings encompassing the surrounding space. In other words, neither his paintings nor his sculptures are limited to their material: both strive to become spatial compositions. "I make no difference between my paintings and my sculptures – they are children of the same spirit," Bærtling writes in his "Prolog ur ett manifest till öppen form".
A crucial element in American pragmatism was to see a material for what it was, an aspect that did not particularly interest Bærtling. For him, art was more about immaterial values. A monumental sculpture was, of course, highly manifest, but what Bærtling wants us to acknowledge in his works is the new era, the magnificent immateriality of the space age. That is why his sculptures strive towards the heavens; his sculptures only work in the right way with the sky as their backdrop. The present age has to be blotted out, or overwhelmed, by producing the sculptures on such a large scale that the surroundings do not encroach upon them.
Olle Bærtling did not create any new sculptures after 1972, and it could be said that he moved on to regarding them as architecture. Bærtling and David Helldén designed a few more buildings together, all based on a similar, arrow-shaped construction. This design, which perhaps most of all resembles a colour field in one of Bærtling's paintings, recurs in several planned projects, such as the "space auditorium" for Stockholm University, the Palais des Fêtes, and the parliamentary building designed for Düsseldorf. For the last-named of these, Bærtling also designed a 230-metre communication tower, based on his sculpture Yayao from 1971.
The Yayao shape is recognisable also in Olle Bærtling's last major project. Together with the architect Gerd Fesel, he designed a TV tower in 1978 that was intended for an artificial atoll outside Abu Dhabi. The tower would extend 300 metres from sea level and be crowned with an artificial pool of water. In a drawing that serves as a kind of frontispiece for the description of the project, the tower is shown next to a pyramid. "Attached to the earth" says the writing next to the pyramid. "Attached to space" is written next to the tower.
Olle Bærtling's collaborations with architects, and his ideas on future "spatial" compositions, have idealistic and utopian undertones. This sets him apart from the American pragmatists. Instead, there is an obvious link to European contexts, where representatives of different art disciplines formed groups with a shared interest in issues of spatiality. Bærtling was active in both Groupe Espace in France, and Aspect (a society for inter-disciplinary art) in Sweden, together with architects, artists and other artistic practitioners. Incidentally, it was at the Aspects exhibition at Liljevalcs konsthall that Asamk was exhibited in 1961.
Organisations such as Groupe Espace and Aspect paved the way for collaborations between artists and architects that impacted on public spaces and housing estates. However, Olle Bærtling was not involved in any of the major commissions. His biggest assignment was the large curtain at Kulturhuset, which can still be seen there, albeit in a smaller format.
Towards the end of his life, Olle Bærtling engaged in a comparatively intimate format of painting on the one hand, and magnificent monumental architecture on the other. These two apparent opposite poles have something vital in common: both in his monumental projects and in his paintings Bærtling was able to develop the ideal world he believed the future held. He sought to try out different forms that he believed were ultimately inherent in human nature: "Art should express the endless wealth of the human mind."
Olle Bærtling's art is always about testing future form. There is a series of photographs that makes this abundantly clear while giving human proportions to his idealism. The photos show Bærtling moving his sculptures with a forklift truck on the Högdalen industrial estate and lifting them up to the sky to see what they would look like. In this activity contemporary pragmatism meets futuristic idealism; among scrap heaps and factories Bærtling used one of the most rudimentary devices in order to look into the future. It is foolish, visionary and profoundly human. The space age was still far away.