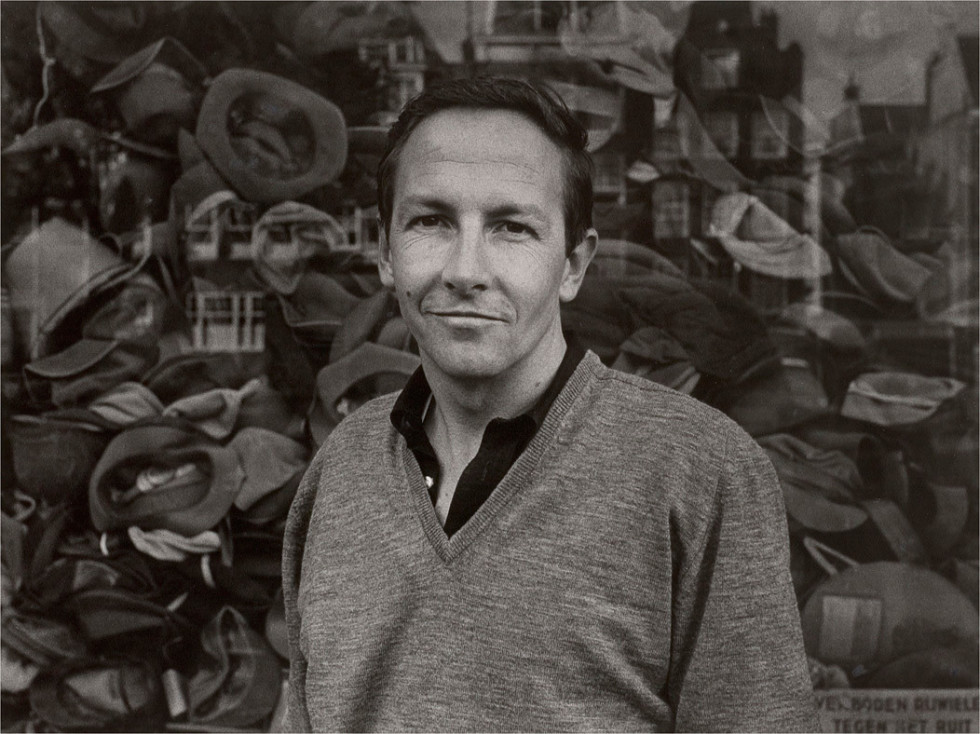 Biography Robert Rauschenberg
1925 Born on 22 October in Port Arthur, Texas as Milton Ernest Rauschenberg.
1944  Enlisted in the army and stationed at the Marine Corps Base Camp Pendleton rehabilitation unit in San Diego.
1947 Began studying at the Kansas City Art Institute through the GI Bill (for the readjustment of ex-servicemen).
1948 Studied at the art school Académie Julian in Paris. Returned to the USA and enrolled at the Black Mountain College, North Carolina, studying under the artist Josef Albers, erstwhile teacher at the Bauhaus school in Weimar.
1949 Returned to New York, registered at the Art Students League.
1950 Married the artist Susan Weil, whom he had met two years earlier. Their son Christopher was born in
1951, and the couple divorced the following year.
1951 Created his first White Paintings and Black Paintings. Together with Susan Weil created the series Blue Print: Photogram for Mural Decoration. First solo exhibition, at the Betty Parsons Gallery, New York.
1952 Studied under and became friends with John Cage and the choreographer Merce Cunningham at Black Mountain College. Travelled to Rome with the artist Cy Twombly.
1953 After returning to New York, became close friends with Jasper Johns and collaborated with him for many years.
1954 Began working with the Merce Cunningham Dance Company, designing costumes, lighting and sets. Incorporated objects and reproductions in his Red Paintings and created Charlene, considered now to be his first combine. Exhibited his first combines at the Egan Gallery, New York.
1958 Solo exhibition at the Leo Castelli Gallery, New York. Began experimenting with his Solvent Transfer Drawings.
1960 Met Jean Tinguely at the demonstration of his self-destructing machine Hommage à New York at the Museum of Modern Art, New York. Contributed to the work with his own Money Thrower for Tinguely H.T.N.Y.
1961 Participated in Bewogen Beweging, Stedelijk Museum, Amsterdam, which later toured to Stockholm and Moderna Museet under the title Rörelse i konsten (Art in Motion), and finally Bevaegelse i Kunsten at Lousiana Museum for Moderne Kunst, Humlebaek. Solo exhibition at Galerie Daniel Cordier, Paris.
1962 Started working on silkscreen paintings. The exhibition 4 Americans: Jasper Johns, Alfred Leslie, Robert Rauschenberg, Richard Stankiewicz at Moderna Museet, which went on to Stedelijk Museum and Kunsthalle Bern.
1963 First retrospective exhibition at the Jewish Museum, New York, curated by Alan Solomon. First performance of Pelican,choreographed by Rauschenberg at the Judson Dance Theater Pop Festival, Washington. The Swedish artist Per-Olof Ultvedt was his first partner in this performance. Two solo exhibitions at the Sonnabend Gallery, Paris.
1964 Awarded an honorary Golden Lion for painting at the 32nd Venice Biennale. Participated in 5 New York Evenings at Moderna Museet on 8-14 September.
1966 Founded Experiment in Art and Technology (E.A.T.) together with Billy Klüver, the engineer Fred Walthauer and the artist Robert Whitman.
1973 Participated in the exhibition The New York Collection at Moderna Museet with his Mud Muse.
1997 The exhibition Robert Rauschenberg: A Retrospective at the Solomon R. Guggenheim Museum, New York.
2006 Robert Rauschenberg: Combines opened at the Metropolitan Museum of Art, New York, on 20 December 2005, and went on to The Museum of Contemporary Art, Los Angeles and Centre Pompidou in Paris.
2007 Robert Rauschenberg: Combines is showned at Moderna Museet. Robert Rauschenberg lives and works in Captiva, Florida.
2008 Robert Rauschenberg died on 12 May in his home on Captiva Island, Florida.