STOCKHOLM 27-28 mars 2010
CFF i samarbete med Moderna Museet
Plats: Auditoriet, Moderna Museet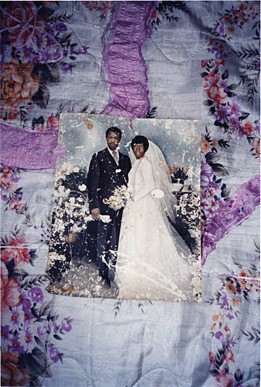 Bertien van Manen
Paris, la Courneuve, 2003
Chez Monsieur Fofana (from Mali)
From: 'Paradise in Boxes',
immigrants in the Paris suburbs
Symposiet Photography Today, Tomorrow erbjuder alla fotografiintresserade en djupdykning i samtida fotografi, sett från en mängd olikartade perspektiv. Med presentationer i två dagar av fotografer, forskare, teoretiker, kritiker, konstnärer, svenska och internationella, erbjuds publiken att ta del av erfarenheter, kunskap, uttryck, frågor och idéer om och i nuets fotografiska praktiker.
De två dagarna har olika fokus och innehåll. Under Dag 1 ställs först och främst frågor kring de aktuella teoribildningarna om fotografi idag, om fotografins estetik och om filosofiska perspektiv på det fotografiska mediet. Centralt i symposiet är att teoretiska bidrag, under båda dagarna, samspelar med fotograf- och konstnärspresentationer. Under Dag 2 ägnas åt forskningsprojekt och presentationer som med olika ingångar undersöker och diskuterar de sätt som fotografier används på idag. Allt från undersökningar och analyser av en rik uppsättning digitala praktiker och nätfenomen/sociala medier till konstnärliga projekt som är aktuella idag. Även under dag 2 är dialogen mellan forskare/historiker och utövare/praktiker/fotografer/konstnärer viktig. Sammantaget ger symposiet en bred bild av nuets fotografiska kulturer.
Photography Today, Tomorrow utgör en final i det omfattande projektet Plattform Fotografi, den genomlysning av samtida fotografi som genomförts med Centrum för Fotografi som huvudman och med Stiftelsen framtidens kultur som bidragsgivare. Plattform Fotografi har hittills genomfört en mängd programaktiviteter, bl.a. en rad föreläsningskvällar som innefattar presentationer av åtta nationers samtida fotografi, fem seminarier med tio inbjudna föreläsare från olika aktuella genrer och yrkesgrupper i dagens svenska fotografi, en omfattande enkät till svenska fotografer, en livaktig och informativ hemsida, fyra månadslånga bloggdiskussioner där olika fotografiska, aktuella teman ventilerats. Finalen är ett tvådagars symposium i samarbete med Moderna Museet med närmare tjugo bidrag och presentationer om den fotografiska bilden idag, både ur utövares, brukares och forskares perspektiv. Symposiet är på engelska.
Moderna Museets samling omfattar cirka 100 000 fotografier från 1840-talet fram till idag. I samlingen ingår bilder av äldre fotografiska tekniker, men till största delen består den av svartvita så kallade gelatinsilverfotografier av svenska och utländska fotografer. På senare tid har samlingen utökats med olika typer av färgfotografi och digitala bilder. Regelbundet genomför museet utställningar med fotografi ur samlingen eller inlånat material. Ansvarig för fotografisamlingen är intendent Anna Tellgren.
---
Medverkande:
David Tomas (CA), Damian Sutton (UK), Dawn Phillips (UK), Pieter Hugo (ZA), Tuomo Rainio, (FI), Ulf Lundin, (SE), Anna Kleberg (SE), Joan Fontcuberta (ES), Anna Tellgren (SE), Karen Cross (UK), Ronald Jones (SE), Håkan Nilsson, (SE), Karin Wagner (SE), Anna-Kaisa Rastenberger (FI), Bertien van Manen (NL), Trinidad Carillo (SE), Johan Willner (SE), Thomas Hämén (SE), Jan-Erik Lundström (SE), Karin Becker (SE).
---
TEMA DAG 1
THINKING PHOTOGRAPHS: TOWARDS A CONTEMPORARY THEORY OF PHOTOGRAPHY
As old as the medium of photography itself, the theory and philosophy of photography is at a crossroads today. Given the rapidly transforming image cultures and visual technologies which define and shape 21st century human communication, given the increasing in-distinction between the still and the moving image, between photographic and non-photographic imagery, the superimposition of analogue and digital paradigms, the proliferation of means and methods of distribution and exchange, new answers to the question "what is photography?" are called for. Contributions explore contemporary thinking about photographs, make proposals towards a 21st century theory of photography, discuss and exemplify contemporary practices in photography. Philosophers, historians, critics, artists and photographers join in the exploration of above topics.
PROGRAM
11.00 – 11.15 Introduction Jan-Erik Lundström
11.15 – 12.00 Damian Sutton, Delay and the glimpse of immanence: urgent, intuitive and productive time.
12.00 – 12.30 Tuomo Rainio, Picturing the unseen – from representation to vision
12.30 – 13.15 Lunch break
13.15 – 14.00 Dawn Phillips, The Photographic Event: Addressing Philosophical Scepticism and Photographic Art
14.00 – 14.45 David Tomas, The practice of a marginal history: Postphotography Beyond and Between the Photographic Image.
14.45 – 15.15 Ulf Lundin, artist talk
15.15 – 15.30 Break
15.30 – 16.00 Joan Fontcuberta, artist talk
16.00 – 16.30 Anna Kleberg, artist talk
16.30 – 17.15 Pieter Hugo, artist talk
17.15 – 17.20 Break
17.20 – 18.00 THINKING PHOTOGRAPHS: TOWARDS A CONTEMPORARY THEORY OF PHOTOGRAPHY with David Tomas, Damian Sutton, Dawn Phillips, Ulf Lundin, Anna Kleberg. Moderator Jan-Erik Lundström
18.00 – 19.00 Bar & Music in Verkstan at Moderna Museet
19.30 Buffé och mingelbar på CFF. För mer information och anmälan: Centrum för Fotografi
Keynotes:
David Tomas, an artist and anthropologist whose conceptually oriented multimedia and photographic works explore the cultures and transcultures of imaging systems, Canada.
Damian Sutton, Lecturer in Historical and Critical Studies at The Glasgow School of Art, where he teaches on photography, cinema and new media, England.
Contributors:
Dawn Phillips, Research fellow in Philosophy at the University of Warwick, England.
Artists/Photographers:
Pieter Hugo, South Africa
Tuomo Rainio, Finland
Ulf Lundin, Sweden
Anna Kleberg, Sweden
Joan Fontcuberta, Spain
Moderator:
Jan-Erik Lundström, Director of Bildmuseet, Umeå, Sweden
Lectures in English
---
TEMA DAG 2
USING PHOTOGRAPHS: FORMS OF PHOTOGRAPHIC COMMUNICATION IN THE 21st CENTURY
The rapidly developing technologies of visual communication that have followed in the wake of the emergent digital cultures, as well as the quickly mutating and proliferating new social media within visual culture, have radically changed and expanded the ways of using and communicating with photographs. What are the consequences of the migration of amateur photography from the physical album to the screen, of the uses of websites for amateur communication, or of the increasing articulation of the photograph as a performance in the present rather than a signifier of the past? How to narrate the contemporary traffic in photographs? What are, indeed, the contemporary uses of photographs? Invited contributors include researchers, thinkers, artists and photographers investigating and articulating ways of using, managing and communicating with photographs in the present.
PROGRAM
11.00 – 11.10 Introduction Karin Becker
11.10 – 11.30 Anna Tellgren
11.30 – 12.10 Karen Cross, Photography and 'The Cult of the Amateur'
12.10 – 12.40 Håkan Nilsson, Imaging photography in the post-media condition
12.40 – 13.10 Bertien van Manen, artist talk
13.10 – 13.50 Lunch
13.50 – 14.20 Karin Wagner, What is everybody else doing right now?
14.20 – 14.45 Johan Willner, Boy stories
14.45 – 15.15 Trinidad Carillo, artist talk
15.15 – 15.30 Paus
15.30 – 16.00 Ronald Jones, I Saw It
16.00 – 16.30 Anna-Kaisa Rastenberger, Show and share – Personal and parental perspectives to the use of images in mobile communication and photo sharing sites
16.30 – 17.00 Thomas Hämén, Photography in virtual landscapes
17.00 – 17.15 Paus
17.15 – 18.00 Using photographs. Forms of photographic communication in the 21st century with Karen Cross, Håkan Nilsson, Karin Wagner, Ronald Jones, Anna-Kaisa Rastenberger. Moderator Karin Becker.
Keynote:
Karen Cross is lecturer in Cultural Studies at the University of Roehampton, London, England.
Contributors:
Ronald Jones is an artist and critic, Professor of Interdisciplinary Studies at Konstfack, University College of Arts, Crafts and Design in Stockholm, Sweden.
Håkan Nilsson is associate professor in art theory at Konstfack, University College of Arts, Crafts and Design and in art history at Södertörn University, Stockholm, Sweden
Karin Wagner is PhD in art history and visual studies from Göteborg University, Sweden.
Anna-Kaisa Rastenberger, Chief Curator at The Finnish Museum of Photography in Helsinki, Finland
Anna Tellgren, Curator Photography, Moderna Museet in Stockholm, Sweden
Artists/Photographers:
Bertien van Manen, Holland
Trinidad Carillo, Sweden
Johan Willner, Sweden
Thomas Hämén, Sweden
Moderator:
Karin Becker, Professor at the Department of Journalism, Media and Communication (JMK) at Stockholm University, Sweden.
Lectures in English