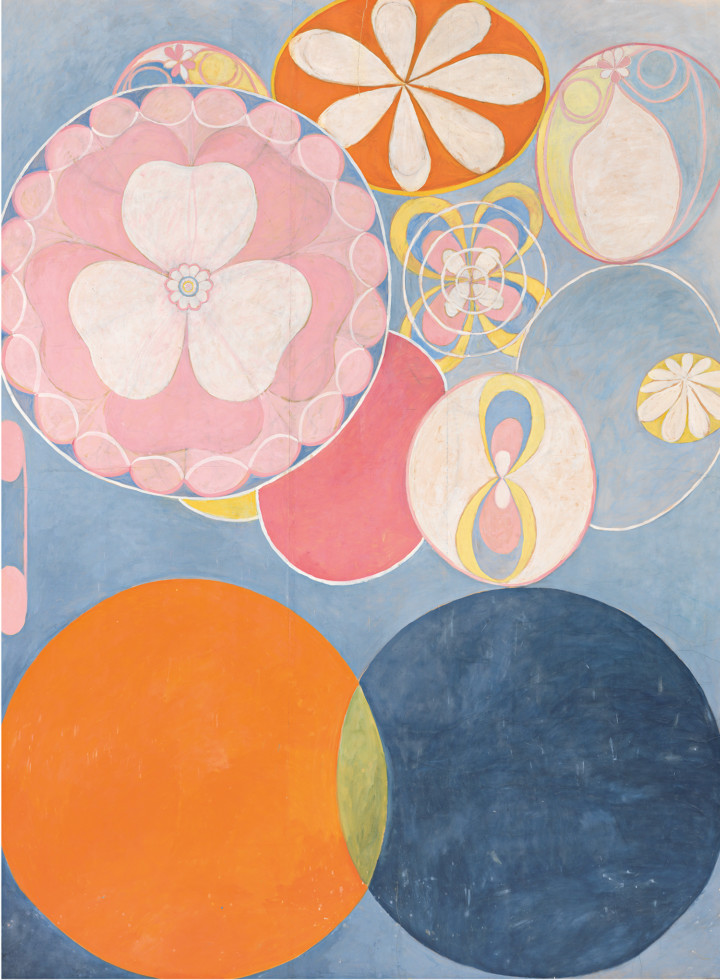 Hilma af Klint
Artist, Researcher, Medium
4.4 2020 – 11.4 2021
Malmö
Moderna Museet Malmö is now giving its visitors an opportunity to become acquainted with the fascinating and ground-breaking Swedish artist Hilma af Klint in a comprehensive presentation. The exhibition presents, among other works, the series "The Ten Largest," which are shown in it's entirety.
In 2013, Moderna Museet presented "Hilma af Klint: Abstract Pioneer", which became the most visited exhibition of a Swedish artist in the museum's history. Since then, Hilma af Klint's work has traveled the world, encountered new audiences, and won new recognition, most recently at the Guggenheim Museum in New York.
The exhibition includes "The Ten Largest" – ten paintings from 1907 in a monumental format and with a color palette that challenged the dominant canon of the day.
The exhibition features further works from the series "The Paintings for the Temple" as well as a selection that examines the artist's research into the natural world and how the visible and invisible worlds are connected. In addition, the extensive exhibition touches on the artist's own thoughts about her work and its various methods.
In conjunction with the exhibition, a comprehensive catalog will be produced.
Curators: Iris Müller-Westermann and Milena Høgsberg.
The exhibition is supported by The Barbro Osher Pro Suecia Foundation.
Admissions
A pre-booked ticket is required for admission to the exhibition, also for children and other groups who have free admission. Without a ticket, it is not possible to see the exhibition.
Admission: 120 SEK
Reduced admission: 90 SEK (for seniors and students)
Free admission every Tuesday at 15-17. Please note that these tickets also must be pre-booked. These tickets will be released every Monday at 00.00.
Always free admission for those 18 and under and Friends of Moderna Museet.
Catalogue
A catalogue is published in conjunction with the exhibition with texts by Iris Müller-Westermann, Milena Høgsberg in conversation with Tim Rudbøg, Hedvig Martin, Ernst Peter Fischer and Anne Sophie Jørgensen. The exhibition catalogue is published in two editions, one in Swedish and one in English. Avaliable in the Shop from the opening of the exhibition.
The exhibition is on both floors