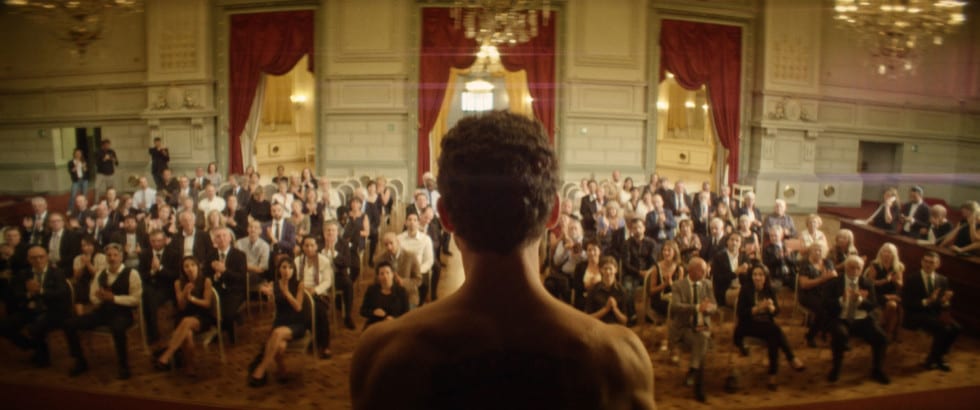 The Film Club: The man who sold his skin
Live-stream for members of the Film Club
7.5 2021
Stockholm
Welcome to a film screening exlusively for members of the Film Club! It's easy to become a member by sending us an email. The membership as well as the screening of the Oscar-nominated "The man who sold his skin" are free.
The man who sold his skin
Live-streamed film screening for members of the Film Club
Date: Friday 7 may, 2021
Time: at 15.00–17.00
Place: online
Language: Arabic, English and French. Swedish subtitles.
To receive a link to the film screening, you must be a member of the Film Club with a registered membership by 7 May at 12 noon.
The man who sold his skin
By Kaouther Ben Hania
104 min
From 11 years old
With Dea Liane, Koen De Bouw, Monica Bellucci, Rupert Wynne-James, Yahya Mahayni.
Become a member!
Do you want information about the Film Club and our screenings? Become a member! Membership is free. Become a member by sending your name and email address to filmklubben@modernamuseet.se (membership communication is in Swedish).
Processing of personal data
To become a member in the Film Club, we need to store your personal data (name and e-mail address). We process your personal data in accordance with the General Data Protection Regulation (GDPR). Read more about how we process personal data here: Moderna Museet's integrity policy
About the Film Club
The Film Club features films and discussions on Friday evenings – at the museum or live-streamed on the web site.
The Film Club resurrected in 2018 and presents films on the boundary between art and documentary. Often, the artist or director will take part in discussions after the screenings. The 2021 spring programme is compiled in collaboration with the Royal Institute of Art and Tempo Documentary Film Festival.
Film has had a prominent position at the Museum since the start. The Moderna Museet Film Club has existed since the Museum opened in 1958, showing everything from children's matinees to the latest experimental art films.
During the 1990's and early 2000's the museum presented international artists in the series Contemporary Film and Video. Other screening have often been held in connection with exhibitions at the museum or in collaboration with The Royal Academy of Art, Filmform, Cinemateket, Tempo Documentary Film Festival, Cinemafrica, Stockholm's Feminist Film Festival, among others.
Previous programme: The Film Club
The Film Club editorial team
Lena Essling, curator, Catrin Lundqvist, curator.
Contact