God Grön
Eat the artwork!
3.6 2022
Stockholm
Jeremy Deller's art action God Grön (Good Green) will take place on 3 June. 10,000 specially-made God Grön Energy Bars will be handed out free in Stockholm, and a climate-smart lunch-of-the-future will be served to some 6,000 school kids. Jeremy Deller's posters will also be seen all over the city, with the aim of raising awareness on the importance of food for a sustainable future.
Food and climate are linked! God Grön is an art action in three parts by the British artist Jeremy Deller. It coincides with the Stockholm+50 conference, where 2,000 delegates, on behalf of the UN, will discuss how to speed up the transition to a sustainable future and achieve the climate goals.
Since the 1990s, Deller has staged social interventions that "disrupt" our notions of public space and emphasise politically-oriented messages. His approach is characterised by collaboration and involving others in the creative process and implementation.
It's an experiment of sorts. I have no set aims as such, just to see what happens. I just want no one to get hurt! – Jeremy Deller
KELP AND INSECTS
Kelp and insects have been part of the human diet since time immemorial. In some places, they are still natural ingredients on the menu, strange as that may sound to many of us in Europe today. It's time to go back to the beginning!
God Grön is an opportunity to share the experience of future's tried and tested food traditions with others, and to reflect on the best way of using the energy that food provides. How can we do more of the good stuff and less of the bad? Together!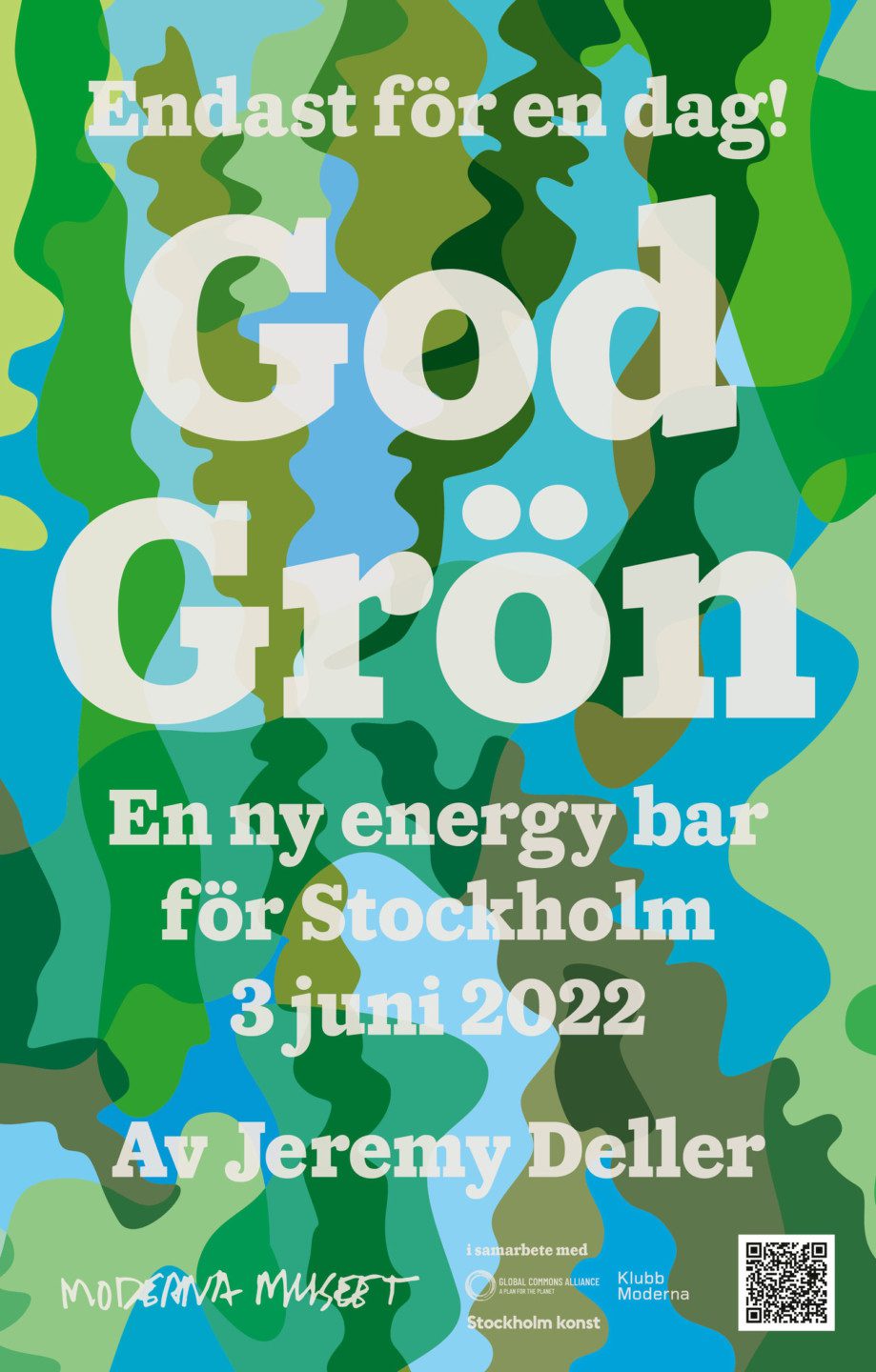 WE ALL NEED TO DO OUR BIT!
Food is key to fulfilling the UN's goals for sustainability and recycling so that we can stabilise the climate and preserve biodiversity. Changed global eating habits also mean that land resources, water, nitrogen and phosphorus would be used at levels that are sustainable for the planet.
Research in this field has resulted in the so-called EAT Lancet Planetary Health Diet.
"Eating healthy food might be the single most important way of contributing to save the planet." says Swedish climate professor Johan Rockström in the documentary Breaking Boundaries: The Science of Our Planet from 2021. In other words: Food is climate!
The latest report from the Intergovernmental Panel on Climate Change (IPCC) highlights the importance of individuals in handling the climate crisis. We all need to do our bit and not expect someone else, somewhere else, to take care of the problem for us.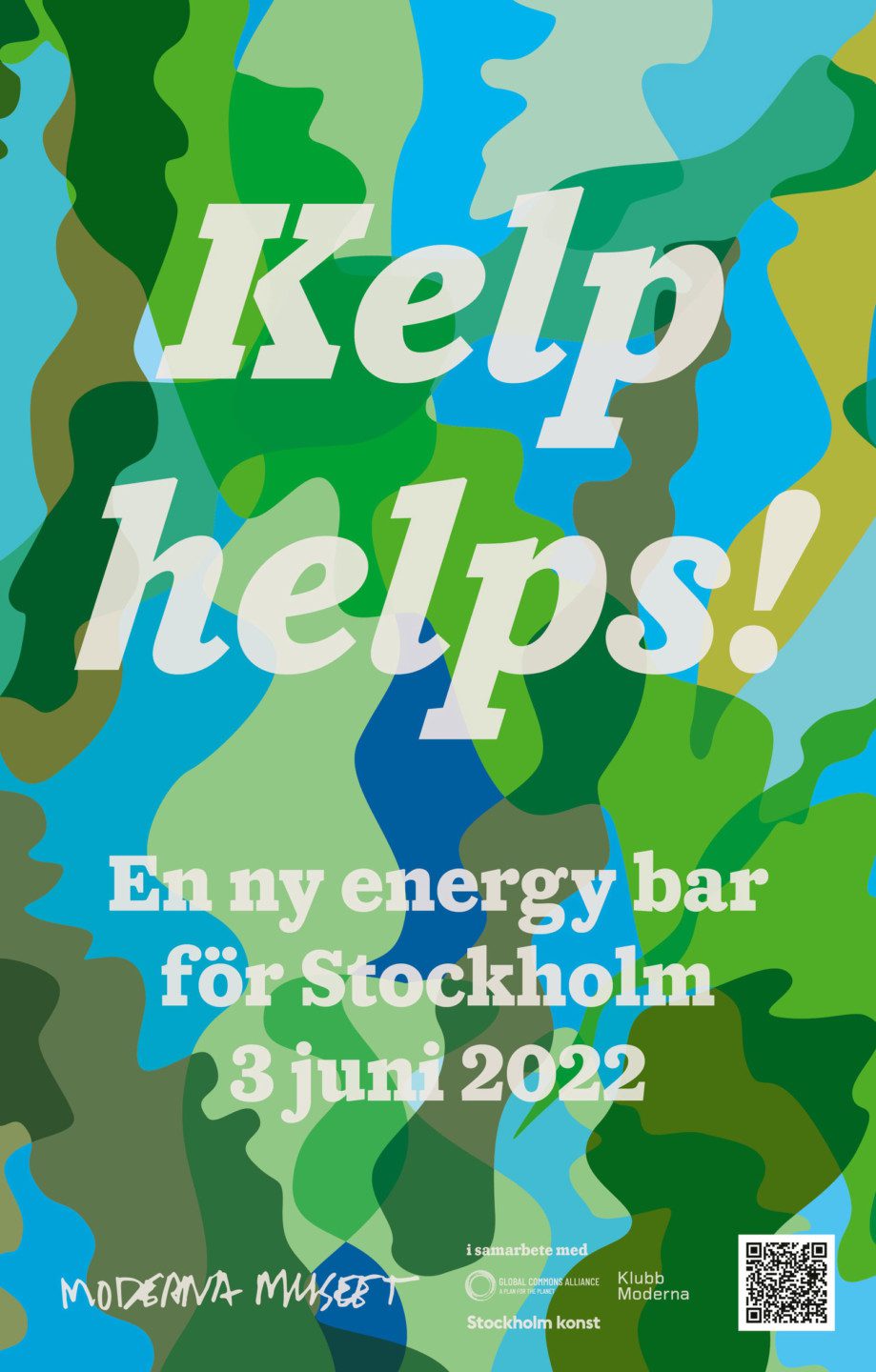 GOD GRÖN ENERGY BAR
The Swedish-made God Grön Energy Bar will only be available on 3 June 2022. The recipe was created in dialogue with Moderna Museet's own chef, Malin Söderström. It contains sugar kelp from climate-smart sea farms, a growing agricultural industry. The package was designed by Jeremy Deller.
Sugar kelp is a great flavouring that adds both salt and umami. It is also packed with vitamins and minerals.
Sugar kelp farms on the Swedish west coast do not use any land. They also benefit other species that flourish in and around the farms. The kelp absorbs both carbon dioxide and phosphorus, and thereby reduces eutrophication.
Here you can pick up your God Grön Energy Bar
God Grön Energy Bar will be distributed as long as they last on Friday 3 June. They are available via our cargo bikes or to pick up at the following places in Stockholm:
• Centralstationen
• Gustav Adolfs Torg
• Stockholmsmässan
• Stockholms universitet
• Moderna Museet
SCHOOL LUNCH FOR THE FUTURE
With a growing world population, we need sources of protein that don't require vast amounts of arable land and water and cause carbon emission. Insects are one such source of protein.
Together with five school dinner managers, Jeremy Deller and Moderna Museet's chef Malin Söderström has created an inspiring recipe for a climate-smart future lunch, which will be served to some 6,000 children in school canteens around Stockholm on 3 June. The meal consists of yellow pea falafel, oats and vegetables. Sugar kelp pesto and granola with insect protein will also be available.
The insect protein in God Grön's lunch for the future is supplied by a producer in Dalarna. Here, Tenebrio Molitor larvae, also known as mealworms, are fed with apple peel from a local cider plant, and eventually become a climate-smart and tasty source of nutrition. The waste is used as plant fertiliser.
Participating schools:
Abrahamsbergsskolan, Campus Konradsberg, Hägerstensåsens skola, Lilla Nacka, Farsta grundskola with Adolf Fredriks musikklasser in Stockholm.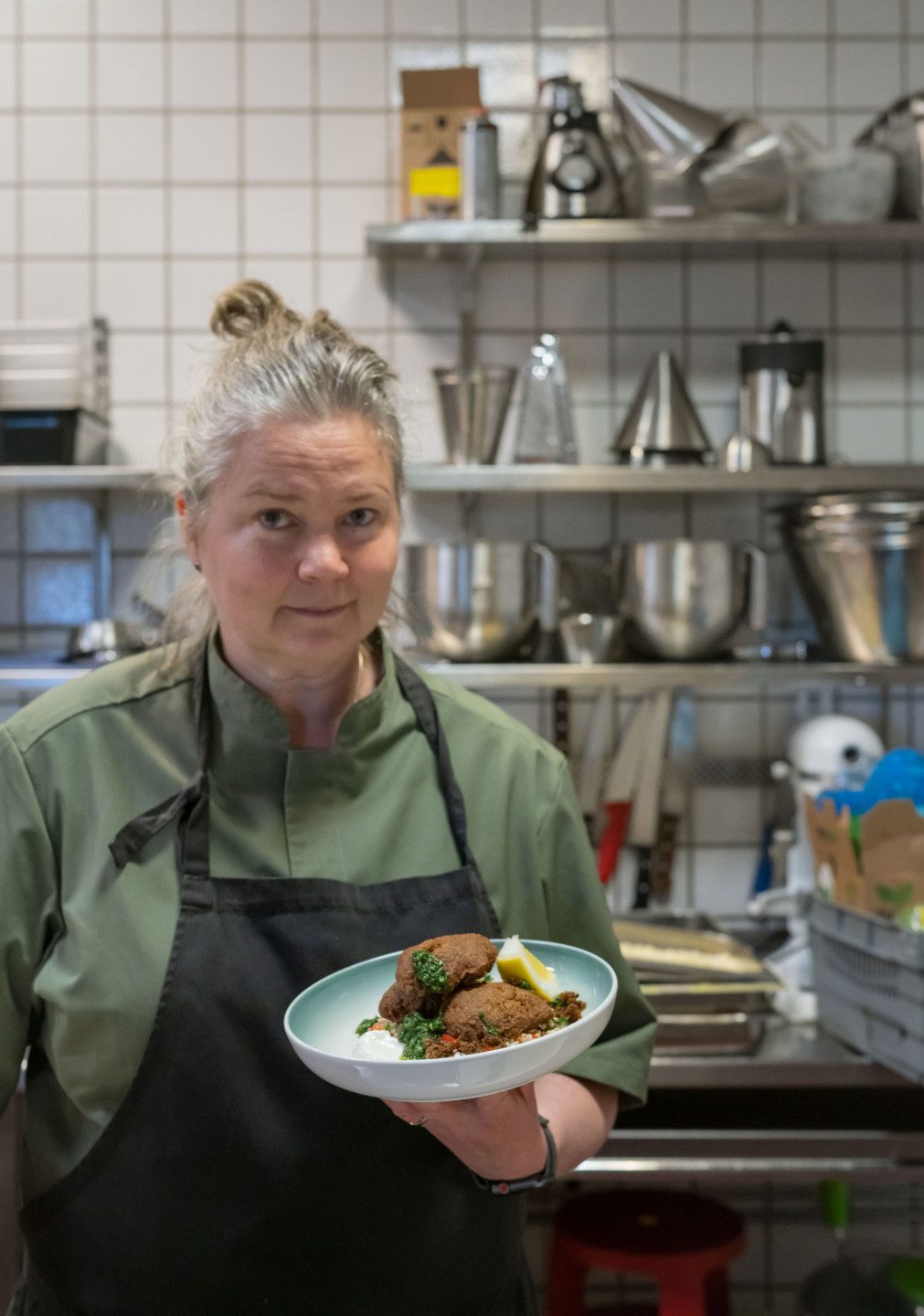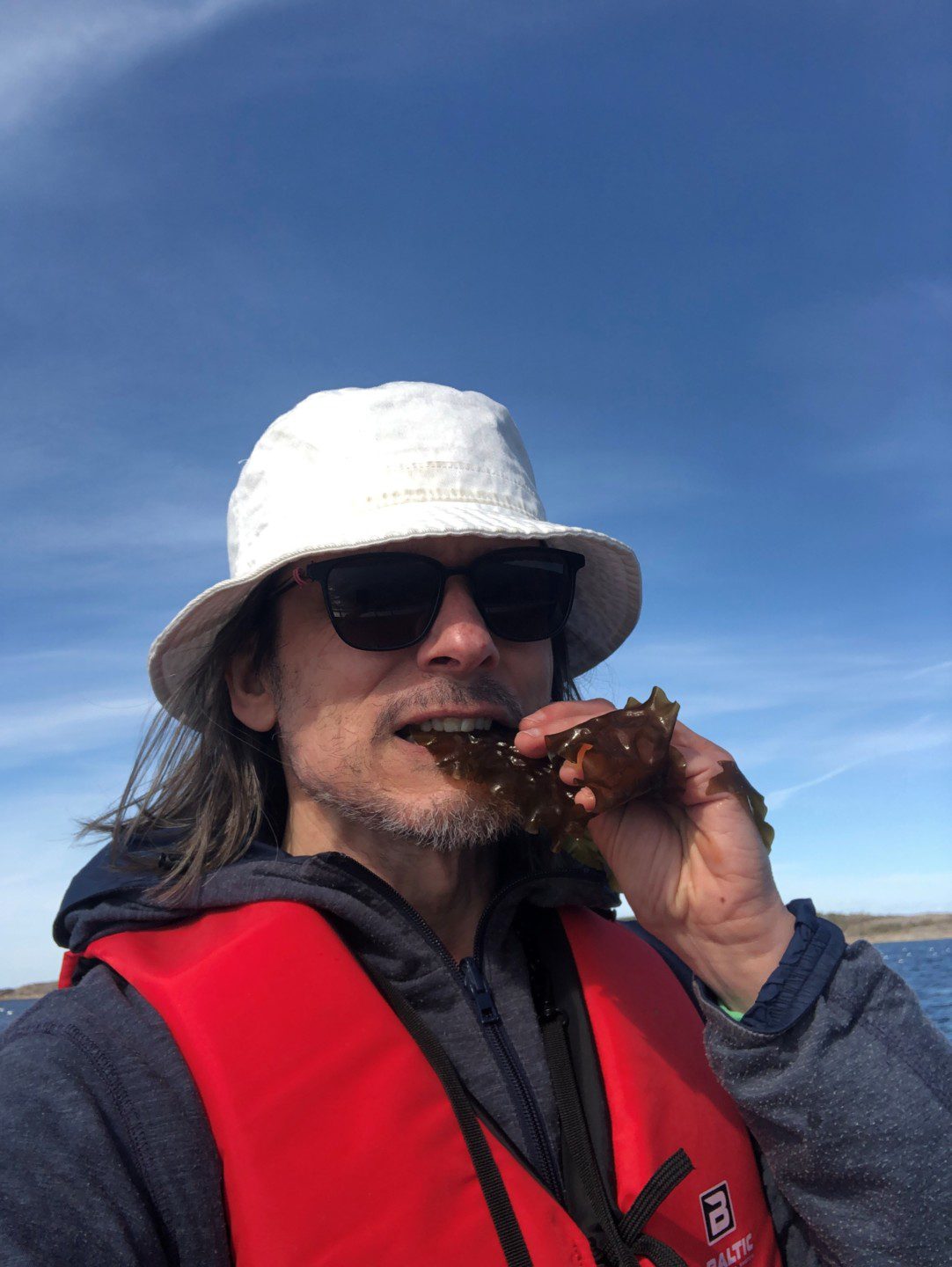 Jeremy Deller
Jeremy Deller (b. 1966) is a British conceptual artist who works in a variety of techniques and media. His practice is characterised by collaboration and often features social and political aspects and an explicit devaluation of the artist ego, involving others in the creative process. Deller was awarded the Turner Prize in 2004 and represented the UK at the Venice Biennale in 2013.
A few of Jeremy Deller's notable works: "Acid Brass" (1997) fused music by a traditional brassband with acid house and Detroit techno; "The Battle of Orgreave" (2001) recreated a violent confrontation from the miners' strike in 1984; "Our Hobby is Depeche Mode" (2002) is a documentary about Depeche Mode fans from all over the world; "We're Here Because We're Here" (2016) gathered thousands of volunteers in a modern memorial marking the centennial of the Battle of the Somme; "Everybody in the Place: An Incomplete History of Britain 1984–1992" (2019) is a documentary about the links between rave culture and political turmoil in Britain in the late 1980s.
God Grön is a collaboration between Museet and the Global Commons Alliance. To strengthen the project's links to research, the Global Commons Alliance organised a meeting between Jeremy Deller and the climate scientists Professor Johan Rockström and Professor Joyeeta Gupta in 2022. Stockholm Konst and Klubb Moderna have helped realise the project.
We are also deeply grateful to: The British Embassy, Stockholm, Nordic Seafarm, Bars Production, Future Earth, British Council, Malin Söderström, EAT, Bugburger, Tebrito and the school dinner managers at the participating schools.
Curator: Ylva Hillström, together with John Peter Nilsson, both from Moderna Museet.