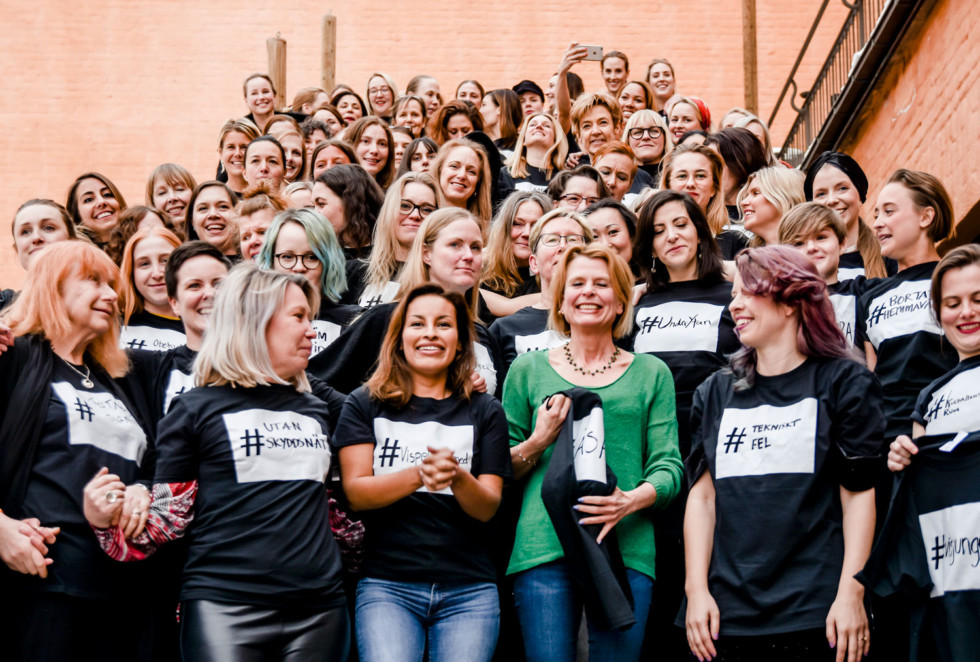 #MeToo Proclamations
Conversation, art and witness statements
16.10 2021
Stockholm
Welcome to a day of activism, witness statements, research, conversations, art, poetry, music, lessons learned and community around #metoo.
People working in theatres, universities, music venues, the church and the police; people who are homeless, artists, politicians and school staff, law firm and hospital employees; from the most vulnerable to people in high offices. All have given witness about abuse, sexual harassment and violence to a degree no one could ever have imagined. Then, in autumn 2017, the #metoo revolution was a fact.
Four years on, it is high time to come together and take stock of the situation. What are the legal ramifications? What methods are used in society to prevent sexual harassment and violence and how are they applied? How do we go on from here?
Listen to witness statements from the proclamations
Meet #metoo proclamation initiators
Listen to art, music and poetry
Share current research on the subject of #metoo
Ask questions and participate in debates
Network
#metoo Proclamations
Date: Saturday 16 October 2021
Time: 11–17.30
Venue: The Auditorium , plan 2 and online
Language: In Swedish
Price: 200 SEK includes all-day programme, seat reservation, vegan lunch and coffee/tea. All events are free when you participate online.
Please note! Registration takes place at 10–12 downstairs at Moderna Museet. Bring your ticket.
This event is only broadcast live and cannot be viewed later.
Programme
11–11.45 Welcome
Witness statements
Read by MCs Sara Zommorodi, Banesa Martinez and Anna Velander Gisslén
Opening statement  
Anne Sörman, chair of Föreningen Samordningen Metoo-uppropen &
Gitte Ørskou, head of Moderna Museet
Song
By Derya Tezcan
#metoo 1967–2017. The personal becomes political
Talk by Ninni Carlsson, violence researcher, Gothenburg University
Skägg (Beards)
Poetry by Alma Kirlic
12–12.45  What can we learn from the research? 
How did metoo activism develop in Sweden? What were the strategies? How did the various proclamations interact with one another, with social and mainstream media and with other public opinion initiatives?
Participants: Hillevi Ganetz, professor of gender studies, Stockholm University and Karin Hansson, associate professor at the Department of Computer and Systems, Stockholm University. All three have participated in a cross-disciplinary research project on metoo activism in Sweden.
Chair: Lisa Salmonsson, sociologist, #akademikeruppropet.
12.45 –13.45 Lunch 
A short pre-recorded guided tour by Catrin Lundqvist, curator, Moderna Museet, about two art works in the exhibition "A room on one's own".
13.45–14.30 Counteracting sexual harassment in the workplace
Can we feel safe at work? How can we counteract sexual harassment in the workplace? Is the legislation effective? Are there common experiences between different industries? With examples from trade and shipping.
Participants: Maria Karlsson, #obekvämarbetstid and Vice Chair of #Metoouppropen, Linda Palmetzhofer, chair of Swedish Commercial Employees' Union, Cajsa Jersler Fransson, #lättaankar, the Vågrätt project, Cecilia Österman, work environment research fellow at the Linnaeus University and Erik Froste, CEO of the Färjerederiet shipping company
Chair: Eva Nikell, journalist, women's rights activist and educator
14.45–15.30 Sexual abuse in sacred spaces
Is sexual abuse in a religious context different from other contexts? Why does it take so long to overcome a culture of silence? What are senior clergymen and -women within the Church doing to counteract sexual abuse and how can shame, atonement and honour be (mis)understood?
Participants: Karin Ingridsdotter, pastor, initiator #sanningenskallgöraerfria; Helena Enoksson, psychotherapist and teacher of pastoral care; Anne Sörman, priest and activist #Vardeljus; Andreas Holmberg, bishop at the Diocese of Stockholm; and Hanna Stenström, feminist theologian
The workshop is arranged with the support of the Association of Ordained Women
Chair: Sandra Signarsdotter, the Association of Ordained Women
15.45–16.30 Unequal under the law
Is there a before and an after #metoo when it comes to the work against sexual violence? While a new sexual consent law has been discussed at length, most #metoo convictions have been cases of slander against women who have given evidence behind closed doors. One step forward and two steps back? What are the rights of women who are homeless or awaiting residence permits and citizenship?
Participants: Jenny Westerstrand, violence researcher and chair of Roks, Riksorganisationen för kvinnojourer och tjejjourer i Sverige (the National Organisaton for Women's and Girl's Shelters in Sweden), Gita Rajan, physician and executive director of Wonsa and Debbie Nûjen, lawyer and educator
Chair: Linnéa Bruno, violence researcher, #orosanmälan #akademiupproret
16.45 –17.30 #metoo and the future
What have we learned from #metoo? How do we proceed? What steps need to be taken in order to achieve a society free of sexual harassment and sexual violence?
Participants: Ninni Carlsson, violence researcher, Johanna Lindquist #deadline and Förtalskassan and Bernadita Nuñez of Terrafem
The discussion will be facilitated by Caroline Snellman, board member of the organisation Samordningen Metoouppropen, #medvilkenrätt.
Song
By Derya Tezcan
Poem
Jag kommer ifrån, jag har en dröm (I come from, I have a dream)
By Alma Kirlic
This is a collaboration between Samordningen Metoo-uppropen and Moderna Museet.
Contact
Curator in charge: Catrin Lundqvist, Moderna Museet
Chair: Anne Sörman, Chair of Samordningen #Metoo-uppropen