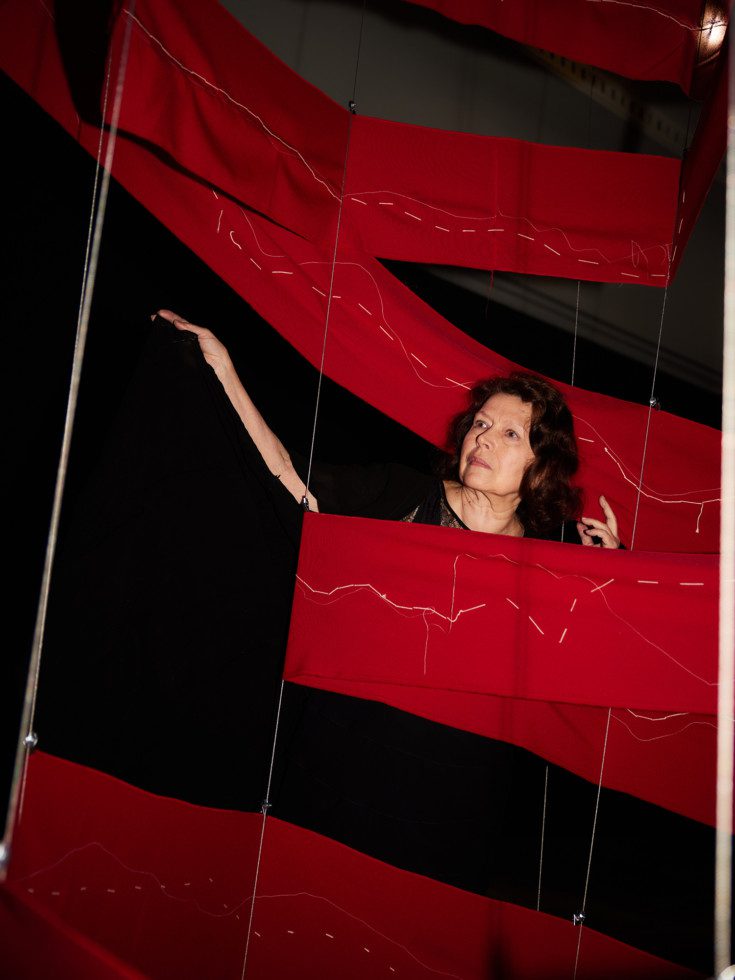 Lustholmen: Katalin Ladik
Performance
7.6 2023
Stockholm
Join performance artist Katalin Ladik in the world of stories and shadows. In connection to the Lustholmen festival, the groundbreaking artist leads us through Moderna Museet and out onto Skeppsholmen. Experience "Follow Me Into Mythology", a performance about a performance about a woman's voice, destiny, and mythology.
Performance: Katalin Ladik
Lustholmen Festival
Date
Tuesday 7 June 2023
Time
At 17–17.30
Location
We gather in the foyer
Language
English
Price
Free admission
Contact: Hendrik Folkerts
In 2017, Katalin Ladik staged a legendary performance in Athens, called "Follow me Into Mythology". For this occasion, she created a 60 meter long textile work, onto which two parallel threads were embroidered: a dashed white line alluding to the thread that Ariadne, the daughter of King Minos, gave her lover Theseus in order to escape the Minotaur's maze after killing the beast; and a solid line, in gold color, that captured the mythological and spiritual essence of the tale. Katalin Ladik has said: "One thread accompanies the other as a shadow yet forms independent figures of itself. It has a life of its own."
Now, six years later, we follow the shadow. Katalin Ladik introduces: "As a child, I used to play with my shadow and wondered, is my shadow me? Why does it imitate me so grotesquely, as if it were mocking me? When I was angry with my shadow, I would go into a dark room and it would disappear. That was my revenge. Sometimes it seemed as if it was trying to send me a message—something important about impermanence. When I grew up, I became an actress, and I noticed that on stage, in the spotlight, I did not have a shadow. I became a shadowless being, a non-existence, mythological figure."
At the Lustholmen Festival, Katalin Ladik leads us on Skeppsholmen island, from Moderna Museet towards the water, following the solid thread to return to the shadow. The performance is organised by Hendrik Folkerts (Curator of International Contemporary Art and Head of Exhibitions, Moderna Museet).
After "Follow me into mythology", Lustholmen continues at 18.00 with the program "Bergspråk (displaced)" at MDT Moderna Dansteatern. "Bergspråk (displaced)" is curated by DACE – Dance Art Critical Ecology (Rickard Borgström and Rebecca Chentinell) and performed by the artists Amanda Piña, Kristin Nango, Ánte Mikkel Gaup, Inger Biret Gaup, Tone Johannessen and Mariê Mazer/Rhizome Collective.
See the full program for the festival: Lustholmen
Katalin Ladik's performance Follow me Into Mythology, 2023, precedes the artist's retrospective exhibition, which takes place at Moderna Museet on 9 November 2024–20 April 2025.
Katalin Ladik
Katalin Ladik (b. 1942, Novi Sad) is a foundational voice in histories of art, literature, and performance in Central and Eastern Europe. Her radical approach to poetry and performance expands how language can manifest: on the page and through the body, visual and written, heard and felt.